NBA DFS: Ghost's Gems 11/16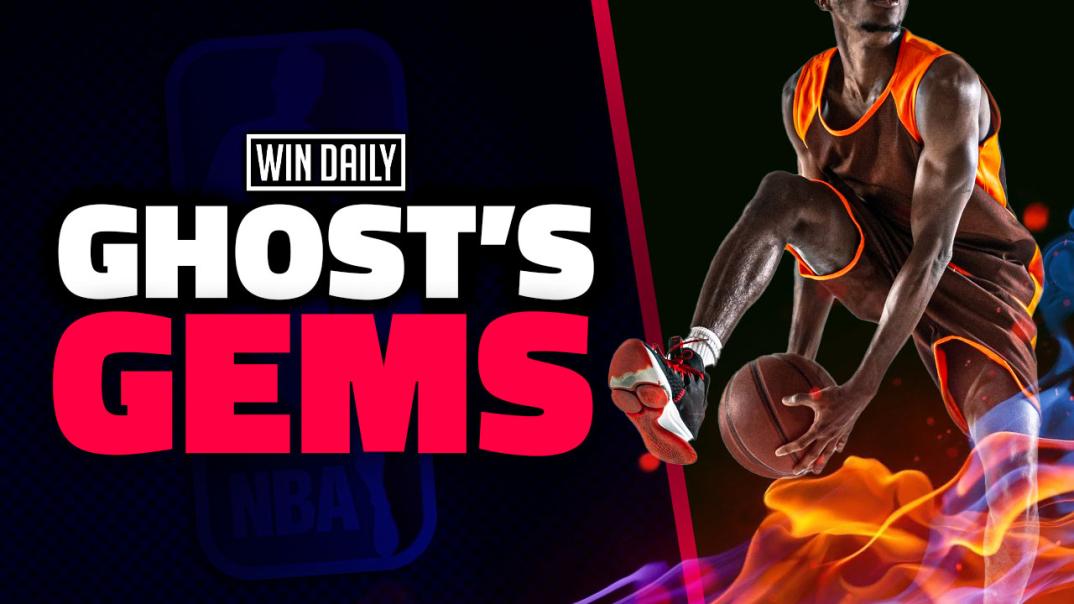 Back to a set of full of games tonight in the NBA and there has already been plenty of news. Key players in some of the best game environments have already been ruled out, with surely more to come as we approach lock. It's a Wet Wednesday edition of the Gems – let's ride.
As mentioned above, many key players have already been ruled out. Certainly, there will be a flurry of updates to each injury report throughout the day. Thus, be sure to use our proprietary NBA projections and cheat sheet to build your lineups as the news rolls in. Moreover, join the conversation in the Win Daily Discord to get the insight you need from both subscribers and staff.
Boston Celtics @ Atlanta Hawks (+2)
Boston Celtics (-2)
Make no mistake about it, Jayson Tatum has been playing at an MVP level this season. Since the mid range of the pricing grid tonight will be a priority for most, many stars in elite game environments will be overlooked at the top of the pricing grid. Tatum currently sits 3rd in the NBA in scoring with 31.9 points per game. Moreover, the former Duke Blue Devil has scored 20 or more points in every game this season. Tatum comes into tonight's matchup sporting a 31.9% usage rate, resulting in a 31.9/7.4/3.9 scoring line on 49.1% shooting. Should Malcolm Brogdon (hamstring) miss a fourth consecutive game, the Celtics are down to what is essentially an 8-man rotation in one of the best game environments on the slate.
Atlanta Hawks (+2)
The Celtics are widely recognized for their talent on the defensive side of the ball. However, the statistics tell another story. Boston currently sits 21st in the NBA in defensive rating and have been struggling to keep teams at bay, allowing 113.5 points per game over their last four. Dejounte Murray is an intriguing target at the top of the pricing grid given the Celtics' lack of defense versus secondary ball handlers. Moreover, the duo of Clint Capela and Onyeka Okongwu hold an advantage on the inside over Al Horford. I won't recommend forcing exposure to this offense, but this is a sneaky game for tournaments that can turn into an offensive spotlight.
Cleveland Cavaliers @ Milwaukee Bucks (-4.5)
Cleveland Cavaliers (+4.5)
The Cavaliers will get reinforcements with Donovan Mitchell (ankle) back in the lineup, but will also be without Jarrett Allen (ankle) against the Bucks. Thus, both Evan Mobley and Kevin Love will see a sizeable bump in playing time. However, the backcourt duo of Garland and Mitchell will continue to carry the 3rd best offense in the NBA. In a matchup against the Bucks, who are the league's best defensive team, it won't be easy to put up a ton of points against the likes of Jrue Holiday and Giannis Antetokounmpo. However, Mitchell has now scored 20 or more points in seven straight games, posting a 33.4/4.6/5.4 scoring line on 55.3% shooting. I encourage exposure to this offense either way, whether it comes in the form of Mitchell/Garland or Mobley/Love, but prefer the former, since the latter will be more popular.
Milwaukee Bucks (-4.5)
Since the mid range of the pricing grid offers much intrigue, Giannis Antetokounmpo will not be overly popular. Despite the lofty price tag, Giannis is one of a handful of players that can alter an NBA slate at any time. Sophomore Evan Mobley is already one of the league's best defenders, but slowing Giannis down tonight will be a challenge like no other. Sporting a 38.6% usage rate on the season, Giannis returned to the lineup last game with a 27/8/4 scoring line in only 31 minutes and now carries a 31.3/11.8/5.2 scoring line on 52.6% shooting into tonight's matchup.
New York Knicks @ Denver Nuggets (-9)
New York Knicks (+9)
With the Knicks on the second half of a back-to-back, this is one of many injury reports to monitor. Moreover, New York plays five games over a span of seven days, with this being their second of five. Denver ranks 23rd in defensive rating. Thus, I have interest in rostering Jalen Brunson, RJ Barrett, or one of Isaiah Hartenstein or Obi Toppin, depending on what our NBA projections display. The trio find themselves in tremendous matchups against Jamal Murray, Michael Porter Jr., and DeAndre Jordan, respectively. Look for updates in Discord to see where we land exactly, but the Knicks are going to be of interest.
Denver Nuggets (-9)
Welcome to the team of choice on this NBA slate. The field will surely flock to the Nuggets offense with Nikola Jokic (health and safety protocols) ruled out, and rightfully so. In addition, Bones Hyland ((health and safety protocols) will miss a third consecutive game, while Aaron Gordon is questionable with an illness as well. The quartet of Jamal Murray, Michael Porter Jr., Bruce Brown, and Kentavious Caldwell-Pope are set to see heavy minutes and offensive looks.
Of the four, Jamal Murray looks to be in for a big night. Sporting a 26.7% usage rate on the season, Murray sees a drastic increase to 38.6% with Jokic off the floor this year in a small sample. Moreover, his fantasy points per minute (FPPG) increases from 1.01 to 1.13 while seeing a notable uptick in scoring and field goal attempts. With the Knicks ranked 26th in the NBA to primary ball handlers, Murray is the preferred target, but the quartet listed above are all in play.
Honorable Mentions:
Indiana Pacers @ Charlotte Hornets (-2.5)
Golden State Warriors @ Phoenix Suns (-1.5)
You can find me on Twitter @BetsByGhost and in the Win Daily Discord
Nicholas Di Tommaso has been playing daily fantasy sports everyday for the past five years, in addition to his season-long expertise across various sports. He has since set out to combine his passions of finance and sports to successfully become a professional DFS player. Having multiple GPP wins over the course of the last year (2019), the Canadian known as "Ghost" is seeking bigger and better things in the future. Nick loves a healthy balance of both cash games and tournament play, but prefers the latter, especially in NFL and NBA, where he mostly plays single entry GPPs and 3-max tournaments. The Montreal, Canada native is looking to put Win Daily Sports on the map by representing the North of the border in all fields, specifically NBA, NFL, NHL, MLB, and eSports.