NBA DFS: Ghost's Gems 11/09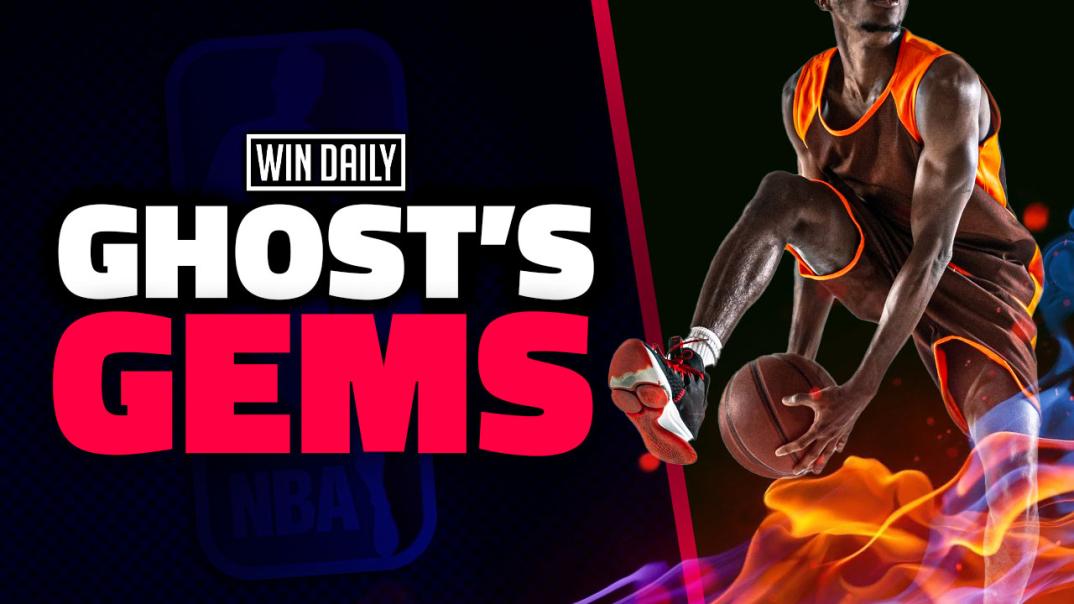 After a day off yesterday, the majority of NBA teams are back in action tonight. While many players sat out on Monday night, most were for precautionary reasons. Now, with everyone having the day off yesterday, we're likely to see healthy rotations tonight and consequently, a larger player pool. It's a Wet Wednesday edition of the Gems – let's ride.
With 26 of the league's 30 teams in action tonight, the slate can change at any given time. Since everyone was off yesterday, some news has already trickled in while we await availability confirmation of some of the league's best. Thus, be sure to use our proprietary NBA projections and cheat sheet to build your lineups as the news rolls in. Moreover, join the conversation in the Win Daily Discord to get the insight you need from both subscribers and staff.
Portland Trail Blazers @ Charlotte Hornets (+5)
Portland Trail Blazers (-5)
We'll have to wait until the final injury report comes out, but there is plenty to like about the Blazers offense in this one. With four of five starters listed as probable, we're likely to see a healthy rotation here. However, this is the NBA, and anything can change in the blink of an eye. Even with the return of Damian Lillard last game, Anfernee Simons led the team in usage with a whopping 37.3% rate. Consequently, Simons led the team in both points and field goal attempts. With Terry Rozier having a team-worst 114.8 defensive rating, Simons can be an unrostered gem for us tonight.
Charlotte Hornets (+5)
With a slightly improved Portland defense remains a constant: Jusuf Nurkic is a defensive liability. The Trail Blazers have lacked interior defense for quite some time, and this season is no different. Specifically, Portland ranks 26th in the NBA to opposing small ball centers, which bodes well for PJ Washington. Having Mason Plumlee log 30 minutes or more in only two of eleven appearances, the Hornets are quick to shift Washington to the '5' and use Jalen McDaniels in favor of Plumlee. In 6 games where he has logged 30 minutes or more, Washington has scored 17 points or in five of six.
New Orleans Pelicans @ Chicago Bulls (+2)
New Orleans Pelicans (-2)
If you are looking for an under-appreciated game stack on this NBA slate, this is it. Not only are there plenty of elite offensive options here, but no one is in the upper range of the pricing grid. With Zach Lavine presumably making his return, I'm looking at his matchup on the other side of the ball in Brandon Ingram. Since returning to the lineup, Ingram leads the team in usage rate at 28.4%. In those three games, Ingram has also led the team in minutes, scoring, assists, and field goal attempts. With a 7'3″ wingspan, Ingram has a notable advantage over Lavine off the ball and will be relied upon to create offense consistently.
Chicago Bulls (+2)
There are different ways to get exposure to this offense tonight. Firstly, Nikola Vucevic gets a favorable matchup with the Pelicans ranking 21st in the NBA in points allowed in the paint per game. As a result of Jonas Valanciunas playing less in favor of Zion Williamson at the '5' and Trey Murphy III checking in to help the team's perimeter defense, New Orleans is weaker on the inside down the stretch. Second, is none other than Zach Lavine, who we discussed above. Ideally, you want to avoid DeMar DeRozan lining up on Herbert Jones, leaving Lavine to get the switches he loves in an isolation offense to get off Ingram and onto CJ McCollum, who has a 112.8 defensive rating. Lastly, the Bulls' bench unit of Goran Dragic, Javonte Green, and Alex Caruso will dominate the Pelicans' bench unit, but minutes will be limited, capping their upside.
Memphis Grizzlies @ San Antonio Spurs (+6)
Memphis Grizzlies (-6)
Should Steven Adams (ankle) miss a second straight game, the Grizzlies rotation gets awfully thin. Thus, Ja Morant is in a prime spot to be a surprising contender to lead the NBA slate in scoring. With most presumably flocking to Giannis Antetokounmpo if Jrue Holiday (ankle) misses their game versus OKC, Morant will be rostered at a lower rate than he should be. Not only does the matchup against a Spurs team that ranks 26th versus primary ball handlers entice us, but the game environment does. The Spurs are shockingly 3rd in the league in pace while sitting dead last in defensive rating. This is truly an elite game environment, and Morant's upside will be on full display. Coming into tonight with a 28.5/5.7/7.1 scoring line through a 36.2% usage rate on 47.5% shooting, including 45.7% from deep, Morant can alter this slate in a massive way.
San Antonio Spurs (+6)
Despite this being a mismatch on paper, Vegas has this game staying close. Not only do I agree because of how surprisingly good the Spurs have performed, but because of how inconsistent the Grizzlies have been. Forever known for their defense, Memphis sits 23rd in the NBA in defensive rating. Notably, the Grizzlies have been exposed in the backcourt. With Ja Morant, Desmond Bane, and Dillon Brooks all carrying defensive ratings of 114 or worse, there is plenty to like here. Both Keldon Johnson and Devin Vassell make for excellent plays on this slate. The two have the benefit of the matchups detailed above on the wing and in the backcourt, respectively. Leading the team with usages rates of 27.5% and 25.3%, respectively, Johnson and Vassell have combined for 44.5 PPG on over 32 field goal attempts per game.
Honorable Mentions:
Denver Nuggets @ Indiana Pacers (+5.5)
Utah Jazz @ Atlanta Hawks (-4)
You can find me on Twitter @BetsByGhost and in the Win Daily Discord
Nicholas Di Tommaso has been playing daily fantasy sports everyday for the past five years, in addition to his season-long expertise across various sports. He has since set out to combine his passions of finance and sports to successfully become a professional DFS player. Having multiple GPP wins over the course of the last year (2019), the Canadian known as "Ghost" is seeking bigger and better things in the future. Nick loves a healthy balance of both cash games and tournament play, but prefers the latter, especially in NFL and NBA, where he mostly plays single entry GPPs and 3-max tournaments. The Montreal, Canada native is looking to put Win Daily Sports on the map by representing the North of the border in all fields, specifically NBA, NFL, NHL, MLB, and eSports.