NBA DFS: Gems with Ghost and Adam 11/29
Published
7 months ago
on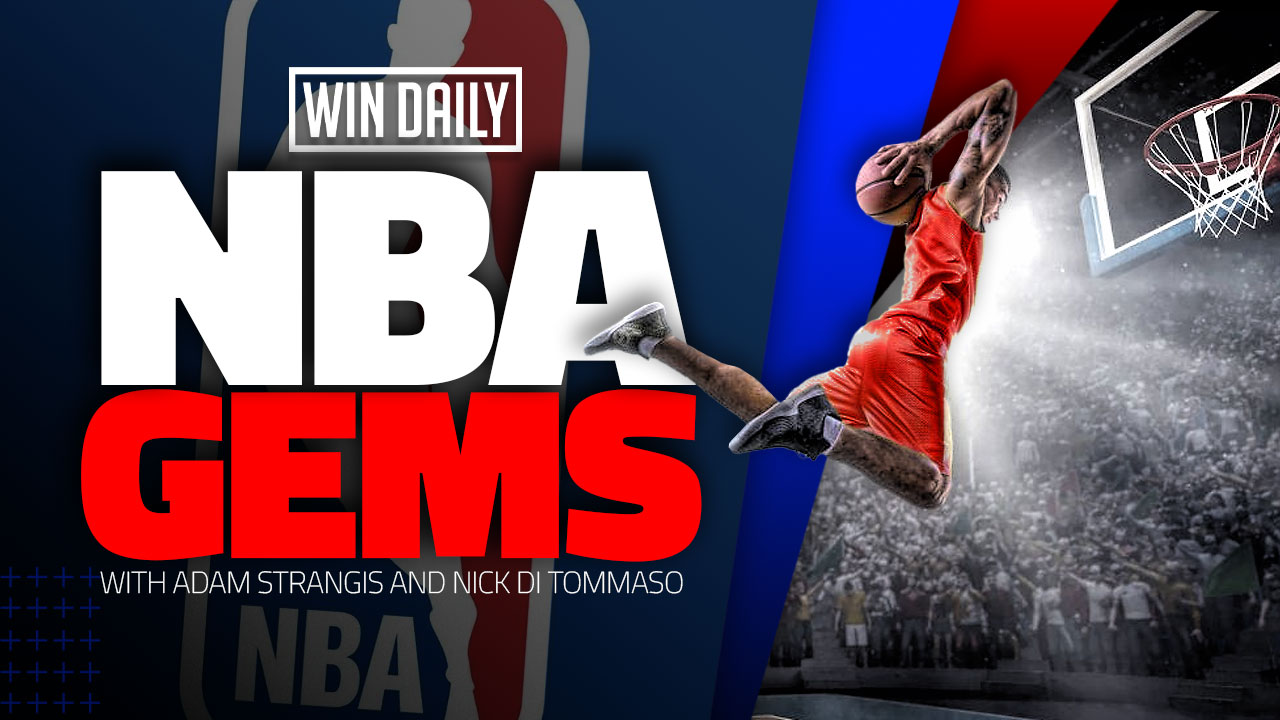 NBA DFS: Gems with Ghost and Adam 11/29
There are nine games in front of us tonight and we have a bunch of options with a key name already being ruled out. For the first time in a while, we should know the status of Nuggets star Nikola Jokic because he plays at 7:30. Let's talk about all of that and more in the NBA DFS: Gems with Ghost and Adam 11/29 so we can find our path to green screens! It's Mojito Monday – Let's ride!
One thing I want to clarify based on the questions I have received over the past few years is that I will never list a player under the $5,000 price tag simply because I use the projection model to identify all targets in this range and below. While there are often plenty of options that I like at $5,000 and less, since I often find myself with not only one – but multiple – in my NBA DFS lineups, you all have access to the very model I use to make my own selections, so when asking yourself: "Should I use player X or player Y?", make sure to check the model because that is how I make all of my own decisions and I truly ride or die by it on a daily basis.
Before running to the DraftKings, FanDuel, or Yahoo lobby to construct your NBA DFS lineup after reading this article, please make sure to utilize the abundance of tools we have at Win Daily:
Point Guards
Dejounte Murray ($9,600/$10,000 FD)
I mean, if these sites aren't going to make Murray more expensive, then I'll just continue to play him. He might be slightly more appealing on DK simply because you get bonuses for double and triple-doubles, and that's what Murray is every single game. He is a threat to triple-double and he's yet to cross the $10,000 barrier on DraftKings. Washington is better this year at 11th in defensive rating but it just doesn't matter. Murray has a 26.2% usage rate and 1.32 fantasy points per minute and he's gone for 55+ in three of his last four games. Washington is 27th in points allowed in the paint and Murray drives at the ninth-highest rate. He does pass 48.8% of the time but maybe he's a touch more selfish with less resistance inside tonight.
Shai Gilgeous-Alexander ($8,000 DK/$8,200 FD)
SGA came back from missing a couple of games last time and played 34 minutes, a good sign that the ankle is not an issue. We just saw on Saturday that when the Rockets can be competitive in a game, they can be a fantasy goldmine and this version of the Thunder likely don't blow many teams out of the water. SGA has a 27.4% usage rate and 1.05 fantasy points per minute. His shooting can be iffy on a game-to-game basis so there's not a lot of safety built-in. One aspect that I do love though is he is second in points per game in isolation at 7.2 (James Harden leads at 7.5). The Rockets are dead last in points per game allowed to isolation shooters and SGA is only shooting 39.8% this year compared to 43.2% last year, so there is room for improvement.
Alex Caruso ($5,300 DK/$5,700)
This might be the first time Caruso has been featured but we always want to play guys against the Hornets. Both teams are in the top 13 in pace and Charlotte pushes the pace like few others. He is not going to be a usage monster at just 13% but he grinds out 0.83 fantasy points per minute and he plays 3-32 minutes per game. The Hornets are also fifth in turnovers and Caruso is second in steals per game and he's 0.1 from being tied for the lead. It's not hard to see him rack up 35 fantasy points and he's at a reasonable price.
Honorable Mention
Malcolm Brogdon
Kevin Porter Jr.
Value Spot
Shooting Guard
Donovan Mitchell ($8,100 DK/$8,000 FD)
As of now, my plan is not to spend at shooting guard because I want to spend a hefty amount on center (more on that in a bit). If you are climbing the ladder, Mitchell fits the bill against the Blazers team that is 28th in defensive rating despite being just 16th in pace. Mitchell is coming off a game where he flashed ceiling in just 27 minutes and he has a 33.3% usage rate and 1.22 fantasy points per minute. Portland is third in points allowed to the pick-and-roll ball-handler, but Mitchell is third in points scored in that play type. Something has to give and Mitchell is eighth in the frequency of that play so I'll side with an underpriced elite scorer.
Jalen Suggs ($5,300 DK/$5,800 FD)
Point guard Cole Anthony continues to miss time with an ankle injury and Suggs has a 27.1% usage rate when he's off the floor, which leads the Magic by roughly 6%. He also has 0.87 fantasy points per minute on just a 42.4% true shooting rate and Philly's perimeter defense continues to not be that great without Ben Simmons. Suggs has only been driving to the basket 11 times per game since Anthony has been out, which is a good thing since Joel Embiid is back for the Sixers. They are also allowing the six-highest FG% from 3-point distance, so this is a spot where the shooting can get better for Suggs.
Caris LeVert ($5,300 DK/$5,600 FD)
I want to be crystal clear that this would be very much GPP only and there is a chance that LeVert sits on a back-to-back. If he does, Brogdon would be far more appealing. The Pacers are trying to figure out exactly what they are. Their pieces aren't fitting well yet as they sit 13th in the East. Part of it might be they have too many solid to good players, and it's just too much of a jumble. At any rate, LeVert is the leader in usage on the season at 28.3% and he's rocking a 46.8% true shooting rate. To put that in context, his career number is over 52% so there has to be a positive regression at some point. Last slate, he was about 1% owned, and when he shouldn't be this cheap, to quote Ghost. Minnesota is 11th in pace and their defensive rating continues to slip. Any pretend defensive presence they had is gone with Patrick Beverly on the sideline and this is a calculated risk to take in 3-max or MME formats. 
Honorable Mention
Anthony Edwards
Darius Garland
Value Spot
Small Forward
Paul George ($10,200 DK/$9,200 FD)
Rostering PG13 lately has been a little bit of an adventure, but he's not shooting all that well lately. That's bound to change and he can easily go for 55+ on both sites, given his 34.2% usage rate and 1.32 fantasy points per minute. He's 11th in points scored as the ball-handler in the pick-and-roll set and New Orleans is dead last in points allowed per game. Teams with a bottom-five defensive rating won't likely continue to hold the opposition to a 35.8% field goal rate in isolation, where George is also top 12. Some may point to the recent game against the Pelicans and say PG stunk, but are you willing to bet he goes 8-26 from the floor again, including 3-14 from deep? I'm not. New Orleans is 27th in 3-point FG% allowed on top of everything else.
Brandon Ingram ($7,500 DK/$7,400 FD)
For someone that has a 30.7% usage rate, things haven't been clicking for Ingram as far as fantasy goes lately. This guy was taking all sorts of shots last year when he had Zion Williamson bulldozing teams for 30 points a game in the paint, but now he's gun-shy. We're going to hit a game that he shoots 20-25 times and a lot of them go in and this could be it. The Clippers have been burned by primary ball handlers for a while, dating back to last year. They are eighth in pace and second in defensive rating, but Ingram is a very talented scorer with a usage rate over 30%. It's likely only a GPP play but he's almost always over $8,000 on both sites. Note that Ingram is only SG-eligible on DraftKings.
Honorable Mention
Will Barton (only If Jokic is out)
Lauri Markkanen
Value Spot
Power Forward
Evan Mobley ($6,700 DK/$7,400 FD)
I'm not exactly sure why DK lowered Mobley's salary but I'll happily take it. He came back from an elbow injury and played 33 minutes without shooting all that well and put up over 37 DK points. Dallas (namely Kristaps Porzingis who has the defensive mobility of a coffee table) is going to struggle with the tandem of Mobley and Jarrett Allen. The Cavaliers are also likely going to be short-handed so Mobley should be around 35 minutes again and Mobley has 1.09 fantasy points per minute with a 21.8% usage rate. Dallas is 22nd in points allowed in the paint and both Allen and Mobley are inside the top 10 in points scored from cutting to the basket.
P.J. Washington ($5,100 DK/$4,900 FD)
Washington will draw another start with Mason Plumlee out with an injury and he's played 24 and 35 minutes these past two games with Plumlee missing. I think he's going to be a key part of my lineups tonight because he's too cheap on both sites for 1.04 fantasy points per minute and an 18.1% usage when Plumlee is out. He had 6.6 paint touches and Washington has had four per game, while Chicago allows the most points in the paint in the league. On FD, he's clutch at $4,900 because it can allow me to build with two centers, which I'm very likely to do.
Honorable Mention
Tobias Harris
Wendell Carter Jr. (he may be chalky but I'm not a fan of his matchup against Joel Embiid at all)
Value Spot
Center
Joel Embiid ($10,500 DK/$10,100 FD)
Truth be told, I'd rather play Jokic if he's active. Don't forget, he averages about 2.00 fantasy points per minute for the Nuggets with the players that they are missing off the floor. However, he's missed more time than we thought so I can't bank on him being in. For Embiid, I guess he didn't feel the after-effects of Covid as he played 42 minutes in his first game back. Keep that in mind when you see the 70 DK points. It also worries me slightly about how he recovers from that workload. However, there is little resistance in the interior for the Magic. He leads in points scored from post-ups and the Magic are 20th in points per possession against that play type. He's at 1.41 fantasy points per minute this year so the ceiling is there but we'll see what the options are.
Nikola Vucevic ($8,300 DK/$7,600 FD)
We've been attacking Charlotte with big men all year and Vucevic is just next in line. Yes, he's the clear third option in Chicago behind DeMar DeRozan and Zach LaVine (fine options but not a priority to me) but Vucevic is almost tied for the highest fantasy points per minute on the team at 1.14. DeRozan is only at 1.16 and while Vucevic only has 5.2 paint touches per game, the Hornets just get mashed by big men. They are 24th in points allowed in the paint and 29th in rebounds allowed in the paint and this is a sure double-double spot and then some for Vuc. He is 11th in rebounding chances per game and is in line for a big night.
Christian Wood ($8,200 DK/$7,400 FD)
It had been a very flighty stretch for Wood lately, in part just because he can be inconsistent and in part because of a blowout. This is a phenomenal spot because the Thunder aren't that good and they can't guard the paint. They're dead last in rebounds in the paint allowed and 16th in paint points, and Wood has 13 paint touches this past game. That's over double his 5.8 per game on the season and hopefully kind of reminded him of what he can be capable of. It also helps Jalen Green is out and he sees a bump in usage rate by 2.9% up to 25.3% and he's at 1.34 fantasy points per minute. On FD, playing Wood, Vuc, and Washington leaves you over $6,800 per spot the rest of the way.
Honorable Mention
Domantas Sabonis
Jarret Allen (if not playing Mobley)
Jakob Poeltl
You can find us on Twitter @DFS_Ghost and @Bucn4life