NASCAR DFS Pit Stop: Cup Series New Hampshire 7/17
Published
11 months ago
on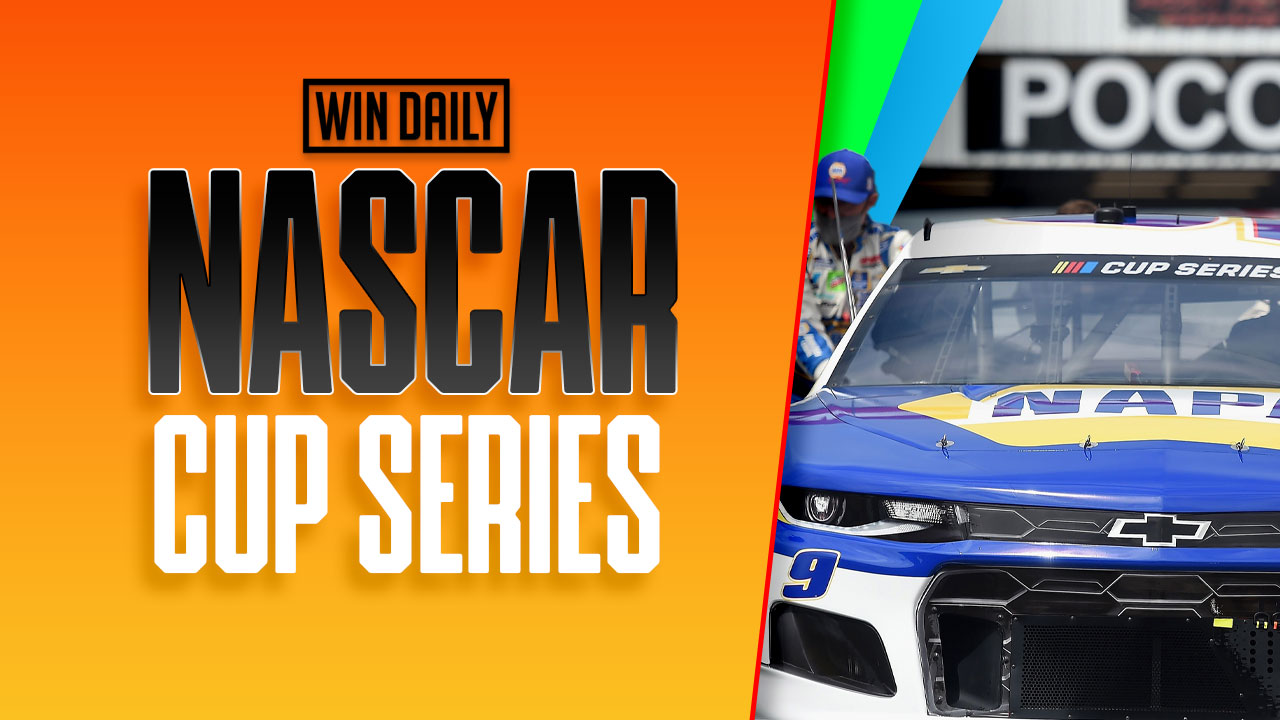 Welcome to the NASCAR DFS Pit Stop for Sunday's Ambetter 301 from Loudon, New Hampshire. Let me just start with this, you typically have to play the two sites (DK and FD) differently but in races like Sunday, you really need to pay attention to the scoring. On DraftKings, there are 210.7 dominator points available as opposed to just 30.1 on FanDuel. FanDuel gives you points for completing laps so you want to build around drivers who should finish on the lead lap.
Over the last three races at Loudon, 2021 was the only race where the laps led were spread out. In 2019 and 2020 two drivers in each race led the majority of the laps. In 2019, Kyle Busch and Denny Hamlin combined to lead 76.9% of laps, and in 2020 Hamlin and Brad Keselowski led an amazing 91.7% of the laps in that race. New Hamshire is a difficult track to pass on, so that is why we don't see too many drivers leading laps in each race.
I want to build my lineups with at least 2 potential dominators on Sunday, three if I can fit them and it MAKES SENSE. There are a few drivers who could lead a large number of laps who offer place differential points so those drivers should be the third in your lineups. Stacking three drivers in the top 5-8 starting positions could really come back to hurt you. Luckily a few potential dominators had horrible qualifying laps which makes them viable as a third dominator.
Roster Construction:
As I mentioned above, dominators will be key in DK builds and you should start with 2 drivers who can lead laps. After that, there are some great mid-tier options that give you huge place differential upside. If you think you can comfortably fit three top-tier drivers in then do that, if not build balanced lineups with a 2-2-2 or 2-3-1 depending on the salary you have left.
NASCAR DFS: Top Tier – Dominators
Kyle Busch ($11,000) – [Proj. Ownership: 34%]
Starting Position: 17th
Busch was arguably the fastest car in practice and just didn't have a good qualifying lap so he will start in the middle of the pack. I have zero worries about this car and this play as Busch has been great at New Hampshire in his career and his practice numbers. Kyle is one of those drivers who I think can lead laps, and a lot of them, but be that third dominator in your builds because of his place differential upside. Even if Busch doesn't lead 75+ laps he should be a top 5 or top 3 car and make value. In Saturday's practice session, Busch was second fastest in single lap and 5-lap average but he was atop the charts in 10, 15, and 20-lap average. Busch is my favorite play and I will be overweight on him regardless of ownership projections.
Martin Truex Jr. ($10,400) – [Proj. Ownership: 24%]
Starting Position: 1st
Truex is starting on the pole and he should be difficult to pass for the lead, at least before the first set of pit stops. In Saturday's practice session, Truex did not show incredible speed, but he did say that he thought his car was close and it showed in qualifying. I am going to assume that the team made an adjustment before qualifying because the #19 was just barely a top 10 car, but in qualifying, they put up two of the three fastest laps. Truex is a potential winner on Sunday, but a top 5 with dominator points will do just fine for me.
Other Potential Dominators starting near the front:
Chase Elliott ($10,300 – P2): Nobody in the sport is hotter than Elliott and it's hard to doubt he will run well here. Elliott really likes his car in practice and in qualifying. Loudon is not one of Elliott's best tracks, but he showed some good speed on Saturday and I will be taking some risk with the 9 car.
William Byron ($9,400 – P6): Byron was fastest in single-lap speed and 5-lap average while being third best in 10-lap speeds. On Saturday, Byron got some seat time in the 88 car for JRM in the Xfinity Series and was running great until his engine blew up.
Ryan Blaney ($10,000) – [Proj. Ownership: 29%]
Starting Position: 11th
I already mentioned Blaney in Discord as a great play earlier this week and I have not changed my stance on him after P&Q. Not only has Blaney been great on this track type in 2022, but at New Hampshire Blaney has four finishes between 4th and 9th in his last five races here. But looking back at his 2022 stats on this track type nobody has been better, even though Blaney has yet to win a race. Blaney has the best overall speed ranking, has the best average finish (5th), and has led 283 laps along with 113 fastest laps. Blaney has some dominator potential on Sunday based on how much he has dominated this track type so far this season and I think his winless streak ends on Sunday as well.
Denny Hamlin ($10,600) – [Proj. Ownership: 28%]
Starting Position: 14th
Hamlin was not pleased with his car early in practice and after running in the high 20's the team made an adjustment and Hamlin then proceeded to put up the 8th best lap. Hamlin is a three-time winner here at New Hampshire and should be an outside threat to win his third race this season on Sunday. If Hamlin can avoid the wrecking machine that is Ross Chastain, I don't see a reason why Hamlin can't be in contention for the win but he should be a top 8 car on Sunday no matter.
Other Options: Kyle Larson ($9,600 – P8) – SImilar to Elliott, hard to doubt the upside of Larson, especially at this salary. Ross Chastain ($9,800 – P18) – Chastain has great PD upside, but I don't believe he has dominator potential. Christopher Bell ($9,100 – P5) – Bell has been dominant in every level of competition at this track and there is an outside chance he gets to victory lane on Sunday.
NASCAR DFS: Mid Tier
Kevin Harvick ($8,800) – [Proj. Ownership: 18%]
Starting Position: 10th
Harvick is one of two drivers in this tier who has dominator upside, albeit low. New Hampshire has historically been one of Harvick's best tracks including four wins here. Since the fall of 2016 race here, Harvick has won three times and has finished 6th or better seven times in eight races. In Saturday's practice, Harvick top 10 in all speed categories.
Place Differential Plays:
With Harvick being the best option for potential dominator points I figured it would just make sense to rank the PD plays in this tier for you
Chase Briscoe ($8,400 – P29) [PO% – 34%]: Briscoe was 3rd fastest in single-lap speed and 5-lap average and he was 2nd fastest in 10-lap average. Earlier this season, Briscoe won at Phoenix, he then finished 11th at Richmond, and last he was running great at Gateway (won the pole and led 27 laps) but then had a tire go down and ended up 24th.
Austin Cindric ($7,600 – P28) [PO% – 27%]: Cindric has been quietly one of the best DFS plays over the last 5 races. In that time, Cindric has four top 10's, has an average of +5.6 PD, and is averaging the 3rd most DKFP per race.
Alex Bowman ($7,800 – P27) [PO% – 25%]: Bowman did not have amazing speed in practice but if he can be incident free on Sunday a top 15 is definitely in the cards. We know this team will speak with teammates about their speed and make adjustments during the race to find the speed they need.
Erik Jones ($7,300 – P22) [PO% – 22%]: Jones showed some real speed in practice on Saturday with the 6th best 5-lap average. Of the PD plays in this tier, Jones should be the lowest owned and is a good GPP play in my eyes.
Other Options: Kurt Busch ($8,200 – P3), Aric Almirola ($8,100 – P7), Bubba Wallace ($7,400 – P4), Daniel Suarez ($7,900 – P19)
Value Tier ($6.9K and under)
Chris Buescher ($6,100 – P16) – Buescher is a top 10 car in my eyes. He has been good at this track type in 2022 with a 10th at Phoenix and 15th at Richmond (He missed Gateway with COVID).
Austin Dillon ($6,300 – P30) – Dillon is going to be the chalky play in this tier on Sunday and is a lock for cash games. I can understand a fade in GPP's, especially for a driver in this tier popping at 40% ownership. Dillon ran well at all three short flat tracks in 2022 so it can be expected he will be in the top 15 at day's end.
Justin Haley ($5,900 – P25) – Haley is the pivot off Austin Dillon chalk in my opinion. Haley was faster than Dillon in practice and will come in at substantially lower ownership (over 20% less).
Ty Dillon ($5,400 – P35) – Ty Dillon had top 20 speed in practice but just had nothing in qualifying. Hopefully, he can run where he practiced and be a great PD play. Surprisingly, Dillon isn't projecting at high ownership (>20%) so he could also be a pivot off big brother Austin.
Harrison Burton ($5,200 – P31) – Burton is at best a high teens driver on Sunday. Unless attrition is high in this race I don't think Burton lives up to his practice speeds (13th 5-lap, 6th 10-lap, and 15-lap). Burton is a pretty safe play in my opinion for both GPP and in cash as well.
Corey Lajoie ($5,600 – P21) – Lajoie is super risky but we know this team has been good most weeks in 2022. While he hasn't faired well at this track type, a top 20 would be a great DFS day for Lajoie.
Check out my NASCAR DFS Tutorial to ensure you are ready and understand how I break down the races and build lineups (https://windailysports.com/nascar-dfs-pit-stop-2021-introduction-to-nascar-dfs/).
There were a lot of changes in the cars and what driver is in what car/truck in 2022. Check out my What's new in 2022 article (https://windailysports.com/nascar-dfs-whats-new-in-2022/)