NASCAR DFS Pit Stop: Cup Series Martinsville 10/30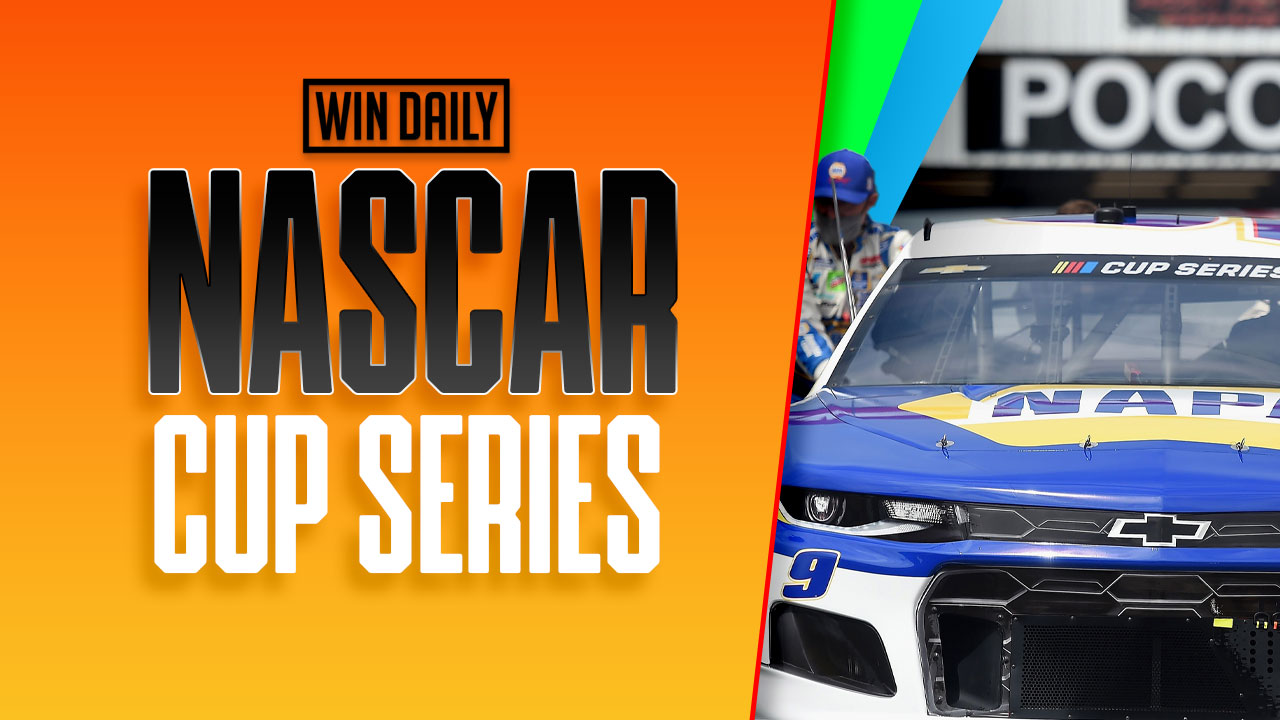 Welcome to the NASCAR DFS Pit Stop for Sunday's Xfinity 500 from Martinsville Speedway!
Welcome the penultimate race of the 2022 NASCAR Cup Series season from "The Paperclip", Martinsville. We had a fairly clean race here in the spring with only one caution for incident and one for a stalled Denny Hamlin Toyota. William Byron won that race while leading 212 of 403 laps with Chase Elliott leading the second most, 185, from the pole.
Since I brought up laps led (intentionally), let's discuss it more. This is scheduled to be a 500-lap race, meaning you will need to find dominators. I will suggest no less than 2 potential dominators in each lineup you build. Some of those drivers who could dominate may not be starting near the front but will work their way there later on. There are a massive amount of dominator points available (350) and if you don't manage to roster the top lap leader you will have no shot at a takedown.
NASCAR DFS: Top Tier/Dominators
William Byron ($10,800)
Starting Position: 25th (Dom/PD)
As I mentioned in the open, Byron is the winner from the spring race here and should be a factor again on Sunday. In practice, Byron was fast as he posted top-ten speeds in single-lap through 15-lap average. Byron has finished 8th or better in five of the last six Martinsville races and in the last three has the best average finish of 3.3. Byron also is the only driver to finish top five in every race during that three-race span. I know that Byron will be highly owned, but with his history of running near the front here, his need to win to lock himself into next week's championship race, and his place-differential upside I don't see a reason to fade the 24-car today.
Chase Elliott ($11,200)
Starting Position: 2nd (Dominator)
Like with Byron, Elliott led a lot of laps from the pole here in the spring, so with him starting from P2, there is a good chance he could lead a lot of laps early on in this race too. Elliott ran top 5 speeds in all lap average categories in Saturday's practice session (5-30-laps) and we should expect this car to be racing near the front all day. Over his last five races here, Elliott has both the best average running position (4.2) and the most average laps led (142.2). Elliott may be relatively safe for next week's finale, but there is no reason why he won't try and win this race and leave no doubt.
Christopher Bell ($9,300)
Starting Position: 20th (Dom/PD)
Bell is a driver who must win to get himself into the championship four next week at Phoenix. Even though he starts from P20, that could happen. Bell has a fast car and has run really well at Martinsville but just seems to have some bad luck. Just this past spring, Bell had a top 10 car (finished top 10 in both stages) and while running 11th with just over 100 laps left he had a pit road penalty during green flag stops and ended up 20th. There is no real "similar track" to Martinsville, but the closest one you could compare is New Hampshire and Bell won that race earlier this season.
Joey Logano ($10,000)
Starting Position: 12th (Dominator)
Joey Logano is the only driver in the series who knows that he will be competing for the championship next weekend but that won't stop him from being aggressive this weekend. Logano is historically great at Martinsville and he will be a contender on Sunday afternoon. As an example, in the spring Logano finished 2nd, had a 4.8 averaging running position, and had the 2nd fastest total speed ranking. Logano also has six race top 10 streak at Martinsville which is why he has a series-best 5.5 average finish and 6th place average running position during those 6 races.
Other Options (Dominator): Kyle Larson ($11,700 – P1), Denny Hamlin ($11,400 – P11), Ryan Blaney ($10,400 – P4) – *** Note ** Both Blaney and Hamlin will most likely need to win this race to secure their championship spot, Larson is just racing for the win
Other Options (PD): Martin Truex Jr. ($9,500 – P27)
NASCAR DFS: Mid Tier
Tyler Reddick ($8,400)
Starting Position: 28th
Reddick is priced down this week because, well, he sucks at Martinsville. Normally when a driver is not that good at a track, I pass them over, but when you combine Reddick's price and starting position he actually has some upside. Now, in GPP's I wouldn't have too much exposure, but in cash, you should consider Reddick this week. Reddick has finished 18th here in back-to-back races and his career average here is 16.8. Those are not great numbers, but a plus 10-12 place differential could get it done for him to make value on Sunday.
Kyle Busch ($8,900)
Starting Position: 18th
I know Kyle Busch has faded out and been a non-factor most weeks since the playoffs started, but I hope this week will be different. I do not suggest Busch as someone to play in cash or single entry, but more of a large field GPP play. Martinsville has been one of Busch's best tracks over his career and he has ten top-10 finishes over his last 14 races here, including two wins. In more recent times, Busch has the second-best average finish (7th) in his last four races here and is one of only two drivers to finish top-10 in all four. After a horrid stretch where he finished no better than 20th and three DNFs in five races, Busch has bounced back with two top 5s and three top 10s in his last three races.
Aric Almirola ($7,000)
Starting Position: 15th
Almirola has a fast Ford this weekend and could be a factor for a top 10. In Saturday's practice session, Almirola posted the 7th-best 5-lap average and that was his lowest ranking. In 10 through 30-lap averages, Almirola was top 5 including the best 25-lap average among the 19 cars that ran that many consecutive laps. Earlier this season here at Martinsville, Almirola finished 8th at race end after finishing 5th (stage 1) and 7th (stage 2) in the stages and had a 6.3 average running position. Almirola makes a great tournament pivot off a chalky Austin Cindric.
Other Options: Austin Cindric ($7,100 – P30), Kevin Harvick ($8,700 – P8), Bubba Wallace ($7,900 – P24), Austin Dillon ($7,600 – P16)
NASCAR DFS: Value Tier Rankings
Chris Buescher ($6,900) – P22
Erik Jones ($6,700) – P23
Ricky Stenhouse ($5,900) – P31
Justin Haley ($5,700) – P29
Ty Dillon ($5,300) – P32
Cole Custer ($6,300) – P5
Cody Ware ($4,700) – P36
The driver I'm playing you shouldn't:
Chase Briscoe ($8,000 – P3)
Cash Core:
William Byron, Martin Truex Jr., Austin Cindric, and Ricky Stenhouse Jr will be leaving you a good $8,350 left per driver for the last two spots making this an easy cash build to fill in.
Check out my NASCAR DFS Tutorial! Ensure you are ready and understand how I break down the races and build lineups (https://windailysports.com/nascar-dfs-pit-stop-2021-introduction-to-nascar-dfs/).
There were a lot of changes in the cars and what driver is in what car/truck in 2022. Check out my What's new in 2022 article (https://windailysports.com/nascar-dfs-whats-new-in-2022/)