NASCAR DFS Pit Stop: Cup Series Charlotte Roval 10/9
Published
2 months ago
on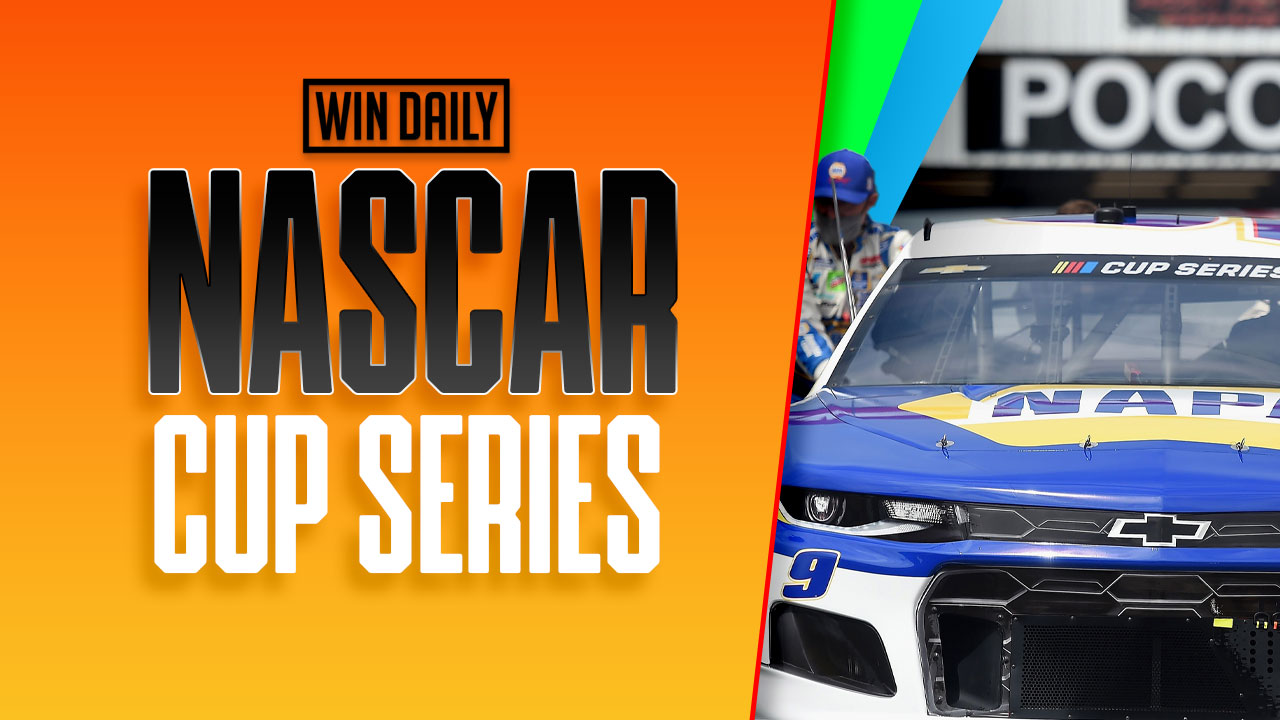 Welcome to the NASCAR DFS Pit Stop for Sunday's Bank of America Roval 400 from Charlotte!
This will be the sixth and final time the Cup Series is on a road course in 2022 and it should be an exciting one. Last season we saw Chase Elliott and Kevin Harvick trying to destroy one another because of the incident at Bristol a few weeks back. There are a lot of drivers who believe they "owe" another driver payback so maybe we see something similar on Sunday.
One of those drivers is Denny Hamlin. Byron dumped Hamlin and sent him spinning under caution at Texas a few weeks back and was fined 25 points (and money). This week NASCAR heard Byron's appeal and decided to raise his fine but award Byron his 25 points back. Because of this Byron went from 11 points below the cut line to 14 points above. I talk about this because it changes how Byron will run this race.
There are two strategies that drivers and their teams will apply to this race:
"Optimal Strategy" – The optimal strategy is to pit under before the stage breaks and try to win this race and nothing else. I see drivers who have already advanced (Chase Elliott) or non-playoff drivers using this strategy on Sunday.
"Points Racing" – Drivers who need stage points to help them advance will stay out for the full stage to gain points and then pit under caution after the stage. This will most likely be a strategy most playoff drivers use, especially ones who are right around the cut line (Cindric, Briscoe, Byron, etc).
Paying attention to who is in what position on the season could be key to succeeding this weekend. Keep in mind that I am just guessing who will be running which strategy on Sunday,
NASCAR DFS: Dominators
"Optimal Strategy" Drivers:
There are three drivers in this tier that will be running on the optimal strategy and all three are great road course drivers.
Chase Elliott ($10,600 – P9) –
Elliott is surprisingly winless at road courses in 2022, but that doesn't mean he hasn't been good at this track type this season. At road courses in 2022, Elliott has a series-bests in the average finish (6.8), average running position (7.6), and the best driver rating. If he didn't have his issues last season, Elliott could be going for his fourth straight win here on Sunday but will have to settle for three in four seasons.
Tyler Reddick ($10,500 – P4) –
Reddick is a two-time winner on road courses in 2022 (Road America and Indy GP) and was the runner-up in this race last season. In 2022, Reddick has been nothing short of spectacular on this track type with four top 5s in five races and ranking top 2 in speed ranking in three of the five. If you remove Sonoma, where Reddick had issues and finished 35th, he would have an average finish of 3.5 and have the fourth-best average speed ranking.
AJ Allmendinger ($9,400 – P7) –
Allmendinger is coming off his fourth straight win at the Roval in Xfinity Series on Saturday and his #16 Chevy looked superior to the field in practice on Saturday for this race. Allmendinger has the fastest lap in both sessions on Saturday but did spin late in his session and made some contact with the wall. It does not appear Dinger will need to drop to the rear since the damage was just cosmetic.
Last season at this track, Allmendinger was running well and was in 5th on lap 57 when his engine gave out and ended his day. This season at road courses, Allmendinger unsurprisingly has run well with the exception of Sonoma which is a track he has never run well at historically. Allmendinger has three top 10s in the other four road course races in 2022 and it would be 4 for 4 if he didn't have contact with eventual race winner, Ross Chastain, at COTA on the last lap while battling for the lead.
I like the idea of running all three of these drivers together in GPP's on Sunday, but for SE and cash I would go with two only and look for some other place differential plays to mix in with them.
Other Options: Christopher Bell ($9,300 – P8) – Bell has to win to advance so he could be on the same strategy as these drivers. Bell is an excellent road course driver and should be in contention at race end
"Points Racing" Drivers:
Kyle Larson ($10,300 – P18) –
Larson is the defending winner of this race and should be a contender again on Sunday. Since he is only 18 points above the cut line, Larson will need to race clean, especially early, if he wants to advance. With him starting 18th, I expect that Larson will be popular and he makes for an ideal cash game play. Larson is also a good option to pair with two of the optimal strategy drivers in GPP's. Larson won at Watkins Glen earlier this season but has not been great at this track type in 2022. This track has always been one of his better ones and Larson should be near the front at the end of the day.
Ryan Blaney ($9,700 – P6) –
Blaney is a former winner here and has finished top 10 in all four races at this track. In his career at this track, Blaney has a 5.8 average finish which is second-best behind Elliott. Now, Blaney is starting near the front and will most likely be point racing so there is the risk that he doesn't hit value therefore I suggest Blaney as a GPP-only play for this race. This season at road courses, Blaney started out hot with an average finish of 7.6, but at Indy and Watkins Glen he did not end well. Blaney was fast at Indy but got caught up in all the chaos at the end and ruined his day.
Other Options: William Byron ($9,900 – P2), Denny Hamlin ($10,100 – P24)
NASCAR DFS: Mid Tier
Chris Buescher ($7,800)
Starting Position: 21st
Buescher is probably one of the most underrated road course drivers in the series. Early this season he was one of three drivers that tested tires at Watkins Glen and since then he has been great at this track type. In the four RC races following the test, Buescher has the second-best average finish (6.8) and second-best speed ranking. Last year at the Roval, Buescher finished 3rd and ranked 5th for speed late in a run. I am not putting too much stock in Buescher's slow practice speeds because of how well they have been at this track type in 2022. Buescher is a contender to win this race in my eyes and is a great play in all formats.
Austin Cindric ($8,600)
Starting Position: 5th
Cindric is a premier road course racer and should be high on the list of potential winners on Sunday. With that being said, I expect Cindric to be points-racing, at least early on. Cindric is below the cut line currently and will need to get stage points and a good finishing position to advance, but he could also just try and go out and win this race. This season in five road course races, Cindric has the second-best average finish (7th), the fourth-best speed ranking, and the third-best average DKFP per race (41.3). With the speed he showed in practice on Saturday, there is no reason that Cindric can't win this race on Sunday.
Erik Jones ($7,400)
Starting Position: 26th
Is Erik Jones an elite road course racer, probably not. Is Jones an elite DFS road course racer, yup (in 2022 at least)! This season nobody has a better place differential than Erik Jones at road courses (+14.8 avg per race) and he should once again show that upside on Sunday. For some reason, Jones cannot qualify well at this track type but he can race well. Besides being the top place differential driver at this track type, Jones has the second-best DKFP per race average (41.4) and best FDFP per race (47.7).
Other Options: Chase Briscoe ($8,300 – P17), Noah Gragson ($7,600 – P29), Michael McDowell ($7,300 – P11), Brad Keselowski ($7,000 – P31)
There are A LOT of mid-tier drivers in play for this race and I probably wouldn't talk you off any of them.
NASCAR DFS: Value Tier Rankings
Aric Almirola ($6,400 – P37): Almirola is not a great road course driver, but you can't argue with his PD upside here for the price. Almirola is an elite cash and SE option on Sunday.
Todd Gilliland ($5,700 – P32): Gilliland is the GPP pivot off of the chalk Almirola for me. If you remove Watkins Glen where he wrecked, Gilliland has a 17.25 average finish on road courses in 2022.
Ty Gibbs ($6,500 – P16): Gibbs has excelled at this track type in his Xfinity career and finished 2nd here yesterday in the Xfinity race.
Ricky Stenhouse ($6,000 – P25)
Ty Dillon ($5,400 – P28)
Mike Rockenfeller ($4,900 – P34)
Corey Lajoie ($5,200 – P30)
Cash Core: Kyle Larson, Chris Buescher, Erik Jones, Aric Almirola : This core leaves you over $9K per driver.
Check out my NASCAR DFS Tutorial! Ensure you are ready and understand how I break down the races and build lineups (https://windailysports.com/nascar-dfs-pit-stop-2021-introduction-to-nascar-dfs/).
There were a lot of changes in the cars and what driver is in what car/truck in 2022. Check out my What's new in 2022 article (https://windailysports.com/nascar-dfs-whats-new-in-2022/)