MLB DFS Winners and Losers: Kepler, Bote, and More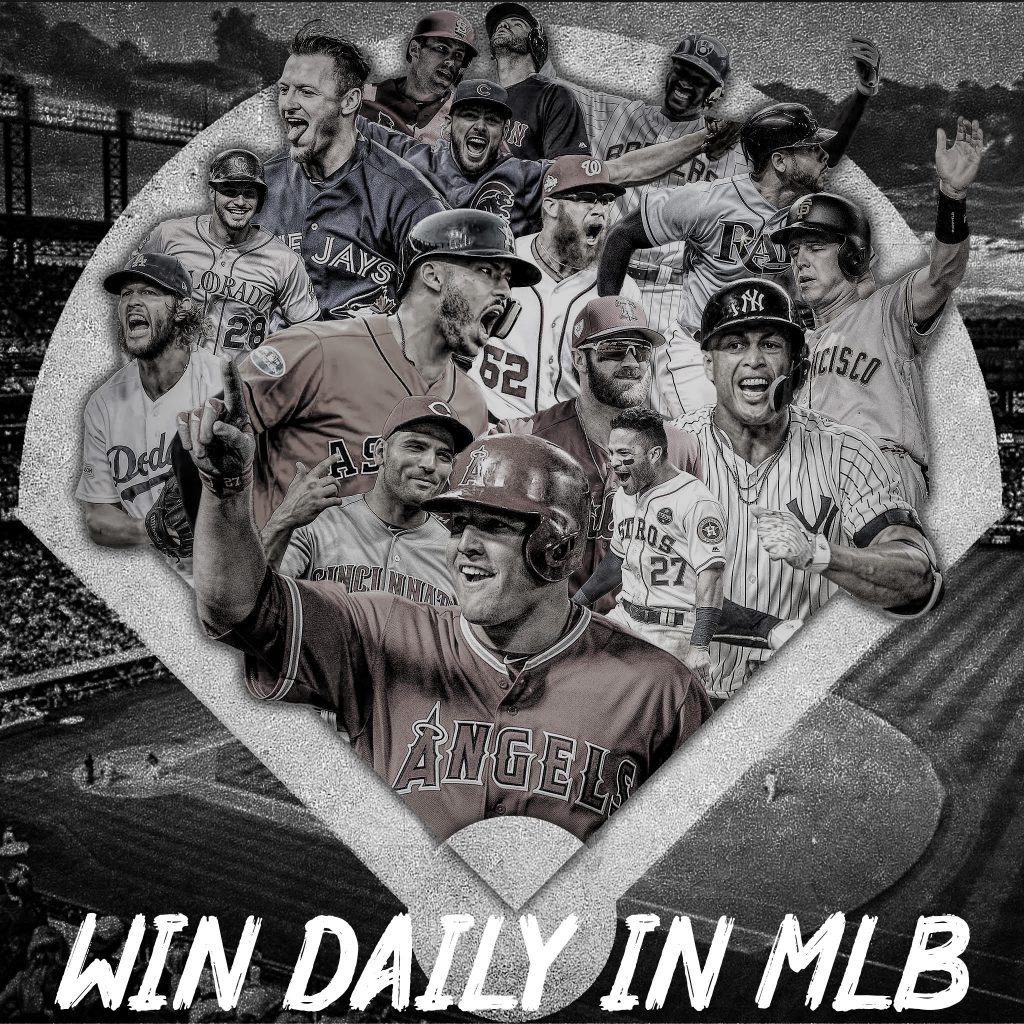 There were 14 MLB games on Saturday, April 27th, including a couple of two-homer performances from some unlikely sources.
Winners
Max Kepler ($4200 on DraftKings)
The Minnesota Twins offense unloaded five round-trippers versus Orioles pitching yesterday, including a two-homer performance from Max Kepler. The outfielder went 2 for 4 with two homers and four runs batted in raising his season average to .263. and accumulating a robust 32 DFS points. Kepler now has six big flies on the season and is hitting .286 with all but one of his home runs versus right-handed pitching.
Kepler's Outlook
The outfielder will have another favorable matchup today as the Twins continue their series with the lowly Orioles and Dylan Bundy. Kepler has fared well in 10 career at-bats versus Bundy, hitting .400 with a homer and four runs batted in. Bundy has struggled to begin the 2019 campaign and sports an inflated 6.56 Earned Run Average while surrendering seven home runs in five starts. Bundy has not fooled many hitters of late and today will be no exception, so expect it to rain runs at Target Field.
David Bote ($4200)
David Bote doubled his season power output, crushing two homers off Diamondbacks pitching yesterday. Bote paced the Cubs to a lopsided win with his two homers and five runs batted in, earning 36 DFS points, the most points of any player on the day. The 26-year old is now hitting .296 on the season and out of the five-hole for the Cubs, so performances like yesterday may become more regular.
Bote's Outlook
I am fairly confident nobody predicted that Bote would lead all players in DFS points yesterday, however, as mentioned above he is hitting in a favorable spot in the Cubs order, sandwiched between Javier Baez and Jason Heyward. He will be facing Diamondbacks pitcher Luke Weaver for the first time today, although Bote is hitting over .300 versus right-handed pitching this season. Weaver has a respectable 3.33 Earned Run Average this season. However, teammates Baez, Heyward and Anthony Rizzo have feasted on Weaver in the past, which could present Bote with an opportunity to knock in some runs today.
Hunter Dozier ($4600)
Hunter Dozier was a machine, notching four hits, including a triple and four runs batted in yesterday. The offensive outpouring earned him 32 DFS points and he led all first basemen for the day. Dozier is now hitting .350 with seven homers and 16 ribbies and is creeping up the leaderboard among all American League hitters. Dozier is one of the lone bright spots on a bottom-feeding Kansas City team.
Dozier's Outlook
Dozier should be another smart DFS play today as the Royals lock horns with Matt Harvey and the Angels in the series finale. Harvey is a shell of his former self, pitching to the tune of a bloated 8.03 ERA. Dozier has only faced Harvey on two prior occasions, going 0 for 2, however, he is hitting .390 with six gopher balls versus right-handed pitching in 2019. This line could top .400 after today. Look for Dozier to continue his offensive onslaught versus Harvey.
Mike Minor ($8300)
Mike Minor put up an eye-popping 40.75 DFS points, leading all pitchers yesterday. The 31-year old absolutely crippled the Mariners offense in a stunning turn of events, fanning 13 while scattering a run over three hits in seven innings of work. Minor lowered His ERA to a minuscule 2.88 over six starts.
Minor's Outlook
The hurler has now limited the Mariners, Astros, Angels, and Diamondbacks to two runs or less this season. Minor is proving he can be a trusted DFS commodity even when up against some of the league's top offenses. Minor will more than likely toe the rubber next versus the Toronto Blue Jays in Texas, where he sports a 2.61 ERA on his home turf this season. Keep riding Minor until he proves he is no longer a viable option.
Other Top Performers
Marcell Ozuna- 2-4 with HR, 2B and 5 RBI
Anthony Rizzo- 3-5 with HR, 2B and 2 RBI
Losers
Christian Walker (4700)
Hopefully, you did not invest in the power hitting Christian Walker yesterday. The slugger had forgetful day versus Yu Darvish and the Cubs, fanning three times in four trips to the plate, earning a goose-egg in terms DFS points. Walker is still batting .312 on the season and is a good bet moving forward, but he will need put this one behind him.
Walker's Outlook
The immediate outlook may not be a promising as the D-backs face southpaw Jose Quintana in the series finale today. Walker is batting just .208 with a homer versus lefty pitching this season. The small sample size is right in line with the .188 he hit last season against southpaws. Poor splits coupled with Quintana, who has won his last three, including a two-run outing versus the Dodgers his last time out, is a recipe for disaster. Steer clear of Walker today and re-access later in the week.
Marcus Semien ($8800)
Marcus Semien was another pricey DFS option who struggled yesterday versus Aaron Sanchez and the Blue Jays. Semien produced two measly points for DFS owners while going 0-3 with a strikeout. Semien is hitting .312 with four homers on the season but had a down day yesterday. The infielder will get a chance at redemption versus Blue Jays rookie Trent Thornton this afternoon.
Semien's Outlook
Semien should be a good bet to bounce back today versus the rookie hurler. Trent Thornton has a 5.79 ERA and has struggled with his command his past couple starts. Semien is batting .316 with three round-trippers versus right-handed pitching this season and even though he has never faced Thornton, the advantage lands squarely with Semien. Look for a bounce-back performance today from Semien and his A's teammates, who will attempt to avoid the series sweep north of the border.
Other Underperformers
Andrew Benintendi- 0-4, 3 K's
Michael Brantley 0-4, 2 K's
Injury Watch
Jean Segura is day-to-day after being drilled in the head yesterday. The initial prognosis is that Segura did not suffer a concussion, but he may be someone to avoid today and will likely watch this one from the bench.
J.D. Martinez is still battling back spasms and will likely not play on Sunday after sitting out yesterday as well. The slugger is undergoing treatment to remedy the issue, however, stay away in the interim.
Clayton is a baseball lifer who hails north of the border, his Blue Jays works can be found at Jays Journal where he is the site co-editor. Clayton is branching into DFS with Win Daily where he will look to apply his baseball and fantasy knowledge moving forward.