MLB DFS Hitter Stacks for DraftKings and FanDuel on 7/30/22
Published
2 months ago
on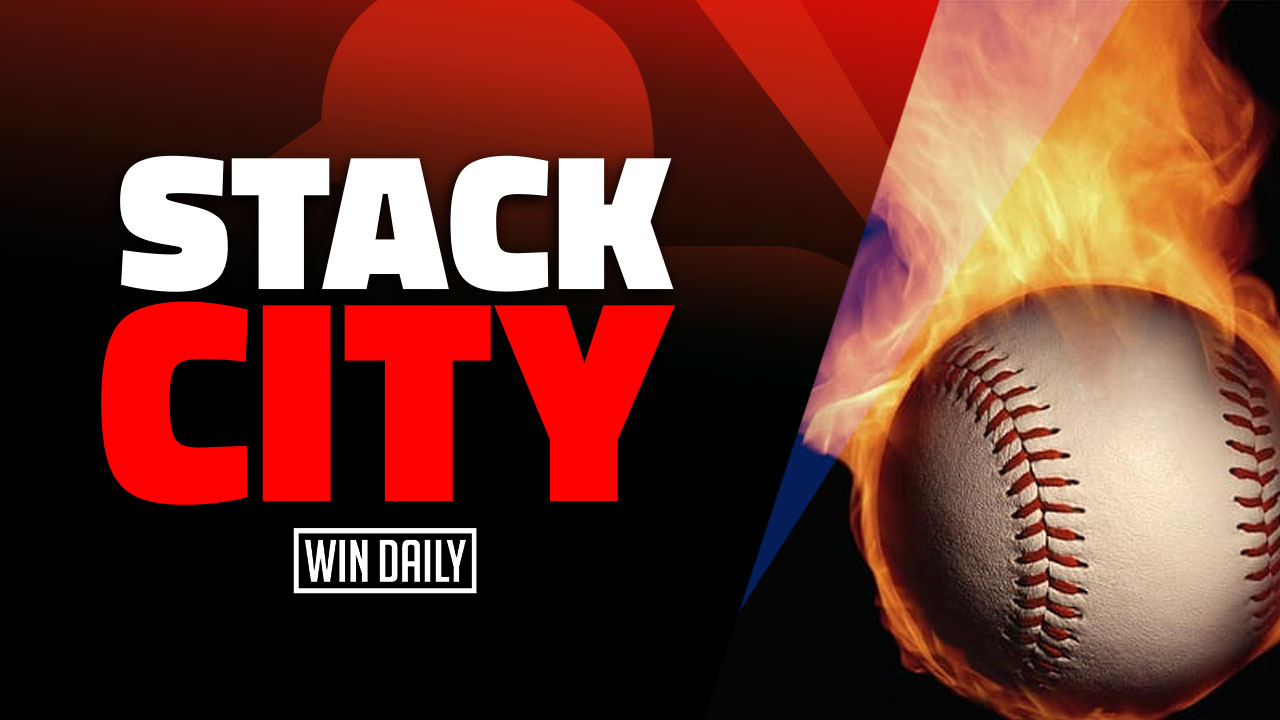 Welcome to the Saturday edition of the Stack City, where I'll be going through the top MLB DFS Stacks on DraftKings and Fanduel.
The MLB DFS action gets started with a four-game slate beginning at 1:10 PM EST, and I'll give you some notes on that. But the main slate consists of nine games at 7:10PM EST, and that's where we'll focus most of our energy and research today. That's what Adam's Starting Rotation article is looking at and combining this article with his daily masterpiece of an SP deep dive will help us find the winning combos in GPPs.
Now it's time to get to the stacks and build that bankroll!
MLB DFS Hitter Stacks – 1:10 PM (Early) Slate
Aaron Judge (& the NYY) vs. Jonathan Heasley
I'm only partially kidding here, as Aaron Judge clubbed his 40th and 41st HRs of the season last night, including a grand slam that upped his DK total to 39 points. In his past 11 games, he's smacked 10 HRs and scored 15 with 23 RBI, 2 SB and a .476/.560/1.238 slash line. Other eye-popping small-sample metrics for this historic stretch include a .762 ISO, .716 wOBA and 387 wRC+ — absolutely ridiculous and still perfectly normal for this guy. Judge remains the core of my Yankees stacks and he's still a bargain at $6K.
It's hot in the Bronx again today, with winds blowing out to the monuments and another great environment for hitters on tap. Jonathan Heasley is coming off the IL to start for Kansas City, and he's sporting a 5.50 ERA with 5.49/5.38 FIP/xFIP combo. He walks 4.47 batter per 9 IP and should have issues with the entire Yankees lineup. After the big boy, my priorities are D.J. LeMahieu and Anthony Rizzo (who homered again last night), and the projected 5-6-7 hitters (Matt Carpenter, the newly added Andrew Benintendi and value option Aaron Hicks).
Most of my Yankees stacks will be four- and five-man builds crafted from among those six hitters, but you can make a case for any Yankee in today's starting lineup.
Toronto Blue Jays vs. Drew Hutchison
The Yankees and Blue Jays are the top two stacks in the early slate, and using the right combo of Toronto hitters is where we can maybe get different. I'll be mostly fading the most expensive two bats here (Vladimir Guerrero and George Springer) just because I'm prioritizing the sub $5K guys (and Rizzo at 1B), but they are obviously in play. Since Hutchison is almost exclusively a basic fastball/slider hurler (with a few change-ups mixed in) we have to look at Alejandro Kirk as our favorite Blue Jay. He's tops and second on the team (respectively) against those two pitches and will be in most of my builds. Next in line are Lourdes Gurriel, Jr. and Matt Chapman, followed by Teoscar Hernandez and his massive upside. If Springer sits again and Cavan Biggio leads off, I'll try him again at just $2,500.
Detroit Tigers value: I'm looking at Jonathan Schoop ($2,400), the hot-hitting Willi Castro (at the DK minimum $2,000) and BvP play of the day Javier Baez, who's 7-for-10 lifetime against Ross Stripling with a HR.
Also consider: Milwaukee Brewers vs. Boston Red Sox Game Stack — with Brewers lefties and Red Sox RHB the preferred concentration. Road RHBs have a .344 wOBA vs., Brewers lefty Eric Lauer and the 1-5 hitters for Milwaukee is loaded with upside in this matchup vs. Nick Pivetta in a hitter-friendly Fenway.
MLB DFS Hitter Stacks – 7:10 PM (Main) Slate
St. Louis Cardinals vs. Erick Fedde
The Cards are the best non-Coors stack of the night, and they aren't that hard to fit with their excellent combination of cash game solidity and GPP value. WinDaily writer Jared Levitt pointed out astutely in Discord chat that Lars Nootbar is a fee square at just the $2K minimum on DK, and we can apply our usual smattering of sluggers in Paul Goldschmidt, Nolan Arenado, Dylan Carlson and Nolan Gorman against RHP Erick Fedde.
Brendan Donovan (excellent against sliders) and Tommy Edman are also in play, but the previous five I mentioned remain the priority for your Cards stacks against the man with identical 4.95 ERA and 4.95 xFIP — and a slider-heavy pitch repertoire.
Philadelphia Phillies vs. Mitch Keller
Mitch Keller is not a bad pitcher and this could be more of a contrarian stack once the ownership numbers start taking shape, but his repertoire is not overly complicated and probably not enough to keep this bunch largely in check for a second consecutive night.
Most of the Phillies stacks you build should begin with Rhys Hoskins, Kyle Schwarber, J.P Realmuto and Nick Castellanos at just $3,800. Nicky Two Bags has struggled this season but has five hits in his last 10 AB, a double among them, nd he's just a great price with plenty of upside against a pitcher he matches up very well against.
The value Phils are aplenty, with Darick Hall, Bryson Stott an Didi Gregorius among the best options if you're looking to save a buck or two from the next bunch of sluggers.
Los Angeles Dodgers vs. Kyle Freeland
I know it's obvious, but the Dodgers in Coors Field have massive upside and there are still some value pieces to grab among the big bats. The expensive options I like the most are Mookie Betts, Trea Turner and catcher Will Smith, but $2.8K Trayce Thompson went deep last night and has donged off Freeland. Hanser Alberto and Max Muncy are also affordable.
Freeland has made strides at limiting hard contact and is carrying respectable road numbers, but this venue is just not the best place for his makeup, and the Dodgers are going to take advantage of anther night at elevation, the winds blowing in less of a factor than the typical Mile High environment.
Also consider:
Los Angeles Angels 1-4 hitters vs. Glenn Otto: That's Shohei Ohtani, Taylor Ward, Luis Rengifo and Jared Walsh.
Chicago White Sox vs. Paul Blackburn could work as a contrarian stack since the Dodgers are such a huge ownership draw and the wind is blowing in in Chicago — which could keep folks away from the still-dangerous ChiSox.
Other Contrarian Stacks: San Diego Padres vs. Sonny Gray; San Francisco Giants vs. Drew Smyly
Slate Summary: There are oodles of options for stacks today and Adam Strangis has given us some pitching options, so let's put ourselves in position for some green screens using the articles and projections — and finalizing things based on late-breaking lineup news and via Discord chat. Good luck today!
I'm a writer from upstate NY in a cool little Hudson River town called Coxsackie. Too many interests to list, but the films of David Lynch, the books of Kurt Vonnegut, the music of Jack White and the maddening sport of golf are near the top of my list. Big into DFS, specializing in baseball, football, golf and hoops. I've written for FFToday.com, RotoExperts and Baseball America, to name a few.