MLB DFS Hitter Stacks for DraftKings and FanDuel for 08/10/2022 – Win Daily Sports
Published
2 months ago
on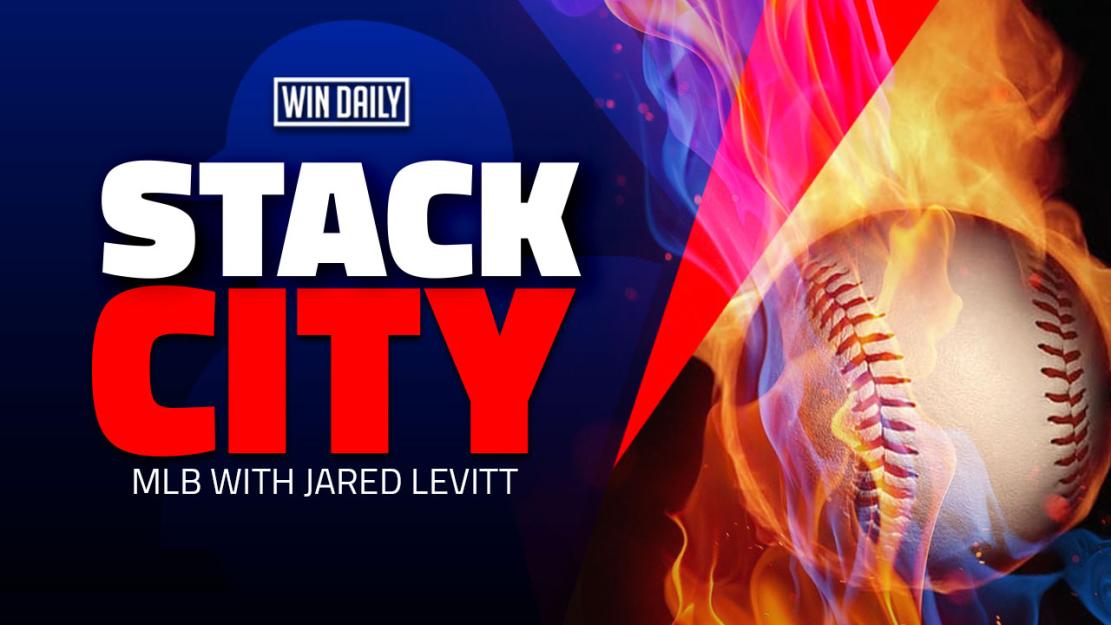 Welcome to the Wednesday edition of the Stack City, where I'll be going through the top MLB DFS Stacks on DraftKings and Fanduel. 
It's Wednesday and that means we have games all day long.  The focus here will be on tonight's 9-game slate of MLB DFS.  We have another solid matchup in Coors and some other really solid places for offense.   
Always make sure to read Adam's Starting Rotation when setting your lineup.  It's hands down the best pitching article in the MLB DFS business.
Let's dig in and see if we can find some stacks to use today!
MLB DFS Stacks – Main
Cleveland Guardians vs. Drew Hutchison
Over his last 4 starts, Drew Hutchison has allowed at least 4 people to cross the plate in 3 of them, with one being against this same Guardians team.  If we look at his body of work over his last 20 innings, it just hasn't been very good.  His BB/9 is an astounding 4.43 and his WHIP is getting up there also at 1.57.  He just hasn't been fooling anyone as he has a slate low of swinging % of just 38.8%. 
If the Guardians can be patient tonight, and they normally are, they can get the carousel going tonight and put up a big number on the board.  With Hutchison, we really want to try to squeeze in the lefties in this matchup.  Lefties have a .437 slugging % vs. him and a .338 wOBA.  Both numbers are slightly higher than righties. 
Core:  My core with the Guardians tonight will be the 3 guys sitting right smack in the middle of the lineup, Jose Ramirez, Josh Naylor, and Andres Gimenez.  When using Ramirez, I really try to do so when he's hitting as a lefty.  All of his offense metrics are significantly higher as a lefty and 17 of his 21 homers have been from that side. 
With Gimenez, we have someone having a breakout season.  It's rare for both sides of a trade to win, but that's exactly what has happened with the Lindor to the Mets trade.  Gimenez has been one of the more solid Guardians hitters all season and is coming into this one on a modest 3-game hitting streak.  Over that streak, he has 2 multi-hit games.   
Secondary Pieces: While they aren't in my core, I really do like Oscar Gonzalez and Amed Rosario quite a bit today and I'll look to get them into my Guardians stack where I can. Gonzalez continues to thrive in his rookie year. Over the last month, he's done extremely well vs. righties as he has a .286 ISO and a .473 wOBA. Rosario is coming off a monster night in which he went 3-4, the second time he's done that in the last week. I'll also look to potentially get Steven Kwan into the mix. He'll be hitting leadoff and gets the platoon advantage.
St. Louis Cardinals vs. Kyle Freeland
I always try to avoid recommending a Coors game stack with my MLB DFS articles, but when the spot is as good as it is tonight, it's hard to avoid.  The Cardinals have been one of the best teams in the league this season overall vs. lefties.  As a team, they have a .770 OPS, a .335 wOBA, and 120 wRC.  Just outstanding numbers and when you couple that with the fact they are facing a lefty in Coors it just has me all over them. 
Has Freeland been awful recently?  No, he hasn't.  On paper, he's actually been pitching ok with an ERA just under 4.00 over the last month.  Some of his success has been attributed to just some luck.  In his last start against the Padres, he gave up just 2 ER.  In that same start, he allowed a 71% hard-hit rate but was lucky to have a LOB % over 80%.  He won't be so lucky tonight against a surging Cardinals team.
Core: My score with the Cardinals tonight will be Paul Goldschmidt, Nolan Arenado, and Dylan Carlson. All 3 guys have been absolutely lethal vs. lefties this season. Goldy has been the best of the bunch, with an OPS of 1.394, fueled by a slugging % of .847. A strong case could be made that he's been the best hitter vs. lefties this season in all of baseball. Arenado has also been extremely solid vs. lefties, with a .984 OPS and a slugging % of .646. He'll be facing off against his former teammate tonight. Can he take him deep?
Secondary Pieces: After those 3, I'll look to sprinkle in Tyler O'Neill, Paul DeJong, and Tommy Edman.  Since coming back from his stint in the minors, all DeJong has done is hit.  He's failed to get a hit in just 3 of the 9 games and has now homered in back-to-back games.  He's just $3.4k on DK tonight.  Over the last month, O'Neill has been crushing lefties.  He has a 55% hard-hit rate vs. them and a wOBA pushing .400. 
Value: If you want to get fancy tonight and fade Goldy, Albert Pujols makes for a cheap punt at first. He's just $2k and has been crushing lefties over the last month, with a .308 ISO and a .545 wOBA. He'll free up just a ton of salary.
Toronto Blue Jays vs. Dean Kremer
I swore I wouldn't go back to the Blue Jays with my MLB DFS stacks, but they get a strong matchup tonight against Dean Kremer and it's a matchup that plays to their strengths.  Kremer is a low strikeout pitcher that induces little to no soft contact.  92% of the contact that he gives up is in the medium to hard range.  He's also a reverse-splits pitcher that has struggled against righty bats.  Over the last month, righties have a .302 ISO vs. him and a .442 wOBA.  The Blue Jays will more than likely throw out a lineup tonight that will have 7 to 8 righties in it.  It's a potential nightmare scenario for the young Orioles Pitcher. 
Core: I'm going to build my core tonight with the Blue Jays around Vladimir Guerrero and Teoscar Hernandez. Both guys lineup extremely well in Kremer and have also been hitting the ball well vs. righties. Kremer's main pitch to righties is his cutter, throwing it close to 50% of the time. Guerrero has a .398 wOBA vs. righty cutters and a .209 ISO. Hernandez has a .275 ISO and a .407 wOBA vs. them. Both Hernandez and Guerrero also have wOBA's over .400 vs. righties over the last month. It's a great spot for both of them and they should do well tonight.
Secondary Pieces:  After my core with the Blue Jays, I'll look to get in Matt Chapman, Whitt Merrifield, and Bo Bichette.  Bichette is coming off of a monster night, a night that saw him homer twice and drive in 4 runs.  While we can't expect that again tonight, he has been solid vs. righties with a .359 wOBA against them over the last month.  Chapman has been one of the more consistent Blue Jays hitters of late, with hits in 4 of his last 5 games.  He's also been solid vs. righties, with a .344 ISO against them over the last month and a .426 wOBA.  
MLB DFS Summary
Other stacks I'll like tonight will be the Rockies vs. Jose Quintana, Dodgers vs. Sonny Gray, and potentially the Royals vs. Johnny Cueto. Also love the spot for the Braves vs. Nick Pivetta.
Good luck and hope to see you in the green.
Make sure you follow me on Twitter at @rangerzfan79 and be sure to sign up for an ALL ACCESS GOLD ACCOUNT here at Win Daily Sports. Gain access to our Projection Models and jump into our Discord where we will have our experts talking plays across every sport and slate!
New to the DFS writing world but have been playing DFS since BVP was cool. Started play season long fantasy when sporting news was used to calculate weekly scores. Originally from Brooklyn, NY but now a Baltmore resident.