MLB DFS Hitter Stacks for DraftKings and FanDuel for 07/29/2022 – Win Daily Sports
Published
2 months ago
on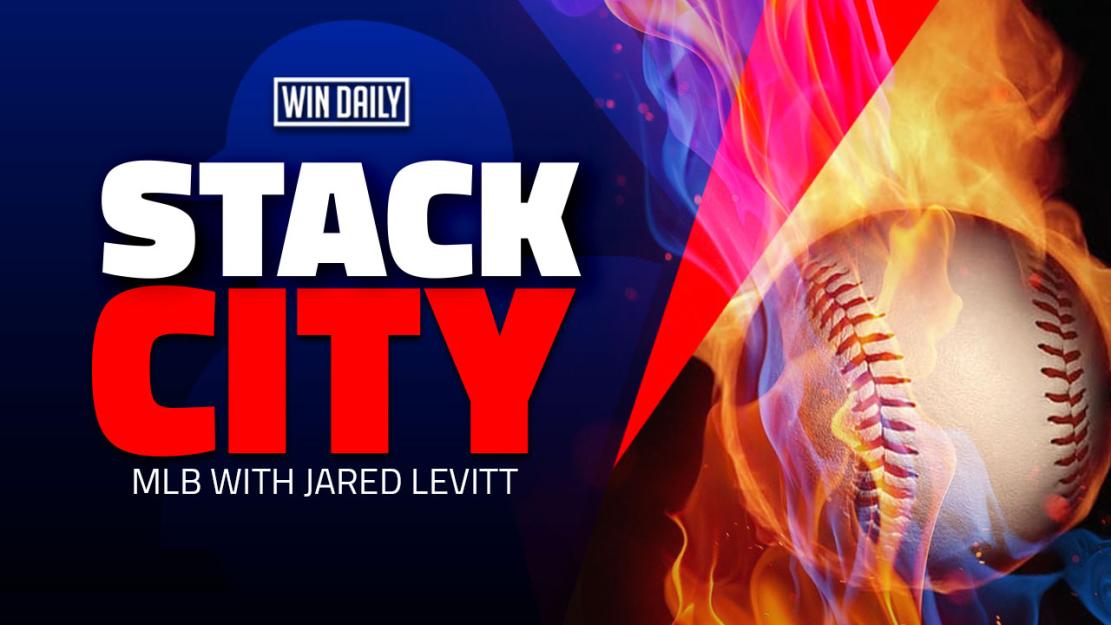 Welcome to the Friday edition of the Stack City, where I'll be going through the top MLB DFS Stacks on DraftKings and Fanduel. 
It's Friday and that means we have a full slate of baseball.  Tonight we'll have a 13-game slate that included a chalky Dodgers in Coors.  While they will be the popular team, there will also be plenty of other stops for offense.
Always make sure to read Adam's Starting Rotation when setting your lineup. It's hands down the best pitching article in the MLB DFS business.
Let's dig in and see if we can find some stacks to use today!
MLB DFS Stacks – Main
Los Angeles Dodgers vs. Chad Kuhl
The Dodgers come into this one having smoked the Rockies last night.  After being a chalk MLB DFS stack for several days in a row and disappointing, last night was very different,  They put up a 13 spot vs. Jose Urena and the bullpen.  There's a very strong chance that they do it again tonight in a soft matchup vs. a pitcher in Chad Kuhl that is not in peak form.  Kuhl is coming off one of his worst starts of the year where he gave up 5 ER in just 2 and a third innings to the Milwaukee Brewers. 
Over the last month, Kuhl has really struggled.  He's pitched to a 9 ERA and while that seems excessive, his xFIP of indicates it's not all bad luck.  He's given up 5 homers over that stretch and 7 barrels.  Kuhl is getting hit extremely hard right now and a return to Coors won't do him any favors.  We'll want to prioritize lefties here as they have a .366 wOBA and a .490 slugging %. 
Core:  My core with the Dodgers tonight will start with Freddie Freeman.  On the year Freeman is hitting .338 vs. righties and has crushed 11 homers.  His .983 OPS leads the team vs. righties for anyone that has over 100 AB.  His first season in LA has proven to be a successful one so far and that success should continue tonight. 
I'm also going to prioritize getting Cody Bellinger into my lineups.  He has 2 solid games in a row and his $3.4k price tag will even out Freeman's $5.8k salary.  Bellinger has been making a lot of contact of late.  He's had extra-base hits in back-to-back games.
Secondary Pieces:  After Freeman and Bellinger, I'll look to include some complimentary pieces.  Guys like Gavin Lux and Max Muncy fit that bill.  Lux is one of the hotter Dodgers bats right now with back-to-back 3 hit games.  He's extremely cheap for the environment tonight at just $3.6k on DK.  Lux has also been one of the Dodgers' best bats vs. righties this season, with a .841 OPS.  Muncy is also very affordable tonight at just $3.9k. 
I didn't mention them in my core or secondary pieces, but Trea Turner and Mookie Betts are always in play.  The same goes for any Dodgers hitter tonight.  Fit them where you can. 
Milwaukee Brewers vs. Brayan Bello
While the Dodgers are my top MLB DFS stack on the night given the environment they'll be in, the Brewers aren't really that far behind them tonight.  They get a matchup tonight against a pitcher in Brayan Bello that has really struggled so far in the big leagues.  Through 3 starts, Bello has given up 14 ER in just 12 innings of work.  He's been wild in the zone and out of the zone.  His WHIP of 2.5 is far and away the top number of any pitcher on the slate. 
His one saving grace so far has been that he's yet to give up a homer.  This has been consistent for him throughout his minor league career as he gives up an extremely low flyball rate and high groundball rate.  Knowing that you'll want to go full stack here. I won't be overly worried about splits here.  Both sides so far have a slugging % well over .500 and wOBA's over .400. 
Core: Knowing that Bello doesn't give up much in the way of long balls, I'm going to focus my core on the regulars in this lineup that get on base the most against righties.  Those three are going to be Christian Yelich, Andrew McCutchen, and Kolten Wong.  Christian Yelich is coming into this one hot.  He's currently riding a 7-game hitting streak that has seen his season-long average rise to .250.  He's seeing the ball right now as well as he's seen all year.  He has 4 walks also over his last 2 games.  McCutchen is also doing very well right now.  He has hits in 5 of his last 6 games and hasn't been shy to take a walk either.  These guys will continue to get on base against a pitcher that sports a high WHIP. 
Secondary Pieces:  I'm going to look to squeeze in guys like Rowdy Tellez, Hunter Renfroe, and Luis Urias.  If there is anyone in this lineup that can hit a random homer off of Bello, it's going to be Rowdy Tellez.  He has just a ton of power and has a nearly 47% flyball rate vs. righties over the last month.  Although he took an 0-5 in his last game, Hunter Renfroe is still extremely hot and could do well in this matchup.  Prior to that 0 for, he had homered in 4 of his previous 5 games. 
Value: For value here, we could potentially look to Omar Narvaez and Tyrone Taylor. Both guys are just about at $3k or a little more than $3k on DK tonight. They more than likely won't win a GPP for you, but they're in a lineup that is expected to score some runs tonight and could play a big part in it.
Toronto Blue Jays vs. Bryan Garcia
I'm going to continue to play the Blue Jays because few teams have the firepower that they have.  They'll come into this one a little banged up as George Springer left the game early last night, but that will just mean there's an extra value piece in there tonight. 
The Tigers will turn the ball over to Bryan Garcia tonight.  Garcia will be making his 2022 debut in the majors tonight.  If we look at what Garcia did in the Majors last season, it was not good.  He pitched to a 7.55 ERA and a 6.07 xFIP.  His HR/9 was an extremely high 2.29.  In his brief MLB career, lefties have really been his weakness.  He's given up a .521 slugging % and a .400 wOBA to them.  They have a combined .939 OPS vs. him. 
Core and Value: I'm going to lump everyone together here because my core will also be a value play.  With Springer going down last night, there's a good chance that Raimel Tapia will be hitting out of the leadoff spot.  If that happens, he'll be a lock in all of my lineups tonight.  Between his price of just $3.3k on DK tonight and the matchup, he's in a spot to really do some damage. When he's been in the lineup, he's been extremely productive.  He has hits in his last 7 games played, including a little league inside the park home run. 
I also want to make sure to get in Cavan Biggio.  He should be back in the lineup tonight after sitting vs. the lefty last night.  He's been productive of late, with hits in 4 of his last 5.  He's also just $2.2k on DK.  These cheap Blue Jays will help you to fit in the Dodgers or Brewers.
Secondary Pieces:  While not in my core tonight, the normal guys like Vladimir Guerrero, Teoscar Hernandez, and Bo Bichette are also in play.   The Blue Jays have one of the highest implied run totals on the day and in this matchup, should get all of it.  If they do, you can count on these 3 as a big part of it. 
MLB DFS Summary
Other Stacks I like tonight will be the Yankees vs. Kris Bubic, Cardinals vs. Anibal Sanchez, and Braves vs. Madison Bumgarner. 
Good luck and hope to see you in the green.
Make sure you follow me on Twitter at @rangerzfan79 and be sure to sign up for an ALL ACCESS GOLD ACCOUNT here at Win Daily Sports. Gain access to our Projection Models and jump into our Discord where we will have our experts talking plays across every sport and slate!
New to the DFS writing world but have been playing DFS since BVP was cool. Started play season long fantasy when sporting news was used to calculate weekly scores. Originally from Brooklyn, NY but now a Baltmore resident.