MLB DFS Hitter Stacks for DraftKings and FanDuel for 07/26/2022 – Win Daily Sports
Published
11 months ago
on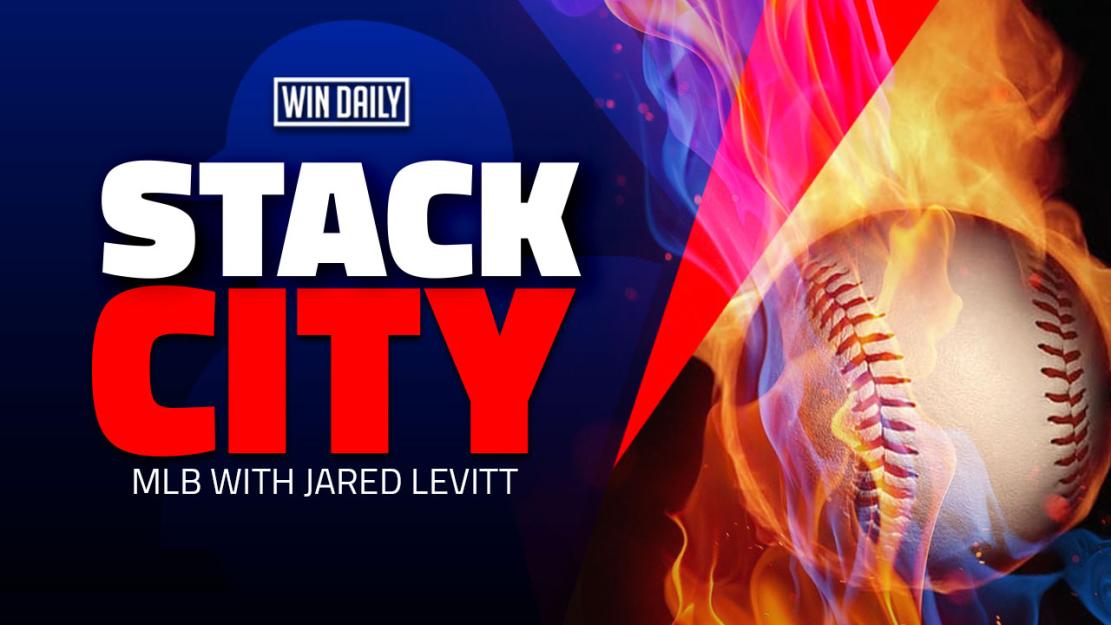 Welcome to the Tuesday edition of the Stack City, where I'll be going through the top MLB DFS Stacks on DraftKings and Fanduel. 
Tonight we have ourselves a 13-game slate of MLB DFS to navigate through.  Unlike last night, there are a ton of good spots for pitching.  There are however some sneak spots for hitting and we'll also need to navigate Coors Field.
Always make sure to read Adam's Starting Rotation when setting your lineup.  It's hands down the best pitching article in the MLB DFS business.
Let's dig in and see if we can find some stacks to use today!
MLB DFS Stacks – Main
San Francisco Giants vs. Tyler Gilbert
While the end results haven't been too bad for Tyler Gilbert over the last month, if we dig in a bit we can see that he's been getting extremely lucky to not give up more damage than he has.  Over the last month, Gilbert has pitched to a 2.51 ERA, yet he has a 5.79 xFIP over the same period.   Anytime I see that big of a discrepancy between their ERA and xFIP, it raises a huge red flag.  We can absolutely expect some negative regression from Gilbert and it's going to come at the hands of the San Francisco Giants tonight. 
Gilbert has been giving up the type of contact that we really want to target with our MLB DFS stacks.  He's giving up a ton of fly balls and he's also giving up a healthy amount of hard contact.  In just his last 14 innings of work, he's given up 6 barrels.  His low WHIP despite a huge amount of contact screams luck.  With Gilbert, we want to target him with righties.  Righties have a .512 slugging % vs. him this season and a .359 wOBA.  Both are significantly higher than what lefties have.
Core: My core with the Giants will be Wilmer Flores, Darrin Ruf, and Thairo Estrada. All three guys have been crushing lefties over the last month. Flores has a .273 ISO and a .352 wOBA vs. them over his last 41 AB. Estrada has a massive .481 ISO and a .447 wOBA vs. them over the last month. And finally, Ruf has a .405 ISO and a .429 wOBA vs. them. These three are poised to have monster nights.
Secondary Pieces:  I'll also look to add Austin Slater here.  While he's not a priority with this stack, he's close.  He won't get us much in the way of power, but he does get on base a ton vs. lefties as he has a .407 OBP vs. them.  He'll set the tone at the top of this lineup tonight and stacking him in front of guys like Flores and Ruf could pay dividends.   
Value: The free square of the night will be Yermin Mercedes.  The kid that couldn't get along with Tony LaRussa has started to find a home with the Giants and is min priced on Dk tonight at just $2k.  In his very brief career, Mercedes has done extremely well vs. southpaws with a .526 slugging % and a .382 wOBA.  As long as he's in there tonight, he'll be in my lineups.
San Diego Padres vs. Garrett Hill
The Padres were embarrassed last night by the Detroit Tigers, losing 12-4.  Tonight I think they return the favor.  The Tigers will turn the ball over to Garrett Hill tonight.  After a surprisingly solid debut vs. the Guardians, his last 2 outings have not been as strong.  In his last 2 outings, Hill has given up 9 ER in 10 innings of work.  Tonight's matchup should more resemble what he did against the White Sox when he gave up 6 ER in 5 innings. 
Through his 3 starts in the bigs, he's pitched to a 5.63 ERA and a 5.29 xFIP.  He hasn't missed many bats as he has a slate low 5% swinging strike rate.  His nearly 90% contact rate is also a slate high tonight.  So far in his brief MLB career, splits have been pretty neutral for him.  He's giving up a 55% hard-hit rate to lefties and a 48% to righties.
Core: I'm going to build my Padres lineup around their big 2 hitters in Manny Machado and Jake Cronenworth.  Although he had a solid series vs. the Mets, Machado has not been hitting the ball overly well over the last month or so.  This is a good get-right spot for him tonight vs. a pitcher that pitches to contact.  With Cronenworth, he's been solid vs. righties over the last month.  Over his last 65 plate appearances, he has a .200 ISO vs. righties and a .345 wOBA.  These 2 guys are in a good spot tonight and should do well. 
Value:  After my 2 core guys, I'm going to jump right to value here.  Eric Hosmer, Nomar Mazara, and CJ Abrams are all under $3k tonight on DK and will provide us a ton of salary relief.  After a mid-season slump saw his average take a nose-dive, Hosmer has really been hitting the ball well again.  He's riding a 4 game-hitting streak right now and has been their best and most consistent hitter over the last handful of games.  At just $2.4k tonight on DK, he's one of my favorite value plays of the night. 
Los Angeles Dodgers vs. Josiah Gray
The Dodgers were as big of a disappointment last night as we've seen all year.  In a solid matchup vs. a struggling pitcher in Paolo Espino and a bad bullpen, the Dodgers managed to score just 1 run on 8 hits.  If we look at some of the advanced stats for last night, they just got unlucky as they had some of the longest hit balls and hardest hit balls.  They get an equally good matchup tonight against Josiah Gray. 
Gray has already faced this Dodgers lineup once this season at home and it was his worst start of the year.  He allowed 7 ER in just 3 innings of work with 3 bombs.  I'm expecting more of the same tonight. Gray has a clear weakness and that's lefty hitters.  Lefties have a massive .571 slugging % vs him this season compared to just .355 for righties.  13 of the 21 homers he's allowed this season have been to lefties.  He'll face a lineup tonight that should have at a minimum 5 lefties.  It's going to be a struggle from the start for Gray tonight. 
Core: My core tonight for the Dodgers will be Freddie Freeman.  He failed us miserably last night and ended his 12-game hitting streak.  A streak that saw him just overpower most pitchers.  He'll look to get back on the saddle tonight and start a new streak.  Against righties over the last month, Freeman has a .364 ISO and a .511 wOBA.  It's a great bounce-back spot for him after disappointing last night.   
Secondary Pieces:  The other lefties I'll be interested in here will be Max Muncy and Cody Bellinger.  While Bellinger hasn't done a whole lot over the last month or so, this is a good matchup for him.  He's a flyball hitter vs. a flyball pitcher.  Over the last 2 weeks, Bellinger has just a .472 OPS, but he's also been extremely unlucky with a .148 BABIP.  He's been putting good contact on the ball. It's only a matter of time before he breaks through again, and that will happen tonight.
Value: Jake Lamb is one of the top value plays in this lineup tonight. At just $2.2k on DK tonight, he'll give us some serious salary relief. He's been extremely solid vs. righties over the last month with a .379 wOBA. If the lineup is similar to last night, he'll be right in the middle of a lineup that Vegas expects to score a healthy amount of runs.
MLB DFS Summary
Both sides of the Coors game will be in play tonight, with a slight lean to the Rockies side vs. Kopech.  Should Bobby Witt be back in the lineup for the Royals, I'd seriously consider them as a top stack vs. Jose Suarez.  Other places we can look to for offense tonight will be the Mariners vs. Dane Dunning, and Brewers vs. Dylan Bundy.  I like to use teams that disappointed a night earlier with my MLF DFS stacks as it suppresses ownership. The Brewers were a huge disappointment in a great matchup last night and get another solid matchup vs. Bundy. 
Good luck and hope to see you in the green.
Make sure you follow me on Twitter at @rangerzfan79 and be sure to sign up for an ALL ACCESS GOLD ACCOUNT here at Win Daily Sports. Gain access to our Projection Models and jump into our Discord where we will have our experts talking plays across every sport and slate!
New to the DFS writing world but have been playing DFS since BVP was cool. Started play season long fantasy when sporting news was used to calculate weekly scores. Originally from Brooklyn, NY but now a Baltmore resident.