MLB DFS Hitter Stacks for DraftKings and FanDuel for 07/14/2022 – Win Daily Sports
Published
3 months ago
on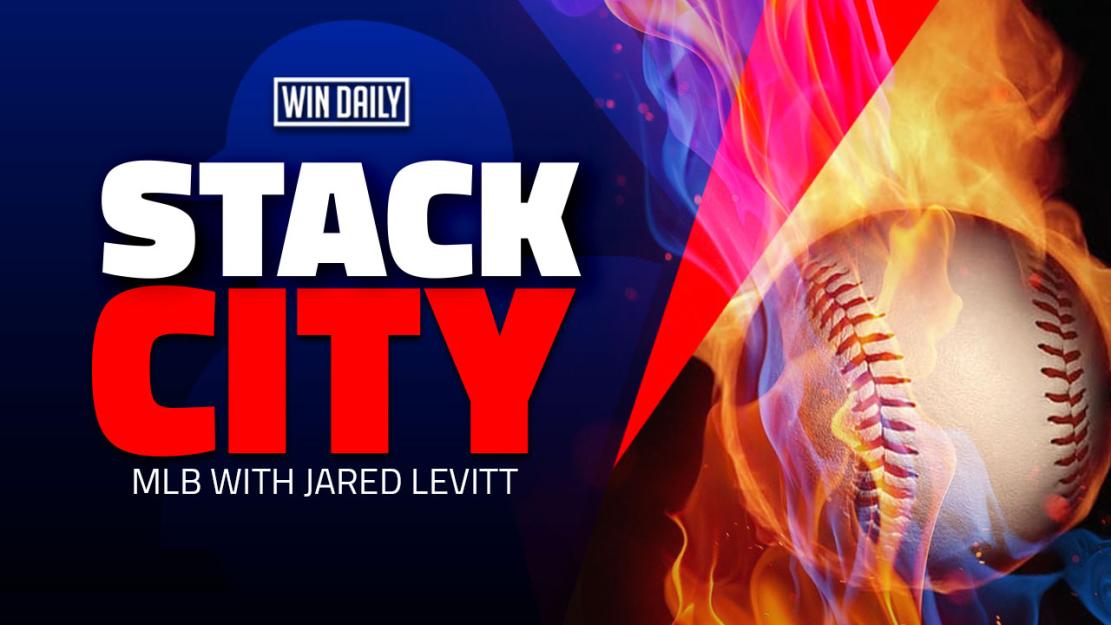 Welcome to the Thursday edition of the Stack City, where I'll be going through the top MLB DFS Stacks on DraftKings and Fanduel. 
We have a surprisingly large slate for a Thursday night today with 11-games on tap.  There should be plenty of options for our MLB DFS lineups tonight. 
Always make sure to read Adam's Starting Rotation when setting your lineup.  It's hands down the best pitching article in the MLB DFS business.
Let's dig in and see if we can find some stacks to use today!
MLB DFS Stacks – Main
Atlanta Braves vs. Anibal Sanchez (not a typo)
We turn back the clocks today as the last place Washington Nationals will turn the ball over to Anibal Sanchez. The same Anibal Sanchez that made his major league in 2006.  Sanchez hasn't pitched in the majors since a disastrous campaign in 2020.  In 2020, Sanchez pitched to a 6.62 ERA and had an xFIP and FIP well over 5.  In the 4 games that Sanchez has started in the minors this year, he's allowed an ERA of 4.02.  He's barely pitched over the last couple of years so we can't anticipate too long of an outing here.   
What we can anticipate is the Braves getting to him early.  Throughout his career, righties have performed a smidge better against him with a slugging % about 50 points higher than lefties.  That said, there isn't enough of separation in performance between the righties and lefties here that I'll be too concerned with splits.
Core:  Any Braves stack needs to be built around Austin Riley.  He just continues to rake, shoving it in the faces of those that didn't select him for the ASG.  Riley is currently riding a 9-game-hitting streak and has home runs in 4 of his last 5 games.  He was the majority of the offense in the Mets series and will look to keep rolling against a pitcher that started his career while Riley was in fourth grade.   Matt Olson will also be a part of my core Braves stack.  He's homered in back-to-back games and there's a strong chance he can make it 3 in a row.
Secondary Pieces:  My complimentary pieces here will be Ronald Acuna, Marcel Ozuna, Michael Harris, and Dansby Swanson.  I'm not making Acuna a core piece to my stack because his price tonight is extremely high.  Acuna is a star and one of the top young kids in the big leagues, but $6.2k is a lot to pay for someone that has just 3 games over 10 DK points over the last couple of weeks.   My favorite of the bunch here will be Harris and Swanson.  While Harris will most likely hit ninth in the order, he's been crushing righty pitching of late.  Over the last month, he has a .351 ISO and a .424 wOBA.  His $4.1k price tag on DK tonight makes him quite affordable for the upside he presents.
Value: A cheap way to get access to this stack will be guys like Eddie Rosario and Robinson Cano. Both guys will have the platoon advantage and can show some pop from time to time. My preference here would be Rosario, although the $2.4k price for Cano really opens up a ton of salary relief.
Cleveland Guardians vs. Elvin Rodriguez
Seeing that Elvin Rodriguez was back in the Majors to make a start tonight for the Detroit Tigers almost brought a tear to my eyes.  In his last 2 starts before being demoted to the minors, Rodriguez was bad.  There's no way to sugarcoat it.  He gave up 18 runs in just 8 innings of work.  There were rumors that he was tipping pitches in those 2 outings, but even before then, he was not great. 
He gave up 4 ER in each of his first 2 starts this season.  Before getting sent back down the minors, Rodriguez was pretty awful to both sides of the plate.  While he was worse against lefties, both sides had a slugging % over .650 and averages over .300.  We won't need to be overly concerned with splits here.
Core: My core with my Guardians stack will be Jose Ramirez, Josh Naylor, and Amed Rosario.  We'll start with Ramirez.  Ramirez is a far greater hitter as a lefty than he is a righty, and he'll get to hit from the left side tonight.  14 of his 17 homers this season have been as a lefty and his slugging % is almost 200 points higher as a lefty.  He's going to face a ton of fastballs today as Rodriguez throws it more than 50% of the time to lefties.  Over the last several seasons, this pitch selection has been his jam as he has a .479 ISO vs. it from righties and a .481 wOBA.  Lock and load with Ramirez tonight.  Rosario has been of the Guardians' top hitters all year, and especially of late.  Over his last 27 AB, Rosario has 11 hits and has an OPS of 1.021. 
Secondary Pieces:  I also really like guys like Andres Gimenez, Franmil Reyes, and Steven Kwan here.  While Reyes is always a risk for a 3 k game, he also has just a ton of power and can easily take Rodriguez deep.  Against righties over the last month, he has a .267 ISO and a .346 wOBA.  He can do well tonight and is extremely affordable at $3.4k on DK.  Gimenez has quieted down a bit, but he too is cheap at $3.7k and gets the platoon advantage here. 
Value:  Nolan Jones is essentially the free square of the night at $2k.  Although he's taken 0 for in his last 3 games, he's still batting .350 since his call-up and gets a soft matchup here.  His price tag will allow us a ton of flexibility with our bats and pitching.  
Cincinnati Reds vs. Nestor Cortes (High-risk stack, like very high)
This stack will hopefully go against the grain tonight.  Over his last 4 starts, Cortes hasn't been all that great.  Definitely not deserving of the ASG nod he recently received.  He's given up at least 3 ER in 3 of his last 4 games and in 2 of those games he gave up 4.  In his last outing vs. the Red Sox, Cortes couldn't get out of the fourth inning as he got yanked early. 
He's been giving up a ton of flyballs and a ton of hard contact over the last month.  His 61% flyball rate over the last month is far more than any pitcher on tonight's slate and his 39% hard-hit rate against is also close to the top.  When he was missing more bats at the start of the season, those numbers were acceptable but his K rate is down to 22% over the last month.  The Reds can easily fail us tonight, but they are close to fully healthy and can get to Cortes tonight and be low-owned.  Against Cortes, we are really just going to want to focus on righties.  He's still a shut-down pitcher vs. lefties but righties have a .417 slugging and a .303 wOBA vs. him. 
Core:  My Reds' core tonight will consist of the top 3 guys in the order, Jonathan India, Brandon Drury, and Tommy 'Hey Joc' Pham.  Brandon Drury is quietly having a monster year and has been crushing lefties.  Over the last month, Drury has a .492 wOBA and a .429 ISO vs. lefties.  Now he does K quite a bit vs. them and again, this is a high-risk stack but he has the chance to have a monster night here and is very reasonably priced at $4.5k.  India is starting to come on strong of late with hits in 6 of his last 7 games.  He had a full stat line last night with a double, a walk, and 2 runs scored.  At just $3.3k and leading off, it's a great spot for him.   
Value: I'm going to skip over the secondary pieces here and just jump right to the value.  The bottom of this lineup tonight will be filled with value.  Donovan Solano, Nick Senzel, and Stuart Fairchild are all under $3k on DK and can give us a ton of flexibility to get the big bats of the Braves or Guardians.  
MLB DFS Summary
Other stacks I like tonight will be the Dodgers vs. Dakota Hudson, Blue Jays vs. Jackson Kowar, and Astros vs. Reid Detmers. 
Good luck and hope to see you in the green.
Make sure you follow me on Twitter at @rangerzfan79 and be sure to sign up for an ALL ACCESS GOLD ACCOUNT here at Win Daily Sports. Gain access to our Projection Models and jump into our Discord where we will have our experts talking plays across every sport and slate!
New to the DFS writing world but have been playing DFS since BVP was cool. Started play season long fantasy when sporting news was used to calculate weekly scores. Originally from Brooklyn, NY but now a Baltmore resident.