MLB DFS: DraftKings and FanDuel Pitching 8/14
Published
2 months ago
on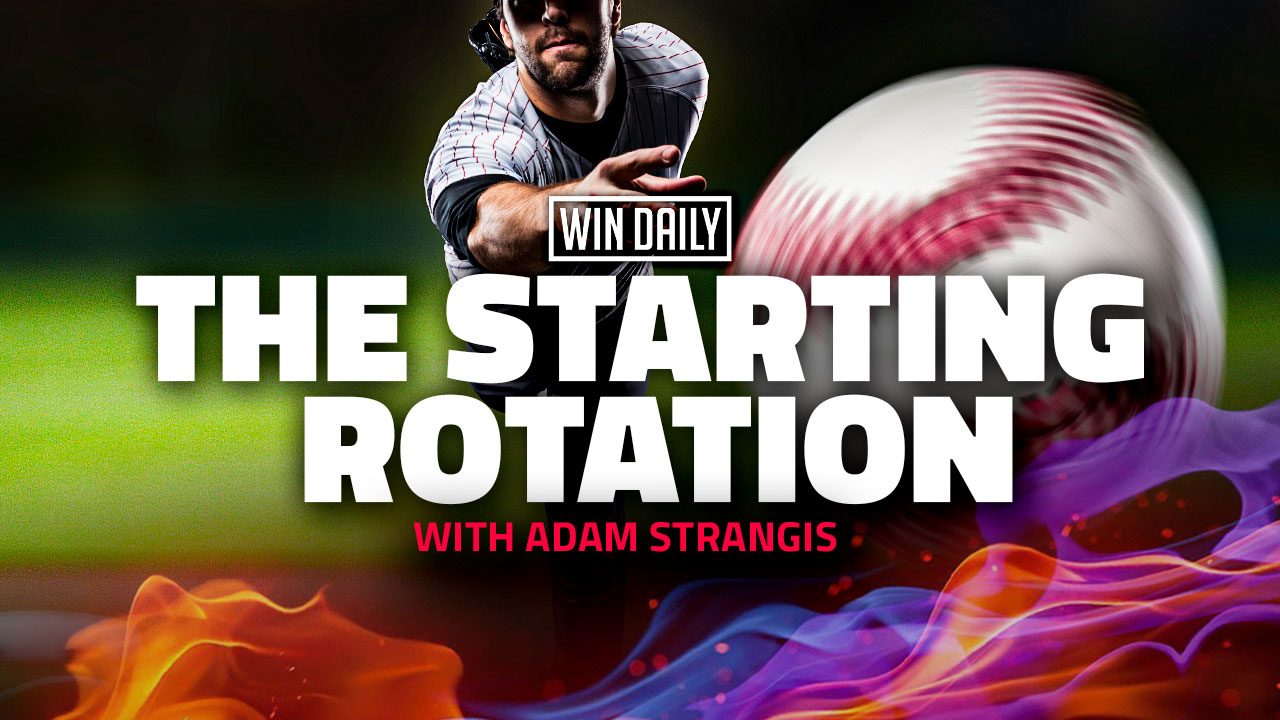 MLB DFS: DraftKings and FanDuel Pitching 8/14
We get another double-digit slate in terms of games for the third straight day, but this one might be a little short on Aces. Sure, there is a lot of talent on the mound but some of them are in pretty tough spots and the upper elite options really aren't available. Let's figure out who's going to offer the best route to success in the MLB DFS: DraftKings and FanDuel Pitching 8/14 so we can find green screens!
Aces
Note – We covered Spencer Strider in the Saturday edition and even though the salary rose by $400, he still is my favorite Ace in the tier. With some of the matchups on the board, the one against the Marlins is about the most appealing and I suspect he'll be quite popular. I'll include myself in that popularity.
Zack Wheeler
The salaries for the Ace pitchers reflect that they are not in easy matchups and nobody is $10,000 or over. While the Mets are a strong offense, Wheeler has had a very strong season with a 3.12 xFIP, 2.91 FIP, 2.63 ERA, a 0.78 HR/9, and a 27.2% K rate, and a 12% swinging-strike rate. That is only 0.3% behind his highest mark in his career that came last season and his four-seam has come up to a 29.5% whiff rate to go with 61 strikeouts. The Mets are 10th against the pitch and Wheeler does have a 20.7 point start against this offense in May. Both sides of the plate are under a .290 wOBA, both sides whiff at least 26.3%, and both sides have. WHIP under 1.10. I totally understand playing him, but he's riskier than normal.
Chris Bassitt
This has been a low-scoring series so far (understandably given who's been on the mound) and Bassitt has the ability to extend that stretch. We always like him better at home since he has both sides of the plate under a .275 wOBA, he has a 2.72 ERA, and the K rate is 26.2% with an xFIP of 3.18 and a WHIP of 1.00. Kyle Schwarber has missed two games now with a leg issue and is not a guarantee to play, which would only help Bassitt even more. We still do want the right side to face Bassitt as much as possible so it brings his slider out more as he's thrown 313 of his 385 on the season against righty hitters. That pitch has a 33.9% whiff rate and they are just 16th in wRC+. Now, they are also 11th in OPS and eighth in ISO so we know that this one can go bad. Bassitt is still such a different pitcher at home that we can't ignore him.
Mid-Range
Cristian Javier
He can be a very frustrating player because he's typically capped around 90 or so pitches and even though his walk rate is only 8.9%, he works very deep into counts because he's a strikeout pitcher. The K rate is fantastic at 32.5% and when he's under $9,000, that's even more appealing. His fly-ball rate is scary at 58.6% and the fact that the xFIP is under 4.00 actually comforts me. The stuff is nasty for Javier with a swinging-strike rate over 13% and the four-seam slider combo works well together. Those two pitches are about 87% of his arsenal and they both have a 26.7% whiff rate or higher with a wOBA under .300 allowed (the slider is .191). Oakland is in the bottom five against both those pitches and they also are in the bottom five in about every category offensively. The more righties in the lineup, the better since Javier has a 39.5% K rate and a 3.03 xFIP while the left side is sitting at a .298 wOBA. I wouldn't be surprised if he's popular as well with the salary and matchup in consideration.
Tyler Anderson
The Royals aren't a pushover as they rank 16th in ISO, 13th in wOBA, and 13th in OPS with a K rate that is the third lowest in the league when facing a lefty (18.6%). By the same token, Anderson isn't a pushover pitcher and he's been a very pleasant surprise for the Dodgers. Through his 122.1 IP so far, the ERA is 2.72 with a 20.1% K rate and a hard hit rate of just 27.3%. His profile is not perfect with an xFIP of 4.07 but Kansas City s a great spot to keep the ball in the park (maybe don't tell the Royals that after getting bludgeoned by LA last night, but still) and Anderson is not at a salary that he needs big strikeout numbers to pay off. He has been at least $8,800 since June 15th but yet, he's under $8,000 on this slate and that's extremely affordable. Anderson is in the 94th percentile of hard-hit rate and three of his four pitches are under a .290 wOBA allowed. His four-seam is up to .365 but KC is just average at 16th against that pitch so Anderson truly is a hair too cheap.
Honorable Mention
It's not a play that I love but Martin Perez can at least be on the table. Seattle is 11th in wRC+ and seventh in OBP but they do strike out over 23% of the time. Perez has a 3.70 xFIP and his HR/FB rate is only 7.4%, very low compared to his career mark of 12.2%. That has me skittish on him but I grant he could still have 20 DK points in him today.
I'm very torn on the other side of this game as well with Logan Gilbert. Since June started, his wOBA is over .318 and his K rate has dropped below 22% with an xFIP around 4.00. That is pretty alarming but at the same time, the Rangers are 20th in ISO, 24th in OPS, 26th in wOBA, and 22nd in wRC+ when they face a righty. Additionally, he's going to face a ton of lefties and that's a good thing with a .256 wOBA, 24.1% K rate, and a 1.03 WHIP against that side of the plate. The matchup is good enough for $7,700 that I roll the dice in a three-max, but that would be the threshold for playing him in my eyes. Single entry and cash would be scary.
Punt Range
Miles Mikolas
He made history in the last start and not in a good way. Mikolas became the first pitcher to allow 10 runs or more and at least 14 hits in under three innings of work, so at least we know it can't get worse, right? Since he went for a whopping -18 DK points, the salary has dropped an immense amount and I'm strongly considering him. The profile won't dazzle you (especially after last time) but he still has an xFIP under 3.85 and a K rate of 18.9%, and the salary is down to $7,100. Mikolas is still holding hitters to a 29% hard-hit rate and a 44% ground ball rate. Milwaukee has got to him twice and he's scored over 28 against them this year but he's excellent at home with a 2.48 ERA, a .255 wOBA, a 20.4% K rate, and a 0.88 WHIP. He's far from a lock, but the salary is so low that he can easily be a strong value play.
Lance Lynn
I'd be lying If I said I knew what was going to happen with Lynn today. He's had some ups and he's had a lot of downs through his 11 starts so far and the matchup plays a big part, as even Lucas Giolito squeezed out 20 DK while giving up four runs last night. I've made the case before that Lynn has had horrible luck this year with a 3.56 xFIP compared to a 5.88 ERA and his strand rate is only 60.5% (75.5% on the career) with a HR/9 of 1.96 (0.90 on the career). Now, some of that could just be he's 35 years old with over 1,640 innings n the majors but I don't think he's totally cooked yet since he has a 23.8% K rate and a 41% ground ball rate. The lefties certainly worry me with a .368 wOBA, 18.1% K rate, and a 5.44 FIP but this lineup is one of the worst in baseball. I'll be interested to see what happens as far as ownership today as he could be the chalk choice for SP2 at just $6,800.
Missed The Cut
Shane Bieber – If you're playing a lot of lineups, he's probably with getting to 5-10% because Bieber has had such a strong year. The K rate is over 25% with a 2.88 FIP and a 45.8% ground ball rate, so I'm not thinking he gets torched. Having said that, the worse side of the plate is the right side for Bieber with a 3.31 xFIP and 1.18 WHIP so he wouldn't be one of my main targets in SE or three-max.
Stacks
Cardinals
Braves
Astros
Cubs
Rays
White Sox
Thank you for reading my MLB DFS: DraftKings and FanDuel Pitching 8/14 and make sure you follow me on Twitter at @bucn4life! Be sure to sign up for an ALL ACCESS GOLD ACCOUNT account here at Win Daily Sports. Gain access to our Projection Models and jump into our Discord where we will have our experts talking plays across every sport and slate!