MLB DFS: DraftKings and FanDuel Pitching 8/13
Published
2 months ago
on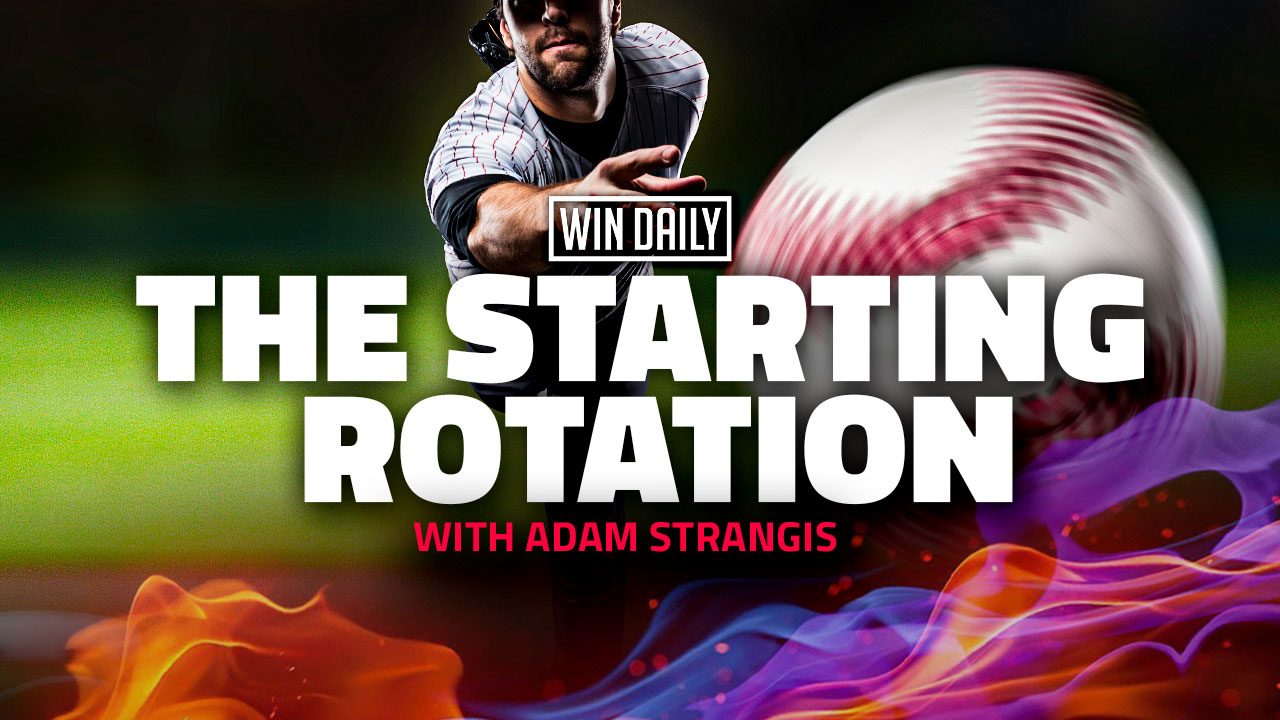 MLB DFS: DraftKings and FanDuel Pitching 8/13
We get a second-straight massive slate on Saturday with 12 games tonight and we have all sorts of aces at the top. There will likely be some chalk to deal with and some of it I can't wait for while some other players we may need to be careful with. Let's talk about everyone in the MLB DFS: DraftKings and FanDuel Pitching 8/13 and see who can lead us to green!
Aces
Jacob deGrom
The time has come to use deGrom in fantasy and I expect the field to follow. He should be good for around 85 pitches tonight and he whiffed 12 on just 76 pitches in the last game for a cool 35.6 DK points. It's not a surprise but through his first two starts, the metrics are eye-popping with a 1.00 xFIP, a 1.25 FIP, a 50% K rate (not a typo), and a 26.7% swinging-strike rate. You can't do this stuff on video games and the four-seam is sitting at 99.4 mph while the slider has a 71.4% whiff rate and a .104 wOBA allowed. Listen, the only reason we haven't played deGrom is injuries and pitch counts. You had better believe I'm loading up on him today and he's a cheat code when he's on the mound. It is that simple. He's not even $11,000 on DK yet and I plan on playing him until they force the salary to a point where it bothers my build.
Corbin Burnes/Aaron Nola
I'm grouping these two together because I know in my head that they could score more points than deGrom. It's baseball and everything is possible in any game. However, I can't say that I'll be that heavy on them at what amounts to the same salary. For Burnes, we know he has the upside even in the matchup because he's dropped 37 DK on this Cards offense before. He's been excellent this year with a 32.6% K rate, a 2.89 xFIP, and a 44.6% ground ball rate. His K rate jumps up to over 35% at home and the xFIP drops to 2.44 to go along with his cutter and curve both having a whiff rate over 30%. It's not that Burnes is bad…it's deGrom.
For Nola, the Mets had multiple hitters leave the game last night so I do want to see what the lineup looks like for him. Like Burnes, his 2022 campaign has been fantastic and I would say among the best of his career with a 3.00 xFIP, a 27.9% K rate, and a 43.4% ground ball rate. The Mets were very quiet last night but are still a very dangerous offense. Nola has been better on the road this year with a 2.24 ERA, a .251 wOBA, and a 2.78 xFIP. Maybe the lineup gives me a lean on Nola ahead of Burnes but…it's deGrom.
Honorable Mention
I guess Logan Webb is in play seeing as he's at home and it's the Pittsburgh offense. The K rate is just 19.9% and that's a huge issue given the slate context and what the other pitchers can do. The other issue is lefties have given him the most problems this year with a .323 wOBA, 1.35 WHIP, and 18% K rate. I don't think he gets lit up but it's tough to imagine the path to him hanging with the bigger name aces tonight.
Mid-Range
Spencer Strider
I'm writing this part at 10:30 p.m. on Friday night but if the chalk duo isn't deGrom and Strider, I would be just stunned. I know he struggled in the last start but that was against a white-hot Mets team in New York. Today, he gets to face the Marlins at home and while Miami got a couple of hitters back from the IL, this is still a softer matchup as they are in the bottom half of the league in OPS, wOBA, and wRC+ with a 22.3% K rate. The K rate has been much worse the past 30 days but that should get better in theory with the returning hitters. Having said that, Strider has been incredible as a starting option with a .251 wOBA, a 3.44 ERA, a 37.7% K rate, a 1.06 WHIP, and a 2.31 xFIP. I mean, even with some risk baked in that he's inexperienced and could get blown up, the ceiling is palpable. His four-seam and slider have combined for 132 strikeouts and the salary simply doesn't match the ceiling.
Note I – Strider was pushed after this was written, but I'm leaving him up because he should be in line for Sunday and the same analysis will be in play. Sadly, we cannot pair him and deGrom though.
Note II – Frankie Montas was pushed back one day and we talked about him in the Friday edition.
Reid Detmers
The could be one heck of a pivot tonight because this is a tough spot for lefty pitchers, as the Twins are in the top 10 in any major offensive category. They also only whiff 20.2% of the time but Detmers has been that dude lately and he appears to be figuring out how to pitch in the majors. Since the start of July, he's pitched 31 innings with a wOBA under .230, a K rate over 27%, and an xFIP that's around 2.90. Detmers has used the slider a lot more and it has a 24.4% whiff rate with 28 strikeouts. Now, I want to make clear that. I much prefer Strider and this is about the only time n his career so far that Detmers has looked strong, so there is no safety here. Everyone is going to flock to Strider, so this is an MME play and you hope he continues his extremely positive trend.
Punt Range
Lucas Giolito
I feel like since Strider is off the board, this could be the chalk combo now because the field saw Michael Kopech run roughshod over the Tigers last night. For as rough as Giolito has been, Kopech has been just as bad in many of the advanced metrics. On the year, Giolito has a .281 wOBA against the left side with a 33% K rate, a 1.20 WHIP, a 2.93 FIP, and a 3.13 xFIP. The right side has given him fits with a 1.99 HR/9 and a 5.37 FIP, so the Detroit lineup meshes well for him along with being about the worst offenses in baseball against righties. His fastball and change have just gotten hammered to a large degree this year and the changeup has abandoned him with a .378 wOBA compared to .281 in 2021. Detroit is only 28th against that pitch this season so this is about as good as a spot that Giolito can ask for. It would be perfectly in line with his season to struggle, but I think a good start s much more likely.
Missed The Cut
Yu Darvish – I really don't have any issues if you want to play Darvish, but this is to be transparent and let you know where I'm at. I will not be playing Darvish for mostly the same reason as Burnes and Nola, but Darvish has been much worse on the road. The ERA is 4.37 (the xFIP is just 3.59, to be fair) but the K rate also drops to 23% and the WHIP is up to 1.18. On paper, he doesn't have the best chance to match the other three guys we've talked about.
Adam Wainwright – He is at home but the Brewers are seventh in wRC+, fourth in wOBA, and third in OPS against righty pitching this year. With Waino only having a K rate of 19.4%, that feels pretty risky.
Ian Anderson – The Marlins are tempting, but this is a guy who lost his rotation spot and is only stating because of a doubleheader. I can't get there in good faith as he has a 4.26 xFIP, 19.8% K rate, and an 11.3% walk rate.
Matt Manning – Yes, that's how bad the White Sox have been this year that I actually considered Manning, but the 4.83 xFIP and a 15.2% K rate make it not worth the risk in my eyes.
Stacks
D-Backs/Rockies – Arizona lefties deserve to be chalky now that its Game 2 and Urena has a .384 wOBA and 2.19 WHIP against lefty hitters.
Padres
Astros
Dodgers
Braves
Angels – Just a couple of hitters against Bundy
Thank you for reading my MLB DFS: DraftKings and FanDuel Pitching 8/13 and make sure you follow me on Twitter at @bucn4life! Be sure to sign up for an ALL ACCESS GOLD ACCOUNT account here at Win Daily Sports. Gain access to our Projection Models and jump into our Discord where we will have our experts talking plays across every sport and slate!