MLB DFS: DraftKings and FanDuel Pitching 7/28
Published
2 months ago
on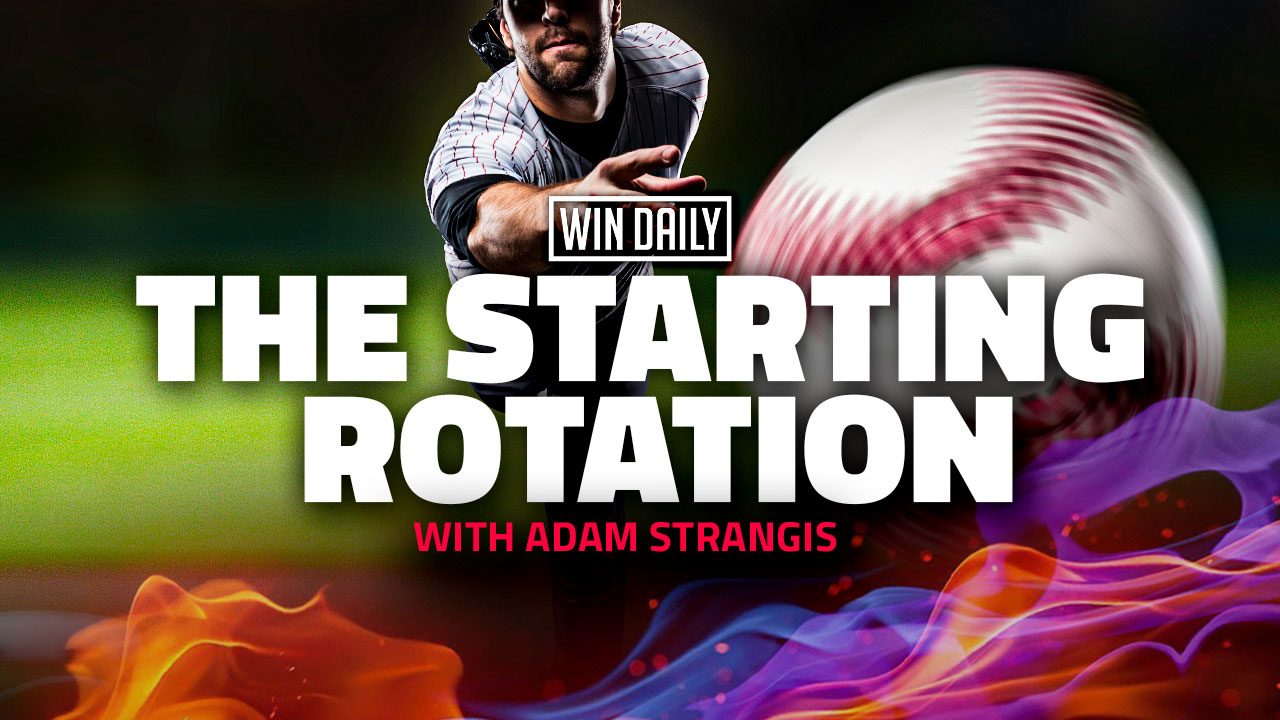 MLB DFS: DraftKings and FanDuel Pitching 7/28
We've got a very solid eight-game slate tonight and there are certainly some good pitchers on the mound, which might be my favorite kinds of slates. The 12 games or more can be overwhelming so we can focus a little bit easier here and we have pitchers that we want to play. Let's talk about which guys we're going after in the MLB DFS: DraftKings and FanDuel Pitching 7/28!
Aces
Zack Wheeler
At this point of the season, we have to consider almost any pitcher against the Pirates (and Angels but that's a different story) and Wheeler is far above just any average pitcher. He has a 26.7% K rate, a 3.11 xFIP, a 44.9% ground ball rate, a hard-hit rate of 25.7%, and a swinging-strike rate of 12%. That last number is the second-highest of his career and his fastball has a 30.2% whiff rate and that's about 4% higher than 2021. That four-seam and the slider both have a wOBA allowed of .255 or lower and Pittsburgh is 24th against the fastball and 28th against the slider this season. They also have plenty of lefties and Wheeler has a .261 wOBA, a 2.99 FIP, and a 1.00 WHIP and the K rate is identical against each side at 26.7%. This is a great spot for Wheeler even though he's on the road and even with Bryan Reynolds back in the lineup.
Honorable Mention
Logan Gilbert isn't the worst option but he does see the Astros for the second straight turn in the rotation, not something we generally love. The K rate is under 24% and his ERA of 2.77 still has some room to go for his 3.69 xFIP. He drives me nuts that he throws his fastball so much at 55% and it's allowing a .337 wOBA. Every other pitch has a wOBA allowed under a .245 mark so Gilbert isn't bad, but he's not a primary target for me.
Mid-Range
Shohei Ohtani
The last start for Ohtani might not look green but it was such a weird deal. He was utterly cruising through six innings and had 11 strikeouts on under 80 pitches and then just got hammered in the seventh, yielding six runs before he got lifted. I'm not willing to punish him for one bad inning Rivne that in his previous 30.2 innings had produced 57 strikeouts, one earned rune, and seven walks. He was on track for another 30+ DK points before that bad inning and Texas can be had by righty pitching. Even though he might face more lefties, he has a .274 wOBA, a 33.5% K rate, and a FIP/xFIP combo under 3.00 this season so that doesn't worry me to any extent. Every pitch but his fastball has a whiff rate over 40% and I remain pretty much all-in on Ohtani. I love Wheeler and Ohtani together tonight and Ohtani should not be under $9,000 any longer.
Jameson Taillon
It doesn't really make me super happy to write him up but man the Royals are struggling right now. They are 18th or worse in OPS, ISO, wOBA, and ISO along with a 22.6% K rate so Taillon has a path to success here. I don't love the K rate being under 20% but he has been slightly better at home with a 3.49 ERA and a 3.70 xFIP. It helps that the K rate comes up to over 21% in New York as well and if he can navigate a couple of lefties, this should be a solid spot. Taillon has allowed a 4.60 FIP and 1.69 HR/9 when facing a lefty so MJ Melendez, Andrew Benintendi, and even Vinnie Pasquantino have some potential to ruin his start but they aren't the largest fear ever. Taillon is using the four-seam as his top pitch and KC is only 17th against it. I suspect the first pair will be chalk so Taillon could be interesting at lower ownership.
Brady Singer
This will sound nuts and maybe it is, but let's talk about why Singer doesn't look all that bad. To be clear, there is an extreme risk here but we want pitchers that are better against the right side. It helps that Giancarlo Stanton is out and Singer has a .287 wOBA, a 3.01 xFIP, a 23% K rate, and a 56% ground ball rate to go along with a hard-hit rate of just 22.7% when he sees a righty. He deploys his sinker and slider as pretty much the only pitches against the right side and that slider is strong with a 38.5% whiff rate and a .266 wOBA allowed. The Yanks rank first against the slider this season but Stanton s one of the biggest weapons they have. If Singer can neutralize Judge (I realize that sounds silly), he has a shot at a serviceable start here and nobody is going to play him. Just understand the crazy risk that this is. I do wish he was a bit cheaper but that keeps the field away for sure.
Punt Range
Alex Wood
He continues to be a pitcher that I target in this range with a 4.21 ERA compared to a 3.13 xFIP and a 24.3% K rate with a 50.2% ground ball rate. That's such a good mix for a pitcher and the Cubs are 20th in OBP and 15th in wRC+ with the eighth-highest K rate (23.5%). They certainly have some power at fifth in ISO but this game is at least in San Francisco, a much better venue for pitching than Wrigley. The velocity is up a little on his sinker and that pitch and the slider have 86 of 96 strikeouts on the season. When Wood has pitched at home, his FIP/xFIP are right at about 2.70 and even though the K rate drops a touch to under 23%, I'm still pretty interested. The Cubs know that some of the team won't be there in a few days and their attention is elsewhere right now.
Honorable Mention
Justin Steele is a pitcher we have to be judicious about where we play him and the Giants matchup is tough to get behind. They do strike out 23.3% of the time, tied for 10th most but they are also in the top 10 in OPS, ISO, wOBA, and wRC+. They'll load up on righties and Steele's K rate drops to 18.7% with a 4.04 xFIP so this would be a very risky spot to test him. One aspect that could do well for him is his slider since the Giants are 21st against it and it has over 50 strikeouts for Steele this season.
Missed The Cut
Triston McKenzie – I'm just not sold at this salary and McKenzie making it worth paying that. He has a three-start stretch where he was ridiculous but his K rate is still under 24% and his 3.11 ERA is far lower than his 4.18 xFIP. The hard-hit rate is over 37% and the fly-ball rate is over 50.5% so let's see what and of lineup Boston puts out but as of now, I'm struggling with that salary.
Stacks
Blue Jays
Guardians
Phillies
Dodgers/Rockies
Mariners
Thank you for reading my MLB DFS: DraftKings and FanDuel Pitching 7/28 and make sure you follow me on Twitter at @bucn4life! Be sure to sign up for an ALL ACCESS GOLD ACCOUNT account here at Win Daily Sports. Gain access to our Projection Models and jump into our Discord where we will have our experts talking plays across every sport and slate!