MLB DFS Aces and Stacks for DraftKings and FanDuel for 09/23/2022 – Win Daily Sports
Published
2 months ago
on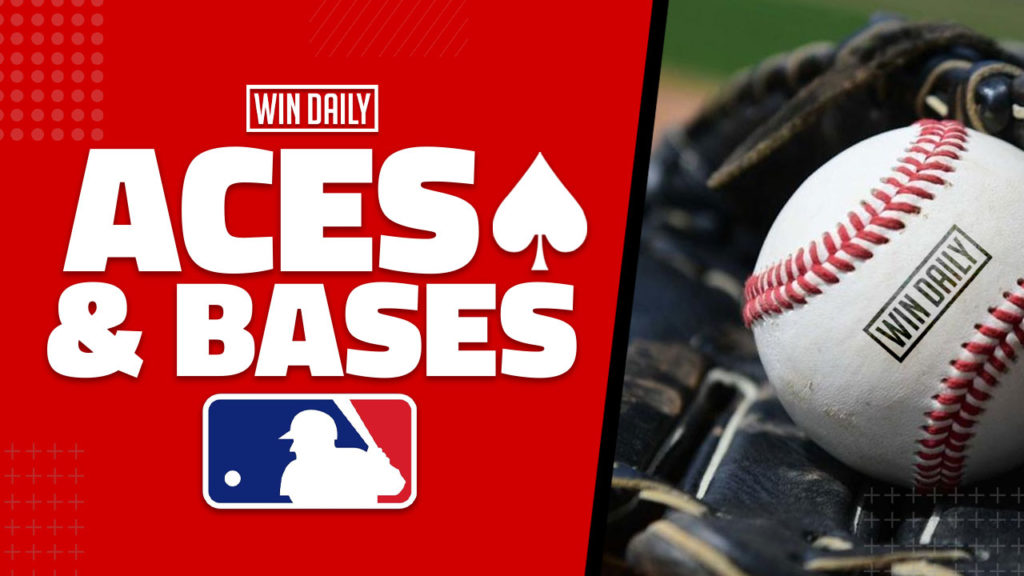 Welcome to the Friday edition of the Aces and Bases, where I'll be going through the top MLB DFS Aces and Stacks on DraftKings and Fanduel. 
Tonight we have a massive 12-game slate of MLB DFS tonight.  Even though we have 24 teams in action tonight, pitching at first glance appears to be limited.  The good news with that is that there will be plenty of bats to go around! 
Let's dig in and see if we can find some stacks to use today!
MLB DFS Aces – Main
Carlos Rodon vs. Arizona Diamondbacks
We saw a few nights ago what a dominant lefty could do against this Diamondbacks lineup when Kershaw struck out 10 in just 6 innings of work.  While I wouldn't quite put Rodon and Kershaw in the same category, Rodon is in a stretch right now where he's pitching great.  Over the last month, Rodon has had a 38% K rate across 20 innings.  He's reached double-digit K's in 4 of his last 6 starts. 
Rodon has faced this Diamondbacks team 3 times now and has racked up 28 strikeouts.  While the Diamondbacks lineup can surprise at times, they've been playing poorly over the last week with just 22 runs scored and a 30% k rate.  I really like this spot for Rodon tonight.
Lucas Giolito vs. Detroit Tigers
This season has largely been a disappointment for Lucas Giolito.  He's having his worst season since 2018.  His K's are down and ERA is up.  That said, he's also been quite unlucky this season as he's given up a .351 BABIP.  Giolito is inexpensive tonight and gets a solid matchup vs. a below-average lineup in the Detroit Tigers. 
The projected lineup tonight for the Tigers has a sub .300 wOBA vs. righties over the last month.  With Giolito being only $7.7k on DK tonight, I'm willing to roll the dice on him and hope that he has one of his vintage games from last season.      
Chris Bassitt vs. Oakland Athletics
I'm playing the narrative here tonight.  Chris Bassitt returns to Oakland tonight for the first time after spending the last 6 years of his career there.  He's going to be extra pumped to play in front of 5,000 screaming fans that used to root for him.  Bassitt has been one of the Mets' more reliable and durable starters this season. 
He's already at a career-high 171 innings and 14 wins.  This is a bad A's lineup and one that Bassitt should be able to get to.  The projected lineup tonight has a 27.5% strikeout rate vs. righties over the last month and just a .294 wOBA.  They can be pesky at times, but they can also be pretty bad at times.  Look for Bassitt to have another solid outing and get win number 15 on the year. 
I also like Shohei Ohtani tonight against the Twins.  The Twins' offense can be quiet at times.  He's not in my top 3 as of now due to the weather concerns later.  If there ends up being no weather in that game, I'd slot him in there over Giolito. 
There are a handful of pitchers out there better than the 3 I selected. They all get bad matchups or are just not pitching well. I'll never trust Gerrit Cole, especially against the Red Sox. Andrew Heaney gets an awful matchup vs. a Cardinals team that has been one of the best teams this season against lefties. Aaron Nola gets the Braves.
MLB DFS Stacks – Main
New York Yankees vs. Dick Mountain aka Rich Hill
The Yankees get another solid matchup tonight vs. Rich Hill.  While Hill hasn't been awful, he also hasn't been good.  In 3 of his last 4 outings, he's given up at least 4 ER.  With a matchup against a hungry Yankees lineup, I can definitely see Hill making it 4 out of 5 starts with at least 4 ER against. 
The Yankees have been really good against lefties this season, with a .199 combined ISO and a wRC of 120.  They should be able to get to Hill with ease tonight.  With Hill, you want to attack him with hitters from the right side of the plate.  Righties have a .450 slugging % vs. him and a .333 wOBA.  11 of the 12 homers hit against him this season have been by righties. 
Core:  With the chase for 61 still going on, I'm going to center my core around Aaron Judge.  The biggest concern with Judge at this point will be Alex Cora pitching around him as Judge walked 3 times last time.  That said, Judge is in a great spot regardless of the walk risk.  He's crushed lefties all year and has a .423 wOBA against them over the last month.  He's pricey but well worth the price. 
Secondary Pieces: After Judge, I'll look to include Gleyber Torres, Anthony Rizzo, and Josh Donaldson. Of the three, Rizzo is going to be my favorite tonight. While he's been a double play machine recently, he's still getting plenty of opportunities with Judge being walked so much. He's also been really good vs. lefties over the last month, with a .584 wOBA and a .375 ISO. I'm not shying away from this L/L matchup.
Value: Similar to last night, there will be plenty of value in this lineup tonight, making paying up for Judge easy. Harrison Bader and Oswaldo Cabrera are both extremely cheap tonight. I'll choose Cabrera first as he's been solid vs. southpaws. He has a .368 wOBA vs. them over his last 23 plate appearances.
San Diego Padres vs. Ryan Feltner
It's going to be tough to fade the Padres tonight against Feltner.  They are all extremely reasonably priced and get a great matchup.  Feltner has given up at least 3 ER in 8 of his last 9 starts.  Over the last month, he's pitched to an ERA over 6 and an xFIP just under 5.  He's someone that we can somewhat safely say is going to get blasted tonight.  Feltner has also been giving up a decent amount of hard contact at more than 37% over the last month.  He has been a reverse-splits pitcher, meaning we'll want the righties here.  Righties have a .545 slugging % vs. him this season and a .390 wOBA.  Both are pretty high numbers. 
Core: My core tonight with the Padres will be Manny Machado, Brandon Drury, and Ha-seong Kim.  With how bad Feltner has been against righties, these 3 really stand out as having the potential for big nights.  Machado is coming off a solid game yesterday vs. the Cardinals, a game that saw him reach base 3 times and hit a homer.  He's also been strong vs. righties over the last month with a .373 wOBA and a .242 ISO. 
Value:  Other than my core, I also like Juan Soto, Jurickson Profar, and Jake Cronenworth here.  Even though Soto so far hasn't lived up to expectations that saw an absolute haul go back to the Nationals, he's still one of the most potent bats in the Majors and could go off at any time.  I'm just not going to force him in there tonight, especially knowing that I'm paying up for both Judge and Machado. .  
Tampa Bay Rays vs. Mitch White
Since being traded from the Dodgers to the Blue Jays, Mitch White has really struggled.  Over his last 18 innings of work, he's pitched to an ERA over 10.  While that seems a bit exaggerated, his xFIP over that period is still pretty high as it's been close to 5. 
He's just been giving up a lot of hard contact at nearly 38%.  White's also been letting a ton of runners on, with a WHIP over 1.80 across his last 18 innings of work.  With White, I'm not going to be overly concerned with splits against him. Both sides of the plate have pretty similar numbers. 
Core:  The 3 bats I'm mostly focused on with the Rays tonight will be Wander Franco, Christian Bethancourt, and Randy Arozarena.  These are the 3 guys in the Rays lineup producing the most offense right now.  Franco's really hot right now with a 9-game hitting streak.  He also has 2 multi-hit games in his last 3 games.  At just $4.3k on DK tonight, he has a ton of upside.  He should be able to easily pay off that salary.  Next up is Bethancourt.  Should he make the lineup tonight, he's cheap and all he does is hit when in the lineup.  In his last 4 starts, he has 6 hits.  Aroz is coming off a monster game that saw him go 3 for 4 with a pair RBI.  That's 5 hits in his last 8 AB. 
Secondary/Value:  After my core, I'll look to plug in guys like Ji-Man Choi, David Peralta, Jonathan Aranda, and Manuel Margot.  Outside of Margot, all of these guys are under $3k on DK tonight.  They are all nice plug-and-play hitters.       
MLB DFS Summary
Other MLB DFS stacks I really like tonight will be the Rockies vs. Sean Manaea, Mets vs. Cole Irvin, and of course the White Sox vs. lefty Eduardo Rodriguez. 
Make sure to check out our Home Run Model. And Also make sure to drop into Discord where we're constantly talking about plays for every slate.
Good luck and hope to see you in the green.
Make sure you follow me on Twitter at @rangerzfan79 and be sure to sign up for an ALL ACCESS GOLD ACCOUNT here at Win Daily Sports. Gain access to our Projection Models and jump into our Discord where we will have our experts talking plays across every sport and slate!
New to the DFS writing world but have been playing DFS since BVP was cool. Started play season long fantasy when sporting news was used to calculate weekly scores. Originally from Brooklyn, NY but now a Baltmore resident.