MLB DFS Aces and Stacks for DraftKings and FanDuel for 09/15/2022 – Win Daily Sports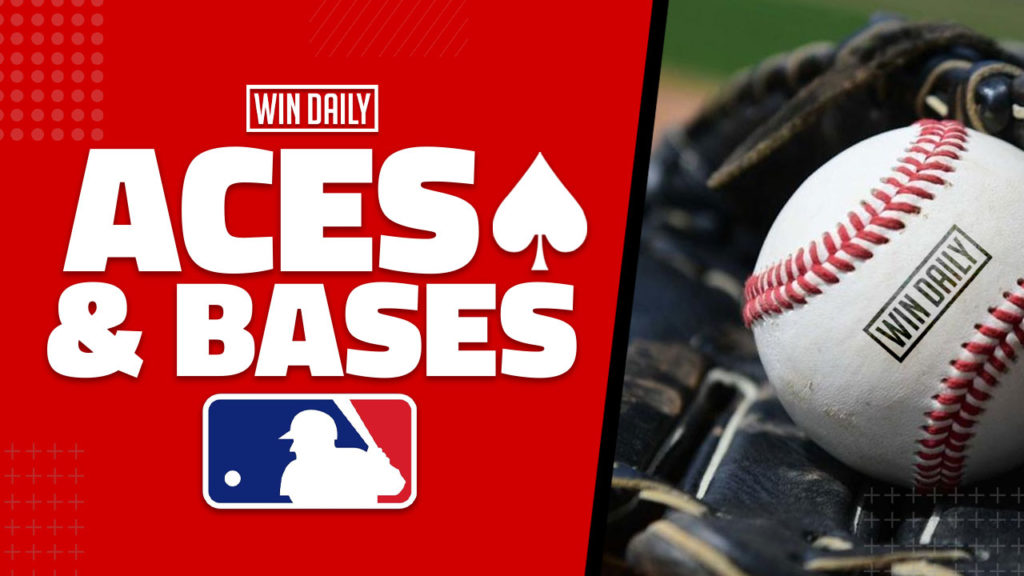 Welcome to the Thursday edition of the Aces and Bases, where I'll be going through the top MLB DFS Aces and Stacks on DraftKings and Fanduel. 
Tonight we have a small 5-game slate of MLB DFS to navigate through.  In breaking down this slate, it may be the worst pitching slate of the season.  We have not a single ace and there are negatives surrounding each starter.  That said, we do have plenty of viable bats to use.
Let's dig in and see if we can find some stacks to use today!
MLB DFS Aces – Main
Lance McCullers vs. Oakland Athletics
While the Athletics can be a pesky lineup at times, they'll be no match tonight for Lance McCullers.  McCullers is coming into this one pitching extremely well.  He's pitched to a 2.78 ERA over the last month.  The only negative surrounding McCullers is that he just hasn't been striking many out.  His K rate over his last 22 innings of work is just 21%.  K's are king in DFS, but on a slate with limited options, he's going to have to do. 
He's done a great job of limiting damage as his hard-hit rate over the last month is just 19%.  Since starting his season in mid-August, McCullers has been in double-digit DK points in all 5 starts and has been above 20 in his last 2.  He should be able to continue to that trend against an average at best Athletics lineup.  He'll more than likely be the chalk pitcher of the night.
Carlos Carrasco vs. Pittsburgh Pirates
Someone has to stop the bleeding for the Mets right?  What was supposed to be the strength of the schedule part of the season for the Mets, has slowly turned into the lowest point of the season for them.  They just got swept by the Chicago Cubs and now face a Pirates lineup that is looking to win their 5th straight game.  They'll turn the ball over to Cookie Carrasco tonight in the hopes he'll turn the sinking ship around. 
Overall, Carrasco has pitched pretty well this season, with a 14-6 record and a 3.80 ERA.  He hasn't pitched too much over the last month due to injury but the Mets hope he'll be able to give them some strong innings tonight.  The Mets are heavy favorites in this one and Carrasco stands a good chance to get his fifteenth win of the season.       
Dylan Bundy vs. Kansas City Royals
Nothing about this pick makes me happy.  Bundy has been a disappointment the majority of his career, especially since leaving the Orioles.  But he has at times shown upside and the matchup for him tonight is great.  He's facing an anemic offense that has scored a total of 3 runs in this series and has been absolutely dominated by Joe Ryan and Sonny Gray. 
The projected lineup that Bundy is expected is to face tonight has just a .288 wOBA vs. righties over the last month and a .139 ISO.  While Bundy is not good, the Royals lineup is even worse.  He's worth the risk tonight at just $7.1k on DK.  If you do end up using him, I recommend having a tissue close and maybe some of your finest bourbon as you'll need it.  Maybe even a bottle of Tums.     
MLB DFS Stacks – Main
Houston Astros vs. James Kaprielian
The Astros get just a glorious matchup tonight vs. James Kaprielian.  Kap is just not a good pitcher.  He's a pitcher that gives up a ton of contact at 82% and he's also a pitcher that has absolutely no command of his pitchers.  His BB/9 over the past month is an astounding 7.43.  That's awful.  Between his high contact rate and huge BB/9, he's given up a WHIP of 2.1. 
In MLB DFS, our stacks are amplified when we get more runners on.  Kap gives us that with his massive WHIP.  If the Astros show patience tonight, and they normally do, they'll be able to put up a monster number vs. a bad pitcher.  With Kap, we'll want to focus mostly on the righties.  All offense metrics are significantly higher for righties against Kap.  Their slugging % is .487 and their wOBA is .367.
Core:  With my Astros core I'm going to go with 2 righties and a lefty.  We'll start with the righties since they have the better matchup based on Kap's splits.  Jose Altuve and Alex Bregman are the main guys here.  Both guys have been smashing vs. righties over the last month.  Altuve has a .394 wOBA vs. them and a .227 ISO.  Bregman has a .437 wOBA and a .348 ISO.  With how poorly has pitched against righties, these 2 should be in line for huge nights. 
Now to the lefty in Kyle Tucker.  Tucker is on fire right now, with homers in back-to-back games and in 3 of his last 4.  While Kap has been better vs. lefties, I don't think he's good enough to slow down Tucker. 
Secondary Pieces/Value: After my core, I'll just look to plug in pieces here. Guys like Jeremy Pena, Yuli Gurriel, and Martin Maldonado will all make fine additions to any Astros stack tonight. Kap is bad and should be attacked at any chance. Vegas has the Astros with an implied run total currently over 5. They get all of that tonight and all Astros are in play.
St. Louis Cardinals vs. Chase Anderson
This is a matchup that the Cardinals have already taken advantage of once this season and there's no reason to think that they can't do it again.  In that outing a couple of weeks ago, the Cardinals knocked Anderson out in the second inning after scoring a quick 5 ER. 
Anderson hasn't been good since he left Milwaukee in 2019.  He's had miserable season after miserable season.  Throughout his career, Anderson has been a reverse splits pitcher.  Righties have a .498 slugging % vs. him and a .354 wOBA.  We'll want to prioritize the righties in this matchup, but not ignore the lefties as Anderson shouldn't last too long in this one. 
Core:  The Cardinals have these 2 righties in their lineup that are pretty good and their names are Paul Goldschmidt and Nolan Arenado.  They are both pricy tonight but in a solid matchup with Anderson being awful vs. righties.  If you can only afford 1 of them, go with Arenado.  He's currently hitting the cover off the ball.  He has an extra-base hit in 3 straight games and homered yesterday.  Over the last month, he has a .369 wOBA vs. righties.  He should smash in this spot tonight. 
I also do like Goldy here, but he's a bit on the cold side.  I wouldn't say it's a slump as he's still getting some hits, but he only has 2 extra-base hits over the last week.  Could Anderson be his 'slump' buster?  I think so.     
Secondary: After my core, I'll look to get guys like Tyler O'Neill, Tommy Edman, and Brendan Donovan into my Cards stacks. With having the splits advantage tonight, I really like O'Neill the most out of this group. It also helps that he's been really good vs. righties over the past month. In 79 plate appearances vs. them, he has a .372 wOBA and a .273 ISO. His price is up there at $5.1k on DK, but he's in line to have a monster night at the plate.
Value:  There's going to be some nice value in this lineup as well.  Corey Dickerson should be hitting in the 2-hole tonight and is just $2.8k on DK.  He has a massive .444 wOBA vs. righties over the last month.  Although Anderson is typically better vs. lefties, lefties do have a .308 ISO vs. him this season and a .415 wOBA.  Dickerson could be one of the more important pieces to this Cards puzzle tonight.     
Minnesota Twins vs. Daniel Lynch
The Twins showed what they could do against lefties the other night when they hit a pair of homers.  They get another strong matchup vs. a susceptible lefty tonight in Daniel Lynch.  Over the last month, Lynch has thrown 24 innings and has given up 6 homers and 7 barrels.  He's also given up a 36% hard-hit rate over that stretch and his WHIP has ballooned up to an appealing 1.85. 
He's putting runners on and against a solid lineup like the Twins, that could make things difficult for him.  We attack Lynch with righties in our MLB DFS stacks.  He's given up a .452 slugging % to them and 16 of the 17 homers he's given up this season have been to righties. 
Core/Value: My Twins stacks tonight will start with Carlos Correa, Gio Urshela, and Jose Miranda.  Not only are these the 3 hottest bats in the Twins lineup, but they also crush lefties.  Correa is the star of the bunch and should have himself a great night at the plate.  Over the last month, he's absolutely crushed lefties with a . 409 OSP and a .434 wOBA.  He has 12 hits in his last 26 AB.  He's one of my favorite bats on the slate tonight. 
Urshela has also been hitting well vs. lefties, with a .395 wOBA against them over the past month and a .276 ISO.  He's also hot right now with 9 hits in his last 20 AB.  Urshela is just $2.8k tonight on DK and will be a solid value piece. 
Secondary Pieces: Other bats I like here will be Nick Gordon and Gary Sanchez.
MLB DFS Summary
Other MLB DFS stacks I really like tonight will be the Diamondbacks vs. Sean Manaea and Mets vs. JT Brubaker.   
Make sure to check out our Home Run Model.
Good luck and hope to see you in the green.
Make sure you follow me on Twitter at @rangerzfan79 and be sure to sign up for an ALL ACCESS GOLD ACCOUNT here at Win Daily Sports. Gain access to our Projection Models and jump into our Discord where we will have our experts talking plays across every sport and slate!
New to the DFS writing world but have been playing DFS since BVP was cool. Started play season long fantasy when sporting news was used to calculate weekly scores. Originally from Brooklyn, NY but now a Baltmore resident.