MLB DFS Aces and Stacks for DraftKings and FanDuel for 08/31/2022 – Win Daily Sports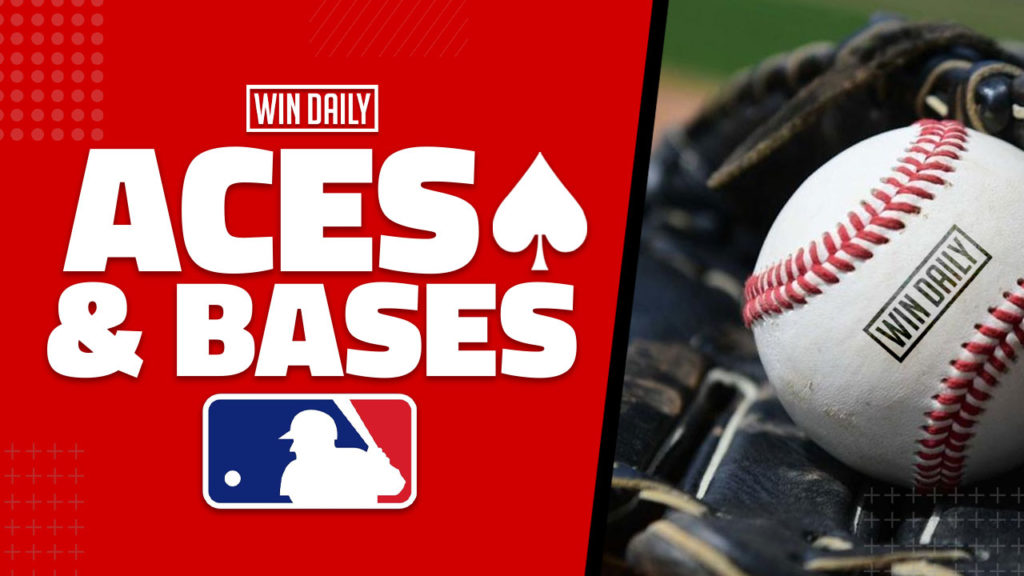 Welcome to the Wednesday edition of the Aces and Bases, where I'll be going through the top MLB DFS Aces and Stacks on DraftKings and Fanduel. 
Tonight we have a nice sized 9-game slate of MLB DFS to navigate through.  We have the best pitcher in baseball on the mound and we also have some really solid places for bats.  It's shaping up to be a fun night of MLB DFS.
Let's dig in and see if we can find some stacks to use today!
MLB DFS Aces – Main
Jacob Degrom vs. Los Angeles Dodgers
One of the best offenses in baseball vs. one of the best pitchers in the game.  If this doesn't have you excited for tonight's Mets/Dodgers game, I don't know if you have a pulse or like baseball.  The matchup really couldn't be any worse for Degrom tonight, but he's also shown time and time again that he's essentially matchup-proof.  He's faced the Braves twice this season and struck out 21 of them.  He faced the Phillies as well and struck out 10.  He's as dominant of a pitcher as there is in the game right now.  Can the Dodgers get to him tonight?  Maybe, but I'm willing to take my chances on a pitcher that has a 45% k rate on the year.  Maybe that dips down to 35% in this matchup, but that is still more upside than any other pitcher on the hill tonight. 
Gerrit Cole vs. Los Angeles Angels
There may be no more frustrating pitcher in the game than Gerrit Cole, but there's definitely upside in this matchup tonight.  Over the last week, no team has struck out more than the Angels.  They've struck out more than 30% of the time and with the K ability of Cole, that means there's definitely a higher ceiling than normal for Cole.  While he's been frustrating to get right, he's still striking out batters a high clip.  Over the last month, Cole has a 31% K rate, and that ranks second among all pitchers starting tonight.  He's been able to hold hitters to a sub-30 % hard-hit rate.  If he can navigate around Trout and Ohtani tonight, he should be able to come in as the second-highest scoring pitching on the night.
Kyle Wright vs. Colorado Rockies
I much prefer using righties against the Rockies and tonight we'll get a solid righty in Kyle Wright.  Wright is coming into this one pitching extremely well.  He's hit at least 20 DK points in 5 of his last 6 starts and with this matchup, should make it 6 of 7.  Although the K rate is a very mediocre 24.5% over the last month, his WHIP of 1.04 is very solid.  He's been doing a great job of limiting the number of runners he's been putting and that has been reflected in his ERA.  Wright should be able to navigate through this lineup with ease tonight. 
MLB DFS Stacks – Main
Seattle Mariners vs. Tyler Alexander
I missed the gravy train that was the Seattle Mariners last night, I'm not going to make that mistake again.  They get a great matchup tonight vs. a struggling pitcher in Tyler Alexander.  After skating by for most of the year, he finally had his blow-up game in his last outing vs. the Rangers, allowing 7 ER in just 3 innings of work.  Blow-up game number 2 should come tonight at the hands of the Mariners.  Over the last month, Alexander has been giving up a ton of hard contact. 
His hard-hit rate over his last 26 innings of work is a massive 43%.  He's allowed 13 barrels over those 26 innings.  That kind of pace is pretty impressive!  With Alexander, we want to focus on hitters from the right side.  They have a slugging % pushing .500 and a wOBA of .347.  8 of the 10 homers he's allowed this season have been to righties. 
Core:  The three main guys I'm interested in here are going to be Julio Rodriguez, Mitch Haniger, and Eugenio Suarez.  Haniger is expensive tonight at $5.1k on DK, but he's in a great spot.  Over the last month, he has a .396 wOBA vs. lefties.  The pitch that Alexander throws most to righties is his cutter at around 32% of the time.  This is a pitch, albeit a small sample size, that Haniger has crushed from lefties.  He has a .917 ISO vs. it and a .748 wOBA.  
While Suarez is always a K risk, he's also been a lefty crusher over the last month.  He has a .345 ISO and a .359 wOBA vs. them over the last month.  He's a high-risk/high-reward player.  With Rodriguez, we have someone somewhat struggling right now but he's also been extremely unlucky.  Over his 23 AB, he has only 3 hits, but he's also sporting a .063 BABIP.  He's due for a breakout and it very well could come against Alexander tonight.       
Secondary Pieces: Other bats that I'm going to be interested in with the Mariners lineup tonight will be Ty France and Cal Raleigh. Both guys have hit lefties well this season. France's average vs. lefties this season is up to .272 and has a wRC of 17. He doesn't put up much in the way of power vs. lefties and at the 1B we may need that, but he's a productive member of this lineup. Raleigh is the guy I'm more interested in here. He's shown a decent amount of upside this season vs. lefties as he has a .514 slugging % and a .871 OPS. He's reasonably priced at $3.9k tonight.
Value:  There's a decent amount of value in this lineup tonight, making going double aces very possible.  Abraham Toro, Sam Haggerty, and Carlos Santana are all under $3k.  Haggerty is my favorite of the 3 as he's been solid vs. lefties.  In 39 AB he's hitting .462 vs. them and has a .821 slugging %.  He's cheap for a reason, but he's also been great vs. lefties.  He's one of the top-value plays tonight.
Atlanta Braves vs. Ryan Feltner
The Braves were a huge disappointment in MLB DFS last night, scoring only 2 runs vs. Jose Urena.  They had plenty of opportunities last night, they just wasted them as they went a combined 2 for 13 with runners in scoring position.  Can they play this poorly 2 nights in a row?  I don't think so.  They get another solid matchup tonight as they take on Ryan Feltner. 
Over the last 30 days, Feltner has a 6.29 ERA and has allowed a 39% hard-hit rate in 24 innings of work.  Away from Coors this season he's been even worse as he has a 6.19 ERA on the road.  I'm not going to be overly concerned with splits against Feltner as both sides of the plate have a slugging % over .470 against him on the road and wOBA's over .350.  Lefties have a slight edge here but by the slimmest of margins. 
Core: Assuming that Acuna is out again tonight, I'm going to build my core around Dansby Swanson, Austin Riley, and Michael Harris.  Swanson comes into this matchup with a 5-game hitting streak and provided half of the offense last night with a double and an RBI.  Over the last week, he's been an RBI machine as he leads the team with 8 RBI. 
Riley is hot at the plate again, with 7 hits in his last 19 AB.  He had another 2 hits last night and has hit safely in 5 of his last 6 games.  If the Braves go off, you can be sure that Riley will be a part of it.  Harris continues to perform and is one of the cheaper Braves tonight at $4.4k.  He's hit safely in 7 straight and even added a stolen base to the mix last night.   
Secondary:  Matt Olson burned us last night, going 0-3 with a walk.  He's now gone 2 straight games without a hit.  A date with Feltner should get him rolling again as prior to the last 2 games, he had been red hot at the plate.  I also like Travis d'Arnaud here. He also went hitless last night, but prior to that had multi-hit games in 3 straight.  He should also get back on the saddle tonight.   
Value: Eddie Rosario is starting to come alive at the plate and is less than $3k on DK. He was one of the few Braves to have a solid night last night and makes for a cheap way to get a piece of a lineup that's expected to score a ton of runs tonight.
Chicago White Sox vs. Kris Bubic
On paper, this is as solid of a matchup as there is tonight.  White Sox vs. lefties are still somewhat of a thing, just not as sure of a thing in MLB DFS as last season due to some injuries.  Kris Bubic is not in the best form at the current moment.  Over his last 3 starts, Bubic has allowed a total of 14 ER over 13 innings of work.  During those 3 starts, 2 of the teams finished with hard-hit rates over 60%. 
With how well the majority of this White Sox team hits lefties, it very well could be 3 out of 4 stars allowing a 60% hard-hit rate.  With Bubic, we won't need to shy away from any of the lefties in this lineup as he's actually been way worse against them this season. That said, I'm still going to prioritize the righties of the White Sox
Core: MY priority with the White Sox tonight will be the guys projected to hit 1-4, A.J. Pollock, Andrew Vaughn, Jose Abreu, and Eloy Jimenez. Of the 4, my favorite is Pollock. He comes in the cheapest at $3.3k on DK tonight, but he's also shown the most pop against lefties over the last month. He has a massive .480 ISO vs. them over the last 30 days and a .443 wOBA. The rest of the core all have wOBA's over .350 against southpaws over the last month. With no Robert and Anderson in the lineup, the top of this lineup comes in extremely cheap, with only Jose Abreu costing more than $4k.
Value: With the team decimated by injuries, we'll see a ton of value in this lineup. Elvis Andrus, Josh Harrison, Romy Gonzalez, and Adam Engel are $2.5k or less on DK.
MLB DFS Summary
They didn't crack my top 3, yet, but I also really like the Athletics tonight against Anibal Sanchez and the Nationals bullpen.  They should smash just like they did last night.  Other stacks I like are going to be the Yankees vs. Patrick Sandoval, Nationals vs. James Kaprielian, and Toronto vs. Luke Farrell. 
Make sure to check out our Home Run Model.
Good luck and hope to see you in the green.
Make sure you follow me on Twitter at @rangerzfan79 and be sure to sign up for an ALL ACCESS GOLD ACCOUNT here at Win Daily Sports. Gain access to our Projection Models and jump into our Discord where we will have our experts talking plays across every sport and slate!
New to the DFS writing world but have been playing DFS since BVP was cool. Started play season long fantasy when sporting news was used to calculate weekly scores. Originally from Brooklyn, NY but now a Baltmore resident.