MLB DFS Aces and Stacks for DraftKings and FanDuel for 08/30/2022 – Win Daily Sports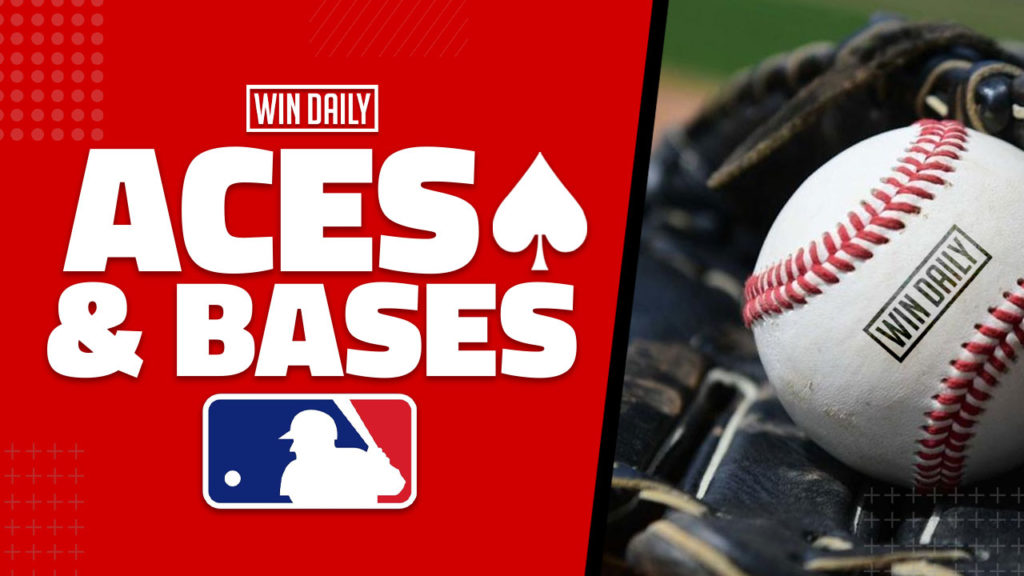 Welcome to the Tuesday edition of the Aces and Bases, where I'll be going through the top MLB DFS Aces and Stacks on DraftKings and Fanduel. 
Tonight we have a nice size 12-game slate of MLB DFS to navigate through.  Tonight's pitching is void of any true ace, but there are still some solid options on the hill.  With the lack of aces, we do have some great targets for our bats.
Let's dig in and see if we can find some stacks to use today!
MLB DFS Aces – Main
Blake Snell vs. San Francisco Giants
Blake Snell faced this same Giants team about 3 weeks ago and absolutely dominated them.  He finished the game with 8 k's and allowed just 1 ER in a little over 5 innings of work.  I wouldn't be shocked to see him replicate that today against a Giants team that just continues to strike out a ton.  Over the last week, the Giants have struck out more than 28% of the time and have scored just 14 runs.  While they are a bit better vs. lefties, Snell is talented enough that he should mow them down again. 
The lineup that the Giants will throw out today will also play into Snell's strengths.  He has a 37.6% K rate vs. righties over the last month and he'll more than likely face 7-8 righties tonight.  I'm going to be locking Snell and his 34.5% K rate over last month in as my SP1 tonight. 
George Kirby vs. Detroit Tigers
George Kirby has been pitching some phenomenal baseball over the last month.  In 5 starts, he's given up more than 2 ER just once and has a 30% K rate over that stretch.  He'll get a great matchup tonight vs. the Detroit Tigers.  Over the last month, the projected Tigers lineup tonight has done absolutely nothing vs. righties.  They have a 27% k rate, a .096 ISO, and a .283 wOBA. 
With how well Kirby has been pitching, he should be able to breeze through a lineup that has mostly AAA hitters in it outside of Riley Greene.  He's extremely cheap tonight on DK at just $8.5k.  With how well he's pitching and the matchup, he should be priced much higher.
Max Fried vs. Colorado Rockies
I don't normally like to attack this Rockies lineup with a lefty as they've been one of the better teams vs. lefties this season, but this game is in Atlanta and the Rockies offense is nowhere near as potent on the road as they are at home.  We're in the stretch of baseball now where teams are going to start jockeying for playoff positions or will be in heated races.  The Braves are 3 games back of the Mets and will need huge performances out of their pitchers.  They'll get that tonight out of Fried who is coming into this game pitching very well. 
Over the last month of baseball, he's pitched to ERA under 2 and has really limited hard contact as he's allowed just a 23% hard-hit rate.  The only concern with him at his price point is that he doesn't have huge K upside.  His K rate over the last month is just 22%.  He'll have a good game, but his ceiling is somewhat capped.
Other pitchers I like tonight will be Brady Singer vs. a disappointing White Sox team, Erick Fedde vs. Oakland, and Kevin Gausman vs. the Cubs.
MLB DFS Stacks – Main
Atlanta Braves vs. Jose Urena
While Jose Urena has been way worse at home with a 7.36 ERA in Coors, he's still sporting a 4.21 ERA on the road.  He'll have the tough task of facing a deep Braves lineup today.  Urena is coming into this matchup today after having one of his worst outings of the year.  Against the Dodgers a week ago, Urena gave up 9 ER in just over an inning of work.  I doubt we see a replication of that tonight, but we should see the Braves put up a big number. 
Urena is a pitcher that pitches to contact.  Over the last month, Urena has allowed an 87% contact rate which is by far the highest number of any pitcher on tonight's slate.  He's also sporting a WHIP of 1.75 over the last month.  That much contact and that many runners on against one of the best lineups in the game are going to make for a fun evening of MLB DFS.  With Urena, we'll want to prioritize hitters from the left side.  They have a .400 wOBA vs. him and a .480 slugging %
Core:  I wish they hit closer together in the lineup to get some correlation, but I'm going to build my Braves core around Michael Harris and Matt Olson.  Olson may be one of my favorite bats on the board tonight as he should crush in this matchup.  Urena will throw mostly sinkers to both sides of the plate tonight.  Against righty sinkers, Olson has a .256 ISO and an average exit velocity of 95 mph.  He's set up to have a monster night.  While it's much smaller sample size for Harris, he's also had some success vs. this pitch.  He has a 66% hard-hit rate vs. righty sinkers and an average distance of 424 feet.  Both of these guys very well could take Urena deep tonight.     
Secondary Pieces:  After locking in Harris and Olson tonight, I'll look to add in the usual suspects of Austin Riley, Dansby Swanson, Ronald Acuna, and Eddie Rosario.  I didn't mention Rosario in my core because he's been extremely up and down this season, but he's also in a great spot.  He has a long track record of doing well vs. sinkers and will also have the split advantage.  He's also extremely cheap at $2.9k and will make paying up for the big bats in this lineup a smidge easier.  This entire lineup is in play tonight as on paper, they have the best matchup on paper.
Milwaukee Brewers vs. Mitch Keller
The Brewers are the type of lineup that when they are rolling, you want to jump along for the ride.  They are rolling right now as they've scored at least 7 runs in three straight.  With a matchup against Mitch Keller and the Pirates bullpen, there's an excellent chance that they can make it 4 straight tonight. 
Keller comes into this matchup, not in great form. While he was a bit unlucky in his last outing as he gave up 7 runs, 5 of which were unearned, he still gave up a ton of contact in that game and multiple barrels.  Over the last month, he's given up an 84% contact rate and a 5.29 ERA.  With Keller, I'm not going to be overly concerned with splits.  Both sides of the plate have a slugging % around .420 and wOBA's over .330. 
Core: I'm going to build my core for the Brewers around Hunter Renfroe, Willy Adames, and Christian Yelich. Yelich was arguably the disappointment of the night last night as he only went 1 for 5. He still hit 3 bullets last night, he was just a bit unlucky. I'm going to go right back to the well with him as he's seeing the ball and hitting it as hard as he has all year. Both Adames and Renfroe have been really solid against righties over the last month. They both have ISO's pushing .290 and wOBA's around .330. Renfroe now has 5 hits in his last 8 AB. He's hot and a streaky hitter. Ride the wave with me.
Secondary Pieces: Other pieces I'll look to use here will be Kolten Wong, Jace Peterson, and Keston Hiura. Hiura has been lethal against righties over the last month, with a .429 ISO and a .427 wOBA. At just $2.7k on DK, he opens up a ton of salary relief and makes paying up for someone like Adames a little bit easier. Both Wong and Peterson will have the platoon advantage and I love using Peterson against average righties.
Value: Garrett Mitchell is min-priced on DK tonight and may be the top MLB DFS value play of the night. Since debuting on Sunday, he's had 4 RBI and stole his first base last night. If he cracks the lineup, he'll be a lock in my Brewers stack.
Minnesota Twins vs. Kutter Crawford
The Twins get a great matchup tonight vs. Kutter Crawford.  Crawford has thrown 3 duds in his last 4 outings and very well could make it 4 out of 5 when the night is done tonight.  Crawford has been giving up a ton of hard contact over the last month.  His 45% hard-hit rate is significantly higher than any other pitcher on the mound tonight.  With the amount of hard contact he's been giving up, a lineup like the Twins should be able to put up a healthy amount of runs tonight.  Vegas currently has their IRT at 4.73 and I think they get all of it.  With Crawford, we'll want to make sure to get the lefties in this lineup in our MLB DFS stacks.  He's giving up a .584 slugging % and a .397 wOBA to lefties this season.
Core/Value: I'll start building my Twins stack tonight with guys like Luis Arraez, Max Kepler, and Nick Gordon.  Gordon is one of my favorite bats in his lineup.  He's min-priced tonight at $2k on DK and will get the platoon advantage here.  Over the last month, he's been decent against righties with a .196 ISO and a .338 wOBA.  All 5 of his homers this season have come against righties and I would not be surprised to see him get one tonight.  Baseball Savant has him in the top 25 in expected slugging % in all of baseball.  He has some sneaky power.  While Kepler and Arraez haven't exactly been great over the last month, this is the type of breakout matchup they've been looking for. 
Secondary:  After my core, I'll look to add in guys like Carlos Correa, Jose Miranda, and Gio Urshela.  Urshela has been their best hitter over the past week, with 7 hits in his last 23 AB and a 5 wRC.  He has back-to-back games in double-digit fantasy points and is only $2.8k on DK.  He's a solid value.  Miranda is coming off a solid night that saw him reach base 4 times, with 2 hits and 2 walks.  He'll look to build on that tonight vs. a pitcher that's struggling. 
MLB DFS Summary
Other stacks I like tonight are going to be the Angels vs. Jameson Taillon, Yankees vs. Mike Mayers, Nationals vs. Cole Irvin, and the Dodgers vs. Taijuan Walker.
Make sure to check out our new Home Run Model, it's been running white hot!
Good luck and hope to see you in the green.
Make sure you follow me on Twitter at @rangerzfan79 and be sure to sign up for an ALL ACCESS GOLD ACCOUNT here at Win Daily Sports. Gain access to our Projection Models and jump into our Discord where we will have our experts talking plays across every sport and slate!
New to the DFS writing world but have been playing DFS since BVP was cool. Started play season long fantasy when sporting news was used to calculate weekly scores. Originally from Brooklyn, NY but now a Baltmore resident.