MLB DFS Aces and Stacks for DraftKings and FanDuel for 08/24/2022 – Win Daily Sports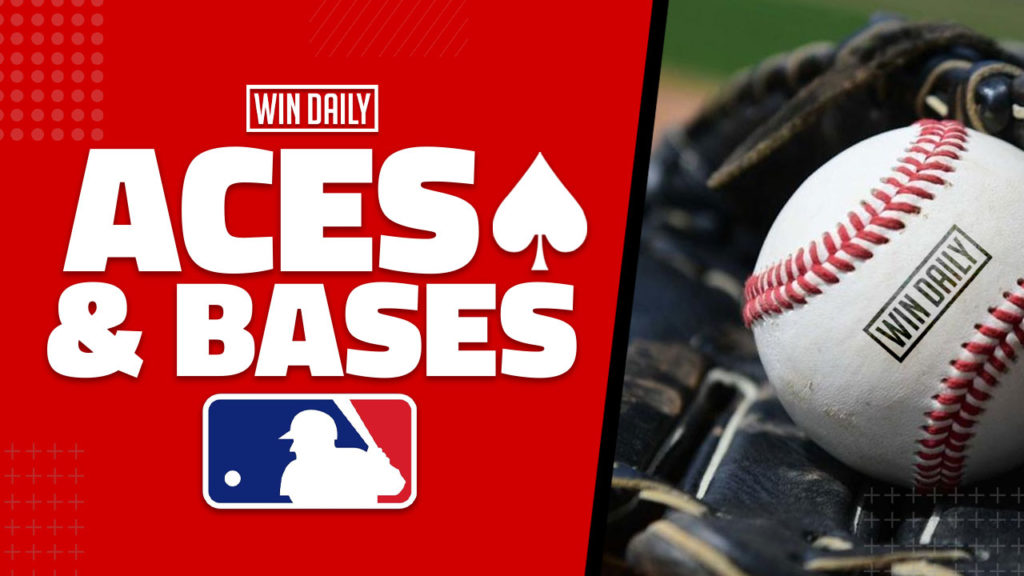 Welcome to the Wednesday edition of the Aces and Bases, where I'll be going through the top MLB DFS Aces and Stacks on DraftKings and Fanduel.
Today we have a nice-sized 8-game slate of MLB DFS to navigate through.  We have some solid pitchers on the hill and we also have some solid places to attack. 
Let's dig in and see if we can find some stacks to use today!
MLB DFS Aces – Main
Shane McClanahan vs. Los Angeles Angels
Shane McClanahan is arguably the most talented pitcher on the slate, making him the top MLB DFS pitcher on the slate.  While his season-long K rate of 32% has plummeted to just 20% over the last month, some of that can be attributed to odd matchups.  He had a stretch of 3 games where he K'd a combined 11 hitters.  In his last start against the Royals, the McClanahan we've come to rely on re-appeared as he K'd 8.  With a matchup against a bad Angels team (even with Trout, they are bad), we should see more of a return of the old McClanahan.  On the year, the Angels have K'd more than 24% of the time vs. lefties and have a wRC of just 81.  They also hit for limited power vs. lefties with just a .639 OPS.  This is a solid matchup tonight McClanahan
Andrew Heaney vs. Milwaukee Brewers
Another pitcher getting a solid matchup tonight is Andrew Heaney.  Yes, the Brewers are a solid team.  They are a top offense in the league, against righties.  However, against lefties, they just are not very good.  On the year, they have just an 85 wRC, a .649 OPS, and a 25.8% k rate vs. lefties.  If we dial that back a little bit more to get us some recency bias, over the last month the Brewers projected lineup tonight has a 31% k rate vs. lefties.  It also helps that Heaney is coming into this matchup pitching really well. 
Over the last month, Heaney's pitched to a 2.66 ERA and a slate-leading 32.6% k rate.  He faced this team a week ago and whiffed 10 Brewers.  While I don't expect the same result, I do expect him to dominate them again tonight.  At $9.8K tonight on DK, he's fairly priced given the matchup and how well he's pitched.
Zac Gallen vs. Kansas City Royals
With Vinny Pasquantino being sent to the IL with an injury, this poor Royals lineup got even worse.  That will be a huge plus tonight for a pitcher in Zac Gallen who has been pitching some of the best baseball of his career over the last few weeks.  Gallen is coming into this one having gone at least 7 innings in 3 consecutive games and also without
t allowing a run in all 3.  He's also K'd 26 batters over those 3 games, including a 10 k performance against the Giants.  He's in peak form facing off against a bad Royals lineup.  The projected lineup tonight for the Royals will resemble a solid AAAA team, not a Major League team.  They have a .110 ISO against righties over the last month and a 25.6% k rate.  Anything can happen, but I like the chances of Gallen continuing with his solid pitching tonight. 
MLB DFS Stacks – Main
St. Louis Cardinals vs. Luke Farrell
The Cubs are expected to call up Luke Farrell to make his 2022 debut tonight.  If it goes anything like his season in the Minors, the Cardinals should be the top MLB DFS stack at the end of the night.  Farrell has pitched to a 5.03 ERA in the minors this season with a 1.46 WHIP.  He has just 49 k's in 59 innings of work.  The matchup for him tonight will be as bad as it can get. 
The Cardinals are rolling right now, having won 9 of their last 10 games.  Their offense is absolutely rolling also, having scored in double digits 4 times over the last couple of weeks and will make for a solid MLB DFS stack.  This is the type of matchup where they can do it again.  I'm not going to be overly concerned with splits here as Farrell has been pretty splits neutral throughout his brief career.  Both sides of the plate have a wOBA over .330 and slugging %'s over .430. 
Core: When it comes to the Cardinals, you know the drill, Paul Goldschmidt and Nolan Arenado. They are 2 of the best hitters in the game and get a soft matchup tonight vs. Farrell. Both guys are coming into this game rolling as well, each with at least 12 hits over the last week. Both guys also have an OPS Over 1 and stand a solid chance here tonight to produce. The only concern with the 2 of them is that they are both extremely expensive tonight. They'll combine to cost over $12k tonight.
Secondary Pieces: The Cardinals that I'll look to sprinkle in tonight will be Brendan Donovan, Nolan Gorman, and Paul DeJong. All three guys have been playing extremely well and have also been hitting righties well. While Donovan hasn't hit for much power vs. righties, he does have a wOBA of over .450. He continues to produce when in the lineup and will only cost us $3.2k tonight on DK. Another piece I really like here is Gorman. Gorman's going to hit for a bit more power than Donovan as he has a .276 ISO vs. righties over the last month. He also has a .379 wOBA vs. them. He's in a solid spot to produce tonight.
Value: I didn't list Lars Nootbaar as a core for me tonight, but that was 100% due to his price and wanting to highlight his value. He'll absolutely be in my stack tonight as he's just $2.6k on DK. Nootbaar has been playing some amazing baseball right now and is a cheap leadoff hitter for us. Against righties over the last month, he has a massive .485 wOBA and a .333 ISO.
Philadelphia Phillies vs. T.J. Zeuch
With Graham Ashcraft being sent to the IL, the Reds will turn the ball over to T.J. Zeuch tonight.  Through 2 starts this season, Zeuch has been horrendous.  In each start this season, he's given up 6 ER.  One of those starts was to this same Phillies team last week.  Even if we look at what he did last season with the Blue Jays, it was not different as he had a 6.60 ERA in 5 appearances. 
He's struggled in the majors and he'll struggle against tonight.  With Zeuch, we don't need to worry so much about splits.  He's been an equal opportunist throughout his career.  Both sides of the plate have slugging %'s over .500 vs him. Lefties have been slightly better vs. him as they have a .408 wOBA. 
Core: My Phillies core will start with J.T. Realmuto and Nick Castellanos.  Both guys are playing some extremely solid baseball right now.  Realmuto has 9 hits in his last 23 AB and while he hasn't homered at all during that stretch, he does have an OPS of 1.049.  He's been putting the ball in play a ton and also has a nearly 53% hard-hit rate over the last week.  Realmuto's been seeing the ball as well as he has all year. 
Similar things could be said about Castellanos.  One of the big free agent signings for the Phillies has finally been coming around.  Over the last week, he has 10 hits in 29 AB.  As his production has crept up, so has his salary as it's up to $4.4k.  It's still reasonable considering the matchup and how he's been hitting.   
Secondary:  Other bats that have my attention in this lineup are going to be Alec Bohm and Bryson Stott.  Bohm has been red hot at the plate, with hits in 9 of his last 10 games.  Over his last 12 AB, he has 7 hits.  I normally prefer him vs. lefties, but this is also a solid spot for him tonight vs. Zeuch.  I'll also look to get Jean Segura in here.  I'm willing to fade Kyle Schwarber in this matchup.  He's back to his old ways of striking out a ton.  He's $6k on DK tonight.  Can he return to form and smash tonight?  Absolutely, it's just a lot of money to pay for someone that has 7 k's in his last 8 AB. 
Toronto Blue Jays vs. Brayan Bello
The Red Sox will be trotting out Brayan Bello tonight, and there's a minor chance that Rich Hill goes in after him.  That's music to our ears as both have struggled in the Majors this season.  In Bello's 3 Major League starts this season, he really struggled. He gave up 14 ER in just 12 innings of work. Part of his issues was his command, as he walked 8 batters in those 12 innings of work. 
With Blue Jays hitting the ball well again, if they can find some patience at the plate tonight against a pitcher that has control issues, they can put up just as large of a number as they did last night.  Similar to the other pitchers we're targeting tonight, Bello has struggled vs. both sides of the plate.  Righties and lefties each have a slugging % over .550 vs. Bellow and both sides have wOBA's over .440.
Core: I'm starting my Blue Jays stack with George Springer, Vladimir Guerrero, and Matt Chapman. These guys have been the best of the Blue Jays hitters over the last month vs. righties. Both Springer and Guerrero have wOBA's over .400 and Chapman is at .359. Chapman comes in the cheapest of the 3 and has been arguably the best with a .316 ISO vs. righties over the last 30 days. All 3 guys will be automatics in my Blue Jay stack, as pricey as they may be.
Secondary Pieces: After my core, I'll look to get in guys like Lourdes Gurriel, Teoscar Hernandez, and Bo Bichette. Bichette is my favorite of the 3 as his bat is starting to heat up. He now has back-to-back games with 2 hits. With a matchup vs. Bellow tonight, I like his chances of making it 3 in a row.
Value: For value with this stack, I'll look to Cavan Biggio and Jackie Bradley.  They aren't game changes in any sense of the word, but both guys are in a lineup that should smash tonight and are min-priced on DK.  They'll free up a ton of money and with the way the lineup could potentially shake out, you could go with an 8,9,1,2 wrap-around stack with an average cost of $3.75k.  That gets you, Springer and Guerrero, without breaking the bank.  
MLB DFS Summary
Other stacks I like tonight are going to be the Dodgers vs. Adrian Houser, Boston Red Sox vs. Jose Berrios, and Houston Astros vs. Dylan Bundy.
Make sure to check out our new Home Run Model, it's been running white hot!
Good luck and hope to see you in the green.
Make sure you follow me on Twitter at @rangerzfan79 and be sure to sign up for an ALL ACCESS GOLD ACCOUNT here at Win Daily Sports. Gain access to our Projection Models and jump into our Discord where we will have our experts talking plays across every sport and slate!
New to the DFS writing world but have been playing DFS since BVP was cool. Started play season long fantasy when sporting news was used to calculate weekly scores. Originally from Brooklyn, NY but now a Baltmore resident.