MLB DFS: Aces and Bases – 9/4 (FanDuel Main Slate)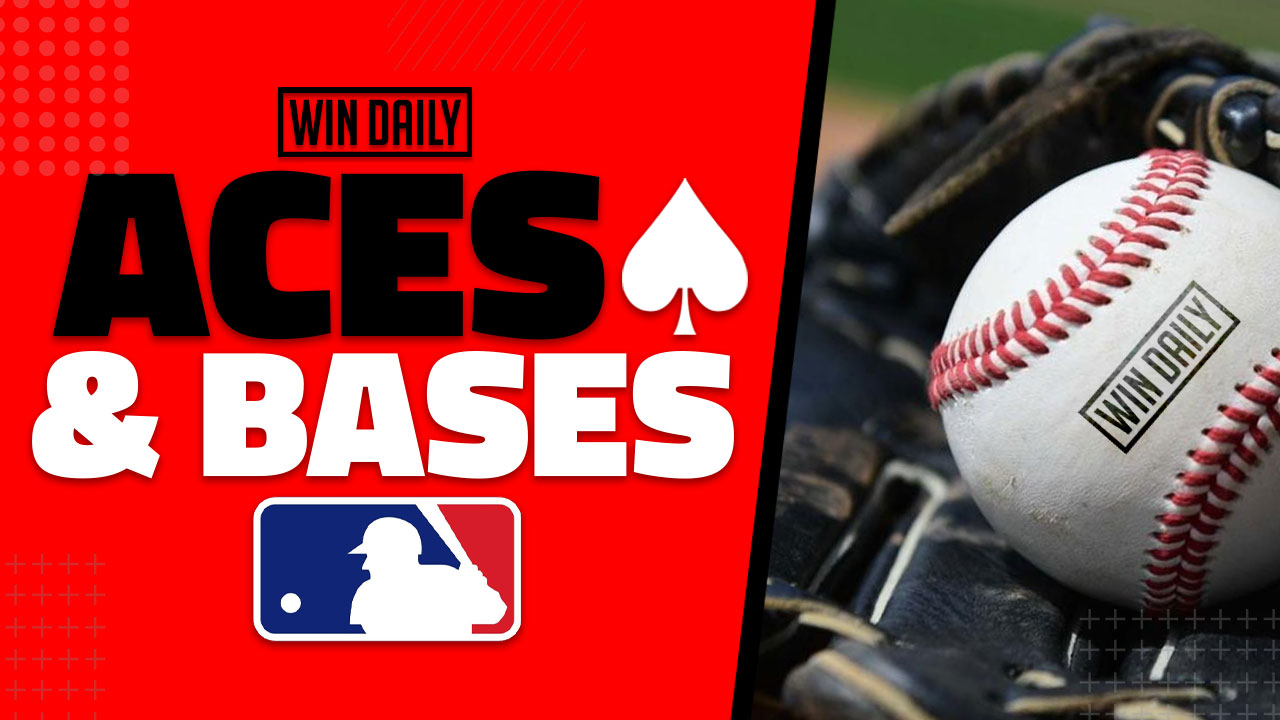 Today's edition of Aces and Bases focuses ONLY on FanDuel's eight-game MLB DFS Main Slate for 7:10PM ET, hopefully finding you some green screens!
The biggest weather threat is in Cincinnati for the Tigers-Reds game, which if it plays will have to be through heavy rain. If the forecasts changes we can consider the Reds hitters against LHP Matthew Boyd, but this game has a good shot at a PPD so it might just be too risky even for bats.
MLB DFS: The Aces
Top MLB DFS Ace: Framber Valdez ($9,800)
There isn't an SP play on the main slate without risk, but Valdez offers the best shot at a decent floor with GPP-winning upside. He's likely where a lot of folks will be starting their cash game builds. If he can avoid the big blow from Fernando Tatis Jr. and navigate through the rest of this lefty-heavy lineup, I'm confident he'll be sitting somewhere in that 29-46 point range where he's lived comfortably in his last seven starts. Valdez sports a relatively pedestrian 22.4% K rate this season, but he's posted at least 6 Ks in five of his last six starts and the Padres don't necessarily destroy lefty pitching. This slate isn't pretty for starting pitching, but Valdez is likely the best we've got.
Best GPP Value: Reynaldo Lopez ($8,100)
The White Sox starting rotation has taken some hits lately, with both Lane Lynn and Lucas Giolito on the shelf — at least temporarily. If Tony La Russa weren't so old school, I'd be worried about Lopez going the requisite five innings he needs to pick up the win, but if "Pound-em-down" Tony says Lopez is starting, he's probably willing to let him go 5-6 IP, which should be plenty long enough to make value against the Royals. Lopez had 42 FD points in his last start (against the Cubs) on August 27, striking out 7 in 5.0 IP and notching a win. We could see similar results tonight.
Contrarian GPP Play: Joe Musgrove ($8,800)
As WinDaily's Adam Strangis points out in his MLB DFS Starting Rotation 9.4 article, Musgrove worked some magic against the Angels his last time on the bump, and gets another tough test facing the Astros — a team that just doesn't strike out very much and mashes it around the yard (lowest K-rate in baseball, top three in wOBA, wRC+, OPS, and OBP). Musgrove is pitching this game in his team's NL park, so that helps, and the most recent performance by the Astros against an ancient Jake Arrieta shows that at least they aren't red-hot heading into the matchup. Both of the implied team totals in this game are under 4 runs, so it could really go either way. I'm assuming that Musgrove's ownership will be much lower than that of Valdez. If Braves RHP Ian Anderson were looking anything like his 2020 self in his last few starts after returning from injury, I'd have some interest in suing him as a contrarian play in Coors, but that just doesn't appear to be the wise move tonight.
MLB DFS: The Bases
Top Stack: Los Angeles Dodgers
We've got another huge total Coors game tonight, so if you're believer they'll finally give us the shootout we've been promised tonight — have at it. But the past couple of nights have given us the highest totals outside of Coors, which is where we'll be focusing our attention for tonight's slate. That starts with Dodgers against LHP Sammy Long in San Francisco in a revenge game. This lineup just lost first place to the Giants last night and they absolutely destroy fastballs, and that's primarily what Long throws. I'm starting my stacks with Trea Turner ($4,300), Mookie Betts ($4,100), A.J. Pollock ($3,200) and Justin Turner ($3,800), but lefties Max Muncy ($4,000 — if he doesn't sit) and Corey Seager ($3,800) are in play as well.
The Second-best Stack: Chicago White Sox
If you're not into playing the juggernaut Dodgers in a pitcher's park, then consider rolling out the White Sox, who project well against young lefty Daniel Lynch. Lynch has been solid lately and has some contrarian upside in his own right tonight, but the smart money (4.95 projected team total for the Sox) is on Luis Robert ($4,200), Jose Abreu ($4,100), Eloy Jimenez ($3,600) and Yasmani Grandal ($3,500) pulvering baseballs and giving us a big offensive night. Andrew Vaughn and his .380 wOBA vs. LHP is the best value option at just $2,500, while Leury Garcia ($2,300) who sports positive splits against LHP (.320 wOBA) makes sense as well if you need the salary savings and need to drop one of the bigger bats.
Value GPP Stack: Los Angeles Angels
The Angels offense just hasn't been great the last couple of weeks, sporting a relatively weak wRC+ of 78 and .128 ISO over the past 14 days. But that all changes tonight against LHP Kolby Allard. On the season, the splits against LHP are solid, with a team wOBA of .322, ISO of .180 and 105 wRC+, numbers that match well against Allard and his ERA and FIP — both north of 5.00. Plus, the wind is blowing out to right field in a hitter's park, and the temperature is the highest of any game in the slate. We're going to see some runs scored in Anaheim tonight, and I'm starting my stacks with Shohei Ohtani ($4,500), David Fletcher ($2,900), Jo Adell ($2,500) and Justin Upton ($2,700). Max Stassi ($2,900) is in play if he starts, and so is "Fabulous" Phil Gosselin ($2,300) if he's high in the order.
Make sure to keep an eye on the starters as lineups are released. Good luck tonight, and please utilize the MLB Projection models to land on your one-offs and off-the-wall value plays!
I'm a writer from upstate NY in a cool little Hudson River town called Coxsackie. Too many interests to list, but the films of David Lynch, the books of Kurt Vonnegut, the music of Jack White and the maddening sport of golf are near the top of my list. Big into DFS, specializing in baseball, football, golf and hoops. I've written for FFToday.com, RotoExperts and Baseball America, to name a few.