Divisional Round: Top DFS QB's & Stacks Breakdown with A Through Z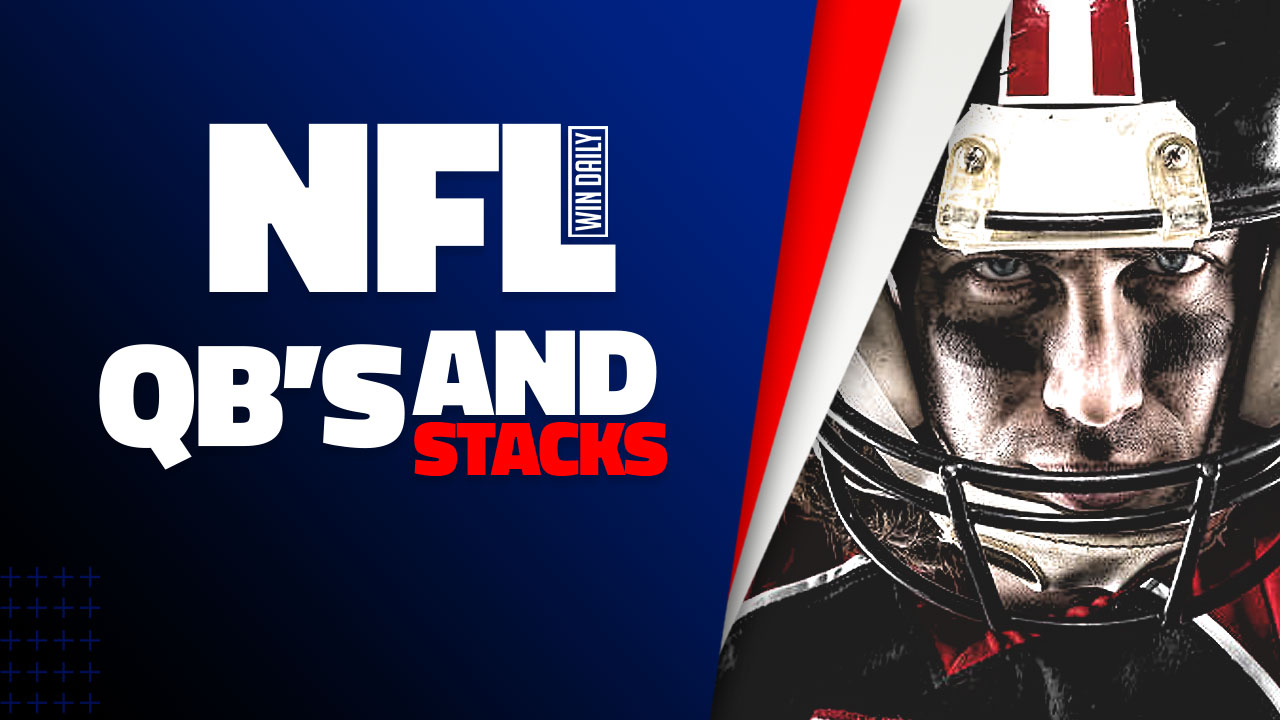 We have arrived at our last reasonably-sized slate of the NFL season, so let's enjoy this weekend, even if our favorite team just so happened to get absolutely slaughtered last week. I will once again be breaking things down by looking at the largest slate available, which unlike last weekend, is actually also the slate with the largest GPP's across the DFS industry. This is the final week where we will have this format, as next week I will just do a full overview of both games, so enjoy this final version of the top QB's and stacks breakdown! As usual I will be covering the top quarterbacks and players to stack with them for GPP contests across the NFL DFS industry, so any stack that I recommend is in play for both FanDuel and DraftKings. With that said, let's get to the picks!
The QB's
A. Well, I made the mistake of failing to write up and target this quarterback last week, at least partially due to the fact that he was facing off against my team. You know that whole fool me once, fool me twice thing? Yeah, that will not be happening here as the first quarterback I will be targeting this weekend is Josh Allen ($7,600 DK / $8,800 FD). Allen and this Bills offense absolutely emasculated the New England Patriots defense on national television, in what was arguably the worst defensive showing in NFL history, as the Bills pitched a perfect game and turned every single offensive drive into a touchdown. Now, a portion of that is the Patriots defense being horrendous and old and dust, but another portion is definitely Allen and the elite weapons at his disposal. The Chiefs have the worst defense of any of the 8 teams remaining in the playoffs, so this is not only the spot with the hottest signal caller in the NFL, it is also the easiest matchup. Kansas City surrendered the second highest production to opposing QB's, and Josh Allen should have yet another field day to put his team into the AFC Championship.
B. In this exact spot last week, I had an argument to target the quarterback facing the Cincinnati Bengals. While that did not exactly crush, I will be doing the same here with a more talented arm in Ryan Tannehill ($5,800 DK / $7,300 FD). Interestingly enough, Tannehill is the exact same price on DraftKings this week as Derek Carr was last week as well. It seems as though the stars are all aligning for this play as an excellent salary-saver this weekend. While the Packers do own a slightly worse total defense DVOA figure, the Bengals are the worst team in DVOA against the pass this weekend, ranking just 24th in the NFL. As I mentioned last week, the Bengals are rolling on offense heading into the playoffs, so we should expect their opponents to pass more than usual in order to keep pace. This is excellent news for a Titans offense that will potentially have all three of their top weapons back in play and Tannehill is easily the best option at the position if we do not have the salary to squeeze in Josh Allen.
C. The final quarterback that I will look to target in the divisional round this weekend is Matthew Stafford ($6,200 DK / $7,400 FD). This gives us a nice blend of a top-tier option, a mid-range option, and a salary-saving option at the QB position. While I am more likely to either pay up or save, the field will likely follow a similar route so I expect Stafford to go overlooked this weekend. This Tampa Bay defense is no joke and the Rams have to travel for this game, but at least the climate will be similar to what they are used to in terms of temperature. We have known all season to avoid NFL rushing attacks facing the Bucs, but this has led to TB ranking just 25th in DvP against opposing quarterbacks. The Rams also have the third lowest sack potential of the 8 teams playing this weekend, so Stafford should have more time in the pocket than a majority of the QBs remaining. While this offense did not need to do much to beat the pathetic Cardinals on Monday, they certainly will need to show up to beat this Bucs team.
The Stacks
A. This game has the highest total of the four games in the divisional round of the NFL, and will almost definitely be the chalkiest, so we need to keep that in mind when building our lineups. Devin Singletary went from an auto-fade in a time share with Zack Moss each week, to potentially our top option at the runningback position. The wideouts in this offense consisting of Diggs, Sanders, Davis, and Beasley are all viable and any of them can catch a few touchdown passes from their gunslinger quarterback. Keep an eye on ownership in order to help inform our roster construction decisions with the Bills pass catchers. Dawson Knox also absolutely smashed this Chiefs team earlier in the season to the tune of 117 receiving yards and a TD, so he is another potential punt option at TE for us if we believe he has this Chiefs defense's number. Jerick McKinnon came out of literally nowhere and won people a ton of money last week as Andy Reid failed to mentioned that Darrel Williams was essentially out. This was insanely annoying to us DFS players, and we will have to keep a close eye on the news from this backfield before we make any decisions. Tyreek Hill, Mecole Hardman, Byron Pringle, and Travis Kelce are our pass catching options for a bring-back game stack. Hill and Kelce are nearly the same price and Hill is extremely discounted compared to other receivers, so he is my favorite KC option this weekend.
B. As I referenced above, we will potentially see the trio of A.J. Brown, Julio Jones, and Derrick Henry all "healthy" (Read: "Active") for this contest, with the largest question mark of course lying with King Henry, who is returning from a lengthy injury absence. If you trust beat writer Twitter videos, then Henry could be all systems go as he was looking like his spry self in practice, and he is clearly our top option from this game if so, given that his price tag is a fraction of its typical level across the industry. Julio Jones finally caught a touchdown for the first time this season in week 18, but I really cannot recommend him as a DFS play at this point in his career. A.J. Brown is easily our top pass-catching option and we can sprinkle in some Anthony Firkser at tight end if we want to get weird and save some salary given his very strong finish to the regular season. On the Bengals side, Joe Mixon is once again an excellent bring-back option, although the trio of Ja'Marr Chase, Tee Higgins, and Tyler Boyd are also very appealing this weekend. Similar to Darrel Williams, Tee Higgins seemed as though he was not even playing last weekend and I expect his ownership to plummet, which means he will be someone that I frequently target as we have seen the massive ceiling he posesses. C.J. Uzomah is gathering buzz as yet another cheap TE option, and I will certainly mix him in with the other shares of cheap tight ends I mentioned above.
C. Last, and potentially least, we have the Los Angeles Rams against the Tampa Bay Buccaneers. The story out of LA is Cam Akers returning from an Achilles tear in record time and looking just as good as he did prior to injury. Sony Michel may very well be dead in this offense, and Akers is way too cheap. I am hoping that people will be scared away by the TB rush defense, because Akers is one of our top options at RB. Kupp had a down game to kick off the playoffs, but as I mentioned, the Cardinals were such an absolute joke that the Rams barely needed Kupp at all. Odell Beckham continues to show that he was clearly being wasted in Cleveland, as any talented player in Cleveland is, and he is the only other WR I have interest in, as Van Jefferson has become somewhat of an afterthought. Tyler Higbee is one of my least favorite TE options, as he has not looked good in recent weeks and seems to drop too many easy passes. On the Bucs side of the football, Leonard Fournette may be returning, and if he does I have interest, but if he does not then Gio Bernard seems to be the back that Bruce "Helmet Slapper" Ariens favors. Mike Evans had himself an absolute day last weekend, and he is our clear top bring back option, while Rob Gronkowski is due to have a ceiling game in at least one of these playoff matchups.
That will do it for this week's article. If I am not taking down the million this Sunday, then I hope that it is a member of our WDS fam! Please make sure to check out our projection model by clicking here, and if you have any questions about GPP strategy or the top stacks for the week, I will be in our expert chat in Discord leading up to Sunday afternoon. Feel free to shoot me a DM or @ me in chat! Lastly, do not forget to subscribe to the WinDaily YouTube channel and follow me on Twitter: @AThr0ughZ!