DFS: NFL Preseason Week 2 – Friday Slate Preview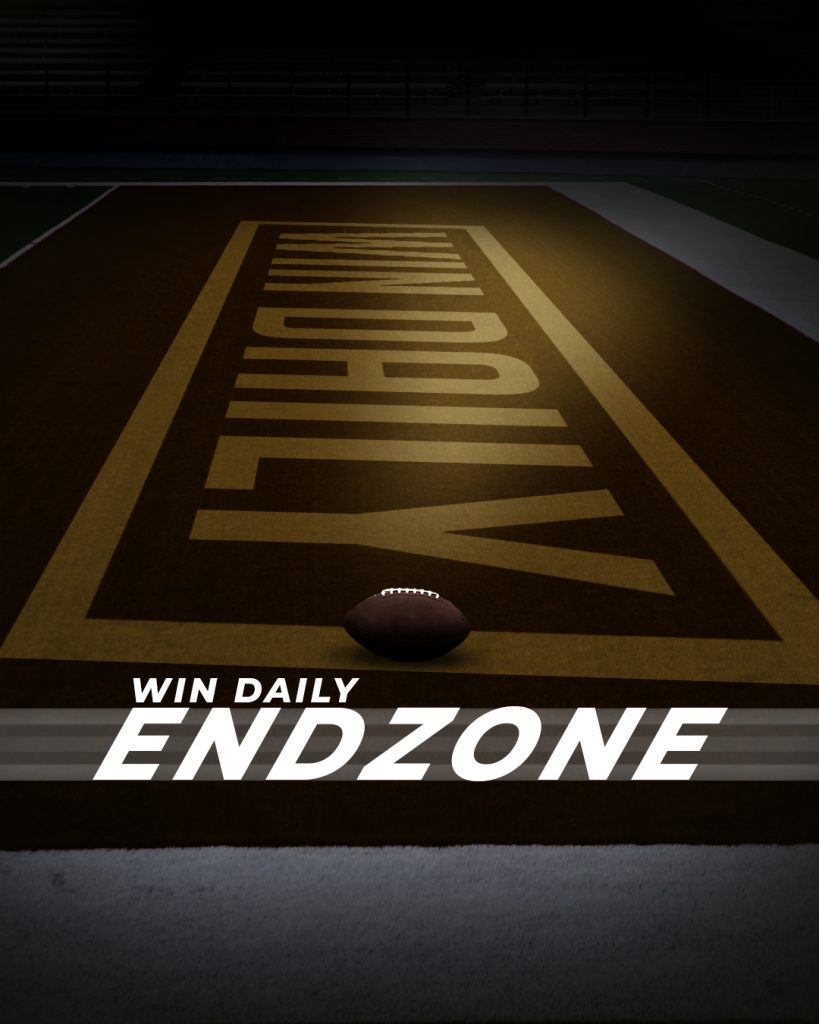 Could not get enough on Thursday? We have three games coming up on Friday, making it the perfect night for DFS preseason action on DraftKings and FanDuel. For this slate, I am going to go through each position and rank my favorite plays. These games include BUF @ CAR, CHI @ NYG, and MIA @ TB.
Sign up NOW for WIN DAILY Premium Gold right here! Projections,
weather reports, wagering info, 24/7 expert chats and more!
DFS Preseason
Quarterbacks
BUF – Tyree Jackson – The Bills need to find out what they have in Jackson in the second preseason game. He played just 14 snaps in Week 1 of the preseason. His rushing upside is too much to ignore considering he had six rushing attempts in Week 1.
NYG – Daniel Jones – Apparently the plan for last week was to play Jones longer, but with the weather delay the Giants pivoted. Expect to see more action for Jones in Week 2. I like the matchup against a Bears' defense that will be resting several starters.
TB – Ryan Griffin – No player had more dropbacks (47) or pass attempts (43) than Griffin did in Week 1 of the preseason. He threw for 330 yards. This is an easy play for DFS preseason. Stack with Justin Watson/Bobo Wilson – Both of these guys ran at least 30 routes in Week 1 and saw at least five targets.
Running Backs
MIA – Mark Walton – With Kenyan Drake in a walking boot and Kallen Ballage the presumed starter that creates an opportunity for Walton. Reports are Walton has a legitimate shot at the RB3 slot on the Dolphins with his main competition being Myles Gaskin. Cameron Wolfe reports that Walton looks like the clear RB3 at this point. Remember Walton was a fourth-round pick versus Gaskin, who was taken in the seventh-round. Walton also ran 13 routes last week which was eight more than Gaskin.
BUF – Devin Singletary – We saw David Montgomery rip up the Carolina defense in Week 1, rushing three times for 16 yards and a touchdown; along with catching all three of his targets for 30 yards. Enter Singletary, who also was three for three on receiving targets, but had nine carries in Week 1.
CAR – Jordan Scarlett – Scarlett was forced to miss the first preseason game. Instead of making his NFL debut he was subject to streaming the game on his cell phone. Scarlett is in competition for the backup role at running back position. According to Brendan Marks, beat writer from The Observer "Scarlett should see heavy snaps Friday, where he'll finally get to put his impressive training camp to good use."
CHI – Kerrith Whyte Jr. – Nagy has suggested Montgomery after a strong preseason performance — along with Mike Davis and Tarik Cohen — won't play much the remainder of the preseason. Many of the carries will go to Whyte, who could find a place as the Bears' fourth running back. Whyte made the most of his touches last week: Seven for 42 yards (six runs, 35 yards).
DFS Preseason
Wide Receivers
BUF – Ray-Ray McCloud – He has also been impressive throughout the summer, in addition to four targets in Week 1 of the preseason. He also played in over 30% of the snaps. McCloud has seen reps with the first and second-team offenses and saw 18/22 snaps from the slot on passing plays. Also, Nick Easley and quarterback Josh Allen have been reportedly been connecting for touchdowns consistently in practice. Easley is much more of a dart-throw; played just five snaps in Week 1.
CAR – Andre Levrone – Led the team in targets (7) in the first preseason game, and continues to have chemistry with not just Cam Newton, but quarterback Kyle Allen as well. Levrone is battling for the fifth and sixth wide receiver spot.
MIA – Preston Williams – The hype train is running off the tracks with Williams and is 100% worth the buy-in. After a great showing versus Atlanta, he needs to be on your radar for Week 2. He led the team in routes run (20) in Week 1.
CHI – Javon Wims – Matt Nagy has zero intent of playing any of his key players Friday night against the Giants. That was a major part of in holding the under-the-lights mock game on Wednesday. Nagy: "They got a lot of reps out here tonight. I like that they got a lot of reps." Wims had three targets last week but played in 50% of the snaps; specifically, 44% of the passing plays. Wims is also drawing praise from Bears' cornerback Prince Amukamara.
NYG – Darius Slayton – Slayton finally returned to practice. Shurmur on Slayton, "He's a fine receiver…"He has speed, obviously. Through the OTAs and the time he was on the practice field, he displayed the ability to go down the field and make a catch. We anticipate that he's going to have a bright future. He just needs to get out there."
DFS Preseason – Tight Ends
CAR – Chris Manhertz – Though known as more of run-blocker, Manhertz has come alive in the passing game, using his 6-6 frame to get leverage in red-zone situations. He has seen more playing time with Ian Thomas out with a rib injury. Keep in mind Manhertz is one of the rare tight ends with the basketball background. Manhertz has played in 39 career NFL games as a guy that didn't even play football in college. Or high school. With Thomas not expected to play, and a chance that Olsen's reps will be limited, Manhertz could see a large number of snaps in both run-blocking and pass-catching situations on Friday.
TB – Tanner Hudson – No tight end ran more routes (38) than Hudson did in the first week of the preseason. Hudson has continued to stand out in joint practices as reported by Carmel Vitali. Her reports also say that the tight ends for Tampa Bay have had a lot of success in one-on-one drills against Miami defensive backs. The Miami 2s had no answer for tight end Tanner Hudson underneath in seven-on-seven drills.
CHI – Ian Bunting – Bunting could again lead the Bears' tight ends in targets a week after he led the team in receptions. He had three catches but also had two penalties and a fumble in a mixed performance last Thursday.
DFS Preseason – Defenses
Tampa Bay – Reports from joint practices showed that the Buccaneers' front were consistently dominating the Dolphins' offensive line. Former Dolphin defensive lineman Ndamukong Suh at one point broke through the line so easily and effortlessly and tossed his blocker to the ground as he made his way toward quarterback Josh Rosen.
THANK YOU FOR READING. YOU CAN READ SOME OF MY OTHER WORK AND THOUGHTS ON MY AUTHOR PAGE. FOLLOW Win Daily DFS ON TWITTER @WinDailyDFS. PLEASE CHECK OUT EVERYTHING THAT Win Daily DFS HAS TO OFFER. NEW ARTICLES, STATISTICS, AND DATA ARE BEING ADDED CONSTANTLY. ALSO, DO NOT FORGET TO LISTEN TO THE WIN DAILY PODCASTS HERE.
Andrew has come a long way as a fantasy football writer. After graduating from Roger Williams University where he received a degree in marketing he began to write his own fantasy blogs via WordPress.com. He used to call himself the Fantasy Football Master. Nowadays, he is slightly more humble. He has worked with Pro Football Focus as a base data analyst along with bringing head writing experience from Gridiron Experts and FantasyData. He is an absolute die-hard Patriots fan and will never forget his first fantasy football team. In his first-ever fantasy football league he drafted the Bears defense in the 1st round. He then proceeded to win the entire league. #DefenseWinsChampionships