Al's UFC Fight Night Deep Dive, DraftKings, FanDuel, Odds, DFS Picks, & Top Plays 7/23
Published
2 months ago
on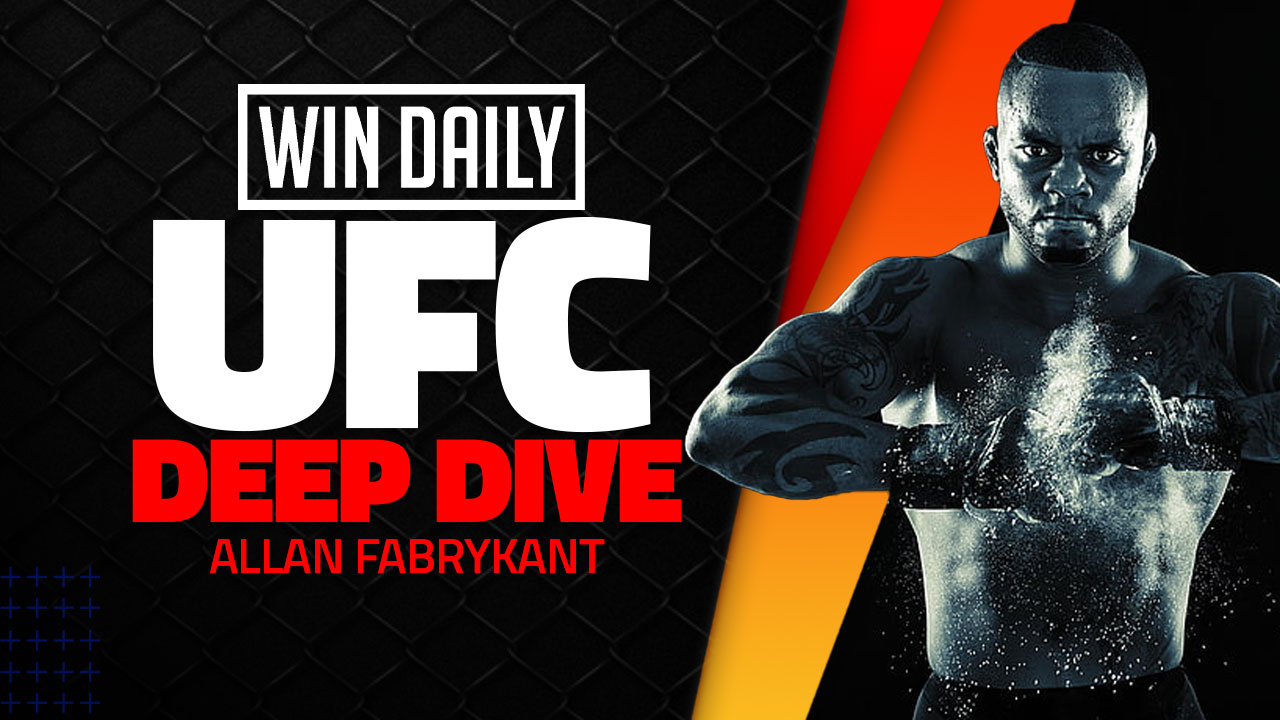 UFC Fight Night 208
BLAYDES V ASPINALL
Welcome back everyone to Win Daily's Fight Night Deep Dive! After an amazing card with a let down of a main event (prayers to T-City), we're back across the pond today for an amazing card in London's O2 Stadium! The UFC always stacks UK cards with British talent and tonight will be no different. Today's slate will start at 11:00 AM ET. Read more below to find out my takes on tonight's matchups! Tonight there will be 14-fights that will end with two top level heavyweight who could set their sights on the championship with a win tonight! Let's get started!
SLATE STARTS AT 11:00 AM ET
Exposure to the main event is recommended. DFS production in these fights are usually be high as they are five-round fights. I may be branching away from the Main Event for some of my lines due to the possibility of low activity among these fighters. There will be three top plays followed by honorable mentions. Now let's get ready to make some money!
Tonight I'm here to give you my top three favorite DFS and Sports betting picks for UFC Fight Night 208 Blaydes v Aspinall
MY UFC VALUE TARGET (CASH&GPP):
Jack Hermansson (+100) (DK 8000) (FD $14) vs. Chris Curtis (-125) (DK 8200) (FD $15).

We're starting the article off with the co-main event and I am quite surprised to see the odds in this one as close as they are. Despite a few recent hiccups the Joker has been a top 10 middle weight in the UFC for quite some time now and for Chris Curtis, this is his fourth UFC fight. Credit where credit is due, Curtis has performed well in his first three UFC fights but Hermansson has way more octagon experience and a much more developed ground game which will definitely cause Curtis some problems. As we saw, Hermansson wrestling can even keep up with the likes of Khamzat Chimaev. There is no doubt in my mind that Curtis deserves to be where he's at but this could very well be a case of the UFC pushing him too far too fast.
MY UFC DFS PICK: Jack Hermansson (+100) (DK 8000) (FD $14). SECOND ROUND SUBMISSION
MY UFC LOCKED-IN TARGET (CASH):
Muhammad Mokaev (-500) (DK 9500) (FD $23) vs. Charles Johnson (+380) (DK 6700) (FD $8).
Mokaev still has a LONG way to go in his maturity development, that'll come with age and experience but his skill in the cage cannot be understated. He already disposded of Cody Durden in his UFC debut and is now turning around in his hometown to welcome Charles Johnson to the Octagon. It's unfortunate for Johnson too because he seems like a decent prospect it just so happens that happens that he's up against a generational talent in Mokaev. As much as I'd like Johnson to humble the kid a bit, realistcally, it's not gonna happen.
MY UFC DFS PICK: Muhammad Mokaev (-500) (DK 9500) (FD $22) FIRST ROUND KO.
MY UFC TOP SCORING TARGET (GPP):
Paddy Pimblett (-275) (DK 8900) (FD $20) vs. Jordan Leavitt (+225) (DK 7300) (FD $11)
He's baaaaack PADDY THE BADDY has returned to the UFC and they gave him a very winnable opponent for his second fight back home since joining the promotion in Jordan Leavitt. Despite going 3 for 4 in his UFC career, his last fight was extremely close and his second fight in the UFC against Claudio Puelles showed a side of Leavitt that is almost lazy or simply unable to get back in fights once he sees that he's out of them. Pimblett on the other hand has shown that despite getting rocked at times, he is not out of fight til the final bell or the opponent is out on the mat. A clear example of this is Pimblett's fight against Luigi Vendramini where he took a hard shot early in the first round and came back to win by KO later in the round. Aside from all the entertainment and fanfare that Paddy brings, he is a solid UFC talent and will put on a show tonight for the hometown crowd even if he has to eat a couple of good shots to do it.
MY UFC DFS PICK: Paddy Pimblett (-275) (DK 8900) (FD $20) FIRST-ROUND KO. (possible SECOND-ROUND KO)
UFC HONORABLE MENTIONS:
(Not in order)
Tom Aspinall -160 (DK 8300) (FD $20) (5 ROUNDER)
Alexander Gustafsson +170 (DK 7600) (FD $13)
Molly McCann -450 (DK 9300) (FD $22)
Paul Craig +125 (DK 7700) (FD $13)
Mason Jones (FADE) -400 (DK 9200) (FD $21) (No value with the odds set as they are)
Mark Diakiese -400 (DK 9100) (FD $21)
Nathaniel Wood -550 (DK 9400) (FD $23)
Jai Herbert (FADE) -300 (DK 9000) (FD $20)
Jonathan Pearce -188 (DK 8700) (FD $18)
Nicolas Dalby -250 (DK 8800) (FD $19)
Mandy Bohm (FADE) -125 (DK 8400) (FD $15)
SUMMARY:
On Saturday's fourteen-bout MMA UFC DFS slate, I will be building 3 UFC Parlays. I will be focusing on the three targets and my honorable mention fighters listed in my article to be a part of 99.9 percent of my lineups. Some fights in this slate are tricky to predict a winner and all fights are pretty close in skillset as UFC fighters are the elite of the elite. I usually employ a hedging technique on the fights that are closer in odds. I'm focusing on building a GPP winning lineup.
I'm building lineups that can variate from the field and taking bigger risks tonight. I will use my core fighters (Locked-In, Honorable Mention) to be a staple in my DFS lineups, and I will build around them using the available salary with the remainder of my predicted winners. Remember, to take down a GPP; you have to be different and take risks. Scared money doesn't make money in tournaments. For any further questions, I will be available until lock in our WinDaily Discord chat. GOOD LUCK and don't forget to come back and Win Daily!
PARLAY OF THE DAY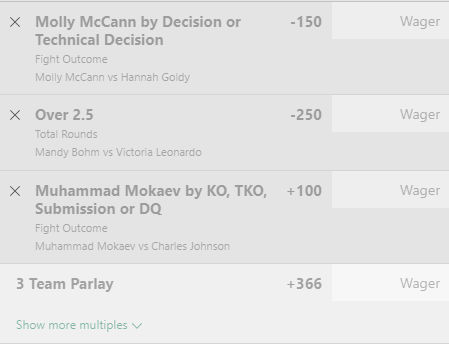 MonkeyKnifeFight: Knockout Kings!
Below I have listed my top three plays for MKF's Knockout Kings Contest!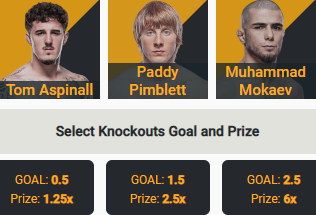 As an avid hockey fan since 2007, I suffered through the worst moments in Toronto Maple Leafs history and persevered to tell the story. I picked up NHL DFS in 2017 after being introduced to FanDuel by a family member and began writing NHL articles for Daily Play Action since 2018. Since my introduction to DFS, I've surpassed the initial bumps in the road and have continually sought to hone my game season after season. Today, I have solely focused on improving as an NHL and UFC DFS player in order to maximize my output in those sports. This is truly a win-win as I also love the sport itself. In 2019, I notably recommended Sean Kuraly in the NHL Winter Classic, where he went on to be the most valuable player of the slate with a goal and 5 shots. I was also in on Mantha when he had a whopping 12.9x value, Perlini when he posted a 10x value and Ennis, who was my top value play of the year at 14.9x value. My most notable NHL takedown was the NHL 4.44 Breakaway where I won $5,000. You can find me on Twitter @AFabrykant and FanDuel as InAustonWeTrust.