Al's UFC Fight Night Deep Dive, DraftKings, FanDuel, Odds, DFS Picks, & Top Plays 6/11
Published
8 months ago
on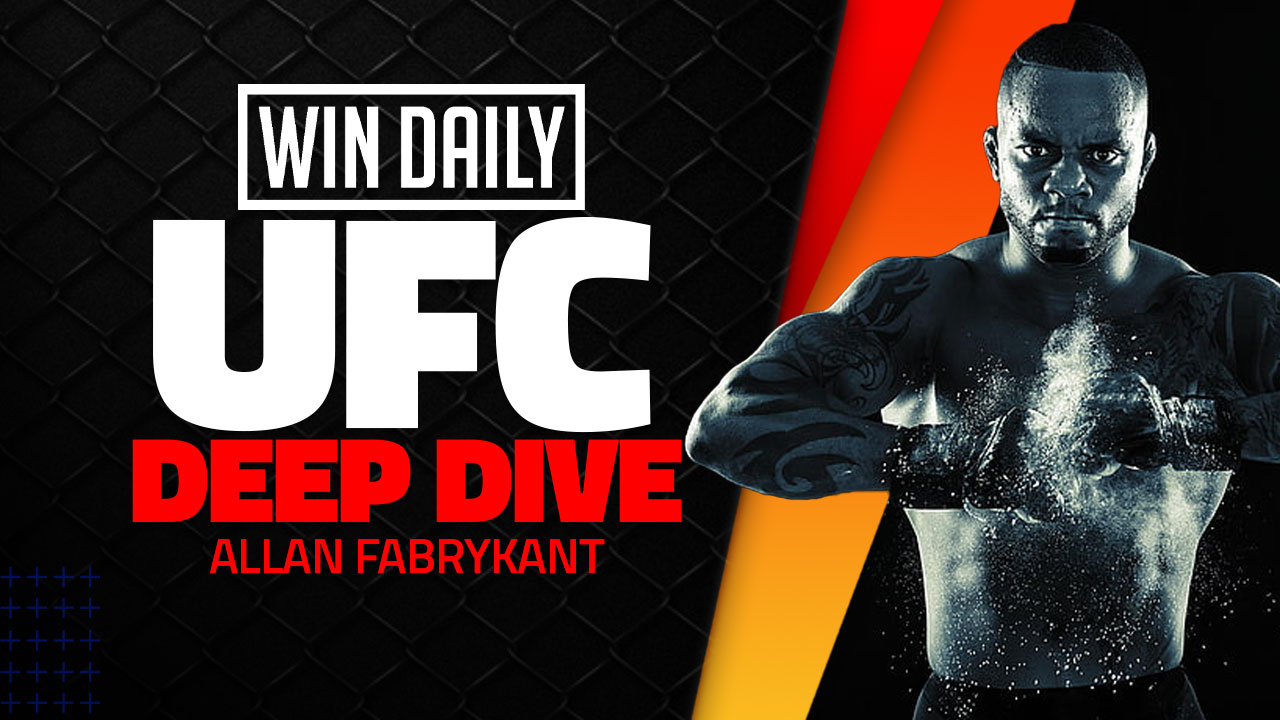 UFC 275
TEIXEIRA V PROCHAZKA
Welcome back everyone to Win Daily's Fight Night Deep Dive! Tonight we have a STELLAR numbered card ahead of us. UFC is taking us overseas this weekend as we are going to see two title fights in Singapore! Today's slate will start at 6:00 PM ET. Read more below to find out my takes on tonight's matchups! Tonight there will be 11-fights that will end with two title fights between the Women's Flyweight Division and the Men's Light Heavyweight Division. Looking forward to breaking this one down! Let's get started!
SLATE STARTS AT 6:00 PM ET
Exposure to the main event is recommended. DFS production in these fights are usually be high as they are five-round fights. I may be branching away from the Main Event for some of my lines due to the low activity among these fighters. There will be three top plays followed by honorable mentions. Now let's get ready to make some money!
Tonight I'm here to give you my top three favorite DFS and Sports betting picks for UFC 275 Teixeira vs Prochazka. Also if you haven't already, be sure to check out the first edition of Win Daily's MMA Gambling Academy!
MY UFC VALUE TARGET (CASH&GPP):
Joanna Jedrzejczyk (+150) (DK 7400) (FD $12) vs. Weili Zhang (-175) (DK 8800) (FD $18).

It's very clear that the winner fights for the title against Carla Esparza and for those who don't remember, these two fought in a fight of the year classic around two years ago for that very same title. The fight left battle scars on both sides, and in fact Joanna hasn't fought since that fight. Weili has fought twice and lost both times to Rose Namajunas. Since Rose recently lost to Esparza this sets up this fight as the title eliminator. Interestingly enough, Joanna has fought and beaten Esparza. Furthermore, I think Joanna won the first fight and should have retained her title. So, I see this as an opportunity for fate to correct course. Joanna showed off some excellent TDEF in their first fight where Weili was 1/8 on takedowns and only held her down for 30 seconds after the lone Takedown. Joanna is also very lanky, holding the height and reach advantage. What I like most about Joanna's style is she can wing off a lot of long range strikes and can put serious pressure on Weili in the pocket when she needs to. Both, Joanna and Weili will have to stand in the pocket and eat shots to get an advantage in this one and as I mentioned, I think Joanna is better at that sort of dirty boxing. The fact that she's coming in as a dog makes me even more interested in picking Joanna, since the last time we got good value on a dog against Zhang was against Namajunas and that fight ended quite well for us. Lastly, activity can make a difference but Weili's two losses in my opinion should not really be considered as 'activity.' The first fight ended very fast and the second was one of the most boring fights in UFC history, just a simple grapple-fest. So I definitely leaning towards Joanna in this one.
MY UFC DFS PICK: Joanna Jedrzejczyk (+150) (DK 7400) (FD $12). UNANIMOUS DECISION.
MY UFC LOCKED-IN TARGET (CASH):
Jack Della Maddalena (-150) (DK 8200) (FD $17) vs. Ramazan Emeev (+125) (DK 8000) (FD $14).
Jack is a very green boxer, lots of power and he's making continuous improvements to his game in traditionally weaker areas for boxers such as grappling and defending kicks. It is no doubt though that the UFC has given him a big step up in competition since his domination against Pete Rodriguez. This weekend he's up against the grappling heavy attack of Ramazan Emeev. This sets up the classic boxer vs wrestler/grappler scenario where we will see which discipline really shines through. Jack has really impressed me with his boxing combos. Whereas Emeev keep his wrestling style very simple and easy to read. I've been impressed with Della Maddalena since his time on the Dana White Contender series where he showed off some knowledge of takedown defense and it'll be interesting to see what kind of adjustments he'll be bringing to the table to combat the grapple heavy attack of Ramazan Emeev. Either way, I think all roads lead to a Jack Della Maddalena KO as eventually the striking pressure will be too much for Emeev to handle.
MY UFC DFS PICK: Jack Della Maddalena (-150) (DK 8200) (FD $17) SECOND ROUND KO.
MY UFC TOP SCORING TARGET (GPP):
Andre Fialho (-150) (DK 8500) (FD $17) vs. Jake Matthews (+125) (DK 7700) (FD $14)
Amazingly, this is Fialho's third fight in six weeks time. The high rising Portuguese boxer is coming off back-to-back 1st Round KOs over the likes of Miguel Baeza and Cameron Van Camp. Since his win against Li Jingliang back in 2018 Matthews has never been able to beat the top guys, he's always come up just short when it mattered most to his career progression. On top of that, Matthews' chin is a little suspect and his game begins to unravel as the fight goes on. I think it should come as no surprise that Matthews will focus on the wrestling in this matchup but it'll be a tall order against someone with the defensive takedown ability of Fialho which stands at a staggering 75% throughout his UFC career. As mentioned, Matthews has heavily relied on his grappling to secure his last three UFC wins which all came via decision, a fact that does seem troublesome against a power puncher like Fialho. Also of note, is that Fialho has also been incredibly more active compared to Jake Matthews. As we discussed, this is Fialho's third fight in just six weeks, whereas this is Matthews' first fight since his loss against Sean Brady over a year ago. That is a completely different level of activity and one that will come to bear in this fight and at the end of the day the increased activity will shine through.
MY UFC DFS PICK: Andre Fialho (-150) (DK 8500) (FD $17) FIRST-ROUND KO.
UFC HONORABLE MENTIONS:
(Not in order)
Jiri Prochazka -200 (DK 8900) (FD $22) (5 ROUNDER)
Valentina Shevchenko -600 (DK 9600) (FD $23) (5 ROUNDER)
Danaa Batgerel -138 (DK 8300) (FD $16)
Brendan Allen -334 (DK 9000) (FD $21)
Seung Woo Choi -250 (DK 9100) (FD $20) (Josh Culibao has some DFS value but I think Choi wins it)
Steve Garcia -170 (DK 8400) (FD $19)
Silviana Gomez Juarez (FADE) -138 (DK 8600) (FD $16) (Na Liang has some good DFS value [mostly on DraftKings] but fade this fight overall)
Joselyn Edwards -170 (FADE) (DK 8700) (FD $18)
SUMMARY:
On Saturday's fourteen-bout MMA UFC DFS slate, I will be building 3 UFC Parlays. I will be focusing on the three targets and my honorable mention fighters listed in my article to be a part of 99.9 percent of my lineups. Some fights in this slate are tricky to predict a winner and all fights are pretty close in skillset as UFC fighters are the elite of the elite. I usually employ a hedging technique on the fights that are closer in odds. I'm focusing on building a GPP winning lineup.
I'm building lineups that can variate from the field and taking bigger risks tonight. I will use my core fighters (Locked-In, Honorable Mention) to be a staple in my DFS lineups, and I will build around them using the available salary with the remainder of my predicted winners. Remember, to take down a GPP; you have to be different and take risks. Scared money doesn't make money in tournaments. For any further questions, I will be available until lock in our WinDaily Discord chat. GOOD LUCK and don't forget to come back and Win Daily!
PARLAY OF THE DAY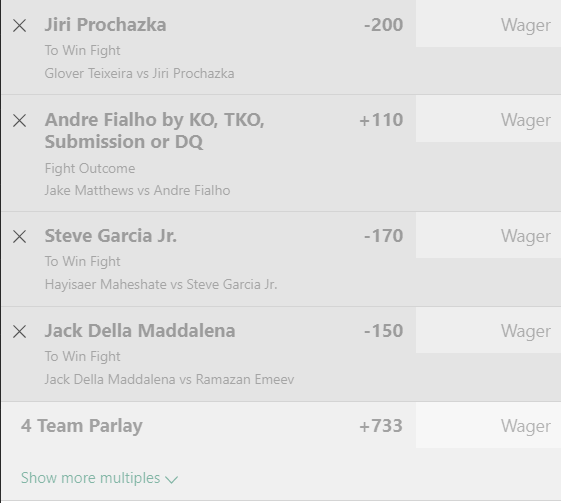 Any 3/4 Combo of these four picks work well!
MonkeyKnifeFight: Knockout Kings!
Below I have listed my top three plays for MKF's Knockout Kings Contest!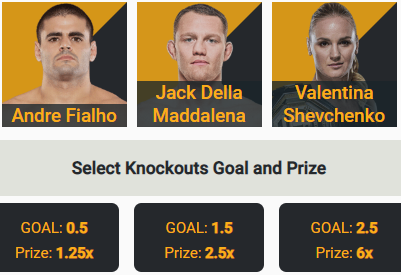 As an avid hockey fan since 2007, I suffered through the worst moments in Toronto Maple Leafs history and persevered to tell the story. I picked up NHL DFS in 2017 after being introduced to FanDuel by a family member and began writing NHL articles for Daily Play Action since 2018. Since my introduction to DFS, I've surpassed the initial bumps in the road and have continually sought to hone my game season after season. Today, I have solely focused on improving as an NHL and UFC DFS player in order to maximize my output in those sports. This is truly a win-win as I also love the sport itself. In 2019, I notably recommended Sean Kuraly in the NHL Winter Classic, where he went on to be the most valuable player of the slate with a goal and 5 shots. I was also in on Mantha when he had a whopping 12.9x value, Perlini when he posted a 10x value and Ennis, who was my top value play of the year at 14.9x value. My most notable NHL takedown was the NHL 4.44 Breakaway where I won $5,000. You can find me on Twitter @AFabrykant and FanDuel as InAustonWeTrust.