Al's UFC Fight Night Deep Dive, DraftKings, FanDuel, Odds, DFS Picks, & Top Plays 10/1
Published
2 months ago
on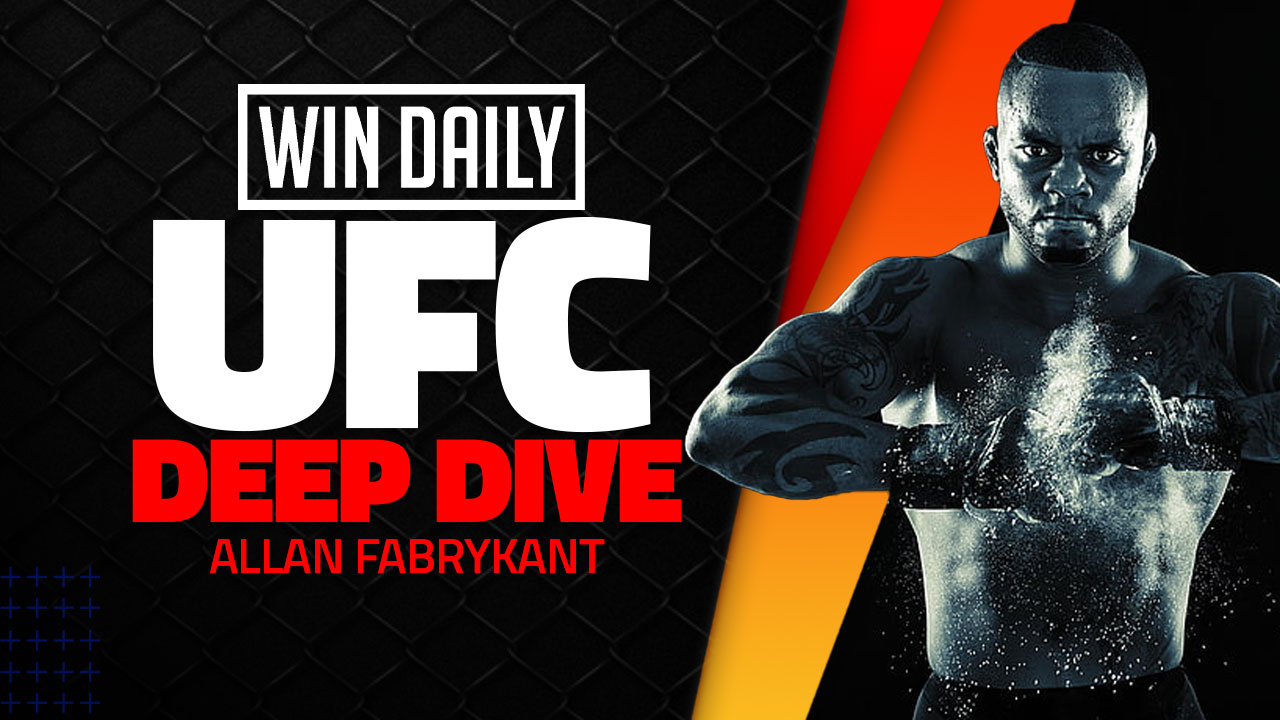 UFC Vegas 61
DERN V YAN
Welcome back, everyone, to Win Daily's Fight Night Deep Dive! After a week off, we have a lighter card for today's UFC Fight Night Slate. Today's slate will start at 4:00 PM ET. Read more below to find out my takes on tonight's matchups! Tonight there will be 12-fights that will end with a fight between two top women's strawweights who can get themselves into the title picture with a win tonight. Let's get right into the action!
SLATE STARTS AT 4:00 PM ET
Exposure to the main event is recommended. DFS production in these fights is usually high as they are five-round fights. I may be branching away from the Main Event for some of my lines due to the possibility of low activity among these fighters. There will be three top plays followed by honorable mentions. Now let's get ready to make some money!
Tonight I'm here to give you my top three favorite DFS and Sports betting picks for UFC Vegas 61 Dern vs Yan
MY UFC VALUE TARGET (CASH&GPP):
Jesse Ronson vs. Joaquim Silva

Oh wow, this matchup is definitely a "Bad vs Worse" situation. I don't think either of these fighters have much of a future in the UFC. However, I have seen some success out of Ronson recently to make me comfortable in picking him for this matchup. His opponent, Silva, has not won a UFC fight since 2018 and has not fought in the octagon in well over a year. Ronson will have to keep things off the ground as Silva is a BJJ Black belt, but if Ronson is able to keep his distance, he'll be able to use his kicks to deal damage and take control over the fight. In short, this is not a sure thing but compared to the other fights on the card, it's our best option.
MY UFC DFS PICK: Jesse Ronson UNANIMOUS DECISION
MY UFC LOCKED-IN TARGET (CASH):
Randy Brown vs. Fransisco Trinaldo
Trinaldo is a true vet, having fought in the UFC since 2012, he's racked up a lot of wins and earned a lot of respect to his name yet despite some recent success' I think the matchup against Randy Brown is one hill he wont be able to climb. Both fighters are BJJ Brown Belts and are 5-1-0 in their last six matchups but Brown has had much stronger matchups and more convincing wins. Trinaldo is also getting up there in age, coming in 12 years older than his opponent at 44 years old. At that age, durability and tank become serious concerns very fast. I don't know if Trinaldo has a lot of UFC fights left in him (he is definitely still capable of taking out the bottom level of UFC competition) but I do not see him getting past Brown in this matchup especially if the fight goes into the later rounds.
MY UFC DFS PICK: Randy Brown SECOND ROUND KO.
MY UFC TOP SCORING TARGET (GPP):
Sodiq Yusuff vs. Don Shainis
Shainis is coming into this one after a big win in Cage Titans earlier this year. Who did he fight you might ask? Brice Picaud, who sits at a record of 9-8. Shainis' record is very wonk and includes a lot of cans including the greatest can of all time Jay Ellis, who Shainis handed his 105th loss. (Yes the same Jay Ellis who beat Gerald Meerschaert) Bottom line is that the UFC is a different game and making your debut with a padded record against a seasoned UFC fighter in Yusuff is a recipe for disaster. Not to mention that Shainis is coming in on short notice after Yusuff's matchup against Chikadze fell through. This one should be quick and easy for Yusuff.
MY UFC DFS PICK: Sodiq Yusuff FIRST-ROUND KO
UFC HONORABLE MENTIONS:
(Not in order)
Mackenzie Dern (5 ROUNDER)
Raoni Barcelos (I think Trevin Jones has a lot of value as an underdog in this matchup, he's surprised us before and he can surprise us again, only use him in DEEP GPP tournaments though)
Mike Davis (Borshchev was a huge let down in his last fight. He is playable, and if you are going for many lines, he can definitely work in a few. However, I think Davis is rightly the favorite and can put Borshchev away)
John Castaneda (I think Castaneda is rightly the favourite in this matchup but I do see a world where Santos pulls out a win, he's a very unusual fighter and can cause some problems for Castaneda. Santos is another option for your GPP tournaments)
Aleksei Oleinik
Brendan Allen GPP (It's close but Allen seems to be a little more skilled than Jotko but I will say Allen was very lucky to get the win over Malkoun, tread with caution if you're considering Allen or Jotko)
Maxim Grishin
Julia Stoliarenko FADE (Her big advantage is in the grappling department, so I see this fight turning into a contest on the mat for 15 minutes)
Randy Costa FADE (Neither of these two are particularly great but Costa probably has a longer future in the UFC than Cannetti, despite winning his last fight over Moutinho, I think Cannetti would have to put on quite a performance to get another fight in the UFC)
Trevin Giles
SUMMARY:
On Saturday's fourteen-bout MMA UFC DFS slate, I will be building 1 UFC Parlay. I will be focusing on the three targets and my honorable mention fighters listed in my article to be a part of 99.9 percent of my lineups. Some fights in this slate are tricky to predict a winner and all fights are pretty close in skillset as UFC fighters are the elite of the elite. I usually employ a hedging technique on the fights that are closer in odds. I'm focusing on building a GPP-winning lineup.
I'm building lineups that can variate from the field and taking bigger risks tonight. I will use my core fighters (Locked-In, Honorable Mention) to be a staple in my DFS lineups, and I will build around them using the available salary with the remainder of my predicted winners. Remember, to take down a GPP; you have to be different and take risks. Scared money doesn't make money in tournaments. For any further questions, I will be available until lock in our WinDaily Discord chat. GOOD LUCK, and don't forget to come back and Win Daily!
PARLAY OF THE DAY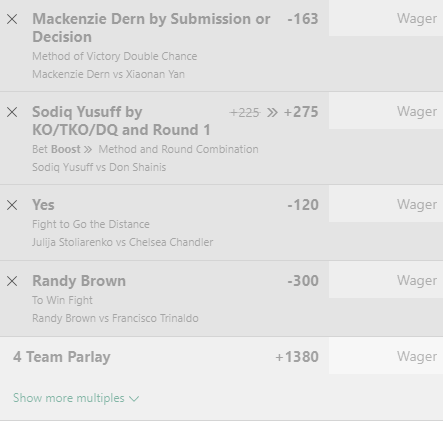 MonkeyKnifeFight: Knockout Kings!
Below I have listed my top three plays for MKF's Knockout Kings Contest!


As an avid hockey fan since 2007, I suffered through the worst moments in Toronto Maple Leafs history and persevered to tell the story. I picked up NHL DFS in 2017 after being introduced to FanDuel by a family member and began writing NHL articles for Daily Play Action since 2018. Since my introduction to DFS, I've surpassed the initial bumps in the road and have continually sought to hone my game season after season. Today, I have solely focused on improving as an NHL and UFC DFS player in order to maximize my output in those sports. This is truly a win-win as I also love the sport itself. In 2019, I notably recommended Sean Kuraly in the NHL Winter Classic, where he went on to be the most valuable player of the slate with a goal and 5 shots. I was also in on Mantha when he had a whopping 12.9x value, Perlini when he posted a 10x value and Ennis, who was my top value play of the year at 14.9x value. My most notable NHL takedown was the NHL 4.44 Breakaway where I won $5,000. You can find me on Twitter @AFabrykant and FanDuel as InAustonWeTrust.