9/24 College Football DraftKings and FanDuel DFS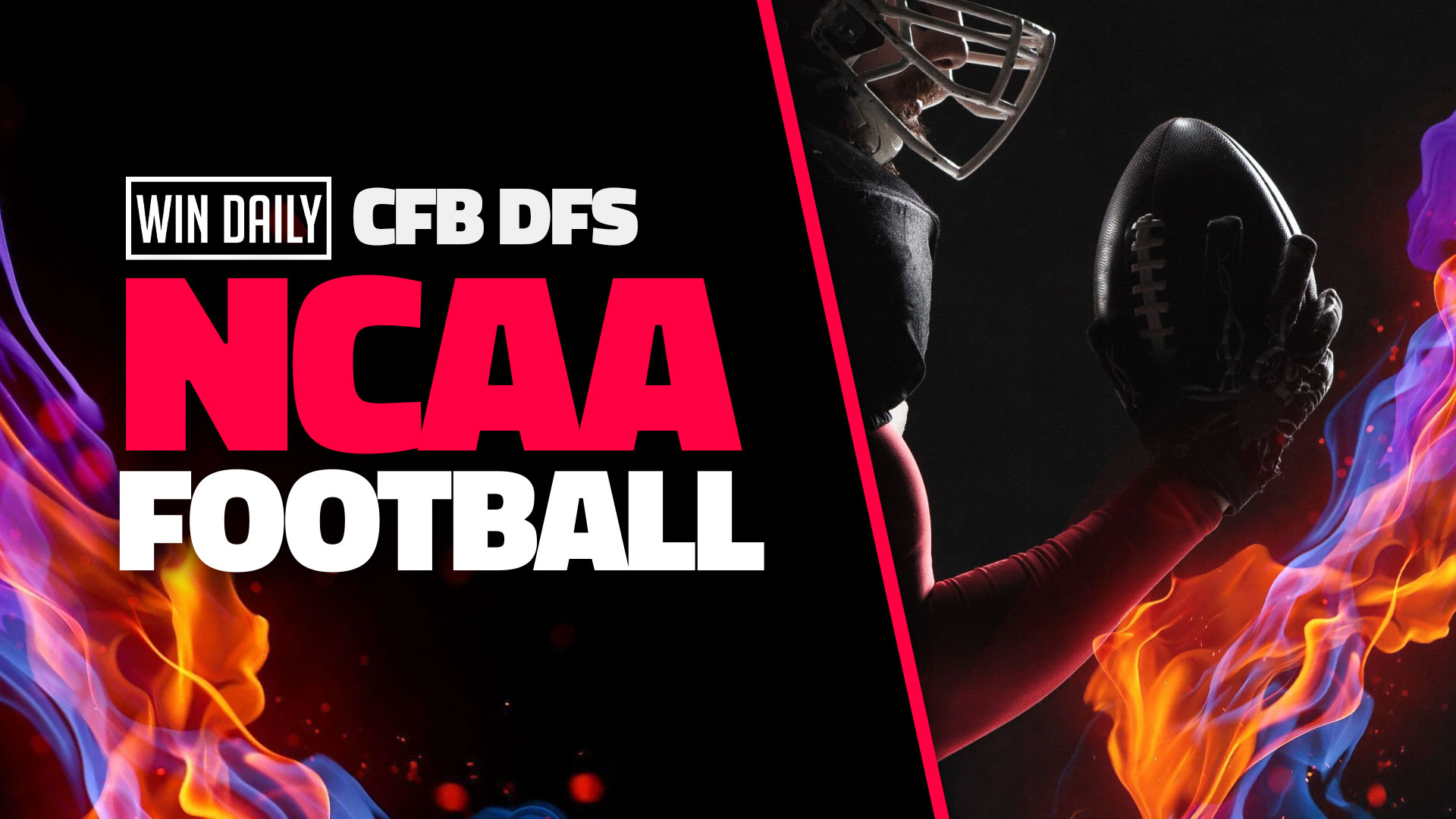 It is time to go back to college and enjoy a great day of College Football.
Welcome to Week 4 of the College Football season! The fourth game for most of these teams sees close matchups with just a handful of heavy favorites in places like Penn State and Cincinnati. The DraftKings main slate will see games starting no later than 1 p.m. Eastern, while over on FanDuel they have their slate more spread out with games starting as late as 8 p.m. Eastern time.
Saturday 9/24 CFB
Game Spreads
Missouri at Auburn (-7)
Duke at Kansas (-7.5)
TCU (-2) at SMU
#17 Baylor at Iowa St. (-2.5)
#5 Clemson (-7) at #21 Wake Forrest
Maryland at #4 Michigan (-17)
Central Michigan at #14 Penn St. (-28)
#20 Florida at #11 Tennesse (-10)
#22 Texas (-6.5) at Texas Tech
Notre Dame at North Carolina (-2)
Minnesota (-2.5) at Michigan St.
Indiana at Cincinnati (-17)
#15 Oregon (-6.5) at Washington St.
#10 Arkansas at #23 Texas A&M (-2)
Wisconsin at #3 Ohio St (-19)
Kansas St at #6 Oklahoma (-13)
Boston College at Florida St (-17)
9/17 CFB Top Plays
Quarterbacks
DraftKings Quarterbacks
Jalon Daniels – Kansas – $7,900– Daniels once again makes an appearance in an article after last week's 45.6DK performance at Houston. On paper, this matchup against Duke looks like a step up in competition compared to the 14th worse defense in Houston, but Duke's total defense benefitted from playing Temple's 7th worse offense two weeks ago. Daniels should be able to tear apart the Duke defense not only with the run game like he did against Houston but also in the passing game.
Sam Hartman – Wake Forrest – $7,500 – Hartman came into this season with high expectations, but an undisclosed injury kept him out of Wake Forrest's opening game. Hartman returned to the team before their matchup against Vanderbilt two weeks ago and since returning he has scored 32.2 and 27.1 on DraftKings. His 3rd start of the year sees him facing off against the 5th-ranked Clemson Tigers. The Tigers' pass defense has been just about average, giving up at least 250 passing yards each of the last two weeks including 311 yards to the Louisianna Tech Quarterback last week. Hartman should be able to throw against this defense, especially if Wake Forrest wants to keep pace with the Clemson offense.
FanDuel Quarterbacks
Riley Leonard – Duke – $9,800 – Leonard comes into this slate as the 8th highest priced on FanDuel for a good reason. The dual-threat Quarterback has had a good start to his season averaging 24.54 points on FanDuel. Look for Leonard to continue his good start against a Kansas team that allowed 335 all-purpose yards to the opposing Quarterback last week.
DJ Uiagalelei – Clemson – $8,700 – Uiagalelei has had a much better start this year with Clemson than he did previously. The junior QB arrived at Clemson with a lot of hype after having one of the best High School rivalries against current Heisman winner Bryce Young, which ended with the two being ranked as the two best High School players in the country. While Young has proven himself to the CFB fans, Uiagalelei hasn't been able to match his former rival but this game against Wake Forrest could be a big statement for him. Uiagalelei will have to try to outdo one of the best CFB QBs, Sam Hartman, luckily for him Wake Forrest is not a top pass defense so he'll have plenty of opportunities to show off his game.
Pivots:
DraftKings – Bo Nix – Oregon- $5,900 "low-end", Max Duggan – TCU – $7,100 "mid-range", Sean Clifford- Penn St – $8,300 "high-end"
FanDuel – Tanner Morgan – Minnesota – $6,900 "low-end", Sam Hartman – Wake Forrest – $9,400 "mid-range", CJ Stroud – Ohio St – $11,400 "high-end"
Running Backs
DraftKings Running Backs
Nicholas Singleton – Penn St – $6,400 – Penn State has produced some of the better running backs in recent years with the likes of Saquon Barkley and Miles Sanders leading the way, and I think the next player on the list is the true freshman, Singleton. Singleton has had back-to-back games with 100 yards rushing and 2 touchdowns. While he is still projected to split carries with Keyvon Lee and Kaytron Allen, Singleton still has a great chance to grab his 3rd straight 100-yard game against a bad Central Michigan defense. Outside of last week's game against Bucknell, CMU has not been great against the run.
Will Shipley – Clemson – $6,700 – I have discussed both QBs in this game, but now it is time to talk about the best running back in the game. Shipley comes into this game having scored 2 touchdowns in each of his first 3 games. The matchup against Wake Forrest should allow Shipley to hit the mark for a 4th straight game, the Wake defense over the last two games has allowed 109 total yards and a TD to the opposing team's top back which is right around Shipley's season average.
FanDuel Running Backs
Tank Bigsby – Auburn – $6,900 – Bigsby has not had the season that many people expected, but he is in a good position to improve on his 12.35 FanDuel average when Missouri comes to town. Auburn is going to start Robby Ashford this week at QB which will lead to Bigsby getting more touches on Saturday. Missouri gives up 117.3 rushing yards and 1.3 rushing touchdowns a game, this is a good chance for Bigsby to finally reach the 100-yard rushing mark this season.
Eric Gray – Oklahoma – $7,400 – Last week against Nebraska Gray finally found the end zone with two rushing touchdowns. The game last week was what Gray needed as he scored 24.2 FanDuel points which doubled his season total. This week Gray and Oklahoma go up against a slightly stronger rush defense, but they are not at a level that should worry Oklahoma. The only issue with Gray is Oklahoma's usage of Marcus Major who before last week had all of the rushing touchdowns in the Oklahoma backfield.
Pivots:
DraftKings – Tank Bigsby- Auburn – $6,000 "low-end", Bijan Robinson – Texas – $8,300 "mid-range", Mohamed Ibrahim – Minnesota – $9,600 "high-end"
FanDuel – Tahj Brooks – Texas Tech – $6,600 "low-end", Braelon Allen – Wisconsin- $8,500 "mid-range", Mohamed Ibrahim – Minnesota – $11,200 "high-end"
DraftKings Wide Receivers
Rashee Rice – SMU – $8,600 – Rice was considered one of the best WRs coming into the 2022-23 CFB season and he has lived up to the hype. The senior receiver has scored over 30DK points each of his first three games this season. His connection to Quarterback Mordecai has seen Rice have 40% of the QBs 70 completions along with contributing 49% of Mordecai's 1013 passing yards. In a game this Saturday against TCU with the over/under at 69.5, Rice should see plenty of targets.
Cam Camper – Indiana – $5,600 – While still listed as the number 2 WR on the Indiana depth chart, Camper has built a connection with Quarterback Connor Bazelak. Through three games Camper leads the Hoosiers in receptions, yards, and targets. Indiana looks to have an uphill battle against a tough Cincinnati squad, which will force Indiana to throw a lot more to try and keep pace with the Bearcats.
Pivots:
Troy Franklin – Oregon – $5,200 "low-end", A.T. Perry – Wake Forrest – $7,000 "mid-range", Mitchell Tinsley – Penn St – $7,700 "high-end"
FanDuel Wide Receivers
Beaux Collins – Clemson – $7,200- Collins and Uiagalelei have had a great connection so far this season, which is no surprise for those who saw these two play together at St John Bosco high school. Collins sits at 9 receptions, 158 yards, and 3 touchdowns this season which leads the team in all three categories. His numbers don't look great on paper but Clemson has dominated every game this year so the passing game has taken a back seat. On Saturday Clemson will face its toughest test which will lead to more of a passing game.
Quentin Johnston – TCU – $8,100 – I think a lot of people will scroll right passed Johnston after they see a 3.7 FanDuel average at a high price, but Johnston has not been allowed to fully play this season. In TCU's first two games they have outscored their opponents 97-30 which means Johnston hasn't been needed to show why he's the team's number 1 wide receiver. That changes this week when they play against SMU in a game with a total of 70.5. TCU will have to rely on him to try to keep up with SMU's duo of Mordecai and Rice.
Pivots:
Jadon Haselwood – Arkansas – $6,400 "low-end", Marvin Mims – Notre Dame – $8,400 "mid-range", Rashee Rice – SMU – $10,200 "high-end"
CFB Top Game Stacks
TCU at SMU
Duke at Kansas
Clemson at Wake Forrest
Make sure to hop in our Expert Discord Chat for FREE! Ivan (idrago15) will be there answering questions all day and all night! Follow Ivan on Twitter @idragol15 and be sure to be on the lookout for future articles at https://windailysports.com
As an avid sports fan, I jumped on the chance to play DFS when I was introduced to FanDuel around 2010. You can find me playing almost every CFB and Soccer slate available on FanDuel under the username "FrostKng" and on DraftKings under "IvnDrago12"