9/17 College Football DraftKings and FanDuel DFS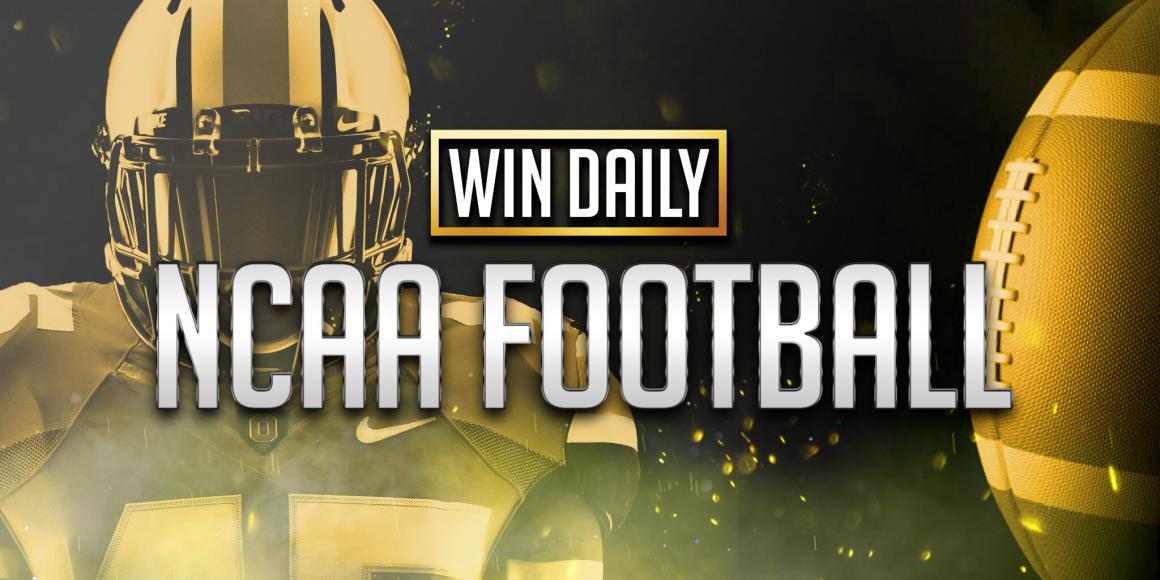 It is time to go back to college and enjoy a great day of College Football.
Welcome to Week 3 of the College Football season! The third game for most of these teams sees some close matchups with just a handful of heavy favorites in places like South Carolina and Florida. The DraftKings main slate will see games starting no later than 1 p.m. Eastern, while over on FanDuel they have their slate more spread out with games starting as late as 7:30 p.m. Eastern time.
Saturday 9/17 CFB
Game Spreads
#1 Georgia (-25) at South Carolina
#6 Oklahoma (-11) at Nebraska
Purdue at Syracuse (-1.5)
Western Kentucky at Indiana (-6.5)
Cincinnati (-22) at Miami (OH)
South Alabama at UCLA (-15.5)
California at Norte Dame (-11)
#22 Penn State (-3) at Auburn
#20 Ole Miss (-17) at Georgia Tech
Vanderbilt at Northern Illinois (-2.5)
#12 BYU at #25 Oregon (-3.5)
Colorado at Minnesota (-28)
Kansas at Houston (-8.5)
Mississippi State (-2.5) at LSU
Texas Tech at #16 North Carolina State (-10)
Toledo at #3 Ohio State (-32)
#11 Michigan State at Washington (-3)
SMU at Maryland (-2.5)
South Florida at #18 Florida (-24.5)
9/17 CFB Top Plays
Quarterbacks
DraftKings Quarterbacks
Jalon Daniels – Kansas – $6,700– Daniels has started his junior season at Kansas with a bang. The dual-threat QB has thrown for 408 yards and ran for 114 to go along with 5 total touchdowns in his first two games of the season. Daniels will have an interesting matchup on paper when he leads Kansas into Houston. Houston currently sits as the 5th worst pass defense in CFB, allowing just under 700 yards passing in the team's first two games. Both of the QBs that Houston has seen have similar skill sets to Daniels, so I expect Daniels to improve on his 24.4DK average.
Clayton Tune – Houston – $8,200. Like his Kansas counterpart, Tune has a strong matchup this week taking on the 54th worst pass defense. While allowing just under 500 passing yards through two games may not seem as bad as Houston's defense, Kansas gave up 365 of those last week against West Virginia after playing a weak Tennesse Tech squad that went for under 100 passing yards. Tune has the weapons to match and even surpass what West Virginia did to Kansas. With 2 good Quarterbacks going against struggling pass defenses plus an over/under of 58 for this game, this game is one that should be considered for a game stack.
Austin Reed – Western Kentucky – $7,800 – The Western Kentucky QB has big shoes to fill taking over for current New England Patriot, Bailey Zappe. Luckily for Reed, he has had an easy start to his season going against Austin Peay and Hawaii in his first two games. Reed and WKU will take a step up in competition when they take on Indiana, but I expect Reed to continue the form he is in. Reed has scored 8 total touchdowns and has thrown for 547 yards so far. Despite their 2-0 record Indiana hasn't looked great, they started off slow against Idaho last week and had to rely on a strong 3rd quarter to turn the game around. Reed should pick this team apart if they have a similar start on Saturday.
FanDuel Quarterbacks
Dillon Gabriel – Oklahoma – $10,500 – While Gabriel is also playable on DraftKings, he is a better fit on FanDuel because he comes in as the 7th highest priced QB on the slate compared to DraftKings where he is the top QB. Up to this point in the season Gabriel hasn't had the chance to fully shine since Oklahoma hasn't faced a squad close to their level. That changes this week in what should be a high-scoring game against their historic rival Nebraska. The Cornhusker offense should be enough to keep Nebraska in the game, which will allow Gabriel to finally show off what he can do and improve on his 529 passing yards and 5 TDs.
Devin Leary – North Carolina State – $8,700 – Leary leads his 16th-ranked Wolfpack to a home game against a good Texas Tech squad. Although Leary had a slow start to his season against East Carolina, he showed what he could do in the 1st half of NC State's big win against Charleston Southern throwing for 238 and 4TDs. Leary should continue to improve on Saturday against a Texas Tech squad that gave up 266 passing yards to Clayton Tune last week.
Pivots:
DraftKings – Garrett Shrader – Syracuse – $6,400 "low-end", Aidan O'Connell – Purdue – $7,500 "mid-range", Dorian Thomson-Robinson- UCLA – $8,300 "high-end"
FanDuel – Jack Plummer – California – $6,200 "low-end", Connor Bazelak – Indiana – $8,400 "mid-range", Taulia Tagovailoa – Maryland – $10,600 "high-end"
Running Backs
DraftKings Running Backs
Mohamed Ibrahim – Minnesota – $9,400 – What better way to start talking about Running Backs on DraftKings than with the highest-priced guy. So far this season Ibrahim has rushed for 131 yards and 2TDs a game, those numbers should see a large increase after Saturday when Colorado and their worse-ranked rush defense come to town. Colorado has allowed 710 rushing yards and 9 rushing touchdowns after two games against opponents with RBs not quite at Ibrahim's level. Ibrahim can hit value within the 1st half.
Zach Charbonnet – UCLA – $6,300 – Charbonnet comes into this game with a discounted price after missing last week's game for an undisclosed reason. All reports say he is slated to start Saturday which makes him a great play at his price against a weaker opponent in South Alabama. In the opening game of the season, Charbonnet ran for 111 yards while also making 5 receptions for 36 yards.
FanDuel Running Backs
TreVeyon Henderson – Ohio State – $8,800 – The Heisman Trophy candidate had a nice bounce back last week against Arkansas State, putting up 20.7FD. Toledo comes in as a middle-of-the-road rush defense giving up 125 rushing yards a game. Henderson should have the opportunity to build on his previous game thanks to Ohio State being heavy favorites, so the need to have CJ Stroud throw a lot isn't there this week.
Eric Gray – Oklahoma – $6,800 – Gray comes into this game at a bit of a discount. Oklahoma's starting running back should be in for a good day in what looks like a possible shootout against Nebraska. He also might come in low-owned given the fact that he has yet to find the endzone, but as mentioned earlier this is looking like a shootout so I fully expect him to get in the endzone Saturday.
Pivots:
DraftKings – Devin Neal – Kansas – $5,400 "low-end", Shaun Shivers – Indiana – $6,100 "mid-range", Sean Tucker – Syracuse- $8,900 "high-end".
FanDuel – Tank Bigsby – Auburn – $6,700 "low-end", Christopher Brooks – BYU- $7,400 "mid-range", Jalen Berger – Michigan State – $9,200 "high-end"
DraftKings Wide Receivers
Charlie Jones – Purdue – $8,000 – The transfer from Iowa has become Aidan O'Connell's favorite target now that David Bell is in the NFL. Jones has seen double-digit targets in both games so far while finishing with 12 and 9 catches in those games. We should expect nothing less this week in a game that looks to be a shootout with an over/under of 60.
Jalen Wayne – South Alabama – $5,500 – At 5500 Wayne feels like a great value play considering S. Alabama is a 2 touchdown underdog so they should be throwing the ball a lot if they get behind. Wayne has had 98 receiving yards each of his first two games while also racking up 3 receiving touchdowns. His teammate Caullin Lacy $4,100 is also in consideration in this game especially if looking to save $1,400. Lacy doesn't have a touchdown so far this season but does have 11 receptions for 169 yards.
Pivots:
Trey Palmer – Nebraska – $4,200 "low-end", Nathaniel Dell – Houston – $7,900 "mid-range", Marvin Mims – Oklahoma – $8,900 "high-end"
FanDuel Wide Receivers
Rakim Jarrett – Maryland – $6,900- The Maryland vs SMU game is one of my favorite games on the slate, and Jarrett is a big reason why. He has had a slow start largely thanks to the easy schedule Maryland has had, but what better way to pick up production than with a game with an over/under of 73 points. While last year's number 1 receiver, Dontay Demus Jr, is back Jarrett has still looked like Tagovailoa's favorite target. Demus $5,400 can also be used in this spot for the discount.
Jalen McMillian – Washington – $8,500 – Washington's number 1 WR has looked impressive this season. McMillian has racked up 214 receiving yards on 9 catches with 3 of those ending up in the EndZone. McMillian has quickly established a connection with transfer Michael Penix Jr, and while Michigan State will be their strongest opponent the Penix/McMillian connection looks solid enough to succeed.
Pivots:
Cam Camper – Indiana – $6,400 "low-end", Michael Mayer – Norte Dame – $7,700 "mid-range", Rashee Rice – SMU – $9,800 "high-end"
CFB Top Game Stacks (QB + Skill Position Player from each team)
Oklahoma at Nebraska
Purdue at Syracuse
Kansas at Houston (DK Only)
SMU at Maryland (FD Only)
Make sure to hop in our Expert Discord Chat for FREE! Ivan (idrago15) will be there answering questions all day and all night! Follow Ivan on Twitter @idragol15 and be sure to be on the lookout for future articles at https://windailysports.com
As an avid sports fan, I jumped on the chance to play DFS when I was introduced to FanDuel around 2010. You can find me playing almost every CFB and Soccer slate available on FanDuel under the username "FrostKng" and on DraftKings under "IvnDrago12"