3/4 LPL/LCK League of Legends DFS Breakdown
Published
9 months ago
on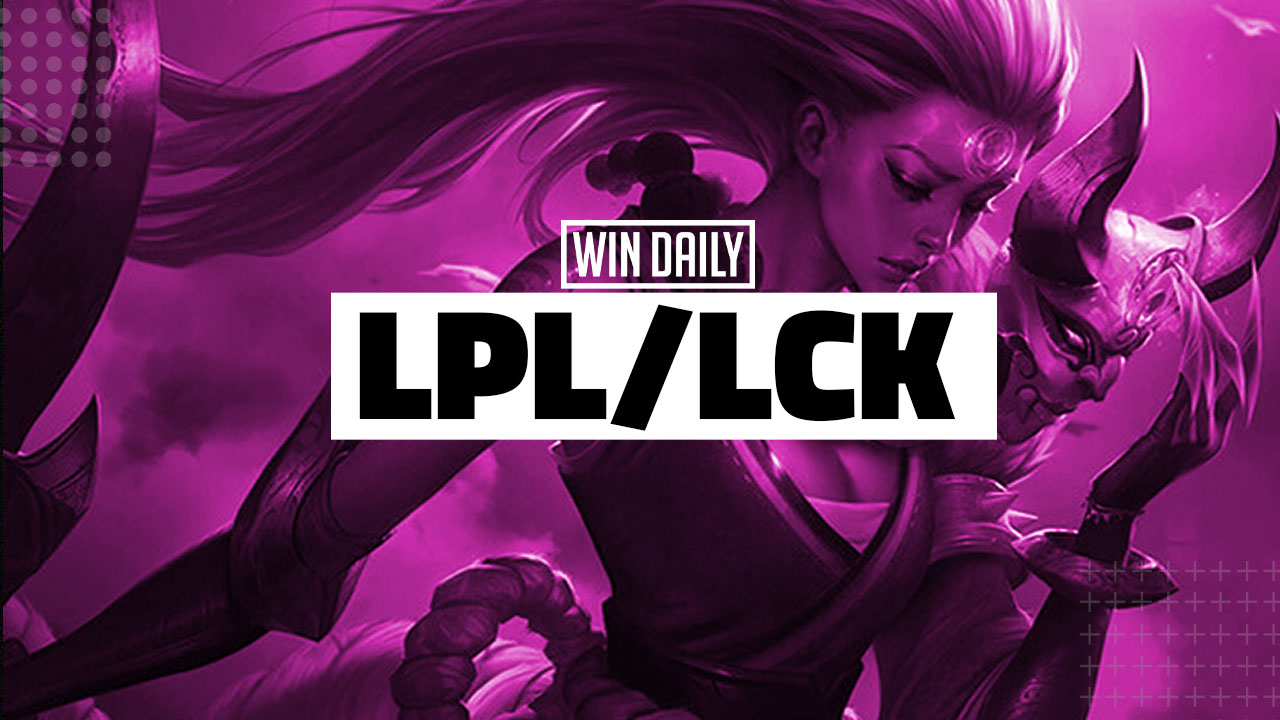 3/4 LPL/LCK League of Legends DFS Breakdown
Welcome to my 3/4 LPL/LCK League of Legends DFS Breakdown, I am excited to finally be back with an article and have it come back with a massive 5 game slate tonight between the LPL and LCK. We have a few fun matches tonight when looking through including DRX/KT, DWG/HLE, FPX/BLG, LNG/TT, and my DFS match of the night in V5/JDG. Tonight is going to be a fun slate and it is going to be key to find out how to get V5 as our 4 stacks tonight. I am looking at possibly using a build like a 4-2-1 to do so, I would take any of Karsa, Rookie, or Photic at captain tonight. Let's dig into our five gamer tonight and see if we can find an edge on any of these games for yall.
DWG vs HLE
Our first match of the night and one I am the least interested in, both of these teams enjoy playing in a slower style and I just cannot see this being bloody, I am not against looking here as a way to play some cash games tonight but outside of that I don't have much love here. I will say though if HLE had their normal roster tonight I would be looking a lot more in their direction as the DPMs from both teams here are incredibly close considering the overall talent perception from both squads. HLE is still playing with their subs though and I can't see them even taking a game from this DWG squad. These are two of the slowest playing teams in the LCK so I am definitely not going to look here for upside outside of a deep GPP shot on DWG, I am only going to be touching cash games with this match if I even play from it at all outside of DWG team spot.
Showmaker and Canyon have been having a down split overall as Showmaker has looked shaky and Canyon hasn't been able to play off of his premier talent in the mid lane, their synergy just looks gone when going through the vods of these matches. If HLE was to have a chance here it would be through SamD having his match of the split but, with these covid subs still being in tonight I don't even think I could theory craft my way to a victory for HLE. I am taking a DWG 2-0 win here but I won't be playing them outside of their team spot tonight, the kill upside just isn't there for me.
DRX vs KT
Now, this is a match I can see getting a little more bloody, especially with how KT has been playing recently. THIS TEAM CAN NOT DRAFT A GOOD COMP FOR THE LIFE OF THEM. KT has legitimately been losing just about every game through the draft and they have looked horrible while doing so. DRX, on the other hand, is one of my favorite teams in the LCK and I believe they are finally starting to play up to the talent level they have with this squad and the chemistry for the team overall is coming back into play. DRX lives and dies with the play of their ADC in Deft who has looked to have gotten a second wind in this new stint with DRX.
I am really liking DRX here as a way to have some fill-ins for my V5 stacks as I believe they will fit in and I am not against having a hedge tonight with KT as they fit perfectly with Photic captain looks that I am going to have tonight. KT has the talent to win this game and they are one of the better rosters in the LCK, but they have some of the worst coaching I have even seen for a squad, Aria is also going to get absolutely demolished by Zeka in the mid lane as he just hasn't been up to the talent level of other LCK mids since coming over from the LJL. I am going to be taking DRX to win this match 2-1, and they are my favorite small stack tonight and the 2 of my 4-2-1 tonight. Halfway through our 3/4 LPL/LCK League of Legends Breakdown, Let's dig into our LPL matches for the night.
BLG vs FPX
Our first LPL match of the night and one I am not too excited to play from for our DFS slate tonight as it is not the strongest matchup for either of these teams and both have been down in the gutter recently. These are two of the slower teams in the LPL and FPX has a new mid laner coming in with Care, he is from their LDL team and isn't a great player so I can't expect too much from them tonight. I am going to take BLG to win here 2-0 as they are just the better squad tonight and Fofo should have one of the better performances of the split tonight getting to play against Care for FPX.
I am really not liking this match for DFS tonight but I do like it for some team points on the side of BLG as they have had some incredible team scores recently and I can see that happening again tonight. FPX is struggling a lot right now as they can't seem to pick up a win even losing against TT recently, they just can't seem to figure out the chemistry they need to be able to pick up these wins. FPX wins through bot lane when they win and I just don't think that will be enough for them tonight as BLG has one of the better bot lanes in the LPL. I am taking BLG to win 2-0 but have some low scores for DFS, though I do love their team spot and that is where I am looking tonight for my Team spot in my 4-2-1.
LNG vs TT
LNG has been on one hell of a down streak recently after getting their first loss of the split, losing match after match but tonight they get the worst team in the LPL in TT as a bounce-back spot. I legitimately cannot see them losing tonight against a team this bad as TT is downright horrible and they just aren't going to beat LNG tonight. I can see this being bloody but not super bloody as TT is the slowest team in the LPL with a lowly 0.75 CKPM. I don't think LNG has the upside to pay off their prices tonight and I can't see them losing, they aren't going to be a terrible cash game play and I see them being integral on FD.
I am probably not going to have any shares of LNG on DK unless I am able to fit them in a sup cap lineup somewhere, they will win their game but they won't score well tonight and this isn't going to be a very exciting match for DFS scoring and I won't have many shares of it tonight. LNG will win 2-0 here but I don't like it at all for DFS purposes, now will I be surprised if LNG is the highest-scoring team? not at all but should they be? not at all either.
V5 vs JDG
Now, this is the match of the night in my opinion, and where I am going out of my way to play from and I will have as much V5 as possible, whenever possible. JDG is one of the bloodiest teams in the LPL in losses and V5 is one of the bloodiest in wins. I cannot emphasize how much I want to play V5 here today as they are set up to be the bloodiest team on the slate and they are going to be the 4 stack I run tonight on both sites. JDG, on the other hand, has been having a resurgence in the LPL but they are prone to losing out in games of aggression which is something that V5 specializes in and I can only see them going off tonight as V5 is one of the bloodiest and strongest teams in the LPL.
There is no question that V5 is my favorite stack for tonight and I'm just going to go through the possible ways to get them in tonight, The main way I am going to be playing V5 is through my stack with DRX and BLG team, we are going to want to grab Karsa captain there. If you are looking to hedge the DRX match I can recommend using Photic in the captain spot by using a small stack of Rascal, Aiming, and KT team spot in a hedge spot there. Lastly, for cash games, I am probably going to run with a mix of V5/DWG with Ppgod captain for cash tonight, it's a good slate for cash just going to have to figure it all out through your own builds! I have V5 going 2-0 tonight in the bloodiest match of the day.
3/4 LPL/LCK League of Legends DFS Breakdown Overview
I have V5/LNG/BLG/DRX/DWG winning tonight and in rankings of bloodiness, I have V5, LNG, DRX, DWG, and BLG. my favorite 4 stacks are going to be V5 and my favorite match to find a fill player from is going to be DRX/KT as they just fit with V5 the best, Thank you for reading my 3/4 LPL/LCK League of Legends DFS Breakdown, for our other content here at WinDaily click here and if you would like to join our discord click here. Thank you all for reading and let's hit some green!!!