12/3 College Football DraftKings and FanDuel DFS
Published
2 months ago
on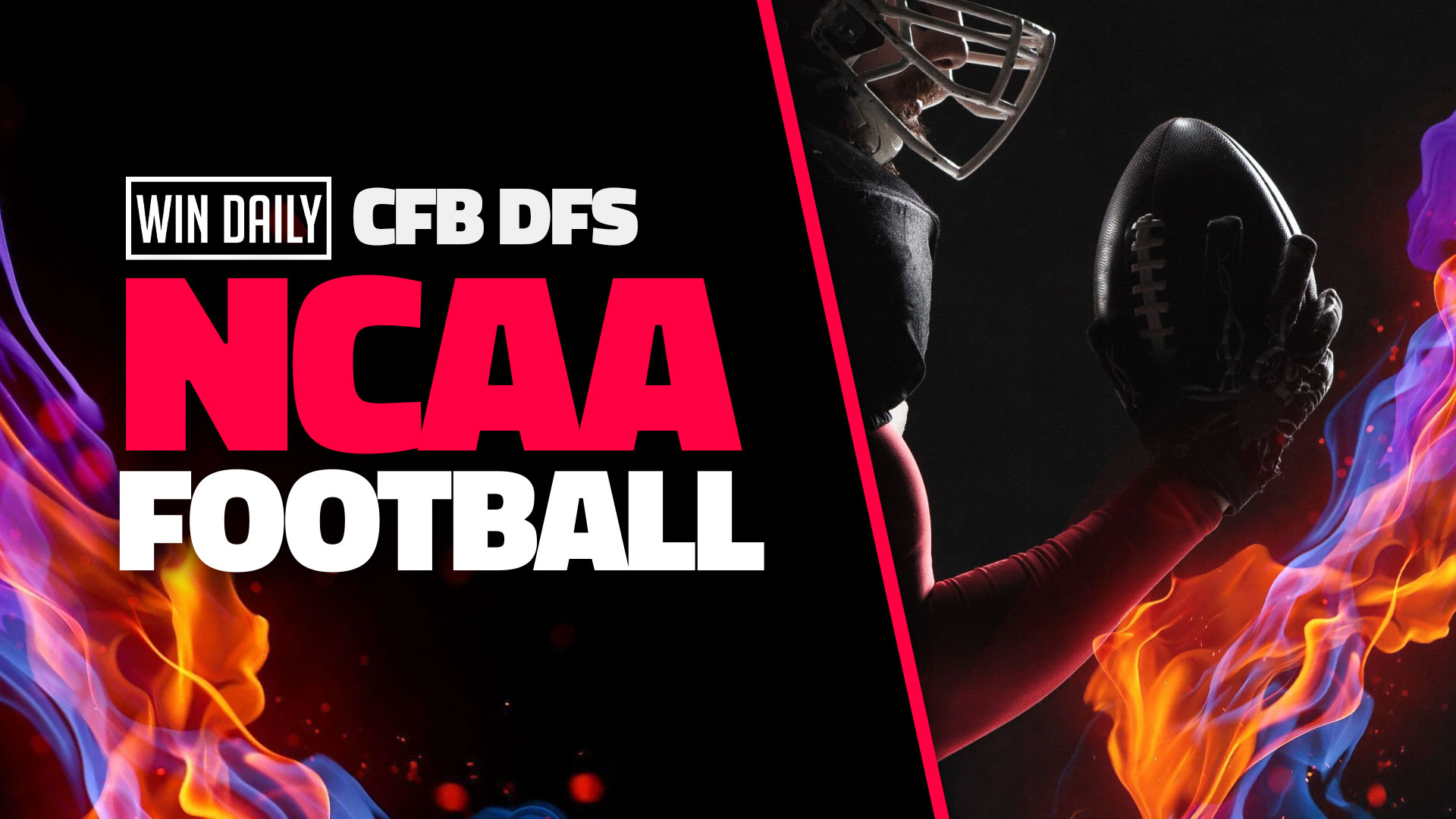 It is time to head back to college and enjoy a great day of College Football.
Welcome to CFB Championship Weekend! We have hit the final slate of the CFB season. In a few days, we will start my favorite part of the CFB season, the bowl games. With teams fighting for conference titles, we get the pleasure of seeing the top schools from each conference battling it out. The highlight of Championship weekend is in Atlanta where number 1 Georgia takes on number 14 LSU for the SEC title.
Before we get into breaking down my favorite plays for the slate I want to say Thank You to everyone at WinDaily. I appreciate the company allowing me to write about a sport I am passionate about, and I appreciate everyone who has read my articles and/or has interacted with me on the CFB discord. Now it's time to go into Bowl Season with a big weekend!
Saturday 12/3 CFB
12/3 CFB Top Plays
Quarterbacks
Dequan Finn (Toledo) $6,700DK/$10,400FD – Finn has been hurt the last few weeks, but everything is currently pointing to him starting against Ohio in the MAC title game. If Finn is ready to go he'll be one of my highest owned QBs this weekend. The Ohio pass defense gives up 305.3 yards a game which ranks worse in the nation. Finn has scored over 20 points on both DK and FD in every start besides last week, where he left the game due to injury. Finn's consistency is hard to pass up, especially with the type of defense he is facing on Saturday, can't see him not getting over 25 points in DFS. If Finn does miss this game his backup, Gleason is in play.
DJ Uiagalelei (Clemson) $7,300DK/$10,500FD – One of my favorite things to do in CFB is play offenses against UNC. The Tarheels are ranked in the bottom 40 in almost every defensive category. It's hard to think they will show any improvement against a strong Clemson offense. Uiagalelei season in DFS has been a rollercoaster, but he should have a strong showing vs UNC. Over the past four games, DJ has averaged 20.55 on DraftKings and 19.92 on FanDuel.
John Rhys Plumlee (UCF) $7,700DK/$11,000FD – The AAC championship sees a rematch of a great UCF/Tulane from earlier in the year, where UCF pulled off a 38-31 victory. In that game, Tulane had no answer for Plumlee's rushing ability. Plumlee ran for 176 yards and two scores to go along with his lone passing touchdown. While I think Tulane will flip the script on the final score, I don't see Tulane doing any better against the feet of Plumlee.
Pivots:
DraftKings – Will Howard – Kansas State – $6,300 "low-end", Jayden Daniels – LSU – $7,600 "mid-range", Max Duggan- TCU – $8,100 "high-end"
FanDuel – JJ McCarthy – Michigan – $8,200 "low-end", Will Howard – Kansas State -$10,600 "mid-range", Drake Maye – UNC – $11,700 "high-end"
Running Backs
George Holani (Boise St) $7,400/$8,800FD – I think Holani is my favorite play of the slate. Boise all season has been a run first team, and that shouldn't change playing an average Fresno defense. This weekend's MWC title game is another regular season rematch. In his first matchup against Fresno, Holani ran for 157 and scored a receiving touchdown. This game is going to be close and Holani will be the difference maker as he tears apart Fresno's defense.
Tyjae Spears (Tulane) $8,400DK/$9,800FD – Similar to what I wrote with Plumlee, Spears is in a great AAC rematch this weekend. The first matchup between these two was Spears's worse game of his last five because Tulane went down early and they became a passing team. Despite not having many touches Spears still had 139 yards. This Saturday Tulane should get the run game involved early given the success they had in the first game.
Donovan Edwards (Michigan) $6,400DK/$9,300FD – It's wild to think that a team can lose a Heisman candidate at RB and they don't lose their rushing game. Edwards may not be as good as Corum but he would be the top back at 95% of the other schools. Last week after Corum couldn't get passed his injury, Edwards stepped up in a big way by rushing for 216 yards and scoring twice. 160 of his yards did come from his 75 and 85 yard touchdown runs, but taking those away he still managed to rush for just under three yards a carry. On Saturday Edwards does come up against a tough rush defense, but Michigan has proved all season they can run on anyone so the 37th ranked Purdue rush defense shouldn't be an issue for Edwards.
Pivots:
DraftKings – Kenny McIntosh – Georgia – $6,500 "low-end", Will Shipley – Clemson- $6,800 "mid-range", Deuce Vaughn – Kansas State – $7,200 "high-end"
FanDuel – Devin Mockobee – Purdue – $6,700 "low-end". Isaiah Bower – UCF – $7,400 "mid-range", Kendre Miller – TCU – $9,500 "high-end"
Wide Receivers
Jalen Moreno-Cropper (Fresno State) $7,000DK/$8,400FD – Another player in the MWC rematch between Boise State and Fresno State. In the first meeting between the two, Cropper only managed to grab 2 catches for 23 yards which was his worse performance of the season. In the seven games since, Cropper has averaged 6.4 catches, 97.7 yards, and has scored 5 times. Like I mentioned with Holani, I think this is a closer game, and Cropper will be a big reason why Fresno will keep it close.
Quentin Johnston (TCU) $6,500/$8,800FD – Johnston has had a good end to his season after starting off slow. One of his better games of the season came against this same Kansas State squad he plays on Saturday. On that day Johnston caught 4 passes for 74 yards and managed to find the endzone once. I think this weekend we should see a replay of that performance as TCU needs him to step up to get themselves into the CFB playoffs
Antonio Williams (Clemson) $5,700DK/$7,500FD – Clemson WRs have struggled all season but their best WR has been Williams. Williams comes into the ACC championship game with 49 catches for 517 yards and 4 touchdowns. While his numbers don't seem too high, the 2nd best Clemson WR is going to miss this game, so Williams will be the main target for Uiagalelei against a really bad UNC defense. This will be a ceiling game for Williams.
Pivots:
DraftKings – Jerjuan Newton – Toledo – $5,000 "low-end", Brock Bowers – Georgia – $6,000 "mid-range", Josh Downs – UNC – $7,600 "high-end" 
FanDuel – Payne Durham – Purdue – $5,900 "low-end", Malik Knowles – Kansas State – $7,000 "mid-range", Sam Wiglusz – Ohio – $8,600 "high-end"
Favorite Bets
DraftKings: Boise State -3 (-110) vs Fresno State. Clemson vs UNC o63.5 (-110). TCU Alt Line -3.5 (+115) vs Kansas State.
FanDuel: Toledo -3 (-110) vs Ohio. Troy -7.5 (-115) vs Coastal Carolina. UCF vs Tulane Alt o60.5 (+132)
Make sure to check out the CFB live stream every Friday night on the Win Daily YouTube page.
Make sure to hop in our Expert Discord Chat for FREE! Ivan (idrago15) will be there answering questions all day and all night! Follow Ivan on Twitter @idragol15 and be sure to be on the lookout for future articles at https://windailysports.com/ncaa-football-articles/
As an avid sports fan, I jumped on the chance to play DFS when I was introduced to FanDuel around 2010. You can find me playing almost every CFB and Soccer slate available on FanDuel under the username "FrostKng" and on DraftKings under "IvnDrago12"