10/22 DFS and Betting Winners: Win Daily Staffers Tie for First!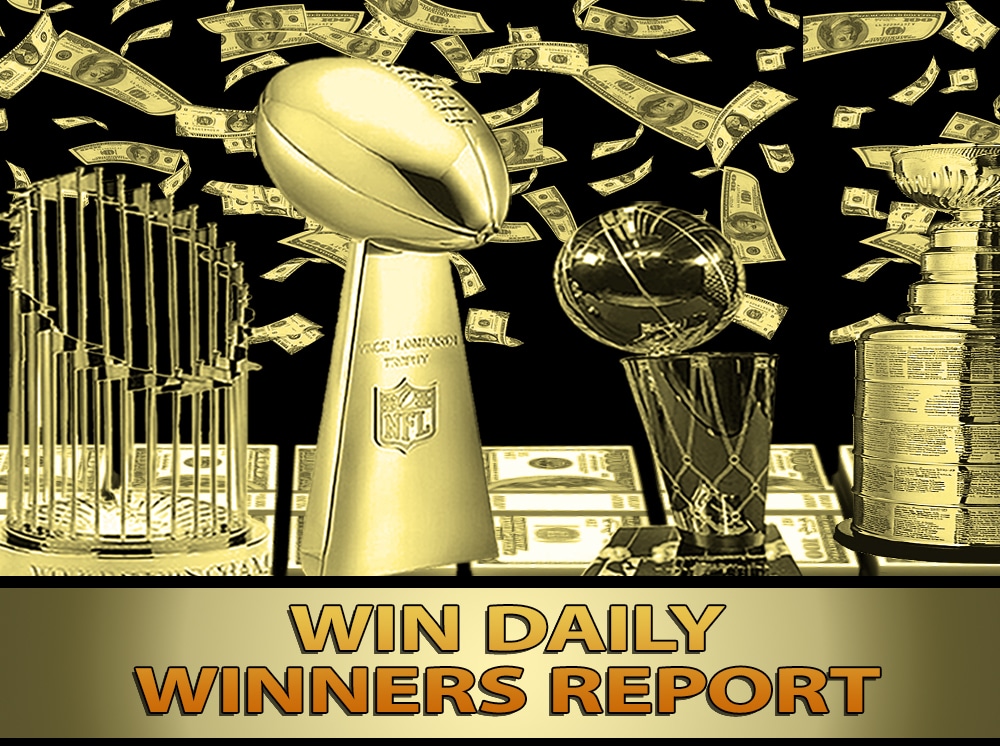 A flash back at some of the best performances from the Monday slate plus their outlooks for the remainder of the season. All that and more on the 10/22 DFS and Betting review and look ahead.
Sign up NOW for WIN DAILY Gold right here! DFS Pro Cheat Sheets, projections, wagering info, 24/7 expert chats with our DFS Pros and more!
10/22 DFS Winners – Win Daily's Javier Prellezo & David Jones Tie for NFL Showdown Top Spot
For the second day in a row both guys ended up on this article for cashing out big on Showdown slates. They tied each other for the top prize in the NFL Monday Million. David ended up in the top spot in an NFL DFS Showdown for the second consecutive day and the third time this season! Winning is a lifestyle for Win Daily and it is time if you have not become a Premium member to join today and access Dan and Javier's advice. Javy is a multi-sport DFS player that writes regularly, including his DFS Diamonds article. David is one of the hottest DFS players on the planet right now as well. Check out his NFL DFS GPP article every week and his appearance on the Sunday Live Stream on game days from 10 to 11:30 a.m. ET. In addition, both are regularly on our Slack chennel, where you can talk to all our DFS experts and the rest of Win Daily's family.
10/22 Betting Winner: New England Patriots Defense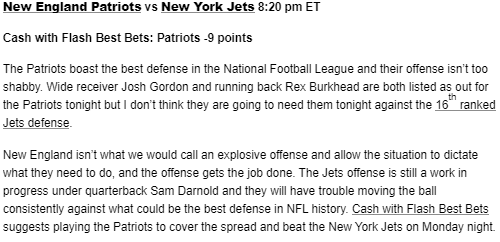 Here is a little piece from our Cash with the Flash article where he highlighted the Monday Night Football action. New England dominated the game from the opening kickoff and their defense was one of the biggest reasons for that. The defense forced six turnovers last night, including four interceptions and showed why they are considered elite. The Patriots sit as the top defense in the NFL at the end of Week 7 and the second-best against both the run and passing attacks.
Outlook for the rest of the season: This Patriots defense is scary good this season. Bill Belichick knows how to take a team's biggest threat out of the game and did so with Le'Veon Bell last night. Bell had just 76 scrimmage yards and the entire Jets offense were unwatchable at times. There is a reason this Patriots team sits at 7-0 and shows no signs of stopping. Consider them almost a lock to return to the Super Bowl if their defense can continue this dominance.
10/22 DFS Winner: Travis Konecny
Chosen as one of the stacks on The Daily Hot Shot article written by DFS Pro Javier Prellezo, Travis Konecny had a good game against the Vegas Golden Knights. Konecny scored in the first period on a power play and added an assist as well.
Outlook for the rest of the season: Konecny is not known for having big point totals by the end of the year, with his career-high being 49, but he is on the way to breaking that mark. He is a point machine, having one in four of his last five games. With 10 points in seven games played, he is tied with names like Alex Ovechkin. Expect a new career-high in points and assists for Konecny this season and to be a solid choice in NHL DFS.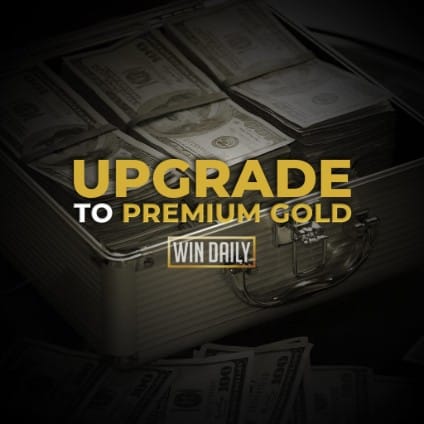 10/22 DFS Winner: Sony Michel
Sony Michel had a heck of a night against the New York Jets on Monday Night Football. He finished with 19 carries for 42 yards and three touchdowns on the night. If the Patriots can get Michel going during the game, it opens up a lot for their offense. Now with reports that Mohamed Sanu will also be in Foxborough, the running game of New England has even less pressure on it.
Outlook for the rest of the season: Don't look now but with this performance, he matched his season total of six touchdowns that he had last year. It would be nice to see his 3.3 yards per carry be a little higher, but he is doing his job in this Patriots offense. Their next matchup will be against the Cleveland Browns at home on Sunday. Cleveland allows the third-most rushing yards per game this season at 154.0 so expect a heavy dose of running.