Week 6 DFS QB Picks: Cash, GPP and Value Targets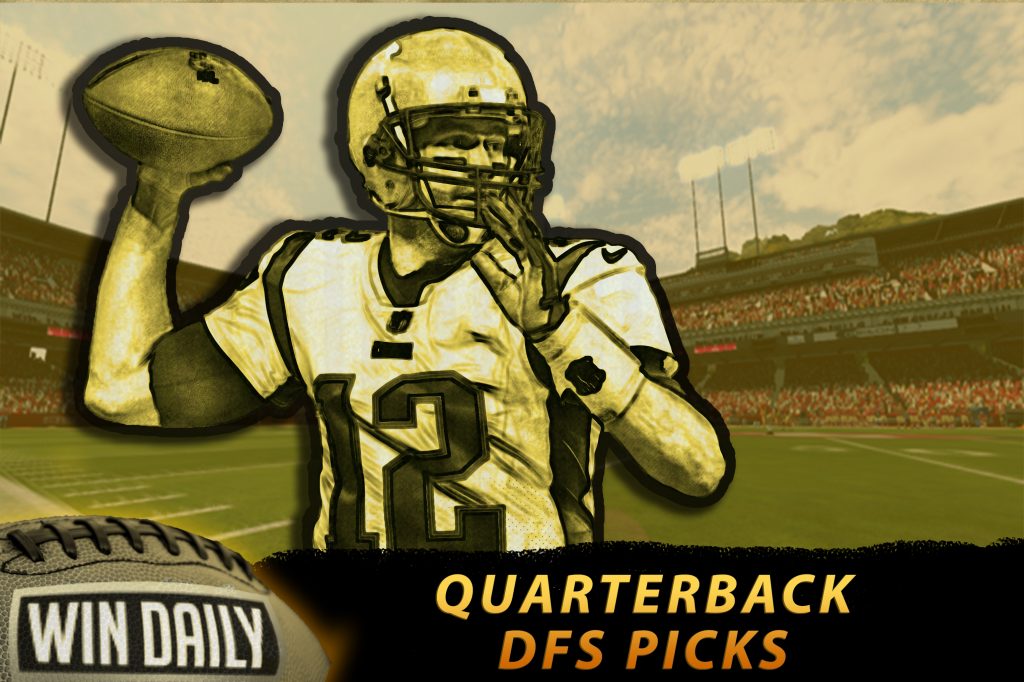 Week 6 DFS QB Picks gives us an All-In game along with a couple of matchups that feel more like Opposite Day. It's also a week where a Dolphins quarterback (stop laughing, damn you!) has value and Carson Wentz feels like a banana peel waiting on someone to step upon him.
Main slate's the thing, so you're on your own for Giants-Patriots (Thursday night), Steelers-Chargers (Sunday night) and Lions-Packers (Monday night). The Week 6 bye also means no Bills, Bears, Colts nor Raiders.
Sign up NOW for WIN DAILY Premium Gold right here! Projections, wagering info, 24/7 expert chats and more!
Wanna catch my DFS musings on Twitter? Follow me here!
Week 6 DFS QB Picks – Cash Game Passers
1) Matt Ryan, ATL at ARI
DK ($6,100), FD ($8,400)
Ryan shares the league lead attempts per game with the Rams' Jared Goff, as both average 44.4 attempts per game. In what will be a matchup between the third (Falcons) and fourth (Cardinals)-worst Fantasy defenses against opposing quarterbacks, I don't suspect Atlanta will suddenly discover the ground and pound to succeed.
Only Dak Prescott has more air yards (1,006) than Ryan's 972, although Ryan has a 683-600 edge in yards after catch. With a generous over/under of 52, I'd play Ryan since there will be a number of other quarterbacks who will have higher ownership. Both the Falcons and Cardinals allow 2.4 passing TDs per game, so expect Ryan to stay on average.
2) Russell Wilson, SEA at CLE
DK ($5,200), FD ($7,000)
The scary part about Wilson is that he's beginning to scramble more. That translates into 8.0 per carry each time Wilson scrambles away from would-be sackers. The Browns looked disinterested in Monday's loss and played much of the second half as if they were thinking about the menu on the flight back.
Myles Garrett be damned, the Browns are going to struggle containing Wilson's corps of physical skill position players, including WR D.J. Metcalf, TE Wil Dissly and RB Chris Carson. Wilson is also second only to Prescott in air yards per pass attempt, and as deadly accurate as he's been much of the season, that should parlay into devastatingly good numbers.
Tired of losing money on your DFS and Sportsbook? Sign up today and become a winner while turning your passion for sports into a second stream of income!
Week 6 DFS QB Picks – GPP Passers
1) Deshaun Watson, HOU at KC
DK ($6,700), FD ($8,400)
Keep in mind the Chiefs are 19th in Fantasy points per game allowed to opposing quarterbacks. That should temper his ownership, but it won't. Watson could have WR Kenny Stills back, and there's little reason to think DeAndre Hopkins will be neglected as he was last week when Will Fuller V had 17 of Watson's 33 targets. Kansas City does allow 133.6 yards per game on the ground, and it wouldn't shock me if head coach Bill O'Brien selects to go methodical instead of a potential track meet.
2) Patrick Mahomes, KC vs. HOU
DK ($7,500), FD ($9,200)
Salary and ownership keeps him out of Cash Game consideration. If Watson will be the most owned of Sunday's main slate, then Mahomes will be right behind him. The Texans are 27th in Fantasy points allowed per game to opposing QBs and 26th in Fantasy points allowed per game to opposing receivers. Signs are indicating that Tyreek Hill could be back in the lineup, enhancing Mahomes' 10.4 average depth of target, third-best in the league. One concern is his bad throw rate of 20.5%, fourth-highest among eligible QBs. Keep that in mind considering that Texans DE J.J. Watt is starting to hit his stride.
3) Kirk Cousins, MIN vs. PHI
DK ($6,700), FD ($8,400)
He's at his best when lining up with three wide receivers. Cousins has a rating of 111.8 and a 71.7% completion rate when he has three wideouts at his stead. Cousins is also pretty damn effective with a lone setback, pulling in a 108.9 rating while completing 75% of his passes. Even with the stellar performance against the Jets on Sunday, the Eagles are still 29th overall against the pass. He's still enough of a bargain to play in GPP format.
4) Kyler Murray, ARI vs. ATL
DK ($6,500), FD ($7,700)
As earlier mentioned, the Falcons are 30th in Fantasy points per game allowed to opposing QBs. We saw Murray rush for 93 yards and a touchdown in last week's win, making his running ability (10.9 yards per scramble) an added problem for an Atlanta defense that gives up 263.2 yards in the air. The injuries to the Cards' receiving corps is a mild concern, but RB Chase Sheffield has offered a surprising source of depth that shouldn't impact the number of targets RB David Johnson gets.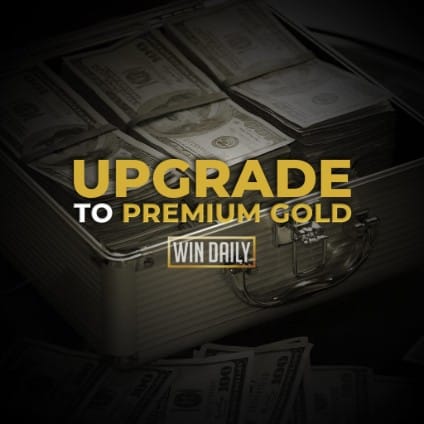 5) Gardner Minshew, JAC vs. NO
DK ($5,000), FD ($6,900)
Good Number: Cracked 20+ Fantasy points for the first time. Underrated runner with a 8.3 yards per scramble mark.
Bad Number: Modest average depth of target (8.0) is 16th overall. Saints are 28th in Fantasy points per game allowed to opposing passers, which means Minshew must be more aggressive.
6) Andy Dalton, CIN at BAL
DK ($5,400), FD ($7,000)
Good Number: He's completed at least 20 passes in each of his five games. The Bengals have spent much of the season in catch-up mode, so expect Dalton to maintain his average of 40.8 attempts per game.
Bad Number: Currently on pace to be sacked 64 times. Help, please.
7) Carson Wentz, PHI at MIN
DK ($6,000), FD ($7,500)
Good Number: Just how good would the Eagles be if Wentz played the entire game as if were the second half? Wentz has a 106.8 passer rating with a 6-0 TD:INT margin after intermission.
Bad Number: Nine dropped passes from his receiving corps. DeSean Jackson comes back WHEN?
8) Jared Goff, LAR vs. SF
DK ($6,100), FD ($7,600)
Good Number: Fourth in the league with 891 air yards. We knew the Rams had a top-tier Fantasy receiver, but we didn't know it would be Cooper Kupp, at least not this soon.
Bad Number: No QB has been blitzed more than Goff, who has seen extra defenders in the backfield 79 times. To his credit, though, Goff has been hit just seven times.
9) Jimmy Garoppolo, SF at LAR
DK ($5,700), FD ($7,200)
Good Number: Has yet to produce a monster yardage outing, but you have to like the 69% completion rate despite not having a wide receiver with more than 17 targets.
Bad Number: Without a receiver with more than 17 targets, Garoppolo's reliance on George Kittle could be comprised by a Rams defense that does a decent job containing TEs.
10) Dak Prescott, DAL at NYJ
DK ($6,200), FD ($8,000)
Good Number: Currently the only passer with more than 1,000 air yards (1,006).
Bad Number: Tied with Jared Goff with a league-high 11 dropped passes. You can make a good case for the Cowboys being 5-0 if his receivers had better hands.
Week 6 DFS QB Picks – Punt & Value Passers
1) Josh Rosen, MIA vs. WAS
DK ($4,500), FD ($6,400)
The Redskins have the second-worst Fantasy defense against quarterbacks, and Rosen gets a healthy receiving corps. He's a very strong value play.
2) Lamar Jackson, BAL vs. CIN
DK ($6,900), FD ($8,000)
Jackson will lose some trust after throwing three picks in Week 5. This could be his best game to date when it comes to running the ball, as the Bengals allow 30.4 rushing yards per game to opposing quarterbacks, a total second only to the Falcons.
3) Teddy Bridgewater, NO at JAC
DK ($5,300), FD ($7,300)
Don't count on a lot of passing yardage from Bridgewater. At best, he'll offer DFSers a poor man's version of Jacoby Brissett.
4) Marcus Mariota, TEN at DEN
DK ($4,900), FD ($6,500)
Throwing the ball on the Broncos remains an unwelcome task, as Denver has the fifth-best Fantasy defense against opposing passers. It doesn't help Mariota's cause that he's had 10 passes dropped on him.
5) Joe Flacco, DEN vs. TEN
DK ($4,800), FD ($6,600)
At the very least, Flacco is beginning to make a star out of second-year wideout Courtland Sutton, who has six receptions of better than 20 yards and has converted 20 of his 26 receptions into first downs.
Sign up and get started with WinDailySports! We have your sport and the experts to help make you money. Why lose another buck when you can win TODAY!