The MLB SWEET SPOT 9/27/22: DFS and PROP BETS at Win Daily Sports
Published
8 months ago
on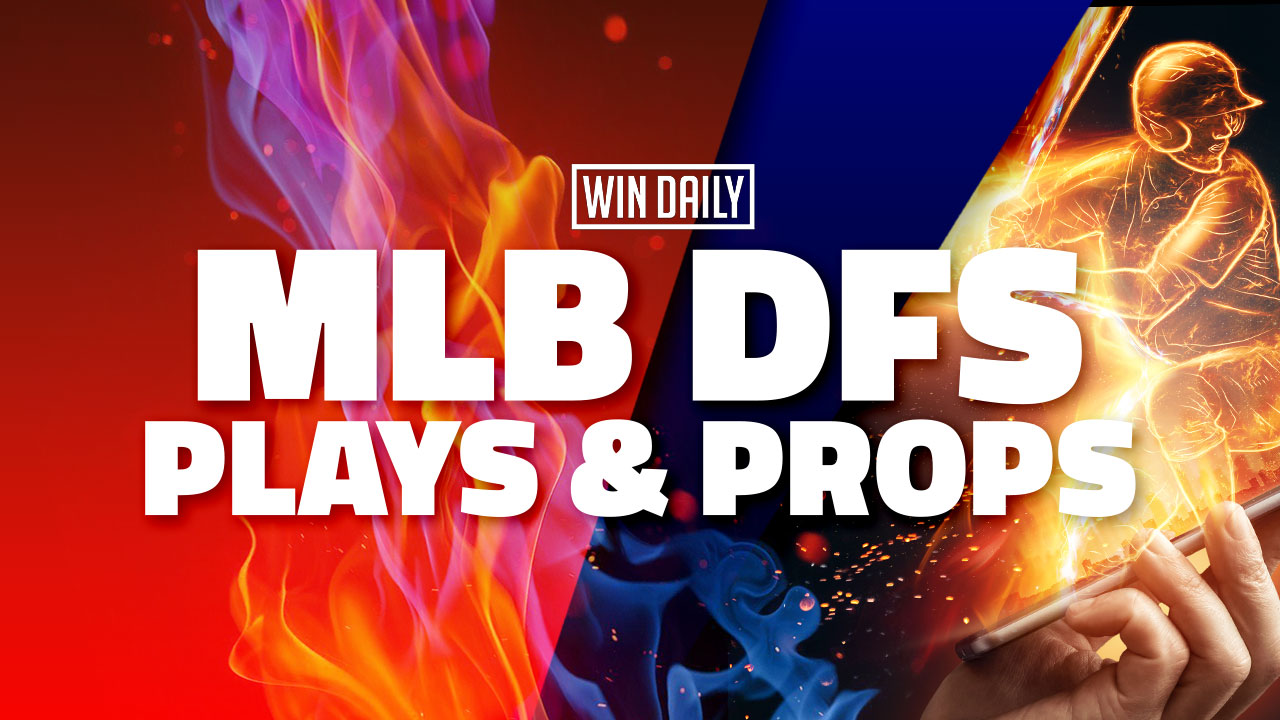 The NFL ended Week 3 with a Rush as the Cowboys knocked off the Giants on MNF by a score of 23-16. I ended last week with a 2-4 day which got us to 47-29 on the month. The return is still sitting at a nice +18.8 units as well.
There are many tools available, but I hope you're using the WinDaily Projection Model as that has been very helpful in rostering key players each night.

For DFS, the featured card tonight begins at 7:05 pm with 12 games to choose from. Below are my DFS plays as well as any props/bets that I like tonight.
NOTE: MLB 2022 Season Props/Bets are +66 units
PITCHERS – DRAFTKINGS
CLASSIC SLATE – 7:05 PM Start
ROBBIE RAY ($10,300 DK)
We tend to avoid Robbie Ray when he's on the road or facing a good team. Tonight, he's home and facing the Rangers so he gets the green light for us. Ray has pitched well at Safeco Field this year going 6-4 with a 2.73 ERA. Opponents are batting just 0.197 against the Mariners LHP in Seattle opposed to a 0.262 batting average when he's on the road. The Rangers have been a disappointment all year but are performing even worse in September. This month, they are 7th in K rate (9th on the season), 22nd in batting average (15th on the season) and 25th in wOBA (15th on the season). And with Seattle still needing a few wins to clinch a playoff berth, this adds importance for the Mariners which is another added bonus and reason to use Ray tonight as SP1 or SP2 in your lineups.
ZACK WHEELER ($10,100 DK)
Wheeler looked great in his first start back from the IL on a limited pitch count. He tossed 4 shutout innings against a team that shelled him for 6 runs earlier in the season. Wheeler is a much better pitcher at home, but we still see value in using him tonight in Chicago. First off, in 3 career appearances at Wrigley, Wheeler has a 2.32 ERA. Secondly, the Cubs are 2nd in K rate in September (26.9%) and are 27th in wOBA and wRC+.
However, with all that said the forecast for Wheeler is ~5 innings tonight as Noah Syndergaard is scheduled to be a long reliever after Wheeler hits his pitch count. So the salary is just too high for me based on the projected short leash. We could still see 20 points but there are better options available.
CARLOS CARRASCO ($9300 DK)
I have a Sweet Spot for Carrasco as he was an important piece to one of our most successful lineups this season. It happened to fall on a day where he pitched against his opponent tonight, the Miami Marlins, when he turned in 31.7 DK points. On the season, Carrasco is 3-0 with a 2.10 ERA against Miami in 4 starts. He has struck out 25 Marlins in 25.2 innings of work. And the Marlins haven't been trending much better in the month of September as they still sit at the bottom of most hitting categories including wOBA and wRC+ where they are 26th this month.
KYLE MULLER ($7400 DK)
Kyle Muller was a second round pick of the Braves in the 2016 draft. He was called up last season to pitch in 9 games and fared decently. He finished with a 2-4 record and a 4.17 ERA but also had more K's (37) than innings pitched (36.2). His issue was control as he walked 20 batters and had a walk rate of 12.8%. He was called up in May and once again struggled with control as he allowed 6 walks to the Rangers. However, he got called back in August and showed he made adjustments in the minors by allowing just 1 walk to the Marlins. So why do we highlight those particular numbers? It's because his opponent tonight, the Washington Nationals, are 27th in walk rate in September with a 6.4% BB rate. So this looks like a juicy matchup and one that was well planned for Muller.
KOOL-AIDE MAN (SWEET SPOT VALUE PITCHER UNDER $7K)
PATRICK SANDOVAL ($6900 DK)
Sandoval has pitched well for the Angels over the past 2 months. He's allowed 2 ER's or less in his last 9 starts while posting a 2.02 ERA in that span. Tonight, he faces the A's who are 23rd in batting average, 20th in ISO and 25th in wOBA this month. And those numbers get worse against LHP's (25th in batting and 28th in wOBA). For as well as Sandoval has been pitching, and as bad as the A's offense is, this seems like a mispriced pitcher and one we will gladly roster in many GPP's.
BONUS PICKS
I do like LANCE MCCULLERS ($10500 DK) tonight against the Dbacks and LOGAN WEBB ($7400 DK) against the Rockies. McCullers has been great since returning from injury. He is 4-1 with a 2.38 ERA and 45 K's in just 41.2 innings pitched. He has 4 straight outings with 20+ DK points. Additionally, McCullers has exceeded 100 pitches in 2 of his last 3 starts.
As for Webb, he's facing a Rockies team that he has had success against this year. In 3 starts he has a 2.50 ERA and 14 K's. He just faced Colorado last week and shut them out in 5 innings of work. And if there's one thing we know with the Rockies it's that they hit much worse on the road. Their batting average away from Coors is 51 points lower (0.286 versus 0.235).
HITTERS – DRAFTKINGS
CLASSIC SLATE – 7:05 PM
SWEET SPOT STACK ATTACK: The Braves cooked up an 8-0 win last night against the Nationals. Their reward, a matchup against Paolo Espino who is 0-7 with a 4.17 ERA on the season. Espino has faced the Braves 4 times this year and has allowed 11 runs in 16.1 innings of work. I'm going to recommend stacking the Braves night. Let's look at bats like Acuna, Swanson, Riley, Grissom, Harris, Olson and Ozuna.
As a bonus stack, I also like Mariners tonight against Texas. The Rangers are rolling out a bullpen game and projected to use Tyson Miller at some point. He has just two outings this year and an 18.00 ERA. The last time he was up in the big leagues he allowed 6 ER's in 0.2 innings against the Astros. I;ll look at bats like France, Haniger, Crawford, Suarez, Santana, Winker and Kelenic. UPDATE: Rangers are starting Jesus Tinoco who is a bullpen arm and will likely go 1-2 innings max. Miller is scheduled to follow Tinoco. So the M's stack is still in play.
SLAP HITTER (SWEET SPOT VALUE BATTER) – LESS THAN $3K
TRISTON CASAS ($2100 DK)
The Red Sox are trying to get a long look at Casas to see if he is part of their plans in 2023. He is batting just 0.135 but does have 4 home runs in the month of September. Opposing pitcher Kyle Bradish has a 4.65 ERA and has allowed 16 home runs on the season so this could be a nice sneaky spot for Boston bats including Casas.
MLB PROP BETS
HUNTER GREENE over 7.5 Ks (-110 DK) – Greene faced the Pirates once this year and recorded 9 K's in that contest. Since his return to the rotation in September, he has 19 K's in 11 innings. And this just in, the Pirates strike out a lot.
DETROIT TIGERS over 1.5 runs F5 (-130 DK)
The Tigers are 7th in batting average (0.279) and 7th in wOBA and wRC+ this month. Tonight, they face Zack Greinke who is 0-7 with a 6.36 ERA on the road.
ROCKIES vs GIANTS NRFI (-150 DK)
The Rockies and Giants have played 6 times in SF this year. And in four of those games there were no runs scored in the first inning. That means 66.7% of the time we have NRFI and the betting odds imply this winning 60% of the time. So there's an edge here and we're playing the numbers, not the pitchers.
ROBBIE RAY over 6.5 K's (-140 DK)
As mentioned earlier, Ray pitches much better at home. And Texas has allowed 6 of the past 7 SP's to go over their K prop.
CARLOS CARRASCO over 17.5 outs (-140 DK)
MOOKIE BETTS over 0.5 home runs (+340 DK) and over 0.5 runs scored (-120 DK)
The Dodgers terrorize the Padres as they are 12-4 against them this season. As for Betts, he has 7 career home runs off Padres starter Blake Snell (6.00 ERA vs LA in 2022). Combine the Dodgers success with Betts personal success and we have a sweet spot to attack.
Now that you finished reading the MLB Sweet Spot article make sure to check out MLB Lineup Optimizer and our YouTube Livestream that breaks down the entire slate of games and gives you the info to nail MLB Prop Bets and DFS Plays.
Be sure to follow me on Twitter (@dgloeck) and my other content that is part of the WinDailySports family.
Related Topics: