The MLB SWEET SPOT 9/20/22: DFS and PROP BETS at Win Daily Sports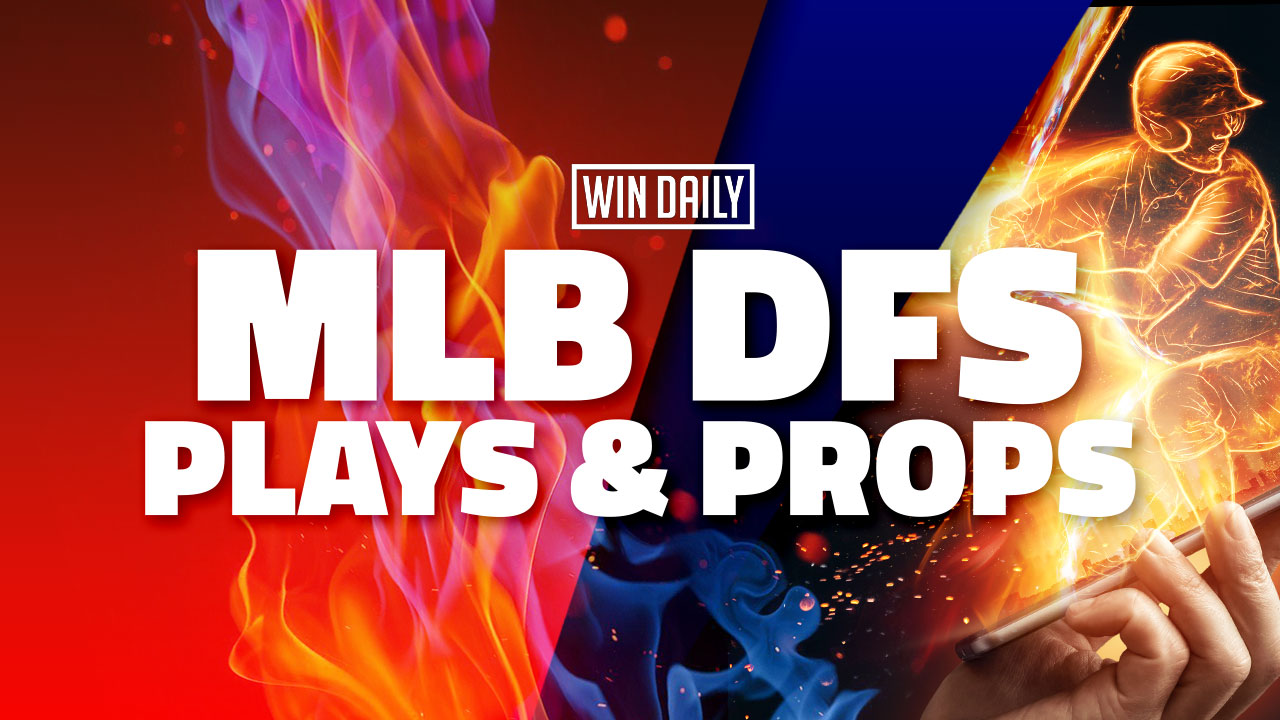 The NFL ended Week 2 with a bang last night (Fly Eagles Fly) but the action doesn't stop at WinDaily. The Sweet Spot is back with an article for our MLB friends and family. I ended last week with a 2-3 day which got us to 40-17 on the month. The return is still sitting at a nice +19.7 units as well.
There are many tools available, but I hope you're using the WinDaily Projection Model as that has been very helpful in rostering key players each night.

For DFS, the featured card tonight begins at 7:05 pm with 11 games to choose from.Below are my DFS plays as well as any props/bets that I like tonight.
NOTE: MLB 2022 Season Props/Bets are +74.5 units
PITCHERS – DRAFTKINGS
CLASSIC SLATE – 7:05 PM Start
DYLAN CEASE ($11,000 DK)
Tonight will go a long way in determining the future champion in the AL Central as the White Sox and Guardians open a 3 game series with Cleveland holding a 3.5 game lead over Chicago. Tonight, will also go a long way in determining the AL Cy Young Award as Dylan Cease sits in 2nd place in the betting market behind Justin Verlander. A big game by Cease tonight will increase his chances even though he is trailing by a significant margin.
With that being said, Dylan Cease has pitched three games against the Guardians this season and is 2-1 with a 2.12 ERA in those outings. But I have some concern here as he has issued 6 walks and allowed 20 hits in just 17 innings of work (good for a 1.53 WHIP). Additionally, Cleveland owns the lowest K rate in the MLB (18.4%) which takes away some luster from Cease. In all, the matchup is tough and the price is too high for me to invest for DFS GPP games.
CARLOS CARRASCO ($10,400 DK)
This is a new high in salary for Carrasco. But there is some value here as he is facing a Milwaukee team that is 8th in K rate on the season. Additionally, the Mets starter is tied for 6th in the league with 15 wins. And if we dive a little deeper we see a Milwaukee team that is 23rd in batting in September and 21st on the season overall.
NESTOR CORTES ($9800 DK)
This is likely the juiciest spot on the card as we have a lefty going against the Pirates. That's because Pittsburgh is 27th in batting average against LHP's and 2nd in K rate. And in Cortes, we have some signs of a resurgence as he pitched well in Boston last outing going 5 innings and recording 7 K's on his way to 24.3 DK points. In fact, in his last 6 road starts he is averaging 19.7 DK points. So there is a high floor here and we project him in the 25 point range due to his strikeout total seeing a bump up because of his opponent.
LUIS CASTILLO ($9100 DK)
Castillo has a great matchup tonight as he toes the rubber in Oakland against the A's. Castillo has been great since coming over to Seattle in a trade at the deadline (4-1 with a 2.39 ERA). He's allowed 3 ER's or less in every start except one, which was against these same A's. Because of that, I think he has extra motivation to dominate tonight and I expect a stellar performance from the M's ace. While the A's have shown some signs of life at the plate they are still 27th in batting and 23rd in ISO in the moth of September.
KOOL-AIDE MAN (SWEET SPOT VALUE PITCHER UNDER $7K)
ZACK GREINKE ($5400 DK)
Greinke's home and away splits are some of the most fascinating numbers in the MLB this year. In 11 starts at home, he is 4-2 with a 1.93 ERA and just 1 home run allowed. On the road, he has 12 starts and an 0-7 record with a 6.36 ERA and 13 home runs allowed. The gap between those numbers is astounding and it's not like Kaufmann stadium is the best pitchers park (it's actually considered a good hitting ballpark).
Which brings us to tonight in his matchup against the Twins in KC. Greinke is 0-4 this season against Minnesota but 3 of those starts were in Minneapolis. The one time he faced the Twins in Kansas City he went 5 innings and allowed just 1 ER. I see potential in Greinke tonight and will try to go against the grain in some GPP lineups with the Royals SP.
BONUS PICKS
I do like CHARLIE MORTON ($9000 DK) tonight against the Nats and PATRICK SANDOVAL ($7400 DK) against the Rangers. First, Morton is a much better pitcher at home as his ERA is 2.5 runs lower in Atlanta (2.96 vs 5.38). Secondly, he faced the Nats once and went 7 innings allowing just 2 ER and striking out 7.
As for Sandoval, he has been better on the road (which he is tonight) as he's posted a 2.82 ERA away from LA. And over the last 2 months he has a miniscule 1.68 ERA. He also has a K/9 rate of 9.11 and his groundball rate is 46.8%. We also see a pitcher with a 0.318 BABIP (40 points higher than league average). Combine all that and his recent success is not surprising at all.
HITTERS – DRAFTKINGS
CLASSIC SLATE – 7:05 PM
SWEET SPOT STACK ATTACK: It's Patrick Corbin night at the Sweet Spot. So you know what time that is. It's stack the Braves night. The Nats starting pitcher has a 9.88 ERA against the Braves in 3 starts this season. Let's look at bats like Acuna, Swanson, Riley, Grissom, Harris and Rosario.
As a bonus stack, I also like Giants tonight in Coors Field. Rockies starting pitcher Kyle Freeland has a 5.74 ERA in Coors and got roughed up by the Giants in SF two weeks ago. In that game he allowed 5 ER's and 1 home run. I'll look at batters like Flores, Davis, Longoria, Estrada and Wynns. I wouldn't be afraid of putting a left-handed bat in either (like Peterson, Wade or Yastremski) as lefties bat 0.308 against Freeland this year (vice 0.268 for righties).
SLAP HITTER (SWEET SPOT VALUE BATTER) – LESS THAN $3K
LIVAN SOTO ($2300 DK)
The Angles SS was called up over the weekend and hit a home run in just his second MLB game. He is averaging 8.0 DK points in 3 games and there is value in his bat tonight as he is facing Texas SP Cole Ragans who has a 5.68 ERA.
MLB PROP BETS
NESTOR CORTES over 5.5 Ks (-150 DK) –
DYLAN CEASE over 4.5 hits allowed (+120 DK)
Cease has allowed more than 4.5 hits in all 3 outings against Cleveland this year. And now they're offering plus money. I'm in.
ASTROS vs RAYS NRFI (-170 DK)
This almost feels too easy. But the numbers speak for themselves. McClanahan has allowed a 1st inning run in just 4 of his 26 starts (15%) and Javier has allowed a 1st inning run in just 6 of his 26 outings (24%). A -170 line gives an implied probability of this bet winning 63% of the time.
NICK LODOLO over 6.5 K's (-140 DK)
Boston is 8th in K rate against LHP's in September striking out 25.5% of the time.
LUIS CASTILLO under 1.5 ER (-130 DK)
RONALD ACUNA over 0.5 runs (-150 DK)
Now that you finished reading the MLB Sweet Spot article make sure to check out MLB Lineup Optimizer and our YouTube Livestream that breaks down the entire slate of games and gives you the info to nail MLB Prop Bets and DFS Plays.
Be sure to follow me on Twitter (@dgloeck) and my other content that is part of the WinDailySports family.
Related Topics: