The MLB SWEET SPOT 9/13/22: DFS and PROP BETS at Win Daily Sports
Published
3 months ago
on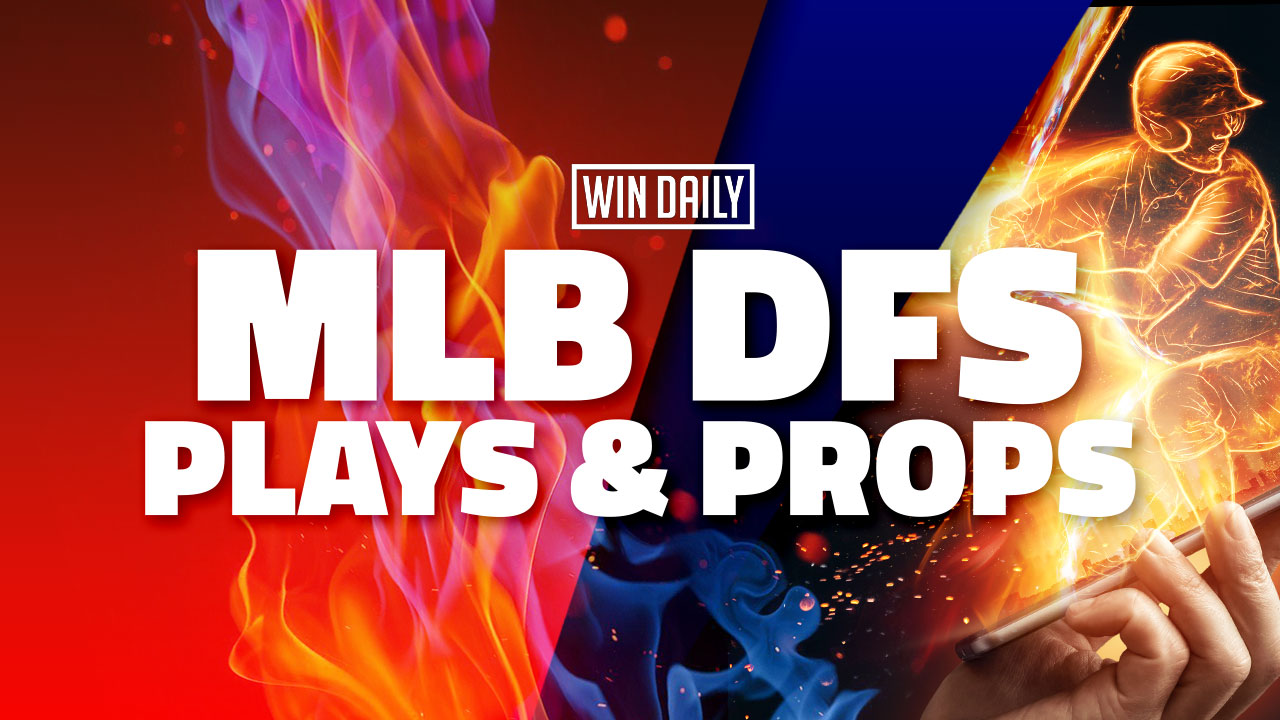 It's been a week since I last posted a Sweet Spot article here at WinDaily. I was busy prepping for football, both college and NFL, but have that all squared away now. Which means I am prepared to keep giving you content here for MLB through the playoffs. We posted a 6-4 record last Tuesday and Wednesday (nothing posted since 9/7) which puts us at 27-9 on the month on props and bets. The return is sweet too as we sit at +16.2 units in September.
There are many tools available, but I hope you're using the WinDaily Projection Model as that has been very helpful in rostering key players each night.

For DFS, the featured card tonight begins at 7:05 pm with 11 games to choose from. Jason and I broke down the slate on YouTube last night as shown above. Below are my DFS plays as well as any props/bets that I like tonight.
NOTE: MLB 2022 Season Props/Bets are +71.0 units
PITCHERS – DRAFTKINGS
CLASSIC SLATE – 7:05 PM Start
JACOB DEGROM ($11,800 DK) – You don't need me to tell you that Jacob DeGrom is great. You don't need me to tell you to roster him in your lineups tonight. But what I can do, is just give you a little push and strategy when playing DeGrom. The Mets ace is 3-0 with a 0.90 ERA in his last 3 starts. He has posted 26 K's in that span and averaged 32.7 DK points. Tonight, he faces the Cubs who are striking out at a 24.7% clip in September (10th overall). They are also 15th in wOBA and wRC+ in that same span.
I will be playing DeGrom in several of my lineups. Based on the mid-range pitchers we have available tonight, I'll be looking to pair him with someone in the $8K range. This will give me ~$3800 per batter which can give me a balanced lineup. The good news with DeGrom is he gives us such a high floor that he can offset some misses.
GERRIT COLE ($10,900 DK) – Cole's revenge tour continued in his last outing as he shut down the Twins and registered a 40 DK point outing by recording 14 K's. The issue is, those starts, or at least one's where he produces 3x value, don't come very often. Since July, he has 4 of his 13 starts totaling over 30 DK points. That's not reliable and provides too much variance especially in cash games.
Tonight's opponent is an issue for me as well as Cole does not fair well against the Red Sox. He has a 2-0 record on the year but a 5.29 ERA in three starts. And over the past 2 seasons, his ERA at Fenway Park is 6.54. Add in the fact that Boston is 2nd in wOBA, 3rd in wRC+ and 4th in batting average (0.288) in September and we have enough outlying data to make a Cole a pass for me tonight in both GPP and cash games.
YU DARVISH ($10,600 DK) – Darvish is a very consistent pitcher for DFS purposes. He has gone 6+ innings in 19 straight starts with 16 of them resulting in quality starts. He hasn't had a game below 10 DK points since his second start of the year at SF. Additionally, he has pitched better against potential playoff teams than he has against non-contenders. In 5 recent starts against the Dodgers, Phillies and Mets, Darvish has a 3.09 ERA and 4 QS's. In his 4 recent starts against the Nationals, Royals and Rockies he has a 4.48 ERA.
So that brings us to tonight's game against the Mariners who look the part of a playoff team as they hold a 6 game lead over the Orioles in the wildcard race. The Mariners tend to draw walks as their BB rate in September leads the MLB (11.4%). But the good news for Darvish owners is his walk rate sits at 5.0% which is the 2nd lowest line in his career. So I do think we are in line for another high floor game from Darvish and can expect 6+ innings and 6+ K's (under 6 K's once in his past 13 starts).
JORDAN MONTGOMERY ($8400 DK) – I said I want to pair DeGrom with someone in the $8K range, so I therefore introduce you to my favorite arm in that area; Mr. Jordan Montgomery. I saw a special on MLB TV yesterday which highlighted the vast changes in Montgomery's approach since coming to the Cardinals. He has started to use his 4-seam fastball at a much higher rate since joining the Red Birds. On St. Louis he throws the 4 seamer approximately 31.7% of the time but while he was in pinstripes he threw it just about 10% of the time. This has helped open up a velocity difference with his changeup and curveball which has made his overall pitching much more effective.
The results are there as Montgomery's ERA with the Cardinals is 1.45 and the team is 7-0 in his starts. Tonight, he faces the Brewers who are just 6-6 in the month of September. Add in their poor performances against LHP's (28.4% K rate and 0.176 batting average) and we have a very good situation and opponent to make Montgomery one of my favorite plays on this card.
KOOL-AIDE MAN (SWEET SPOT VALUE PITCHER UNDER $7K)
N/A ($ DK): I'm not dropping into value land tonight. The arms just aren't there and there is value in the $7K range that I would prefer to play.
BONUS PICKS: I do like LOGAN GILBERT ($8700 DK) tonight against the Padres and DEAN KRAMER ($7300 DK) against the Nationals. First, Gilbert has been hot in his last 2 starts going 12 innings and allowing 0 ER's with 18 K's. The Padres are batting 0.210 in the month of September which is dead last in the MLB. Their lineup is just not coming together consistently which makes this a spot to attack.
Kramer has the Nationals who for all intensive purposes are actually hitting the ball well in September as they lead the MLB with a 0.306 batting average. But it's still the Nats and they are 20th in runs scored since August 1st. Tread carefully here but I think Kramer, who has a 3.23 ERA on the season, could be in for a 20+ DK point game tonight.
HITTERS – DRAFTKINGS
CLASSIC SLATE – 7:05 PM
MOOKIE BETTS ($6500 DK) – The Dodgers hit Diamondbacks starter Merrill Kelly very well. Kelly has a 9.69 in 3 starts against LA this season and a 5.88 career ERA against the Dodgers. Mookie Betts has three career homers against Kelly and is batting 0.389 in 20 career plate appearances. And Mookie is coming off a home run last night so I like his position going into this game tonight.
RAFAEL DEVERS ($5600 DK) – The Red Sox 3B has 6 career home runs off Gerrit Cole including 3 this season alone.
SWEET SPOT STACK ATTACK: I'm going to stack the Dodgers tonight. I mentioned earlier how Merrill Kelly struggles against the Dodgers. It turns out, of the core Dodgers starters, Mookie Betts has the worst batting average at 0.389. These 5 all have BA's over 0.400 against Kelly; Lux, Turner, Freeman, Smith and Muncy. I'll look to stack several hitters from LA tonight based on the history they have against Kelly.
SLAP HITTER (SWEET SPOT VALUE BATTER) – LESS THAN $3K
JOSH JUNG ($2600 DK): The Rangers OF has 2 home runs in his first 5 games in the bigs including one yesterday against the Marlins. Tonight, he looks to continue his impressive start against the A's and Ken Waldichuk who allowed two home runs in his last start against the Braves.
MLB PROP BETS
JACOB DEGROM under 3.5 hits (-130 DK) – I've played this number in all of DeGrom's 7 starts this season and it is 6-1. This prop has not been posted yet but if they do I will smash it.
RED SOX over 1.5 runs F5 (-115 DK) –
PHILLIES vs MARLINS NRFI (-140 DK) – Alcantara has faced the Phillies 5 times this year and the NRFI prop is 4-1 in those contests which makes this a sweet spot to play the NFRI.
JORDAN MONTGOMERY over 16.5 outs (-120 DK) and 4.5 K's (-160 DK) –
MERRILL KELLY under 2.5 ER (-130 DK) –
MOOKIE BETTS over 0.5 runs (-140 DK) – Betts has scored a run against the Dbacks in 10 of the 12 games the two teams have played this year.
Now that you finished reading the MLB Sweet Spot article make sure to check out MLB Lineup Optimizer and our YouTube Livestream that breaks down the entire slate of games and gives you the info to nail MLB Prop Bets and DFS Plays.
Be sure to follow me on Twitter (@dgloeck) and my other content that is part of the WinDailySports family.
Related Topics: