The MLB SWEET SPOT 8/9/22: DFS and PROP BETS at Win Daily Sports
Published
2 months ago
on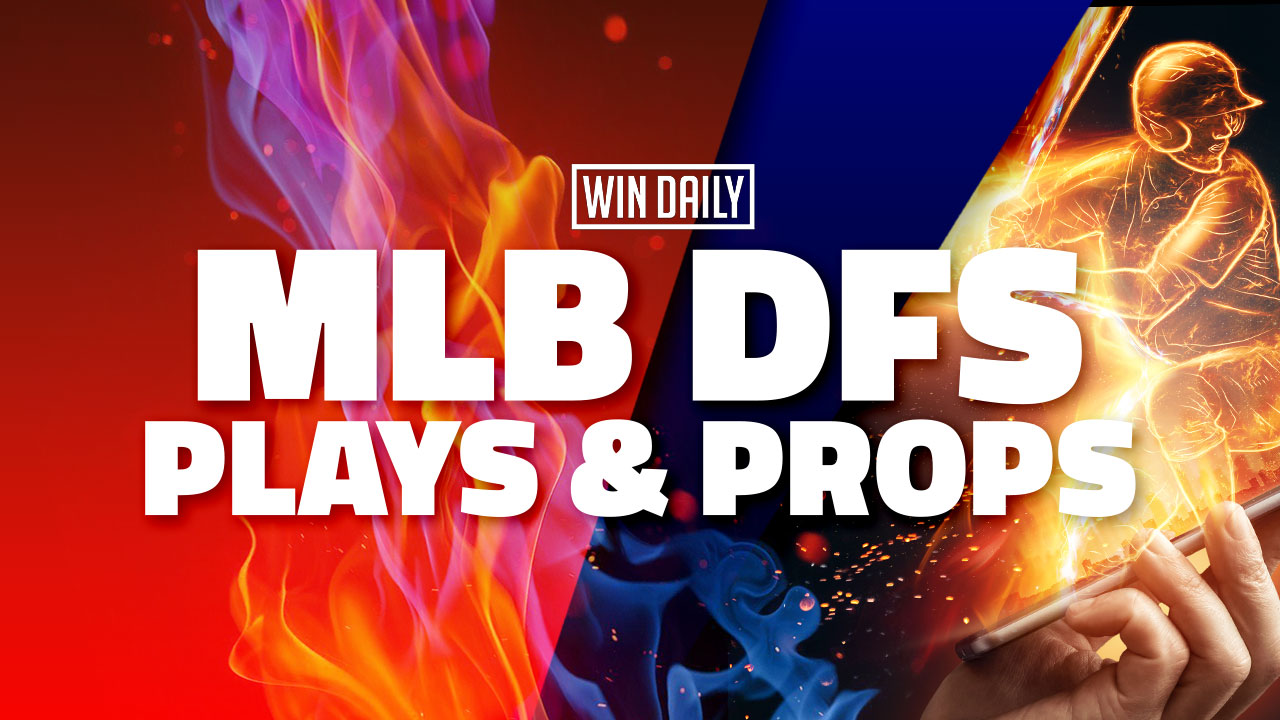 We turned in another winning day yesterday at the Sweet Spot with a 3-2 record and +1 unit return on our props and bets. DFS was also good as we paired Bassit and Gallen in several lineups and they ended up as 2 of the top 3 SP's. So far this month, we have posted a 13-9 record with a +3.0 unit return.
There are many tools available but I hope you're using the WinDaily Projection Model as that has been very helpful in rostering key players each night.

For DFS, the classic card night time slate begins at 7:05 pm with 14 games to choose from. Jason and I hopped on WinDaily Live to give an early preview of the card. Click the video above to check it out. My favorite plays for all of today, along with props and bets, are below.
NOTE: MLB 2022 Season Props/Bets are +27.0 units
PITCHERS – DRAFTKINGS
CLASSIC SLATE – 7:05 PM Start
GERRIT COLE ($10500 DK) – Gerrit Cole has struggled in his last 3 starts allowing a total of 15 runs in that span. His last outing was against the same opponent he faces tonight in the Seattle Mariners. And if you recall, the Mariners scored 6 runs off Cole in the 1st inning curteous of 3 home runs. After that, Cole shut them down over the next 5 innings allowing just 2 hits and registering 6 K's.
With that being said, there is motivation tonight for Cole knowing what this same team did off him last week. The other good news in Cole's favor is that Seattle is 28th in batting average at home (0.230) and 16th in both ISO and home runs. Additionally, since the All Star break the Mariners are 29th overall in batting average (0.209), 26th in wRC+ and 28th in wOBA. They are feeling the effects of not having Julio Rodriguez in their lineup and that should provide us the added data needed to roster Cole with confidence.
ZACK WHEELER ($10,400 DK) – After starting the season 0-3, Zack Wheeler has rolled off 10 wins in his last 12 decisions. And the Phillies are 11-5 in his last 16 starts. And that's important because tonight the Phillies are the 2nd largest favorites on the board and getting a win would secure a very important 4 DK points.
We all know how good Zack Wheeler is but the other important piece to factor into tonight is that he is a much better pitcher at home. Wheeler's home ERA is 1.58 and batters are hitting just 0.212 against him in CBP. Next, the Phillies pitchers have 25 straight scoreless innings against the Marlins going into tonight's contest. And finally, the Marlins have scored just 8 runs this month which is dead last in the MLB. With all that added up, Wheeler is definitely in play. And if I had to choose between Zack and Gerrit Cole then I would lean towards the Phillies ace.
SHOHEI OHTANI ($10,300 DK) – Draftkings has finally caught up after 4 months of undervaluing Ohtani as a pitcher. And even though the price has spiked by 20% (he was $10,000 last start but averaged $8400 in previous 10) he is still a pitcher to consider. Ohtani's ridiculous K streak of 6+ games with over 10 strikeouts ended last outing at the hands of the A's. Though he managed to still put up decent numbers and ended with 18 DK points. However, like Gerrit Cole, there has to be revenge in his mind as the A's were able to square up more baseballs than anyone else over the past 2 months.
While the A's are hitting much better since the All-Star break (6th ISO, 10th wRC+, 13th wOBA), they are still at the bottom of every important hitting category for the season. They are 28th in weighted runs against the fastball and 30th against the slider. And it just so happens those are the two pitches Ohtani throws the most (69.6%) with the slider having a pitch value of 10.9. I look for Ohtani to have a big night and attack early and often with his best pitch. For reference he threw 61 sliders last outing to the A's and had a 41% whiff rate and 39% CSW.
KOOL-AIDE MAN (SWEET SPOT VALUE PITCHER UNDER $7K)
TOMMY HENRY ($5400 DK): We hit on our value pitcher last night as Keegan Thomspon put 17.9 DK points with an almost 3x return. So we're hoping to double that up tonight with Tommy Henry from the D'backs. Henry wasn't overly impressive in last outing which was his first start of the season. The Guardians touched up the Arizona lefty for four runs but he still did register 4.5 DK points. Tonight, he gets the Pirates who were just shutout by Zac Gallen and the D'backs bullpen. Even more important, the Pirates are one of the worst teams against LHP's as they are 2nd in the MLB in K rate (26.5%) and 28th in batting average (0.220). Even though we don't know a ton about Henry, there is value with him against the Buc's tonight based on their season long struggles against southpaws.
BONUS PICK: I do like CARLOS CARRASCO ($8200 DK) tonight against the Reds. As mentioned yesterday, since the trade deadline the Reds are struggling at the plate. They are 28th in runs scored, 29th in batting average, and 27th in ISO. Carrasco has been on a tear lately as over his last 6 starts he has a 1.50 ERA. More importantly he is averaging 21 DK points in those outings. And lastly, the Mets are the biggest favorite on the betting card tonight. So he has the highest probability of getting the win and 4 extra DK points.
HITTERS – DRAFTKINGS
CLASSIC SLATE – 7:05 PM
NOLAN ARENADO ($5600 DK) – Arenado is hitting 0.476 in the month of August which leads the MLB. He also has 3 home runs this month which puts him 2nd behind Rhys Hoskins. Tonight, he gets to hit in his old home at Coors Field where he has a 0.323 career batting average.
RHYS HOSKINS ($4400K) – Hoskins is on fire in August and is coming into tonight's contest against Miami on a four-game hitting streak. He's also carrying a streak of homers in four straight games. Tonight, he faces a LHP which he hits 60 points higher against (0.295) than RHP's. Let's ride the hot streak!
SWEET SPOT STACK ATTACK: I'm going to stack the Mets tonight. We hit on the O's last night as Mountcastle, Santander and Urias all homered. Tonight, we're going with the team that has the most runs scored in August with 53. They lead the league in BA and OBP which makes tailing this offense even more palatable for this Phillies fan. They also get the luxury of facing Mike Minor who has allowed 13 home runs in his last 10 starts. Many Mets players have good numbers off Minor so look at bats like Marte, Lindor, Alonso, Niddo, Canha, and Ruf.
SLAP HITTER (SWEET SPOT VALUE BATTER) – LESS THAN $3K
MARTIN MALDANADO ($2700 DK): Maldanado is 9 for 18 in his career off Rangers starting pitcher Martin Perez. He also had two quality games over the weekend versus Cleveland where he registered 12 and 23 DK points respectively.
MLB PROP BETS
ZACK WHEELER over 6.5 K's (-140 DK) and over 19.5 outs (-125 DK) –
NOLAN ARENADO over 0.5 RBI's (-110 DK) – Arenado has 8 RBI's in the month of August and has an RBI in four of his last 6 games. This game has the projected highest total on the board. That's a sweet spot worth betting on.
SHOHEI OHTANI over 7.5 K's (-150 DK) –
NEW YORK METS F5 -0.5 (-190 DK) –
PHILADELPHIA PHILLIES over 4.5 runs (-115 DK) – The Phillies went over this total in all four games against the Nats over the weekend. They have a 0.580 slugging percentage and 0.940 OPS in the month of August which leads baseball.
Now that you finished reading the MLB Sweet Spot article make sure to check out MLB Lineup Optimizer and our YouTube Livestream that breaks down the entire slate of games and gives you the info to nail MLB Prop Bets and DFS Plays.
Be sure to follow me on Twitter (@dgloeck) and my other content that is part of the WinDailySports family.
Related Topics: