The MLB SWEET SPOT 8/8/22: DFS and PROP BETS at Win Daily Sports
Published
2 months ago
on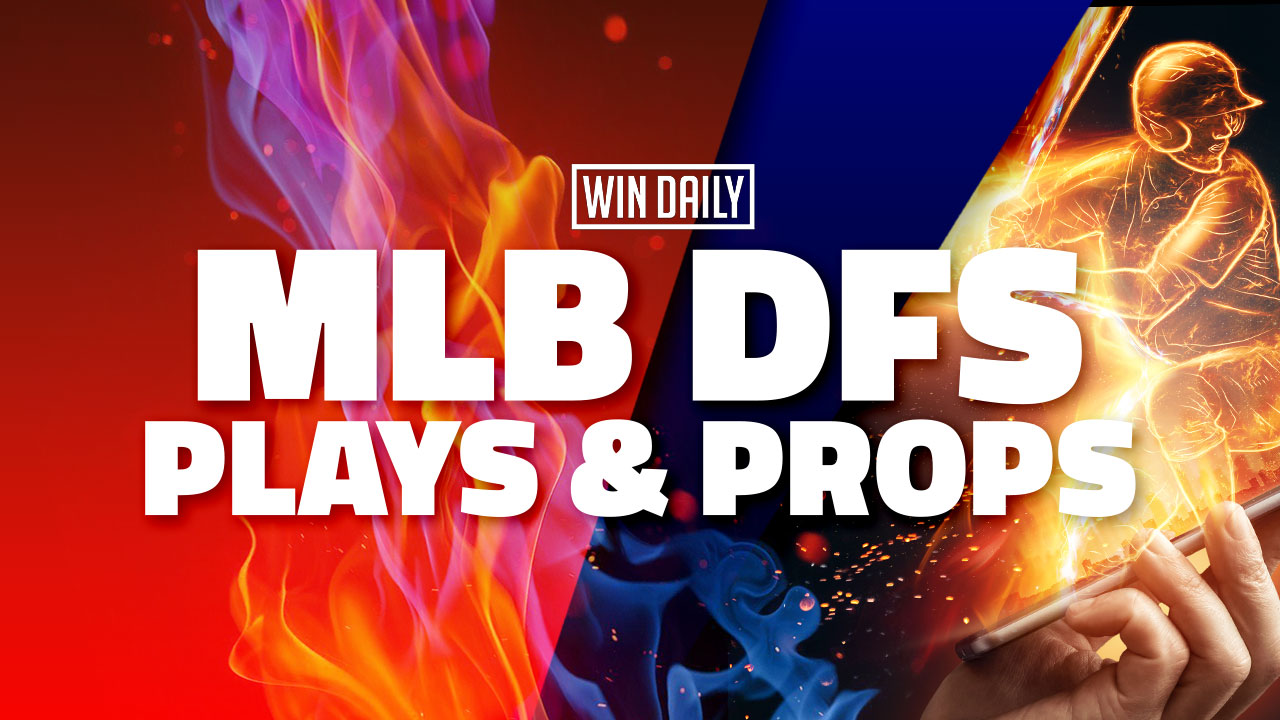 We took the weekend off but plan to have an article out every day this week featuring our favorite DFS plays, props and bets. So far this month, we have posted a 10-7 record with a +2.0 unit return. We also hit a 62x DFS win over the weekend so things ae looking good in August.
There are many tools available but I hope you're using the WinDaily Projection Model as that has been very helpful in rostering key players each night.

For DFS, the classic card night time slate begins at 7:05 pm with 7 games to choose from. My favorite plays for all of today, along with props and bets, are below.
NOTE: MLB 2022 Season Props/Bets are +26.0 unit
PITCHERS – DRAFTKINGS
CLASSIC SLATE – 7:05 PM Start
CHRIS BASSIT ($9300 DK) – The Mets pitchers showed over the weekend why they have the best starting staff in the NL. While the Dodgers ERA ranks them higher, a rotation of DeGrom, Scherzer and whoever else can dominate a given series. Tonight, Chris Bassit gets a turn to keep the Mets success rolling as he is trying to build off his last start which was an impressive 7 innings with 0 ER effort against the Nationals. Since returning from a brief stint on the DL, Bassit has pitched 5 games and returned an average of 19 DK points per outing. His ERA over that span is 2.50 and his WHIP is 1.05.
Tonight, he faces the Cincinatti Reds who did a makeover at the trade deadline. And their lineup has suffered since as hitters like Drury and Pham left for other teams. Since August 1st, Cincy is 25th in ISO, 27th in wOBA, 27th in wRC+ and 28th in batting average (0.198). They have managed to go 4-2 in that stretch but have only scored 17 runs (2.83 per game). Additionally, they are sitting at 5th in K rate (25%) this month which is also ideal when choosing an SP. In all, this is a good matchup for Bassit and one we plan to use in many lineups today.
BLAKE SNELL ($8800 DK) – Here is a classic case of high risk and high reward. Since early May, Snell has 13 starts. In 8 of those starts he's performed well and averaged 23.9 DK points. In the other 5 starts, he's struggled mightily and averaged just 5.7 DK points and 4.0 innings pitched. But his advanced stats show a pitcher that is trending towards a solid August and September as his xERA (3.44) and xFIP (3.61) are all much lower than his current ERA (4.16).
I like his matchup tonight with the Giants. While SF does have good long-term advanced stats against lefties (4th in ISO, 9th in wOBA, 8th in wRC+), they are just 17th in batting average and 9th in K rate against southpaws. And they did just face Snell last month and he racked up 11 K's over 6 innings and put up his season high with 34.5 DK points. Additionally, Giants hitters are hitting just 0.173 off Blake Snell and have a 32.8% whiff rate. So even though Giants hitters have success against LHP's, I like Snell tonight based off his predicted future and past history against SF.
KOOL-AIDE MAN (SWEET SPOT VALUE PITCHER UNDER $7K)
KEEGAN THOMPSON ($6700 DK): I see value in the Cubs righty tonight against Washington. One factor is the opponent as Washington is struggling since the departure of Soto and Bell. They are averaging just over 3 runs per game in August and 15th in wOBA and 20th in ISO. On the other hand, Thompson has a 3.48 ERA and a 3.99 FIP which shows he has some solid metrics. The other factor is that he has pitched well at home where he has a 2.50 ERA.
BONUS PICK: I do like ZAC GALLEN ($7900 DK) tonight against the Pirates. The Pirates scored 8 runs in yesterday's outing against Baltimore. However, they are still at the bottom of most categories when it comes to hitting especially on the road. Away from Pittsburgh their batting average drop 5 points, their OBP drop 10 points and their Slugging percentage drops 6 points. Ironically, Gallen is a better pitcher at home registering a 3-0 record and 3.23 ERA. He also has K potential tonight as the Pirates strikeout at a 27% clip.
HITTERS – DRAFTKINGS
CLASSIC SLATE – 7:05 PM
MATT CHAPMAN ($4700 DK) – The Blue Jays 3B has five home runs in his past 10 games moving his season total up to 21 which is good for second on the team. Tonight he faces Jordan Lyles who he has good career numbers against. In 17 at bats he has 6 hits and 3 home runs off Lyles. He has cooled off in August but was coming off the month of July where he hit 0.325. Seeing Lyles will hopefully resurrect those numbers.
JEFF MCNEIL ($4400K) – The Mets 2B is on a 10-game hitting streak and batting 0.400 in the month of August. While he has never faced Reds starter Justin Dunn, he is batting 0.306 versus RHP which is 8 points higher than lefties. He's also flashed some pop this month as his Slugging percentage is 0.633 (career slugging is 0.454).
SWEET SPOT STACK ATTACK: I'm going to stack Orioles tonight. They cooled down yesterday but have been hot for over a month now. Toronto starter Yusei Kikuchi has a 5.74 ERA away from home. He faced Baltimore once this season and allowed 4 ER in 4 innings. I'll look at Mountcastle, Mullins, Rutschman, Santander, Urias and Vavra as affordable hitters with good numbers in the month of August.
SLAP HITTER (SWEET SPOT VALUE BATTER) – LESS THAN $3K
TERRIN VAVRA ($2000 DK): Vavra is batting 0.412 in the month of August over 6 games. In that span he is averaging 7 DK points per game. While he doesn't flash power, his spot in the lineup and ability to rack up hits makes this price attractive. He is a lefty facing a LHP so just keep an eye to make sure he's in the lineup tonight.
MLB PROP BETS
ZAC GALLEN over 5.5 K's (-140 DK) –
VLADIMIR GUERRERO over 1.5 bases (-110 DK) – Guerrero is on an 18 game hitting streak which is the longest in the MLB. In 12 of those 18 games he's gone over his base prop (66%). As long as he gets a hit, this prop has high value which makes it a sweet spot to attack.
YUSEI KIKUCHI over 1.5 BB's (+110 DK) – Kikuchi has 43 BB's in 18 starts which is good for 2.4 per outing. On the road, he's issued 25 free passes over just 31 innings. He also walked 4 O's the last time he faced them.
SAN DIEGO PADRES over 2.5 runs F5 (+130 DK) – The Padres just got swept by the Dodgers and are 1-4 with Juan Soto and Josh Bell. However, they are back home tonight and face a pitcher they have had decent success against scoring 7 runs in 14.1 innings this year.
BALTIMORE ORIOLES over 3.5 runs (-160 Caesers)
Now that you finished reading the MLB Sweet Spot article make sure to check out MLB Lineup Optimizer and our YouTube Livestream that breaks down the entire slate of games and gives you the info to nail MLB Prop Bets and DFS Plays.
Be sure to follow me on Twitter (@dgloeck) and my other content that is part of the WinDailySports family.
Related Topics: