The MLB SWEET SPOT 8/30/22: DFS and PROP BETS at Win Daily Sports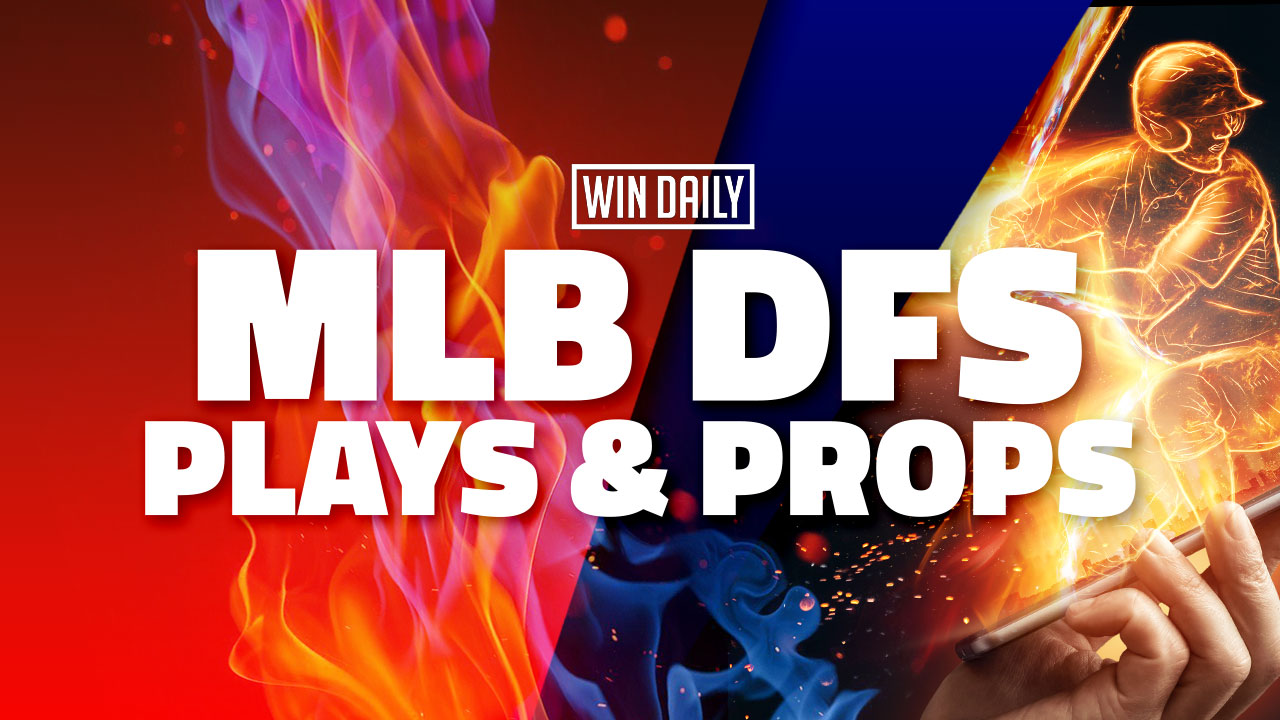 We ended last week at the Sweet Spot as with a 6-1 Friday and turned in a +5 units profit with our props and bets. We are now 84-50-1 on the month and +30.6 units. We'll aim to close these last 2 days of August on a roll and finish with our best month of the year.
There are many tools available but I hope you're using the WinDaily Projection Model as that has been very helpful in rostering key players each night.

For DFS, the featured card begins at 7:05 pm with 14 games to choose from. Jason and I broke down the card last night and you can see that analysis in the video above. There is a lot of depth on the pitching card so we're going to need to nail at least one if not both arms in DK. Below are my favorite DFS and Props/Bets for today.
NOTE: MLB 2022 Season Props/Bets are +54.8 units
PITCHERS – DRAFTKINGS
CLASSIC SLATE – 7:05 PM Start
AARON NOLA ($10,600 DK) – Aaron Nola is the top arm on the board and for good reason. He carries just a 9-10 record but has a 3.08 ERA and 185 K's which is good for 5th in the MLB. More importantly, he's much better on the road which is where he's slated to throw tonight. He has a 2.13 ERA and has allowed only 4 of his 16 HR's away from Citizen's Bank Park. In fact, in his last 3 road starts he has thrown 22.1 innings and allowed just 2 ER's while striking out 26. On the season, he's allowed more than 3 ER's just twice in his 12 road starts. The D'backs are 22nd in batting average over the past 2 weeks and just 19th in wOBA. It's not a lineup to fear and Nola should continue his road success tonight in Arizona.
MAX FRIED ($9900 DK) – Max Fried is quietly having one of the best years of his young career as he is 12-4 with a 2.52 ERA in 24 starts. He faced Colorado earlier this year in Denver and pitched 8 shutout innings while allowing just 2 hits. He worked his way to 24.2 DK points in that outing and it could have been higher but he only registered 4 K's. Another piece of good news is Colorado is 30th in wRC+ and 24th in wOBA over the past 2 weeks. They come into tonight's contest with Atlanta having scored just 8 runs in a 4 game series against the Mets. Fried should continue what the Mets did against Rockies bats and that is silence them.
FRAMBER VALDEZ ($10,100 DK) – Framber Valdez continued his season long mastery in his last outing by picking up another win by tossing 7 innings and allowing just 2 hits and 1 ER. He now has 21 consecutive quality starts (6 innings or more and 3 ER or less). Tonight, he faces the Texas Rangers who he has seen three times and pitched, you guessed it, three quality starts. In fact, he is 2-0 with a 0.45 ERA against the Rangers this season. I look for Valdez to continue his streak and put up another quality start against a team he has dominated.
KEVIN GAUSMAN ($8700 DK) – Kevin Gausman is one of the most perplexing pitchers in the Majors this season. On any given night, he can get you 40+ DK points. And he can also get you -3.6 DK points on the next night. He has failed to put together two great starts in a row over the past 3 months. But he still leads the league in WAR (FanGraphs) and FIP (2.01). The metrics show he's been unlucky all season as he leads the league in BABIP at 0.373. So if we trust the metrics, we can see tremendous value in Gausman tonight. Especially if you combine it with the fact the Cubs are 29th in wRC+ and 27th in wOBA over the past 2 weeks.
KOOL-AIDE MAN (SWEET SPOT VALUE PITCHER UNDER $7K)
MATT MANNING ($6700 DK): Since returning from the IL in early August, Manning has been very solid for the Tigers. Over 5 starts, he has a 2.40 ERA and 27 strikeouts. And in his past 2 starts, he's allowed just 1 ER and averaged 27 DK points. Tonight, he faces the Mariners who are 24th in batting average over the past 2 weeks (0.220). He's also facing them at home where his ERA is 0.69 over 4 starts.
BONUS PICK: I do like ZAC GALLEN ($9100 DK) tonight against the Phillies and GEORGE KIRBY ($8500 DK) against the Tigers. First, the Phillies do struggle to score runs for Nola so I expect a pitchers battle in the desert. Additionally, Gallen is on fire of late as he has not allowed a run over his past 4 starts. Because of that, he has averaged 31.7 DK points in that span which makes him the hottest pitcher going right now. As for Kirby, he has thrown 6 staright starts that have produced 15.4 DK points or more. In that span he is 3-0 with a 2.43 ERA. And while Detroit is hitting better in the last 2 weeks, they are still 29th in wOBA and wRC+ this season.
HITTERS – DRAFTKINGS
CLASSIC SLATE – 7:05 PM
MOOKIE BETTS ($5700 DK) – Betts has four home runs in his past three games. He also has 8 hits in his last 15 at-bats. Tonight, he faces Taijuan Walker who he is 4 for 8 in his career against.
SALVADOR PEREZ ($4800 DK) – The Royals catcher has a modest 6 game hitting streak coming into tonight's contest with the White Sox. In that span, he is batting 0.417 with 1 home run and 6 RBI's. Additionally, he hits White Sox starter Lucas Giolito well batting 0.357 with 3 home runs in 28 career at-bats.
SWEET SPOT STACK ATTACK: I'm going to stack the Braves tonight. Rockies starter Jose Urena is coming off an outing where he allowed 9 ER's in just 1.1 innings pitched. That effort resulted in -20.2 DK points. We'll look for batters such as Acuna, Swanson, Olson, Riley, D'Arnaud and Grissom tonight as they have the most favorable matchup on the board.
SLAP HITTER (SWEET SPOT VALUE BATTER) – LESS THAN $3K
GARRETT MITCHELL ($2000 DK): I posted Garrett Mitchell as the FVP in Discord last night and all he did was put up 25 DK points which was the 2nd highest total on the board. It saved us from awful pitching performances by all our aces including Corbin Burnes. We'll go back to Mitchell tonight mainly because of last night's success but also because he's still facing the Pirates.
MLB PROP BETS
SHANE MCLANAHAN over 7.5 K's (+110 DK) – I'm not sure McClanahan is back to his early season form. However, it's the Marlins and they lead the league in K% versus LHP's at 31%.
KEVIN GAUSMAN over 5.5 Ks (-135 DK) – The Cubs are 12th in K rate since Aug 15 and they are also 24th against the splitter this season (Gausman's K pitch which has a 44.8% whiff rate). And it's also that time in the cycle where Gausman pitches a good game.
FRAMBER VALDEZ over 18.5 outs (-140 DK) –
PHILLIES & DIAMONDBACKS NRFI (-145 DK ) – After exploding for 20 combined runs last night, these two teams will have a tough time scoring runs tonight as both Nola and Gallen have pitched well of late
MOOKIE BETTS over 0.5 runs (-125 DK) –
ATLANTA BRAVES over 5.5 (+100 DK)
LOGAN WEBB over 1.5 BBs (-175 DK) – San Diego leads the league in walk rate since the trade deadline. Webb has 11 BBs in his last 4 games.
BRADY SINGER under 2.5 earned runs (-130 DK)
Now that you finished reading the MLB Sweet Spot article make sure to check out MLB Lineup Optimizer and our YouTube Livestream that breaks down the entire slate of games and gives you the info to nail MLB Prop Bets and DFS Plays.
Be sure to follow me on Twitter (@dgloeck) and my other content that is part of the WinDailySports family.
Related Topics: