The MLB SWEET SPOT 8/26/22: DFS and PROP BETS at Win Daily Sports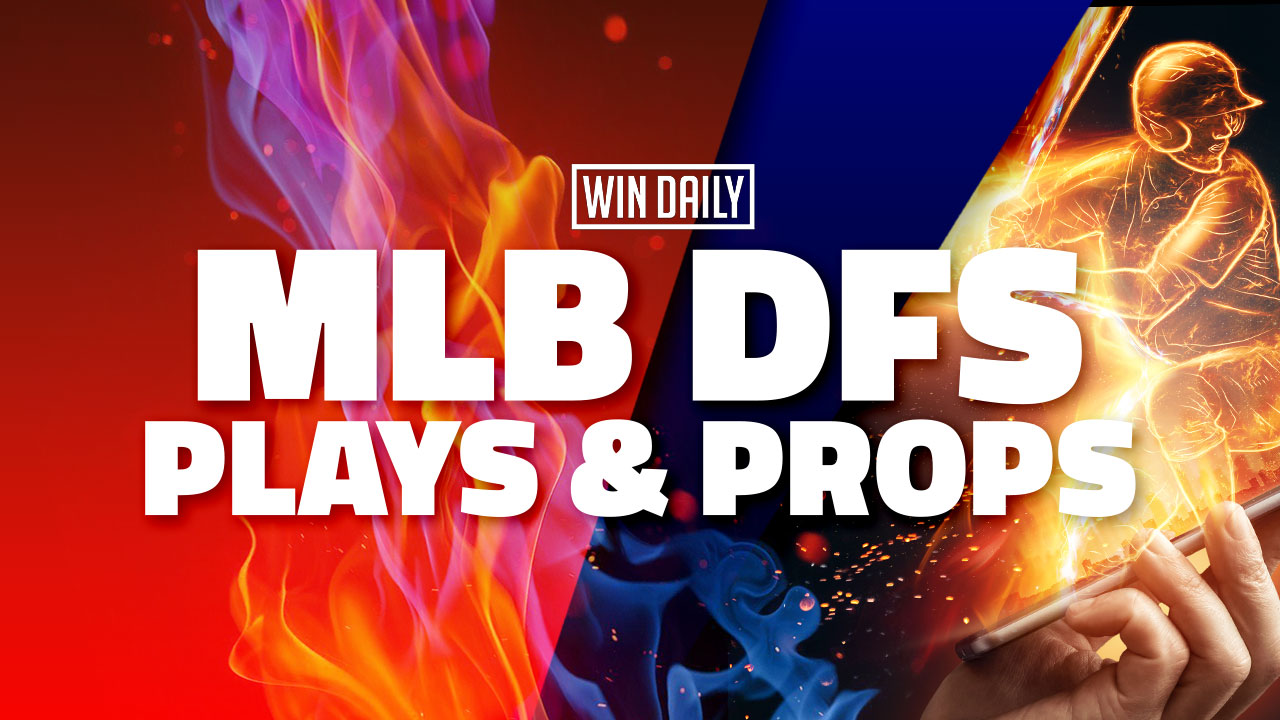 Thursday was a huge day at the Sweet Spot as we went 8-1 and turned in a +7.2 units profit with our props and bets. We are now 78-49-1 on the month and +25.6 units. DFS was good as we hit on the top 2 pitchers and found value in Lance Lynn and Jordan Lyles.
There are many tools available but I hope you're using the WinDaily Projection Model as that has been very helpful in rostering key players each night.

For DFS, the featured card begins at 7:05 pm with 14 games to choose from. Tony and I broke down the card last night and you can see that analysis in the video above. Below are my favorite DFS and Props/Bets for today.
NOTE: MLB 2022 Season Props/Bets are +49.8 units
PITCHERS – DRAFTKINGS
CLASSIC SLATE – 7:05 PM Start
SPENCER STRIDER ($9500 DK) – While I do like Cole's matchup against the A's, Spencer Strider is actually my favorite play on the card. St Louis is a top 10 offense in the majors this year, but Strider has recent experience and success against them which is the first reason for my lean towards the Mustached wonder. In the one game Strider pitched against the Cards, he threw 6 innings of shutout ball allowing just 2 hits and striking out 12. He recorded 35.1 DK points in that outing, which surprisingly, was just his 3rd highest total of year. My next reasoning is his road splits. Yes his ERA is a touch higher on the road but his opponents batting average is 50 points lower when he's away from Atlanta.
While there is much respect for the Cardinals lineup, they are heavy right handed and I think that people will avoid Strider because of the perceived tough matchup. They do get the favor of playing in the worst division which helps raise their numbers. And if you look at the one ace in the entire division, Corbin Burnes, you see a pitcher that has dominated the Red Birds by going 2-0 with a 0.43 ERA in 3 outings against STL.
SHANE BIEBER ($9100 DK) – Bieber has been very good of late as he's had 6 of his last 7 outings where he's allowed 2 ER or less. In those starts he's averaging 25 DK points which provides good value at this price tag. Tonight he faces the Mariners who have scored just 14 runs in the past 5 games. And in August alone, they are batting just 0.222 which is good for 25th in the MLB. Bieber has a 3.10 ERA but his FIP is 2.83 showing he's trending towards better performances. I think he's in a good spot tonight to pitch a solid game against as he has a low fly ball rate and is facing a team that relies on the long ball (11th in MLB).
FREDDY PERALTA ($8700 DK) – Peralta is still working his way back into form as he's making just his 13th start of the season tonight against the Cubs. He's seen Chicago twice now, both on the road, and allowed 5 ER's over 10 innings pitched. But if we look deeper, he had 5 starts against Chicago last year and went 3-0 with a 2.39 ERA and 41 K's in 26.1 innings. Additionally, the Brewers RHP has great expected metrics as his 4.08 ERA is met with a 3.05 FIP and 3.20 xERA. As far as recency goes, Chicago is 21st in wOBA and 22nd in wRC+ in the month of August. They also sit at 10th in K rate. I think this could be Peralta's best night of the season.
KOOL-AIDE MAN (SWEET SPOT VALUE PITCHER UNDER $7K)
BAILEY FALTER ($6700 DK): The Phillies are throwing out Falter again based on injuries to the staff, this time it's Zach Wheeler. Good news is, he threw a great spot start last weekend against the Mets and put up 17.9 DK points. His last start prior to that one was on July 30th against his opponent tonight, the Pittsburgh Pirates. In that game he went 6 innings and allowed just 2 ER's while recording 8 K's. It was a season high 21.9 DK points. So he looks to be in a great spot, especially because it's the Pirates and he's a lefty. The Pirates are 26th in BA against LHP's and have the 2nd highest K rate (26.2%).
BONUS PICK: I do like MITCH WHITE ($7100 DK) tonight against the Angels and CHRIS BASSITT ($9900 DK) against the Rockies. The Jays righty gets to face the worst hitting team in the league tonight in the Angels. He's been decent since coming to Toronto allowing just 5 ER's in 13.1 innings of work. He's struck out 10 in those 3 starts and is averaging 80 pitches per start. I could see a possible 2.5x value here especially if he goes deep enough for the W. As for Bassitt, it's the Rockies on the road which makes this a good spot. Then there's the fact that he's won his last 4 starts and is averaging 24 DK points in those outings.
HITTERS – DRAFTKINGS
CLASSIC SLATE – 7:05 PM
BRYCE HARPER ($5700 DK) – It's been exactly 2 months since Harper has played a game for the Phillies due to a broken thumb. But tonight marks his return to a team that has been playing great baseball since the All-Star break. Harper is slotted as the cleanup hitter tonight and faces Bryce Wilson who has allowed 15 home runs this year. Harper also hit a HR off Wilson last season.
JOSE ABREU ($6200 DK) – Abreu has been solid of late as he's batting 0.421 in his last 10 games. Tonight he faces a lefty in Tommy Henry. Abreu hits 30 points better against LHP's in his career and has value tonight to put up points based on the fact Chicago is 2nd in the MLB against lefties with a 0.277 batting average.
SWEET SPOT STACK ATTACK: I'm going to stack the Phillies tonight. Philadelphia is hitting well of late and gets the injection of energy with Bryce Harper returning to the lineup after 2 months on the IL. The hitters I'll look to add are Schwarber, Bohm, Realmuto and Harper. I'll also look for value with Matt Vierling and Bryson Stott.
SLAP HITTER (SWEET SPOT VALUE BATTER) – LESS THAN $3K
NELSON CRUZ ($3100 DK): Ok I'm breaking my rule for value hitters by $100 but that's OK. Because Cruz has a ton of value tonight. He faces Mike Minor who has allowed 18 HR in 14 games. Cruz is 7 for 12 with 2 homers off Minor in his career. That's a sweet spot for sure.
MLB PROP BETS
BAILEY FALTER over 4.5 K's (-150 DK)
CADE CAVALLI over 4.5 Ks (-155 DK) –
SPENCER STRIDER over 6.5 K's (-140 DK) –
NEW YORK METS F5 -0.5 runs (-195 DK ) –
BRYCE HARPER over 0.5 RBIs (-110 DK) –
WASHINGTON NATIONALS over 2.5 FS (-105 DK)
SHANE BIEBER under 2.5 earned runs (-110 DK)
Now that you finished reading the MLB Sweet Spot article make sure to check out MLB Lineup Optimizer and our YouTube Livestream that breaks down the entire slate of games and gives you the info to nail MLB Prop Bets and DFS Plays.
Be sure to follow me on Twitter (@dgloeck) and my other content that is part of the WinDailySports family.
Related Topics: