The MLB SWEET SPOT 8/23/22: DFS and PROP BETS at Win Daily Sports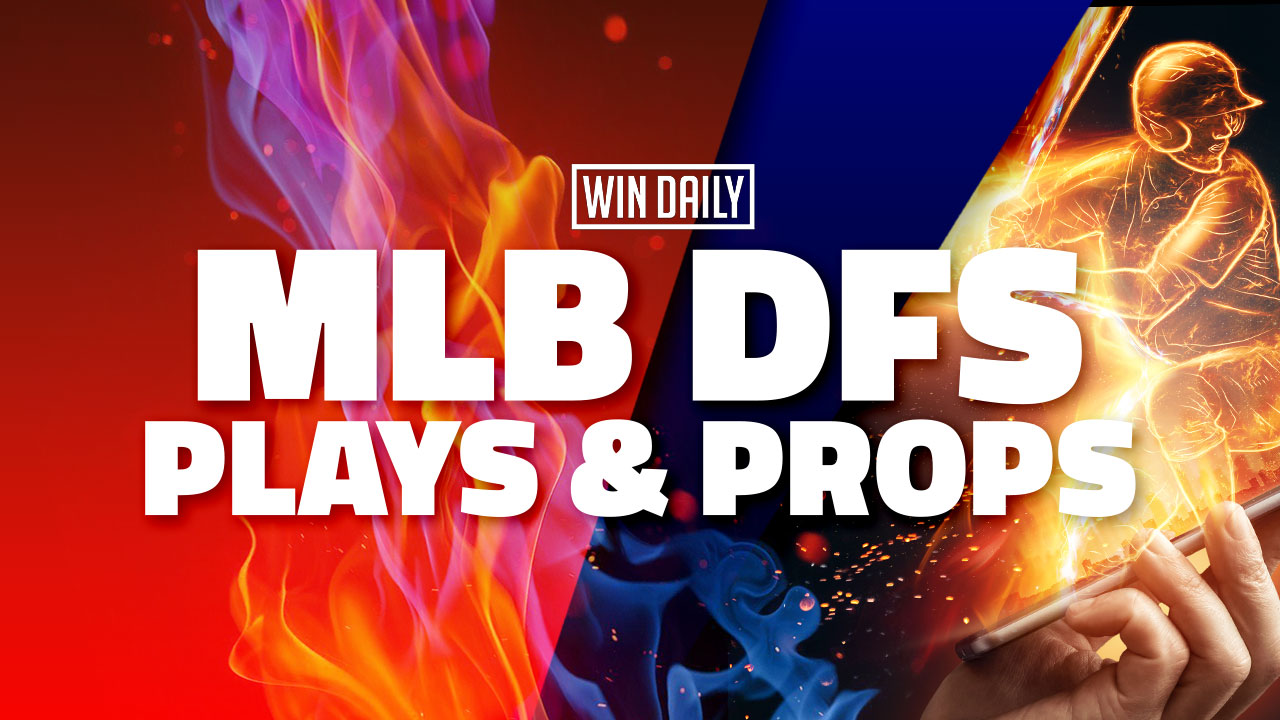 We had another winning day on Monday going 4-3 overall and producing a positive +0.7 units. We are now 63-44 on the month and +16.2 units. Our DFS lineups were profitable as well because we recommended fading the top arm (Scherzer) and ended up giving out the top 2 scorers in Montgomery and Cabrera. That's what you get here at WinDaily!
There are many tools available but I hope you're using the WinDaily Projection Model as that has been very helpful in rostering key players each night.

For DFS, the featured card begins at 7:05 pm with 14 games to choose from. The card is stacked at the top with 5-6 true aces. My favorite plays for all of today, along with props and bets, are below.
NOTE: MLB 2022 Season Props/Bets are +40.3 units
PITCHERS – DRAFTKINGS
CLASSIC SLATE – 7:05 PM Start
CARLOS RODON ($11,000 DK) – Rodon is the most expensive arm on the slate and it is warranted. But once again, as I've done with Scherzer and Nola in recent days, I'm going to fade the Giants ace tonight. The Tigers are a juicy matchup but they have fared decent against LHP's of late. In the last 10 days they are batting 0.266 against southpaws and they drop to 23% K rate (as opposed to 30% against all pitchers). And for Rodon, his ERA on the road is 3.72 which is 2 runs higher than his home number. His K rate also drops by almost 3 K's per 9 innings on the road. While there is potential for a big game, I think there are enough little flags for me to pass and look at other arms tonight.
DYLAN CEASE ($10,000 DK) – My favorite arm tonight is that of Dylan Cease. Someone finally put a little hurt on Cease's resume as the Astros tagged him for 3 runs in his last outing. However, in the previous 14 starts, he allowed a total of 6 ER's and didn't have one game with more than 1 ER. One of those outings was against the Baltimore Orioles and in that game he went 7 innings allowing just 1 ER and recording 13 K's. Additionally, Cease shines even more on the road as he has a 1.34 ERA away from Chicago. And Baltimore has cooled a touch in the past 10 days sitting just 19th in batting, wOBA and wRC+.
TONY GONSOLIN ($9700 DK) – Just behind Dylan Cease in my rankings is Tony Gonsolin. The Dodgers SP is an astounding 15-1 this year. That includes a win in his last start against the same opponent he faces tonight, the Milwaukee Brewers. In that outing, he went 7 innings allowing just 2 hits while punching out 8. That was good for 34 DK points. Even better is the fact that tonight's game is in Los Angeles where he has an 8-1 record and a 1.53 ERA.
KOOL-AIDE MAN (SWEET SPOT VALUE PITCHER UNDER $7K)
JOSE SUAREZ ($6600 DK): I mentioned this last night on WinDaily Live show with Jason. Jose Suarez has actually been pretty good of late. Over his last 4 starts he's averaged 21.6 DK points. He carried a no-hitter into the 6th inning of his most recent start against Seattle but was ultimately touched up and ended up losing the game. And he's better away from home as he has a 3.44 ERA on the road. On the season, his opponent the Tampa Rays, are 21st in batting, OBP and 24th in wOBA. This could be a good spot for relative value tonight.
BONUS PICK: I do like RANGER SUAREZ ($9200 DK) tonight against the Reds and ROBBIE RAY ($9900 DK) against the Nats. First off, Ranger Suarez has been very good of late. The Phillies SP has 9 straight starts with more than 14.5 DK points. And in those 9 starts, he's averaged 19.2 DK points and gone over 5 innings in each outing. His last start was against the Reds who he faces tonight. In that outing he put up a season high 28.8 DK points by pitching 7 shutout innings.
As for Robbie Ray, it's simple for me. Fade him on the road and at home against good teams. Well tonight he's home, so that's good, and he faces the Nationals who are a bad team, double good. His home ERA is 2.80 (vice 5.25 on the road) and his batting average against is just 0.197. Here is the other bright side, Washington is 27th against the slider which is Ray's best offering. We could be in line for a big K night from Ray which is ideal in DFS.
HITTERS – DRAFTKINGS
CLASSIC SLATE – 7:05 PM
AARON JUDGE ($6000 DK) – Judge has good numbers off Mets starter Tajuan Walker. He is 3 for 9 with 3 home runs off the Mets RHP. We also like that he hit a home run last night because they come in bunches for Judge.
AUSTIN RILEY ($5300 DK) – For similar reasons as Aaron Judge, I like Riley tonight based on his numbers against Pirates starter JT Brubaker. He is 3 for 6 with 2 home runs off the Pittsburgh right-hander.
SWEET SPOT STACK ATTACK: I'm going to stack the Diamondbacks tonight. Royals starter Jonathan just returned from the minors two weeks ago and he's picked up two more losses to move his season record to 1-7. I'm going to stack hitters like Marte, Walker, Rivera, Kelly, Thomas and Rojas. I will consider Alcantara and Luplow too.
SLAP HITTER (SWEET SPOT VALUE BATTER) – LESS THAN $3K
JERAR ENCARNACION ($2000 DK): We have to give you someone different than Vaughn Grissom tonight even though he is still nicely priced. Look at Encarnacion from the Marlins as he faces a favorable matchup against A's starter Zach Logue. Since joining the team Encarnacion is averaging 7.8 DK points (5 games).
MLB PROP BETS
DYLAN CEASE over 6.5 K's (-140 DK)
ROBBIE RAY over 6.5 K's (-140 DK) –
MAX FRIED over 5.5 K's (-105 DK) – There was a theory in the middle of the season that I lived by and that was play any K prop of a lefty versus Pittsburgh. That's because they are 2nd in the MLB in K rate versus LHP's striking out 26% of the time. So I'll keep that theory alive tonight and see if they continue that trend.
AUSTIN RILEY over 0.5 home runs (+280 DK), over 0.5 RBI's (+120 DK), and over 1.5 bases (-105 DK) – The Braves 3B is 0 for his last 12. Based on his history against Brubaker and the fact that he's too good to stay in a slump this long, I'll bet on Riley to break out tonight.
TORONTO BLUE JAYS over 2.5 runs F5 (-115 DK) – Red Sox starter Josh Winckowski has a 5.94 ERA at home. Last time the Jays played in Boston they had a 29 run game. They have good vibes there and are facing a bad pitcher. That's a sweet spot.
HOUSTON ASTROS -2 runs (-120 DK) – The Astros have lost Verlander's last 2 starts. But prior to that they won 7 straight games in which he started. All of those games were won by 2 runs or more.
TONY GONSOLIN under 2.5 earned runs (-130 DK) – Gonsolin has allowed more than 2.5 ER's at home in only one game this season out of 10.
Now that you finished reading the MLB Sweet Spot article make sure to check out MLB Lineup Optimizer and our YouTube Livestream that breaks down the entire slate of games and gives you the info to nail MLB Prop Bets and DFS Plays.
Be sure to follow me on Twitter (@dgloeck) and my other content that is part of the WinDailySports family.
Related Topics: