The MLB SWEET SPOT 8/2/22: DFS and PROP BETS at Win Daily Sports
Published
2 months ago
on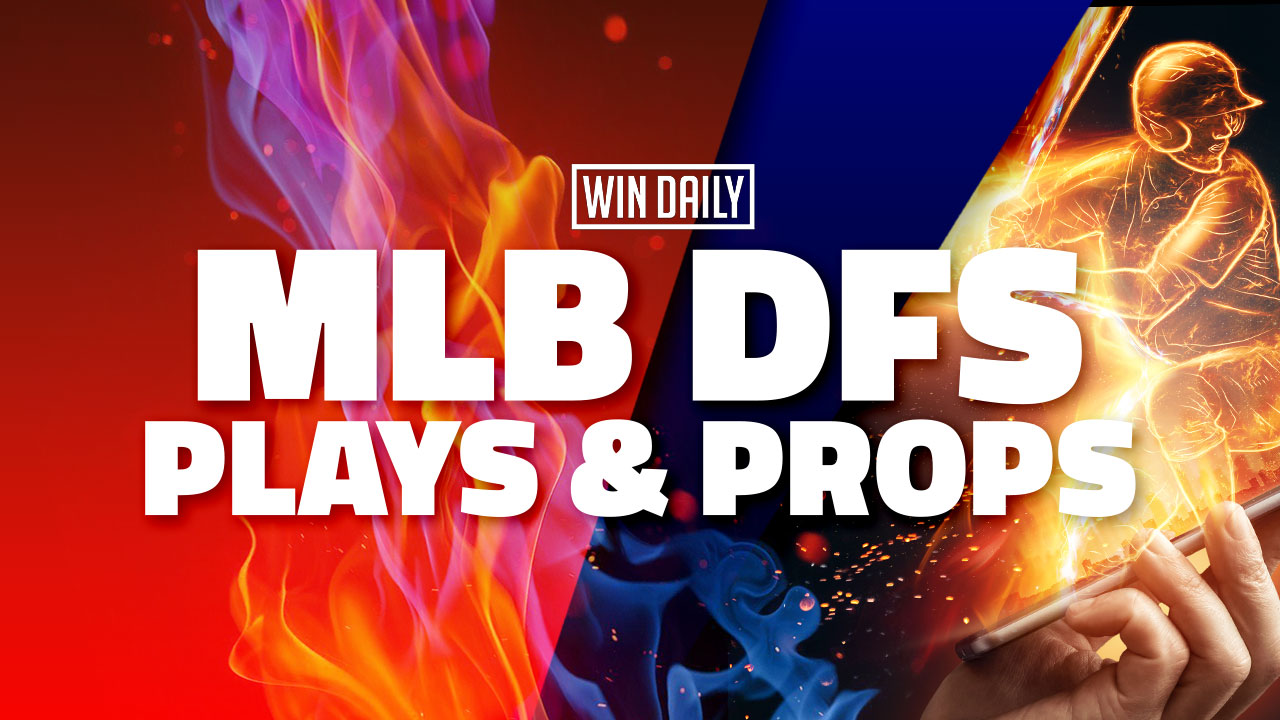 The baseball trade deadline is white hot with action as we saw Juan Soto and Josh Bell get moved to San Diego in a blockbuster trade that we'll talk about for many years to come. There are other significant movements today that you need to keep an eye on when setting your roster. Last night Jason and I gave some tips on what to look for and which teams to target on a slate filled with many quality arms (YouTube link is below).
There are many tools available but I hope you're using the WinDaily Projection Model as that has been very helpful in rostering key players each night.

PITCHERS – DRAFTKINGS
CLASSIC SLATE – 7:05 PM Start
JACOB DEGROM ($10,300 DK) – The most anticipated return of the season takes place tonight in Washington as the Mets true ace, Jacob DeGrom, takes the hill just more than one year after hurting his elbow. He looked healthy in spring but then hurt his shoulder which put him back on the IL to start 2022. It's hard to forget how truly dominant DeGrom was last year. But in case you did, he started 15 games and had a 1.08 ERA. In his first 12 starts, he didn't allow more than 1 ER in a game. Overall, in all 15 starts, he had 7 games of 10+ K's and had a total of 146 K's in just 92 innings (good for a K rate of 45.1%). In short, he had the makings of one of the best seasons ever for an SP.
Tonight, he faces the Washington Nationals who are now one of the worst offenses in baseball based on the trade of Soto and Bell. Last night, I said I wouldn't pay up for DeGrom. But now I'm actually inclined to roster DeGrom because of the watered-down lineup they will trot out. Already, Washington was struggling as an offense as they were 26th in runs scored since July 1st. Even with a reduced workload (predicting ~75 pitches), DeGrom can easily go 5 innings and rack up 6+ K's while adding a W. That would all result in a 25+ DK point outing which makes this price worthwhile.
CORBIN BURNES ($10,100 DK) – The popular play tonight as far as top salaried SP's go, will be Corbin Burnes. The main reason will be his recent hot streak of 9+ K's in 5 of his last 7 games. That has resulted in an average DK score of 27.9 points an outing. Tonight, he faces the Pirates who he has pitched against twice this season and recorded a 2.07 ERA with 15 strikeouts.
The other reason will be because the Pirates are a bad offensive team. They are 28th in batting average and are #2 in the MLB in K rate at 27%. Pittsburgh is on a 7 game losing streak and scored just 5 runs over the weekend in 3 games versus the Phillies (games were started by Bradley Falter, Ranger Suarez, and Aaron Nola). This is a team that lacks pop and Burnes should be able to take advantage of their recent slump as well as their season long strikeout issue. I will have more exposure to Burnes than DeGrom and will not play them together.
KOOL-AIDE MAN (SWEET SPOT VALUE PITCHER UNDER $7K)
MATT MANNING ($6100 DK): Manning only pitched two games earlier this season before landing on the 60-day DL. However, he flashed potential in those two starts by allowing just 2 ER's over 8 innings. He just finished a rehab assignment where he threw 5.2 innings of shutout ball on 85 pitches. So there is potential tonight that he will have a limit in the low 80's which is ~85-90% of his normal load. I'll take a flyer on Manning especially with Buxton being questionable as the Twins didn't muster a run off of Tigers starter Tarik Skubal in yesterday's game.
BONUS PICK: I really like SPENCER STRIDER ($8300 DK) tonight against the Phillies. His last start was one week ago against the same Phillies. And he turned in a dominant performance going 6 innings and allowing just 1 ER. That was good for 25.1 DK points and a 3x return on value. The Phillies are coming off a 4 game sweep at Pittsburgh. However, since the All Star Break they are 14th in wOBA and 18th in ISO. They aren't striking out as much as they were prior to the break based on Bohm's recent tear and implementation of Vierling in CF. But it's still a lineup that is very streaky and prone to off nights especially against power arms.
I also like ADAM WAINWRIGHT ($7500 DK) against the Cubs. His home ERA is 2.01 which is almost 3 runs lower than his road splits. He's home tonight and facing a team that will likely be without Contreras and Happ.
HITTERS – DRAFTKINGS
CLASSIC SLATE – 7:05 PM
MOOKIE BETTS ($6100 DK) – The Dodgers OF just rakes against Giants starter Alex Wood. He is 7 for 15 in his career against Wood with 2 home runs. This year alone Wood has started two games against the Dodgers and Betts is 3 for 4.
JONATHAN SCHOOP ($2600K) – There are several Tigers with great numbers against Twins starter Chris Archer. But the one with the best stats is Jonathan Schoop. The Tigers 2B has 6 career home runs off Archer and is batting 0.364 in 44 career at-bats.
SWEET SPOT STACK ATTACK: I'm going to stack Mets tonight. Last night they performed as expected versus the Nats in a game started by Patrick Corbin. Tonight, Washington is starting a bullpen arm in Cory Abbott. He has only 4 innings pitched this season and is not expected to go deep into the game. Which is even better news for the Mets as the Nationals own the 6th worst bullpen in baseball. Look for batters like Alonso, McNeil, Niddo, Lindor, Canha and Marte to stack.
SLAP HITTER (SWEET SPOT VALUE BATTER) – LESS THAN $3K
TERRIN VAVRA ($2000 DK): The Orioles prospect was called up last week to take the place of injured Jonathan Arauz. He has started two games and got his first major league hit in last night's contest. Tonight, he's facing Spencer Howard who owns a lofty ERA of 5.93. He should have another opportunity to flourish versus a pitcher that is susceptible to the long ball.
MLB PROP BETS
YU DARVISH over 19.5 outs (-140 DK) – The Rockies are night and day as it comes to home and road splits. While they have the best BA at home, they are 24th on the road. Clevinger shut them out over 6 innings last night and I expect Darvish to have similar success as he is a much better pitcher at home (1.94 ERA).
CRISTIAN JAVIER over 6.5 K's (-130 DK) – Boston is 2nd in K rate since the All Star Break as they are striking out at a 27% clip.
JACOB DEGROM under 3.5 hits allowed (-140 DK) – DeGrom only allowed more than 3.5 hits in 4 of his 15 outings last season. And tonight he's likely on a pitch count of ~75 to 80. This feels like a perfect sweet spot for DeGrom's first outing.
ATLANTA BRAVES not to bat in bottom 9 (-170 DK)
ST LOUIS CARDS F5 Moneyline (-150 DK)
Now that you finished reading the MLB Sweet Spot article make sure to check out MLB Lineup Optimizer and our YouTube Livestream that breaks down the entire slate of games and gives you the info to nail MLB Prop Bets and DFS Plays.
Be sure to follow me on Twitter (@dgloeck) and my other content that is part of the WinDailySports family.
Related Topics: