The MLB SWEET SPOT 8/17/22: DFS and PROP BETS at Win Daily Sports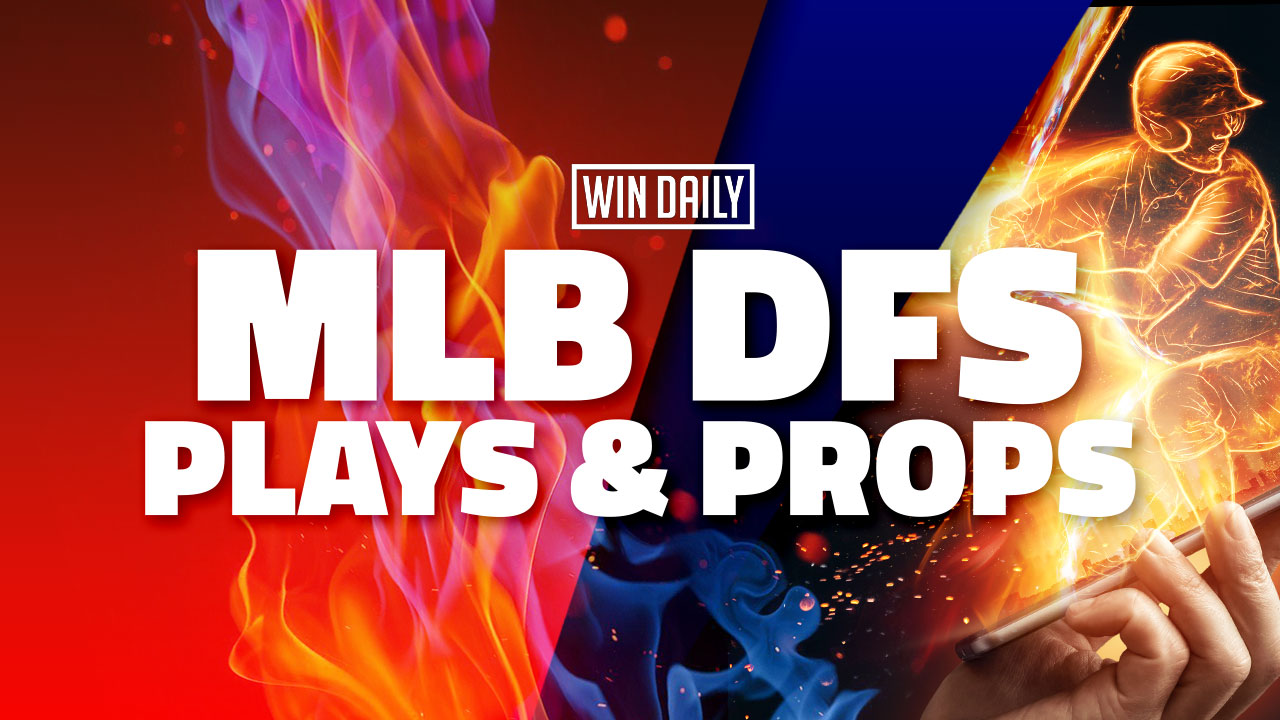 We had another profitable day yesterday but Pete Alonso held us back from a monster day. Hitting 2 HR props helped ease the pain as Franmil Reyes and Vlad Guerrero Jr came through in a big way for us. So far this month, we have posted a 44-30 record with a +11.8 unit return.
There are many tools available but I hope you're using the WinDaily Projection Model as that has been very helpful in rostering key players each night.

For DFS, the featured card begins at 7:05 pm with 9 games to choose from. There are 6 games early so pay attention to the start times with regards to our recommended plays today. My favorite plays for all of today, along with props and bets, are below.
NOTE: MLB 2022 Season Props/Bets are +35.9 units
PITCHERS – DRAFTKINGS
CLASSIC SLATE – 7:05 PM Start
MAX SCHERZER ($11,100 DK) – Simply put, Max Scherzer is the best big game pitcher in the MLB. And tonight, constitutes as one of the biggest games of the season as the Mets try to avoid losing 3 straight games to the Braves. The Mets have been outscored 18-1 in the first two games of the series and their division lead has been cut to 3.5 games. Which means it's a time for Scherzer to shine and do what he does best, pitch a great game in a spotlight start.
The last time Scherzer faced the Braves on August 6th, he pitched his best outing of the season. He went 7 innings and allowed 0 ER's while striking out 11 in a dominant performance. The Mets starter recorded 39.4 DK points in that outing which was a season high. He pitched against the Braves in Atlanta earlier in the season and had a similar result by scoring 34 DK points and going 7 innings with just 1 ER allowed.
Max's resume is unquestioned so the key to assessing whether to play him or not at this salary is based solely on the magnitude of the game and recent performances against this opponent. He checks the box on both, as witnessed by his 0.64 ERA and 20 K's in 14 innings against Atlanta.
CARLOS RODON ($10,800 DK) – Based on Rodon and Scherzer's salary we can't pair both aces and have the necessary payroll to have a balanced lineup. So when I look into each player's matchup the biggest difference is their recent history versus the team they are facing tonight. We've talked about Scherzer's dominance versus the Braves. Rodon has faced his opponent, the Diamondbacks, twice this season and the results are underwhelming. He's thrown 11 innings and allowed 9 ER's against Arizona. He's averaged 16.5 DK points in those starts which is about 20 points less than Scherzer.
While Rodon is much stronger at home, and that's where tonight's game is, if I have to choose between the two I'm going to pass on the Giants lefty and roll with big game Max.
CAL QUANTRILL ($7000 DK) – Quantrill is my next favorite arm below the Scherzer/Rodon line. He's facing a Detroit team that is consistently bad. Not only are they 30th in ISO, wOBA, and wRC+ for the full season, they are also 30th in all those categories in the month of August. The one area they have improved in, but for the wrong reason, is strikeout rate as they are 3rd on the season but 1st in August (30.4%). Quantrill has a respectable 3.67 ERA on the season with a 4.38 FIP. He saw the Tigers twice recently and has a 2.25 ERA against them in those starts. His high end output in those contests was 23.9 DK points so there is potential for 3x value here.
KOOL-AIDE MAN (SWEET SPOT VALUE PITCHER UNDER $7K)
JORDAN MONTGOMERY ($6900 DK): Our value pitcher last night was solid once again as Justin Steele put up 19.3 DK points notching 3.3x value. Tonight, we're going with Jordan Montgomery of the St Louis Cardinals. Montgomery is 2-0 with a 0.00 ERA with his new team. He gets to face the Rockies who are an uninspiring team away from home. Colorado is 28th in ISO, 25th in wOBA and 26th in wRC+ away from Coors Field. While they lead the league in batting against lefties, that drops 40 points when on the road. I like Montgomery in this spot to have another solid start and continue to show the Yankees what a mistake they made in trading him at the deadline.
BONUS PICK: I do like ROANSY CONTRERAS ($7800 DK) tonight against the Red Sox. Boston is just 25th in wOBA and 26th in wRC+ during the month of August. They are also 12th in K rate as they strikeout 23.4% of their at-bats. Contreras returns from a month-long stint in the minors but so far this season he's had 12 MLB outings and flashes a 3.78 ERA and 23% K rate.
HITTERS – DRAFTKINGS
CLASSIC SLATE – 7:05 PM
PAUL GOLDSCHMIDT ($5900 DK) – Goldschmidt is a career 0.408 hitter off Rockies starter German Marquez. He has 4 home runs and 15 hits in 37 career at-bats off Marquez.
TREA TURNER ($5800K) – The Dodgers SS needs one more home run to tie his career high of 19. He's having one of his best seasons of career as well as one of his best streaks. He has a hit in 31 of his last 33 games dating back to July 9th. Today he faces LHP Eric Lauer who he is 5 for 10 against with 2 home runs. Plus he rakes against lefties, batting 0.328 on the season.
SWEET SPOT STACK ATTACK: I'm going to stack the Astros today. This is a tough card to find a valuable stack. But the Astros fit the profile we're looking for as they have a career 0.333 batting average against White Sox SP Michael Kopech over 3 starts. This year alone, he faced the Astros once and allowed 4 ER's in 5 innings of work. Batters like Altuve, Tucker and Bregman have great numbers off Kopech. And you always have to consider Yordan Alvarez in an Astros stack.
SLAP HITTER (SWEET SPOT VALUE BATTER) – LESS THAN $3K
WYNTON BERNARD ($2000 DK): Keep an eye on the Rockies lineup to see if Bernard is starting. He was called up to the bigs over the weekend and he's averaged 9 DK points per game. He has swiped 2 bags and added 3 hits in those contests.
MLB PROP BETS
RANGER SUAREZ over 4.5 Ks (-130 DK) and under 2.5 earned runs (-135 DK) – The Reds are striking out 30.3% of the time versus LHP's in August. Suarez has averaged 95 pitches per game in August. Plus his away ERA is 2.69 which is almost 2 runs lower than his home ERA.
TREA TURNER over 0.5 home runs (+310 DK), over 1.5 hits (+160 DK), 0.5 RBI's (+125 DK), over 0.5 runs (-135 DK) – Eric Lauer has allowed 22 home runs this season which is highest on the slate today.
GIANTS vs DBACKS NRFI (-135 DK)–
HOUSTON ASTROS over 2.5 runs F5 (+115 DK) –
PHILLIES over 4.5 runs (-120 DK) – The Phillies have scored 15 runs in the first two games of this series. It feels like a sweet spot to keep attacking.
MAX SCHERZER over 18.5 outs (-120 DK) –
ERIC LAUER under 17.5 outs (-120 DK)
GEORGE KIRBY over 5.5 K's (-140 DK) – He has games of 6 and 8 K's versus the Angels this year.
Now that you finished reading the MLB Sweet Spot article make sure to check out MLB Lineup Optimizer and our YouTube Livestream that breaks down the entire slate of games and gives you the info to nail MLB Prop Bets and DFS Plays.
Be sure to follow me on Twitter (@dgloeck) and my other content that is part of the WinDailySports family.
Related Topics: