The MLB SWEET SPOT 8/10/22: DFS and PROP BETS at Win Daily Sports
Published
2 months ago
on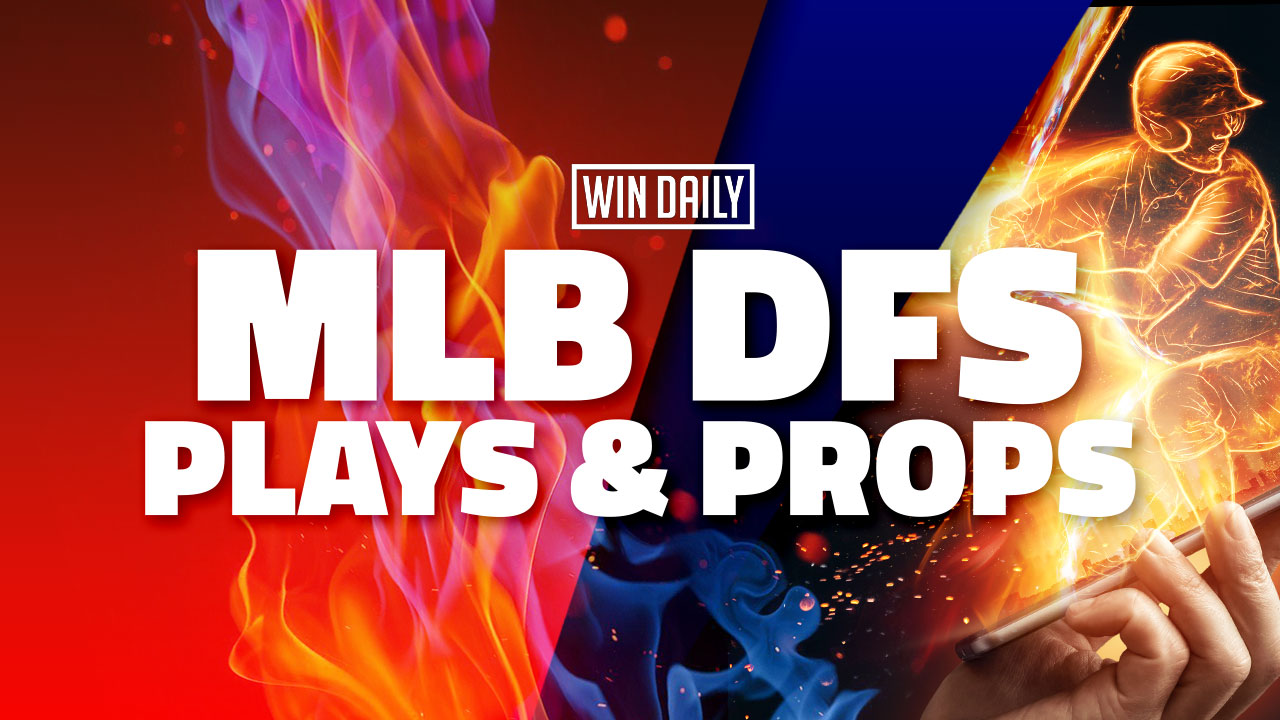 Tuesday was filled with lots of hitting and some great pitching performances too. We ended the day with a 3-3 record and -0.8 unit return on our props and bets. So far this month, we have posted a 16-12 record with a +2.2 unit return.
There are many tools available but I hope you're using the WinDaily Projection Model as that has been very helpful in rostering key players each night.

For DFS, the classic card night time slate begins at 7:05 pm with 9 games to choose from. My favorite plays for all of today, along with props and bets, are below.
NOTE: MLB 2022 Season Props/Bets are +26.2 units
PITCHERS – DRAFTKINGS
CLASSIC SLATE – 7:05 PM Start
JUSTIN VERLANDER ($10,500 DK) – We all know how good Justin Verlander has been this year. He leads the league in wins and ERA and is the odds on favorite to win the AL Cy Young. With that resume, he's pretty much an automatic play each time out. So I really don't need to convince you to roster him tonight but I'll just add some rationale to support why he's my ace on the card:
2022 vs Texas: 2 starts, 2-0, 0.69 ERA, 0.77 WHIP, 16 K's, 11.1 K/9 innings
L7 Starts: 7-0, 0.75 ERA, 0.79 WHIP, 46 K's, 9 K/9 innings
So in short, Verlander has been great against Texas this season. Even more impressive are his numbers since his last loss. Texas scored 5 runs in the opening game of this series. They'll be lucky tonight to get 5 hits.
SANDY ALCANTARA ($10,300 DK) – From the Cy Young favorite in the AL, we turn to the Cy Young favorite in the NL in Sandy Alcantara. The Marlins pitcher leads the NL in ERA (1.88), innings pitched (158.1), quality starts (17) and is 2nd in WHIP (0.93). He's such a workhorse that he's gone at least 7 innings in 15 of his 22 starts.
Tonight, he faces the Phillies who he has pitched against 3 times this season. His stat line is:
1-1, 2.45 ERA, 22 innings, 22 strikeouts
Note he's allowed 2 ER in each of his 3 starts against the Phillies. While that is he's only allowed 2 ER's or more in 8 of his other 19 starts. The Phillies are hot as they lead the league in ISO, wOBA and wRC+ in the month of August. But that was fueled by the long ball in a series against Washington when they hit 14 dingers. Alcantara has allowed just 8 HR's this season and none to the Phillies. I foresee him having the same success he had against Philadelphia in his most recent start (8 innings, 12 K's, 2 ER).
JOHNNY CUETO ($9100 DK) – It will be very tough to roster both Verlander and Alcantara, so we need to find options further down the lineup. And that's where we fall on Johhny Cueto. The White Sox starter has been very solid for a team that is struggling to find consistent starting pitching behind ace Dylan Cease. He is statistically their second best pitcher this year which isn't bad for someone that was out of baseball in the spring.
Tonight, he faces the Royals in Kansas City. Cueto has been much better on the road this year as he carries a 2.00 ERA away from Chicago. Additionally, he hasn't allowed more than 3 ER's in his last 12 starts and has 7 straight quality starts. The Sox SP faced KC earlier this year and pitched 6 shutout innings allowing only 2 hits and recording 7 K's. Add in the fact that KC is in the middle of the pack hitting this month (17th in BA, 15th in wOBA) and this becomes my favorite play outside the top 2 arms.
KOOL-AIDE MAN (SWEET SPOT VALUE PITCHER UNDER $7K)
MITCH KELLER ($6600 DK): We hit on our value pitcher again last night as Tommy Henry posted 20.15 DK points which was a 4x return. Tonight we are recommending Mitch Keller in this spot. Keller has decent metrics with a FIP of 3.92 and xFIP of 4.02 which are both below his ERA of 4.22. He is also flashing a 0.325 BABIP which is 40 points above league average. So his recent uptick in performance is overly surprising (16.2 DK points per game in L6). His opponent, the Diamondbacks, have been hitting well of late as they are 12th in batting since the All-Star break. But on the season they are 27th in batting and 21st in wOBA. Which means they are a team worth attacking in the right situation and I think tonight could be one of those with Keller.
BONUS PICK: I do like NOAH SYNDERGAARD ($7900 DK) tonight against the Marlins. Thor didn't shine in his debut for the Phillies but he did come away with a win in a rain shortened game. While he no longer has the power game he did when he first came to the MLB, he has allowed 3 ER or less in 12 of his 16 starts. And this isn't as much about Syndergaard as it is about his opponent. The Marlins have scored just 10 runs in the month of August (7 games). In fact, they haven't scored more than 3 runs in any of those contests. They are last in batting (0.192) this month and 29th in wOBA and wRC+.
HITTERS – DRAFTKINGS
CLASSIC SLATE – 7:05 PM
JOSE RAMIREZ ($5600 DK) – Ramirez is 5 for 11 with a home run in his career off Tigers starter Drew Hutchinson. The top of the order, especially Steven Kwan, is getting on base which will give Ramirez RBI opportunities and pitches to hit.
YORDAN ALVAREZ ($5900K) – The Astros scored 7 last night and Alvarez went hitless. Tonight they get a gas can in Glenn Otto and I fully expect Alvarez to rebound nicely. He is 3 for 7 in his career off the Rangers righty.
SWEET SPOT STACK ATTACK: I'm going to stack the Braves tonight. Nick Pivetta has not been very good over his 6 starts as he allowed 28 ER's in that span. The Braves have seen Pivetta before when he pitched for the Phillies. They have a career 0.298 batting average in 100 plate appearances versus the Red Sox SP. And scoring 9 runs last night, including a big night from Riley, should propel them to another good performance. Look at batters like, Acuna, Swanson, Riley, Arcia, and Olson.
SLAP HITTER (SWEET SPOT VALUE BATTER) – LESS THAN $3K
CHARLES LEBLANC ($2000 DK): The projection model is showing LeBlanc at 9.35 DK points which would be almost 5x value here. He is facing Syndergaard who allowed 11 hits in 5 innings in his last start. So I do see potential for a multi-hit game out of the Marlins 2B/3B.
MLB PROP BETS
FRANCISCO LINDOR over 0.5 runs scored (-170 DK) – Lindor has scored a run in 12 straight games.
BRANDON WOODRUFF over 7.5 K's (-110 DK) – Woodruff is averaging 8 K's per home start. Tampa has 4th highest K rate vs RHP (24.7%).
PAUL GOLDSCHMIDT over 0.5 home run (+280 DK), 1.5 total bases (-160 DK), 0.5 runs (-190 DK), and 0.5 RBI's (-120) – This total is 12.5 runs and is highest on the board. Goldschmidt hits 0.458 against LHP's this season and the Rockies are starting Kyle Freeland. Let's take a superfecta gamble on this sweet spot.
JOHNNY CUETO over 18.5 outs (-115 DK) –
SANDY ALCANTARA over 19.5 outs (-150 DK) –
ATLANTA BRAVES F5 ML (-145 DK) and over 4.5 runs (-140 DK) –
OAKLAND A's over 1.5 runs F5 (-135 DK) – The Phillies went over this total in all four games against the Nats over the weekend. They have a 0.580 slugging percentage and 0.940 OPS in the month of August which leads baseball.
Now that you finished reading the MLB Sweet Spot article make sure to check out MLB Lineup Optimizer and our YouTube Livestream that breaks down the entire slate of games and gives you the info to nail MLB Prop Bets and DFS Plays.
Be sure to follow me on Twitter (@dgloeck) and my other content that is part of the WinDailySports family.
Related Topics: