The MLB SWEET SPOT 7/25/22: DFS and PROP BETS at Win Daily Sports
Published
2 months ago
on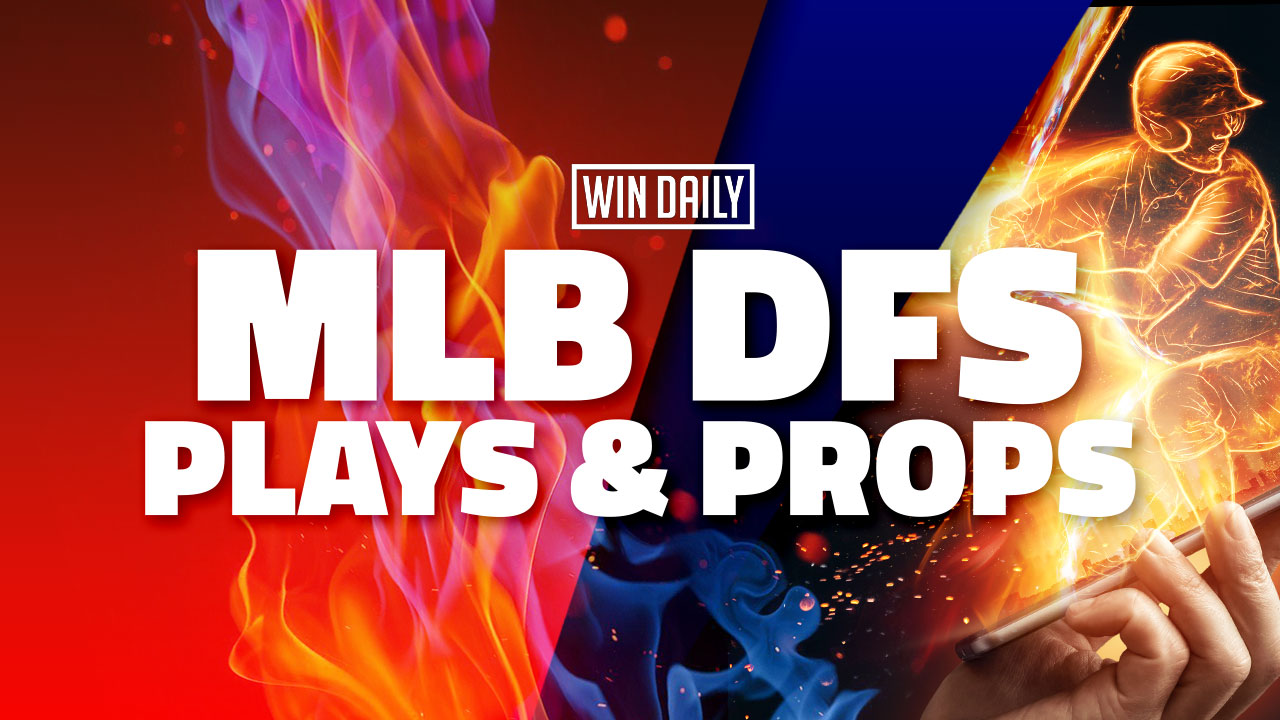 We had a week off last week but kept the ball rolling with a 4-0 weekend posting picks with the Sharp App's Betting For Breakfast and other appearances. But July has been really good as we are 34-19 overall this month with bets and props posted here at the Sweet Spot. Make sure to tune in and follow everyone here at WinDaily for game changing picks.
There are many tools available but I hope you're using the WinDaily Projection Model as that has been very helpful in rostering key players each night.

The night time classic slate starts a 7:05 pm with 11 games to choose from. My favorite plays for all of today, along with props and bets, are below.
NOTE: MLB 2022 Season Props/Bets are +31.6 units
PITCHERS – DRAFTKINGS
CLASSIC SLATE – 7:05 PM Start
MAX FRIED ($10,500 DK) – Max Fried's salary on DK has hit a new high at $10,500. The issue with a salary this high for Fried is that he has exceeded 30 DK points twice this season. So we're paying a premium price for someone with a moderate ceiling. And the reason for this price tag is likely the Phillies recent struggles as an offense, primarily against LHP's. They just faced Drew Smily and Justin Steele this past weekend and mustered 2 ER's in 11 innings against that combo. In fact, the Phillies are 27th in batting against lefties in the last 2 weeks with a 0.197 batting average.
But this price tag just feels too high for me especially with 11 games on the slate. Excluding the COVID season of 2020, Fried has allowed 15 ER's in 20.1 innings at Citizens Bank Park over 4 career starts (he's 1-2 in those games). Fried had a price tag of $10,400 in his last start and managed just 17.6 DK points. And the last point of concern is the potential for mid-game thunderstorms tonight.
TONY GONSOLIN ($10,200 DK) – Tony Gonsolin has finally shown the world that he is human. His last start before the All Star break resulted in 5 ER's. It was the first time this season he had allowed more than 2 ER's in an outing. And then the All Star game performance brought him down another peg as both Giancarlo Stanton and Byron Buxton took him yard to make him the pitcher of record (losing) for the National League.
But I feel like he's had enough time off, 6 days to be exact, to reset himself and pitch like he did early in the season when he was pitching for a job in the rotation. For one, he's at home where he has a 1.13 ERA and a 7-0 record. And for two, he's facing the Nationals who have the 3rd fewest runs scored in the past two weeks. In that span they are hitting just 0.224 and are 25th in ISO and 24th in wOBA. The distraction of Juan Soto is real and their lineup doesn't pack much of a punch outside of Soto and Bell. I think this is a perfect opponent for Gonsolin to get back on his winning ways and put up a very productive outing for DFS players.
JAKE ODORIZZI ($7800 DK) – If you're going to pay up for Fried, Gonsolin or even Manaea then you'll need an arm in the middle or bottom tier to help save you money for hitting. Well then Jake Odorizzi is your man. Tonight, he gets the ball against the Oakland A's. Surprisingly, he will be facing them for the 3rd straight outing as he saw them twice before the break. In those contests, he allowed just 3 ER's over 12.1 innings and recorded 12 K's. He put up 43.2 DK points which is good for 21.6 per outing. At a price of $7800, this would give you almost 3x on his return.
It's always ideal to attack Oakland's feeble lineup. But it's even more apparent to attack them at home as they hit just 0.199 at RingCentral Coliseum which is good for last in the league. Additionally, when Odorizzi did pitch at Oakland on July 10th he allowed 0 ER's over 7 innings and registered 30.8 DK points.
KOOL-AIDE MAN (SWEET SPOT VALUE PITCHER UNDER $7K)
ZACK GREINKE ($5900 DK): There isn't an arm that I love tonight that is below the $7K range. But if you are daring enough to dive into that end of the pitching slate, I offer you Zack Greinke. It's become obvious that the only time you can ever attempt to use the Royals pitcher is at home. His splits between home and away are eye opening:
Home: 7 starts, 3-1, 1.86 ERA, 1 Home Run Allowed, 0.232 BA against
Road: 8 starts, 0-5, 7.38 ERA, 10 Home Runs Allowed, 0.329 BA against
And you guessed it, Greinke is home tonight and gets to face the Los Angeles Angels. The Angels offense woke up yesterday with 9 runs against the Braves and Ian Anderson. But prior to that they had gone 6 straight games with 2 runs scored or less. Dating back to July 1st, they are last in the league in batting average (0.197), OPS, Slugging, ISO, and wOBA. So there seems to be some value in Greinke tonight but the lack of K's and the potential for getting shelled is always there with Zack.
BONUS PICK: I like SEAN MANAEA ($8800 DK) tonight against the Tigers. Manaea has had a roller coaster of a season. He started off hot going 2-1 with a 1.42 ERA over his first three starts. The Padres starter then hit a rough patch in late April and early May where he had 6 straight starts allowing 3 ER's or more. He righted the ship in June posting a 1-0 record with a 3.70 ERA but in July he has seen that raise to a 5.14 ERA over 3 starts. But he's on the road where his splits are better by over 1 run. And he's facing the Tigers, who like Oakland, have been near the bottom of every offensive category all season.
HITTERS – DRAFTKINGS
CLASSIC SLATE – 7:05 PM
FREDDIE FREEMAN ($6200 DK) – Apologies to Aaron Judge, but the Dodgers 1B is the hottest hitter in baseball. Since July 10th, he is hitting 0.579 with 5 home runs. Coming into tonight's game, he has a 12-game hitting streak. In 8 of those games he posted at least 2 hits. He gets to face Paolo Espino for Washington who has allowed 14 ER's in his past 4 starts.
MANNY MACHADO ($5500K) – Machado had a good series in New York by going 4 for 13 with 1 home run and 3 RBI's. Tonight, he gets a left in Drew Hutchinson who he is 5 for 15 with 2 home runs in his career against.
SWEET SPOT STACK ATTACK: I'm going to look at the Orioles tonight against Corey Kluber. Kluber has seen the O's 4 times this season and is 1-1 with a 3.66 ERA. He just saw the red hot O's last week and allowed 4 ER's in 6 innings of work. Plus, Kluber pitches worse on the road as he has a 4.09 ERA away from Tropicana Field. Batters like Mullins, Mountcastle, Santander and Odor have had success off the Rays pitcher this season and I think they will continue that tonight.
SLAP HITTER (SWEET SPOT VALUE BATTER) – LESS THAN $3K
ROUGNED ODOR ($2500 DK): Odor hits Kluber well as he is 8 for 18 (0.444) against the Rays righty in his career. Of those 8 hits, 5 have gone for extra bases including 3 home runs. This is the definition of a sweet spot for a value priced hitter.
MLB PROP BETS
TONY GONSOLIN over 4.5 K's (-140) – Washington doesn't strike out frequently as they are 29th in K rate at just 19.2%. But since the end of April, Gonsolin has recorded 5+ K's in 12 of his last 14 starts. I just think there's too much value here even though Washington tends to put the ball in play.
BALTIMORE ORIOLES over 3.5 runs (-130 DK) – Baltimore has gone over 3.5 runs in 8 of their last 9 games. Their familiarity against Kluber plus specific success from their hitters makes this bet worth the investment.
FREDDIE FREEMAN over 1.5 bases (-120 DK) and over 0.5 RBI's (+130 DK) – Freeman has gone over the 1.5 bases prop in 9 of his last 10 games. And he's had an RBI in 8 of his last 11 games. He's also 4 for 8 in his career off Nats starter Paolo Espino.
RANGER SUAREZ over 1.5 BB's (-180 DK) – Suarez struggles at home where he posts 5.14 ERA and is walking 4.4 batters per 9 innings. He faced the Braves twice this year and has gone over this total both times. Additionally, the Braves are 5th in the league in BB rate versus LHP's (9.6%).
HOUSTON ASTROS over 2.5 runs F5 (-120 DK) – A's starting pitcher Adam Oller has a 10.50 ERA at home. He's allowed 8 home runs in just 27.1 innings of work. Houston is 3rd in the league in home runs (33) since July 1st. They saw Oller back on July 17th and hit 2 home runs off him that day with 3 runs scored.
Now that you finished reading the MLB Sweet Spot article make sure to check out MLB Lineup Optimizer and our YouTube Livestream that breaks down the entire slate of games and gives you the info to nail MLB Prop Bets and DFS Plays.
Be sure to follow me on Twitter (@dgloeck) and my other content that is part of the WinDailySports family.
Related Topics: