MLB DFS Stacks and Hitting Picks Of Destiny: August 1st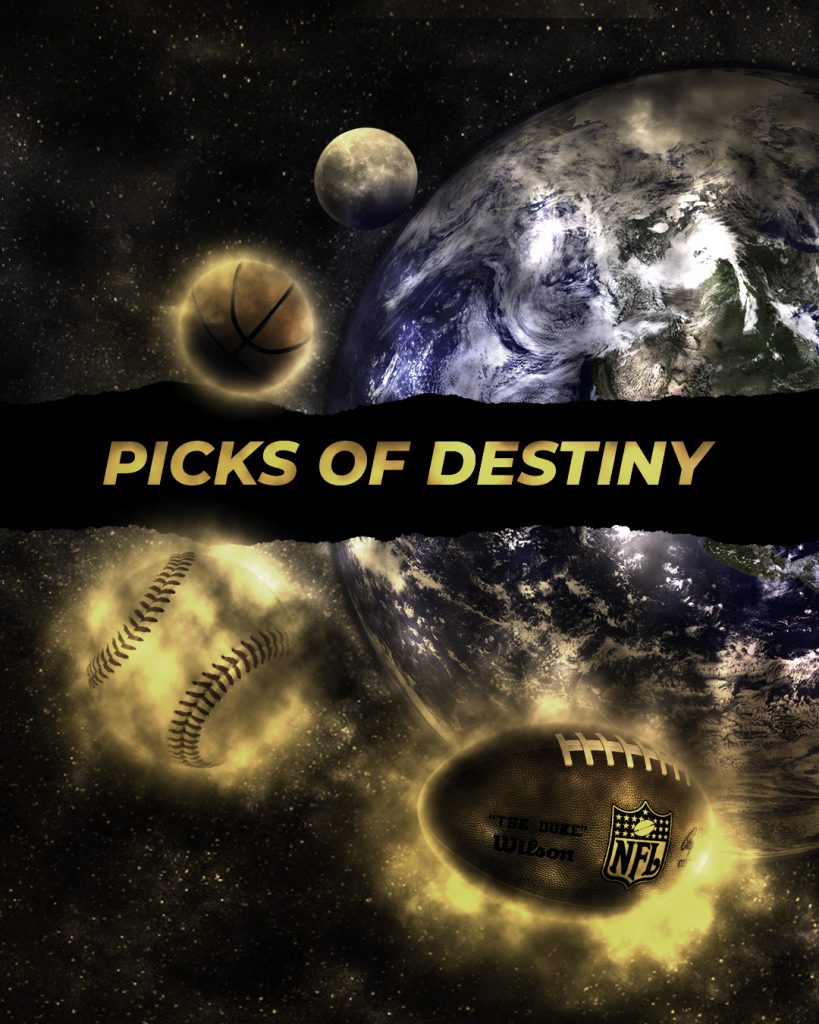 This Thursday August 1st slate is all about landing the right bats. Follow my studs and value plays and lock in the MLB DFS Picks of Destiny.
MLB DFS STACKS: Dodgers, Astros And Braves Lead Thursday Offensive
L.A. Dodgers: They are coming out of Coors Field, and while I traditionally don't like to play teams right after that I will make an exception for these elite bats. The Dodgers take on Joey Lucchesi (L) at home tonight. Luch has a great 2.71 ERA at home but is SIGNIFICANTLY worse on the road (6.48 ERA). The Dodgers will no doubt roll out an outstanding lefty hitting lineup to keep Luch away from a QS and then get into that worrisome Padres bullpen. The Dodgers are my safest stack, with highest upside tonight.
Justin Turner, Max Muncy, Cody Bellinger, A.J. Pollock, Kristopher Negron (My favorite players analysis and pricing listed below)
Houston Astros: The Astros go up against Danny Salazar and the Indians. Salazar has not made a major league start since 2017. He has looked good in AAA (2.60 ERA 28:5 K:BB) but he wasn't facing hitters like the Astros 1-8. The Astros lineup is just too scary to fade. At least two of them are getting homers tonight maybe more, you just have to roster the right ones.
George Springer, Michael Brantley, Carlos Correa, Alex Bregman, Yuli Gurriel, Yordan Alvarez, Robinson Chirinos (My favorite players analysis and pricing listed below)
Atlanta Braves: The Braves are another elite lineup facing a mediocre pitcher in Anthony DeSclafani. He is worse on the road with a 4.64 ERA and the ballpark he is traveling to is not exactly a "pitcher's park". It's hot at Suntrust and the ball is flying. You also have a lineup in the Braves with a ton of pop and motivation to win games and hold a top spot in the playoffs. I'm thinking we get a June throwback DeSclafani game where he gives up multiple runs and doesn't go six innings. Braves stack could be a GPP winner.
Freddie Freeman, Josh Donaldson, Ozzie Albies, Ronald Acuna Jr, Adam Duvall, McCann/Flowers (My favorite players analysis and pricing listed below)
Note: The Boston Red Sox are in a great spot tonight too. I am being forced to fade them because of their high price tags and me paying up for Kershaw against the Padres. If you can find another pitcher you like that will allow Red Sox bats, go for it.
GUT STACK: Tampa Bay Rays vs Andrew Cashner: Sometimes Cashner is good and sometimes Cashner is Trashner. I am hoping for the second one tonight. This is a GPP play because Cashner has proven this year he has made significant changes to not get completely obliterated every start like he was doing in Baltimore for so long. I like a couple Rays bats listed below (d'Arnaud and Meadows) so I might as well throw in a couple other hot players like Ji-Man Choi and Kevin Kiermaier
MLB DFS Bats:
Position Rankings and Values
Check out our Data Driven Projections for FanDuel Hitters for Premium Gold Members.
Catcher: Travis D'Arnaud ($3,400 FD; $4,900 DK) is batting third vs Andrew Cashner. While Cashner has made improvement this year he still carries a 4.18 ERA. Someone should get to Cashner and my bet is D'Arnaud (or Meadows; see below). D'Arnaud batted .338/.732 SLG in July and is producing every night. I feel comfortable with him continuing his dominant month in Fenway tonight.
Catcher Mid/Value: Robinson Chirinos ($3,100 FD; $3,900 DK) is batting seventh with six very capable bats in front of him to help wear down Danny Salazar. Chirinos is cheap (for Houston) and has 11 homers on the season vs right handed pitching. He is also hitting .212 ISO/.344 wOBA in the same time frame. I like him, at the price, in a Houston stack to get us double digit fantasy points.
Honorable Mention: Flowers/McCann
First Base Stud: Paul Goldschmidt ($4,300 FD; $4,400 DK) is still on fire. HE HAS SEVEN HOME RUNS IN HIS LAST EIGHT GAMES. The last seven games he has hit an astounding .400/1.000 SLG/1.423 OPS. He will be able to compete with the lefty Jon Lester just fine. In their history Goldy has hit Lester seven times with 15 ABs and a homer. Don't overthink it.
First Base Value: Yuli Gurriel ($3,300 FD; $4,500 DK) is another cheaper option on the Houston Astros. He is tied with Alex Bregman for 17 homers off righties on the season. He averages a .224 ISO/ .260 wOBA. Gurriel feels very safe with big upside.
Honorable Mention: Freddie Freeman
Second Base: Max Muncy ($3,800 FD; $4,400 DK) has been relatively quiet lately (which has brought his price down a touch) but all it takes in one big swing with him. As mentioned in STACKS, I like targeting Luch tonight. I also like Muncy vs a lefty. He is hitting them at .232 ISO/.375wOBA this year with seven home runs in 119 ABs. I like Muncy to round out my Dodger stacks.
Second Base Value: Cavan Biggio ($3,300 FD; $4,200 DK) is making his Dad, and fantasy owners, proud this past week. In his last five games he is averaging 20.38 FanDuel points. He is batting .243 ISO/.349 wOBA on the season vs right handed pitching. The opposing pitcher, Asher Wojciechowski, has made a very respectable entrance in MLB recently with a 3.60 ERA and .93 WHIP but we are looking for value here. When cheaper players tend to get rolling, like Biggio is right now, I tend to gravitate to them. Woj, started hot for sure, and may even be popular tonight, but he is still unproven in my book. I'll take a cheap shot on Biggio if I can't pay up.
Honorable Mention: Ozzie Albies, Jose Altuve
Shortstop Stud: Carlos Correa ($3,700 FD; $4,300 DK) has come to life recently with two home runs in his past four games. He missed a good chunk of the season but appears to finally be healthy again. I hope people forgot just how good this guy is. The Astros are going to be a force in the playoffs.. Anyway, Correa is batting .231 ISO/.324 on the season. He faces Danny Salazar in his return from AAA. I don't think Salazar is total trash, but I also don't think he can handle this lineup. Not many people can. Correa is a solid play at $3,700.
Shortstop Mid/Value: Bo Bichette. ($2,700 FD; $3,900 DK) Like his teammate Cavan Biggio he is hitting value in his short MLB tenure. In his first three games as a big leaguer he has six hits, two runs, one HR and one RBI. Not bad kid. He is batting leadoff today against Woj, who I mentioned I do not have 100% confidence in just yet. You also get the small bump of the rostering the leadoff man on the away team. If Bichette will just keep doing what he has been doing, he will keep out heads above water at low ownership.
Third Base Stud/mid: Justin Turner ($3,300; $4,200 DK) is another Dodger bat that hits lefties well (.253 ISO/.357 wOBA/7 homers). He got the day off last game and should be recharged here at home tonight. I want him in my stack against the lefty Luch. I like him slighter better than the $100 more option below so I listed him first.
Third Base Stud/Mid: Renato Nunez($3,400 FD; $4,800 DK) I just like how he is swinging the bat right now and no one ever plays him. In July he hit .304/.576 SLG and has been one of the Orioles key contributors. I don't mind the bats surrounding him tonight (Mancini, Santander and Villar) either. Contrary to popular belief the Orioles can actually get it together sometimes and I am not scared of targeting Trent Thorton (5.45 ERA) in his first start back from the 10 day DL with an inflamed elbow.
Third Base Honorable Mention: Eugenio Suarez, Josh Donaldson. Third is a loaded position tonight.
Outfield Stud: Michael Brantley ($4,000FD; $4,700 DK) is another Astro I like. He has 14 homers on the season with a .227 ISO/.403 wOBA. He is also a hometown Cleveland kid, and I like those narratives, especially if it is an ELITE bat. Load him up.
Honorable mention: Austin Meadows, Ronald Acuna Jr, Springer
Outfield MidRange: Adam Duvall ($3,100FD; $4,000 DK) Well, well well. Adam Duval; is playing like the true stud we knew him to be in previous seasons. The Braves finally needed him (because of injuries) and called him up recently. Since then he has hit four homer runs in five games. He belongs on a starting roster (somewhere) and he is making his case right now. I like the Braves stack tonight as well. There should be plenty of runners on for Duvall to help "cleanup". He is batting .520/1.059 .SLG the last seven days. He is a better play on FanDuel because of the price.
Outfield Value: Kristoper Negron ($2,000 FD; $2,900 DK) is a cheap Dodger bat you can grab to help fit you stacks. He is hitting .300 ISO/.358 vs lefties the year. He has two home runs his last two games and is the nut minimum on Fanduel at 2k. Yes Please!
I primary used FanDuel when building optimal MLB DFS lineups.
Sign up NOW for WIN DAILY Premium Gold right here! Projections, weather reports, wagering info, 24/7 expert chats and more!
Follow Win Daily Sports on twitter @WinDailyDFS. Please check out everything that Win Daily Sports has to offer by becoming a premium member. New articles, projection models and data are being added frequently. We can't say enough about our private Win Daily Slack Channel as it provides one on one coaching for all sports and all platforms. There are channels set up for MLB, PGA, NASCAR, WNBA, CFL, NBA, and NFL. We also have a channel dedicated to sports betting and one dedicated to Monkey Knife Fight where we provide winners to cash in on daily. We have a special promo for a limited time only to sign up for a full 12 months at only $199.99 or a monthly plan at $19.99 which are both 50% off our regular price.
Ethan Thiel is an up and coming sports writer for WinDaily who specializes in writing about Daily Fantasy Sports. After many years of ups and downs on these sites himself, he knows the dedication it takes to get consistent and long term success. Ethan has been a sports enthusiast his whole life and follows closely with the NFL, MLB, NBA, NHL, PGA, NASCAR, and collegiate sports in these areas. Being in a sports filled family and reliving the glory days of playing himself has kept him involved with these sports even outside the fantasy world. To contact Ethan, please send emails to ethanthiel@ymail.com or reach him on Twitter @Thiel_boy.