Tee 2 Green PGA DFS Picks: Valero Texas Open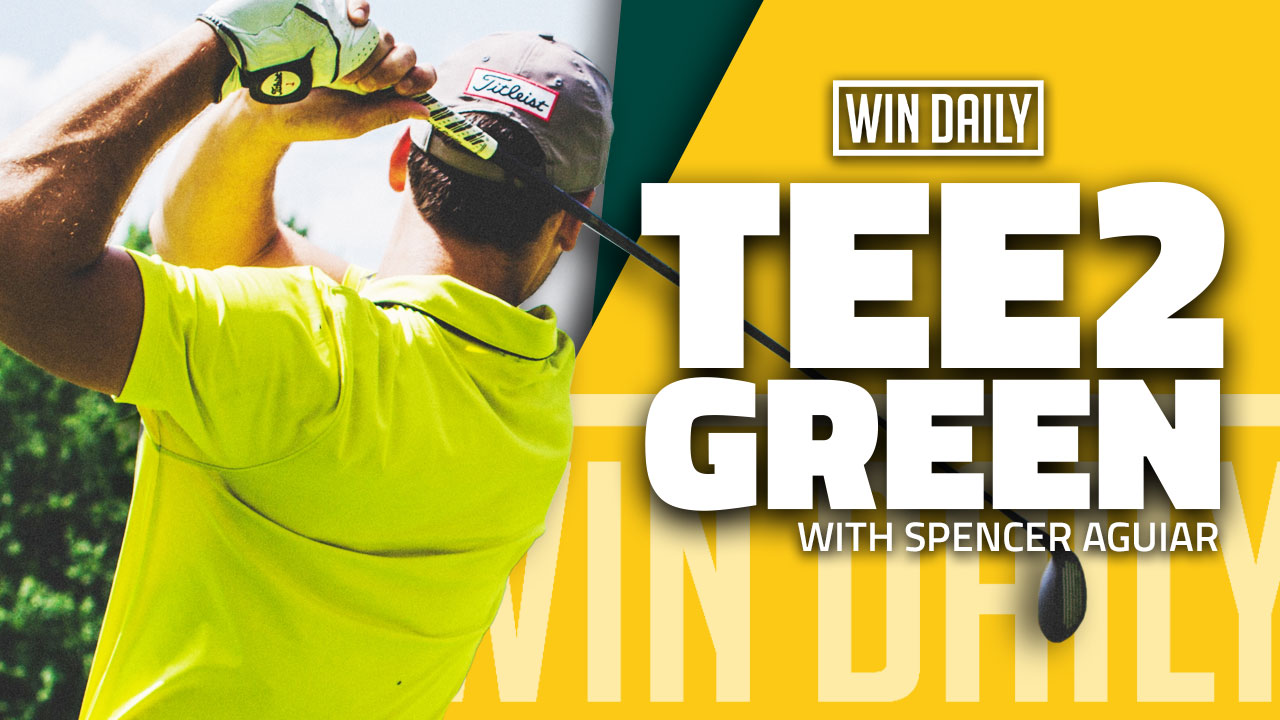 There is a ton of additional content that you can find from me this week at WinDaily. Please give a listen to both the Bettor Golf Podcast that I host with Nick Bretwisch, as well as the PGA Draftcast with Sia Nejad and Joel Schreck.
DraftKings Players ($10,000+)
Jordan Spieth ($10,600) – Everyone seems to be landing on the same golfers this week on DraftKings. I mentioned this comment on 'Bettor Golf Pod' that pretty much any pivot you are considering should be made because the contrast between players in every zone is pretty minuscule. For me, Jordan Spieth will be one of the two options where I find myself overweight because of the reduction in ownership, and it doesn't hurt matters that he grades as a fantastic course fit when I run my two-year data. Spieth rates 12 spots better than expectation in weighted tee to green, a category where he cracks the top-10 in the field, and he also ranks inside the top-10 in TPC play, performance in windy conditions and par-four scoring between 350-400 yards.
Bryson DeChambeau ($10,200) – We don't have as steep of a difference inside the DFS market as we do betting, but don't we believe Bryson DeChambeau would be 10 or 12/1 in this field if he was entering the week with a guaranteed clean bill of health? The price tag on DraftKings seems fair for all the uncertainties following him entering TPC San Antonio, but the sub-10 percent ownership mark is fantasy golf's version of ignoring one of the top upside golfers in this field.
Other Consideration – Abraham Ancer ($10,300) feels overpriced.
$9,000 Range
Corey Conners ($9,800) – It has been three consecutive years where Corey Conners has graded number one on my model at this event. Jordan Spieth and Bryson DeChambeau are the only two golfers that come close to matching his pedigree inside of my data when running this for upside, and it is hard to find much to dislike about the Canadian. Sure, the ownership will be up there, but you can quickly get around it by leaving some extra funds on the table or finding pivots in other areas.
Si Woo Kim ($9,600) – Si Woo Kim is quietly one of the sneakier options on the board this week because of his enhanced price tag. Most gamers would rather play the likes of Corey Conners, Chris Kirk or Gary Woodland, but I would advise everyone to take a deeper dive into what the South Korean brings to the table. Kim ranks eighth in this field for DK points, and he hasn't finished outside of 45th at the course in his last four attempts. I am aware that we will need better than a 45th-place showing for him to pay off his price tag, but his combination of weighted tee to green inside my model and par-five scoring gives him one of the highest ceilings in the field.
Other Targets: Tony Finau ($9,100) – Finau is a super intriguing GPP target at less than 10 percent. Don't be afraid to take a chance on his upside.
$8,000 Range
Other Thoughts: I am not as aggressively attacking the $8,000 range as most. The two I like the best would be Kevin Streelman ($8,700) and Luke List ($8,500), but there is a lot more volatility in this section than I would care to see. Streelman and List will certainly be fixtures in my player pool. Charley Hoffman ($8,200) has to be a name to monitor because of his past success at TPC San Antonio, but I will likely find myself moving up or down the board in a lot of spots while constructing my builds.
$7,000 Range
I am going to rapid-fire through some $7,000 golfers to present a handful of choices for everyone reading.
Sahith Theegala ($7,800) – Here is a stat that you will only get over at Win Daily this week. I ran a specific model that you can't find anywhere to show who the best golfers in the field would be when combining tee to green and par-five scoring, and the results yielded the following. 1. Rory McIlroy, 2. Hideki Matsuyama, 3. Tony Finau, 4. Jordan Spieth, 5. Si Woo Kim, 6. Bryson DeChambeau, 7. Luke List, 8. Sahith Theegala, 9. Doug Ghim and 10. Matt Jones. I am going to bypass including Doug Ghim ($7,600) and Matt Jones ($7,000) in an additional write-up of their own, but as you can see with me taking Jones on the PGA Draftcast tonight, both are very much in play.
K.H. Lee ($7,600) – Eleven straight made cuts for K.H. Lee, who also grades as one of the better golfers off the tee.
Martin Laird ($7,500) – I don't love the ownership with Martin Laird being over 12.5%, but the ball-striking has remained intact despite back-to-back missed cuts. Laird has gained 4.9 strokes off the tee and approach over his past two starts, but all of that has been undone by losing a combined 8.7 shots with his flat stick. I am willing to trust what the past course results are telling me for the 39-year-old, and I think this is a situation where the form is better than the finishes.
Troy Merritt ($7,300) – A few weeks removed from being one of the chalkiest options on the board, Troy Merritt has returned back to normalcy and should register as a five percent owned golfer for the Valero. Merritt has a nice combination of safety and overall rank on my model, and he is one of a handful of $7,000 golfers that grades as a positive value in all iterations of the sheet.
C.T. Pan ($7,200) – The course history leaves a ton to be desired, but the raw metrics point towards C.T. Pan finally tackling TPC San Antonio. I would use Pan as a GPP-only target.
Matt Jones ($7,000) – I know I said I wasn't going to include Matt Jones in his own section, but I changed my mind! Jones' combination of weighted tee to green and par-five scoring gives him a chance to provide a top-10 at virtually no ownership.
Lee Westwood ($7,000) – I mentioned an English golfer on the PGA Draftcast tonight and forgot to elaborate on who I was speaking of before the show finished. Westwood looks like he is going to be less than one percent owned.
Additional Thoughts: You can view my model to get a better idea of all the $7,000 golfers that I like this week!
$6,000 Range
Additional Dart Throws To Consider: Guido Migliozzi $6,100 and Adam Svensson $6,800 are two of my favorite targets.
If you haven't already, follow Win Daily Sports on YouTube and via Apple Podcasts. We're already hitting big with our NFL content and you are going to want to be a part of that. It's also important to be in Discord Wednesday night for all lineup adjustments, late-breaking news and weather reports.
Co-host of the 'Bettor Golf Podcast' and 'PGA Draftcast' here at WinDaily Sports, I was born and raised in Las Vegas, Nevada, and bring a unique approach to how I handicap a DFS or betting slate. I have my own database of statistics that I use to find incongruities in various markets, and I apply that information into a model that is available (and useable) to the public. You can follow me on Twitter @teeoffsports to gain access to that spreadsheet, and I am always more than happy to engage and answer any questions you might have for an event.