Tee 2 Green PGA DFS Picks: Memorial Tournament
Published
4 months ago
on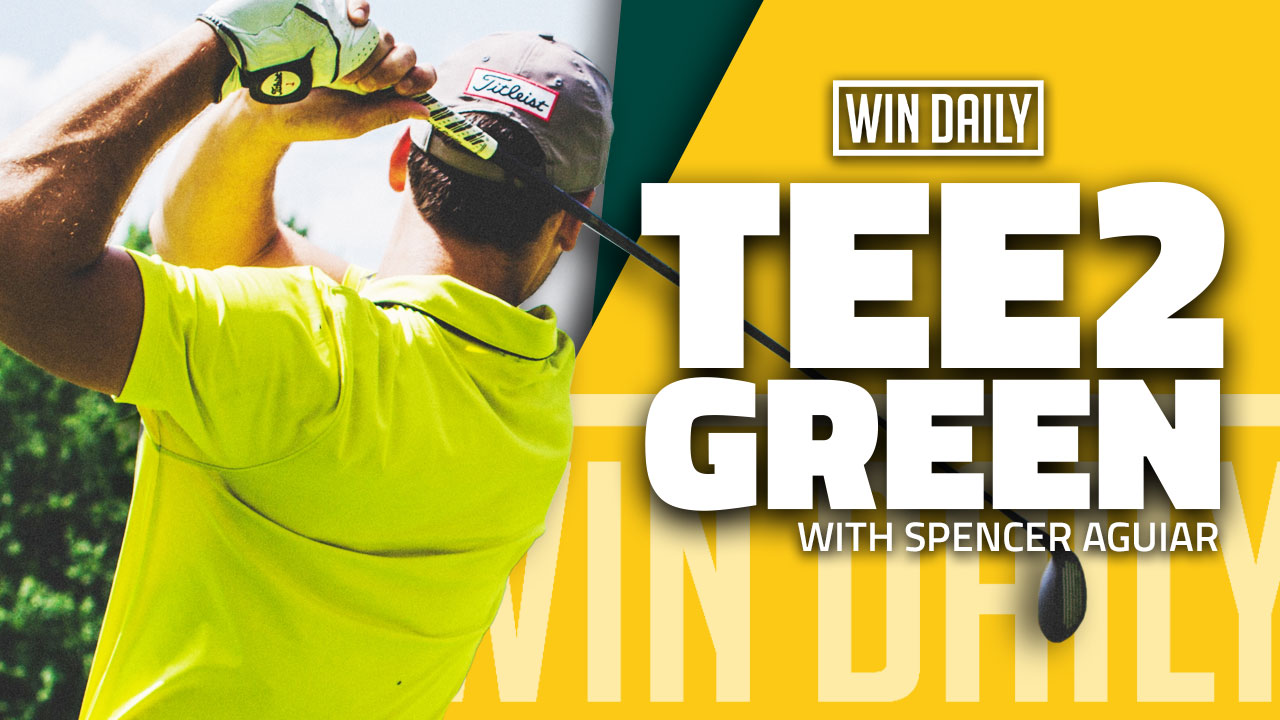 Muirfield Village
7,543 Yards – Par 72 – Greens Bentgrass
I am going to call this the tournament that was swiped from Jon Rahm last season many times throughout the week in my podcasts and written work. If you recall, the Spaniard ended his Saturday round with a six-shot lead during his quest of going back-to-back at Muirfield Village – only to have his hopes dashed when tournament officials told him he had tested positive for COVID-19 and wouldn't be allowed to finish the proceedings. From a bad beat perspective, it is one of the worst ones I have seen since my good friend (DraftMasterFlex) lost out on a six-figure first-place finish (ironically also at Muirfield Village during the 2020 contest) after Jon Rahm was penalized for something that didn't lose him the tournament but still altered his DraftKings score enough to move Joel into second-place. If we have learned anything from those two examples, it should be that Muirfield is full of surprises year in and year out, and I am excited to go through some of what we should expect from the track.
It is hard to start anywhere other than this towering total that sticks out on the page of 7,543 yards. A yardage amount like that speaks for itself when it comes to the demand it will present to the field, but it is essential to note that Nicklaus and his crew added 150 of those yards to the mix during the 2021 iteration of the contest, meaning everything before that year played at a still lengthy, yet slightly more condensed 7,400-yard total. Thick rough will add to that danger and present potential pitfalls for players in the field who cannot locate the shortgrass off the tee, but we have seen this venue yield accuracy returns as high as 70.2% in the past, which is an eight percent enhancement over a typical test. I would be cautious in overanalyzing the ease of connecting because the past two years have had six of the eight rounds result in what would be classified as "difficult to hit fairways," but if nothing else, it further emphasizes the need for quality total driving numbers.
Thirteen water hazards and 73 deep bunkers encapsulate the property, and we see approach play and short game both highlighted as top factors on the track, producing a six percent increase in dispersion of scoring on strokes gained approach in 2021 and a massive 18.8% total in strokes gained around the green – 4.3% above average. Add all of that to the urgency players will feel to produce on the par-fives and the safety that will be needed on the collection of par-threes and fours that range from similar distances over and over again, and we get this test that can be hyper-sensitive on the greens because of the speed and overly complicated on the iron play since extra rollout can put players into a ton of short game scenarios that will require the ability to get up-and-down from various lies.
DraftKings Players ($10,000+)
Rory McIlroy ($10,900) – It is a pick your poison spot in the $10,000 and above range, but only two golfers are graded as breakeven or better values in my model. The first is Rory McIlroy, who enters the week with quality form after producing three consecutive top-eight finishes, and the data points towards him being in play no matter how I run the numbers. We can't play everyone in this field, but I lean towards him being one of the two that I will click on most.
Xander Schauffele ($10,200) – My other target will be Xander Schauffele – a golfer that most in the space like to play but seem to be moving away from because of his lack of perceived win equity. I am willing to trust Xander's floor, where he has produced three top-14 finishes during the past three years, and the current form is starting to trend in the right direction after a slow start to 2022.
Other Considerations – We can't play everyone, and I am the lowest on Collin Morikawa ($10,400).
$9,000 Range
Jordan Spieth ($9,700) – I know the sharper books do not love Jordan Spieth, but the American has performed as one of the top ball-strikers in the world over his past few starts – averaging 9.38 strokes to the field tee to green. Unfortunately, things haven't gone smoothly with his putter from there, but it is worth noting that he ranks 39th in this field on fast/lightning Bentgrass greens and has produced three top-18 finishes in a row at the venue. I am more than willing to trust my model in this situation since it has him ranked first overall for win equity, and I don't mind paying into the 16% ownership mark.
Viktor Hovland ($9,300) – Do I trust the around-the-green game? No. But Hovland's combination of ball-striking and total driving propels him to the top-ranked player on my model when removing all other factors. There will be a risk in the selection, but at 10 percent ownership, the upside is there to take a shot.
Hideki Matsuyama ($9,200) – There are similar concerns with markets not loving Hideki Matsuyama's upside, but the price tag and ownership totals are perfectly acceptable to take a shot. The Japanese sensation ranks first in this field when recalculating all non-putting numbers to mimic Muirfield, and he is one of only three players to find himself inside the top-10 for both weighted par-four and par-five scoring. Jon Rahm and Patrick Cantlay are the other two.
Other Targets: Shane Lowry ($9,000) – The price is too low, but it appears as if every user in the space realizes that exact sentiment. Lowry will be more of a cash-game target than anything else, but I still understand the intrigue in other game types.
$8,000 Range
Sungjae Im ($8,900) – I think Sungjae Im is the most interesting case study in the group. We know course history matters at Muirfield Village, and he hasn't come inside the top-50 in three tries, but at what point can we attribute the poor results to bad form entering the week and not disdain for the layout? During Im's three attempts at the track, he has averaged negative-1.76 shots with his irons during the three starts before the missed cut in 2021. He averaged minus-2.68 between a five-tournament span in 2020 with the approach game. And the same thing can be said during his 57th in 2019 – a run that saw him average negative-2.85 with the irons over four tournaments. That scenario isn't in play this week, as Im has earned a combined 5.4 strokes at the Charles Schwab and RBC Heritage with his irons, and I think there might be an opening in all markets for those that dive deeper into the numbers.
Daniel Berger ($8,500) – Daniel Berger is GPP-only, but my model loves his potential upside. Berger ranks fifth in my recalculated tee-to-green metric and is also inside the top-10 when it comes to performances on long courses with fairways that are anything but the most difficult to hit.
Joaquin Niemann ($8,300) – Since filming Bettor Golf Podcast, I have been venturing away from Seamus Power at $8,000 and moving more into Joaquin Niemann at $8,300 because of his win equity totals. Despite the reduction in ownership that both provide, Power is likely better suited for cash-game builds, and I would prefer taking a swing on Niemann – who ranks third in this field when it comes to my reweighed tee-to-green metric.
Other Thoughts: Cameron Young ($8,800), Corey Conners ($8,400), Seamus Power ($8,000) and Mito Pereira ($8,000) are all worth a look. However, I am lower on the group for one reason or another when comparing them directly to Im, Berger and Niemann.
$7,000 Range
I am going to rapid-fire through some $7,000 golfers to present a handful of choices for everyone reading.
Adam Scott ($7,700) – We have back-to-back top-16 finishes for Adam Scott on the track. The recalculation towards Muirfield Village is evident in how it increases the Aussies' upside, and the 41-year-old ranks second over the past two years at solely Nicklaus designs.
Si Woo Kim ($7,600) – Si Woo Kim has posted four consecutive top-41 finishes at Muirfield Village since 2018, and while the current results are leaving something to be desired, the actual metrics look good when we eliminate putting. Kim has gained tee-to-green in 10 of his past 11 starts.
Marc Leishman ($7,500) – Leishman experiences one of the more substantial jumps in how he fits this course versus a random test – jumping 36 spots and inside my top-20 expected tee-to-green performers.
Cameron Tringale ($7,400) – I love the leverage that Cameron Tringale presents. Yes, the win equity is questionable, but we don't need that in the mid-to-low $7,000 range. I think we get a made cut and wouldn't be surprised if he lands inside the top-30.
Rickie Fowler ($7,200) – When I condense the data for Rickie Fowler, meaning all other golfers pull numbers over a two-year running model, but the American takes in just the most recent form, he jumps to sixth overall. Things look like they might be turning around, and I am willing to bite.
Additional Thoughts: Aaron Wise ($7,500) – I love the price but hate the ownership. Cameron Davis ($7,200) – High upside but a low floor. Worth a shot in MMEs as a small dabble to lineups.
$6,000 Range
Matt Jones ($6,700) – Assuming he doesn't get banned because of LIV.
Brendan Steele ($6,600) – One of the sharper movers in the offshore space. I hate the ownership but like the price tag.
Erik Van Rooyen ($6,600) – An even more volatile version of what Cameron Davis is weekly. I like where the ball-striking is at right now.
Francesco Molinari ($6,600) – I think he can make the cut at sub-one percent. Sometimes that safety + contrarian combination is worth firing on when builds get shallow in these dart-throw sections.
Lucas Glover ($6,500) – The American has gained nearly 15 shots to the field with his irons over his past two starts.
Chan Kim ($6,200) – We are talking about a 0.30% golfer. You can play him in two builds out of 150 and still create massive leverage to the field.
If you haven't already, follow Win Daily Sports on YouTube and via Apple Podcasts. We're already hitting big with our NFL content and you are going to want to be a part of that. It's also important to be in Discord Wednesday night for all lineup adjustments, late-breaking news and weather reports.
Co-host of the 'Bettor Golf Podcast' and 'PGA Draftcast' here at WinDaily Sports, I was born and raised in Las Vegas, Nevada, and bring a unique approach to how I handicap a DFS or betting slate. I have my own database of statistics that I use to find incongruities in various markets, and I apply that information into a model that is available (and useable) to the public. You can follow me on Twitter @teeoffsports to gain access to that spreadsheet, and I am always more than happy to engage and answer any questions you might have for an event.