Tee 2 Green PGA DFS Picks: BMW Championship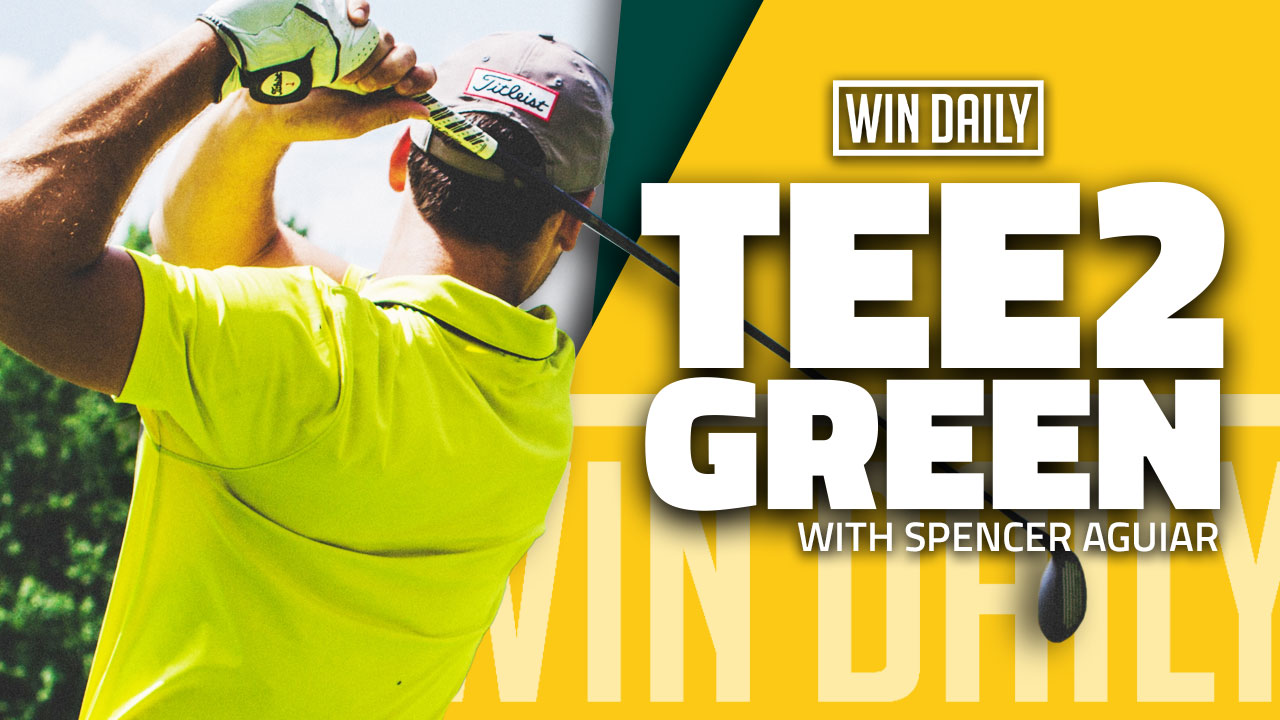 Be sure to check out my Bettor Golf and PGA DraftCast episodes over here at WinDaily!
DraftKings Players ($10,000+)
Rory McIlroy ($10,500) – My initial lean on Monday was to exclude Rory McIlroy from my player pool, but with Justin Thomas' ownership surging and the reduction in price that we do have with the entire top section of the board, I will pivot over to the Irishman – who likely will go off as one of the five highest owned golfers on the slate. To me, this is a spot where being neutral to McIlroy is my preferred choice versus trying to get overweight since my model doesn't necessarily love his profile from top-to-bottom, but the total driving and par-five scoring might be enough for him to tear this venue apart.
Jon Rahm ($10,300)  – Jon Rahm flashed the form we had become accustomed to for years at the St. Jude – gaining eight strokes with his ball-striking, and while the short game has been problematic for far too long this season, we see the Spaniard's baseline putting increase from 31st in this field when given a random track to 13th on Bent. If the putter is actually heating up, I wouldn't be surprised if the former top-ranked player in the world walks out of the BMW Championship victorious.
Other Thoughts – Justin Thomas ($10,100) – At the end of the day, it just came down to McIlroy and Thomas being too close in ownership to ignore the rest of the intangibles. I do like how Thomas sets up for the track, but there were options I preferred over him when push came to shove.
$9,000 Range
Scottie Scheffler ($9,800) – Is Scottie Scheffler's inability to putt recently ideal? Of course not. But I am more focused on this $9,800 price tag that is baking in many of those concerns upfront. The number one player in the world has the exact makeup I am looking for in a golfer that can use his distance to hit it into wide-open areas of the rough and then find success out of the thicker stuff with his irons – a category where he ranks second in the field when I recalculated the information.
Xander Schauffele ($9,600) – The ownership is steadily rising, which means he isn't as great of a play Wednesday afternoon as he was on Monday morning, but he is one of the safer golfers for cash because of the no-cut nature and recent form, and he is also in GPP consideration since he would need to be pushing around 18% to be classified as a 'negative value' in my model. I am not going massively overweight, but he will be in my pool.
Viktor Hovland ($9,200) – I am looking for golfers that have a potential recipe that can enter the mix if certain facets of their games get hot, and Viktor Hovland brings both the total driving and iron proximity to the table if we see this track play into the 20-under par range.
Sungjae Im ($9,100) – It is worth noting that Sungjae Im is a favorite over Collin Morikawa at a few sharper books in the space, and while my model doesn't necessarily see a massive difference between the two parties, it does view him as a golfer that is trending in the right direction from both a ball-striking and a results perspective.
Other Thoughts: Matthew Fitzpatrick ($9,500) did make my official player pool. The ownership is low enough to take a shot, and even if my model struggles to find his upside during most weeks, the floor is there on a player I am clearly too low on from a statistical perspective. I still can't figure out how Fitzpatrick produces weekly, but he does always seem to find success.
$8,000 Range
Cameron Young ($8,900) – I thought this situation was extremely similar to what we saw with Will Zalatoris last week. Sure, I don't love that the public is all over a golfer with actual red flags if we want to get nitpicky, but I will trust my model, which places Young first overall.
Shane Lowry ($8,700) – The recent form is trending in the wrong direction, but I cannot ignore the first-place total in weighted tee-to-green. Similar to what I am doing with Jordan Spieth, I am taking a shot on Lowry's potential.
Corey Conners ($8,300) – I can't say the overhaul of Corey Conners plays from me haven't been working, but I also can't declare anyone has been overly impressed by his 28th, 21st and 28th place finishes, respectively. I believe Conners busts through at some point with a top-10 showing because the stats look too strong across the board, and the venue does seem strong for him, especially since he has been such a robust Bentgrass performer in the past.
Other Thoughts: Jordan Spieth ($8,800) – Stixpicks has talked me into playing Jordan Spieth.
$7,000 Range
Russell Henley ($7,800) – It has been settled. Russell Henley might be the worst putter on tour. I don't know when and how that happened because there was a time that I once trusted him with a flat stick in his hand, but since everyone knows that about him at this point, it is providing us an opening to roster the American at sub-10 percent. I do like how Henley tends to spike when he gains strokes with the putter, so let's hope for the best there and trust the ball-striking metrics that help rank him fifth in weighted tee-to-green expectation.
Davis Riley ($7,500) – Riley ranks 14th in this field for birdie or better percentage, and he also propels to seventh overall in weighted total driving – thanks to his combination of distance and accuracy off the tee.
Keith Mitchell ($7,400) – My numbers were neutral on Mitchell, but when I added in some of the totals from the sharper books into my mix, it did propel him into a playable option in all markets.
Taylor Pendrith ($7,400) – Taylor Pendrith -110 over J.T. Poston was one of my bigger head-to-head plays of the week in the betting market.
Keegan Bradley ($7,200) – The long-term metrics outweigh this recent downswing that we have seen from Bradley.
$6,000 Range
Harold Varner III $6,900, Emiliano Grillo $6,600, Wyndham Clark $6,500, Sebastian Munoz $6,500, Alex Smalley $6,100, Luke List $6,000
If you haven't already, follow Win Daily Sports on YouTube and via Apple Podcasts. We're already hitting big with our NFL content and you are going to want to be a part of that. It's also important to be in Discord Wednesday night for all lineup adjustments, late-breaking news and weather reports.
Co-host of the 'Bettor Golf Podcast' and 'PGA Draftcast' here at WinDaily Sports, I was born and raised in Las Vegas, Nevada, and bring a unique approach to how I handicap a DFS or betting slate. I have my own database of statistics that I use to find incongruities in various markets, and I apply that information into a model that is available (and useable) to the public. You can follow me on Twitter @teeoffsports to gain access to that spreadsheet, and I am always more than happy to engage and answer any questions you might have for an event.