NHL DFS: The Saturday Slapshot – 01/15 – Win Daily Sports
Published
8 months ago
on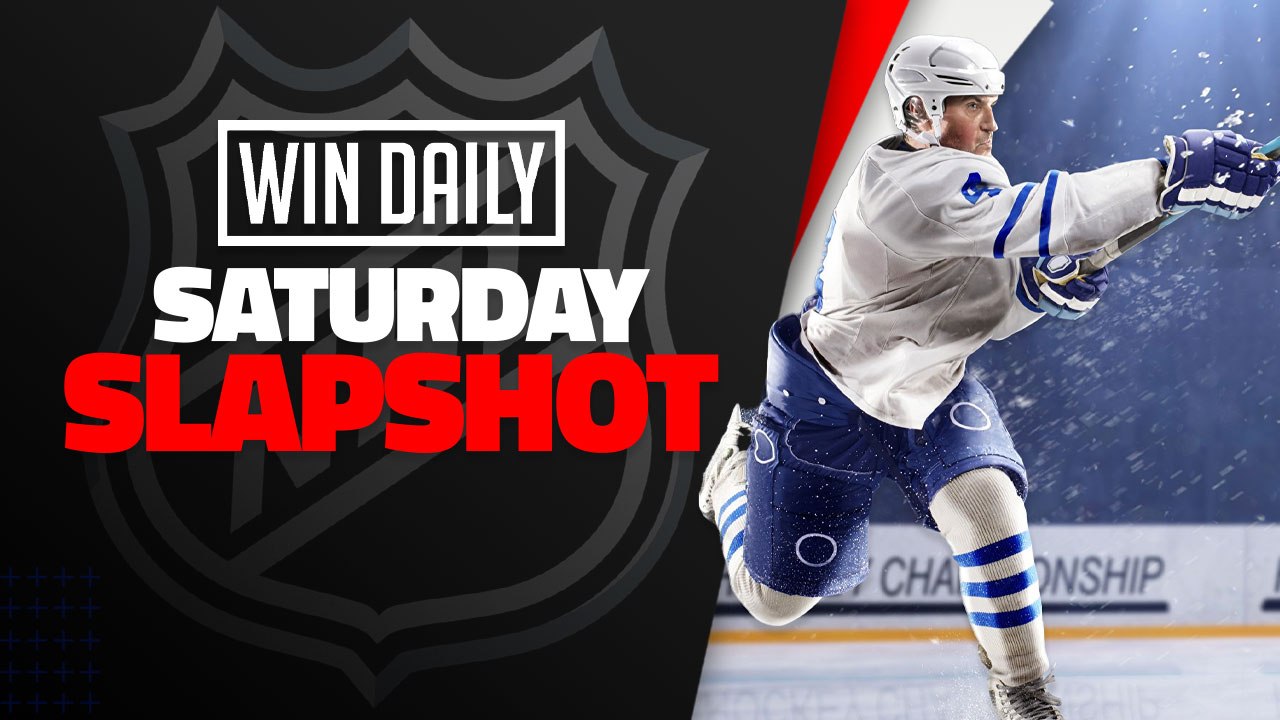 Welcome to the Saturday Slapshot where I'll be highlighting some of my top plays for tonight's NHL DFS slate on Fanduel and DraftKings.  Tonight we have a solid-looking 9 game slate.
Let's dig in and see if we can make some money.
Goaltending
Stuart Skinner ($8.2k DK/$7.6k FD) vs. Ottawa Senators – I'll start by saying I like the price on FanDuel a whole lot more today.  That said, he's a solid play on both sites tonight as he's taking on a Senators squad that has an offense that is anemic at times.  Over the last month, while playing sparingly, they've mustered just 2 goals per game. Their poor goal numbers can also be attributed to them just not getting much in the way of high danger chances as they have just 8 per game over the last month. 
Many of their chances are from the outside where the goalie is getting a good look.  In Skinner we have someone that has performed well at both the NHL and AHL levels.  In 8 games in the AHL, he's yet to lose this season.  At the NHL level he's posted a 2.70 GAA and a .916 save %.  He gets a really good matchup tonight and I expect him to excel.        
Jonathan Quick ($7.7k DK/$7.1k FD) vs. Seattle Kraken – Jonathan Quick seems to have found the good ole fountain of youth.  To date, he has a 2.38 GAA which is his best mark since 2016.  If we look at his season as a whole, he's really had only 3 clunkers.  He's been over 14 DK points in 3 of his last 4 games and I project him to be able go north of that number again tonight. 
The inaugural season for the Kraken in the NHL has not gone as smoothly as the one the Golden Knights had a few years ago.  Over their last 8 games they've been scoring just 2.25 goals per game.  Of the teams playing on tonight's slate, only the Senators have been worse than that.  My concern here is that the Kraken don't take too many shots which somewhat limits the upside of Quick.  That said, with how poor their offense is a win and a shutout is always on the table for the opposing goalie. 
Igor Shesterkin ($8k DK/$7.8k FD) vs. Philadelphia Flyers – Shesty returned from his Covid absence in style Thursday night with a shutout of the San Jose Sharks.  So far the 2021-2022 NHL season has been extremely kind to Shesterkin as he's posted a sub 2 GAA and a .939 save %.  When the Rangers cut ties with Lundqvist prior to last season it was clear that they knew they had something special in Shesterkin. 
Tonight Shesterkin gets to take on a Flyers team that is struggling to score.  Over their last 9 games they've scored just 21 goals.  Against a top notch goalie in Shesterkin, that's not going to cut it.  I can envision Shesty being the top goalie on the night.
Stacks
Pittsburgh 1 (Crosby/Guentzel/Rodrigues) + Dumoulin
This Penguins line is probably my favorite tonight and one of the best in the NHL.  They correlate on both the top line and the top power play unit.  If we look at the top guys on this line, Crosby and Guentzel, they've been playing some solid hockey.  Over their last 5 games, they've combined for 16 high danger chances.  This has translated to 3 goals between the two of them and 10 points.
Rodrigues has been no slouch either as he's netted 2 goals and 4 points in the last 5 games. In the Sharks we're getting a team that's been giving up goals at a pretty high pace.  Over their last 9 games, they've given up 4.11 goals per game.  With the Penguins being a high powered offense, they should be able to get to a Sharks team that's been giving up some goals.  While I love Letang, I'm choosing Dumoulin tonight to get some savings.  At just 3.4k we're getting someone that is averaging close to 4 shots + blocks per game over his last 5 games.     
Colorado 2 (Kadri/Aube-Kubel/Nichushkin)
The Avalanche scoring only 3 goals last night seems like a bit of a disappoint doesn't it? Well, they get the same matchup tonight and we need to go right back to the well.  Vejmelka on the year has been very hit and miss.  Three times he's stopped at least 45 shots.  4 times he's let in at least 4 goals.  Colorado just has too much fire power for Vejmelka to stand any chance tonight. 
I don't need to sell you on the top line with Mackinnon.  I also shouldn't have to sell you on the second line of Kadri either, but that's what I'm going to do.  This second line gives us a lot of value.  Yes, Kadri is pricey at $6.9k but he's been playing amazing hockey.  Over his last 5 games he has 7 points.  Aube-Kubel is still min priced on DK and gives us a ton of salary savings.  Although he didn't do too much last night, he had points in 4 of his previous 5 games.  Kubel + Kadri combine to cost us just $9.4k and a tremendous amount of upside at low rate. 
Los Angeles 2 (Moore/Danault/Arvidsson)
I somewhat highlighted Seattle's struggles in the goalie section, but that was more tailored to their offensive struggles than it was their defensive struggles.  They've been just as bad defensively.  Over the last month they've been giving up 4.25 goals per game, tops of any team on the slate.  A lot of this has been due to poor goaltending.  Over the last month they have just an 86% save %.   That's just awful and it's something we should attack as much as we can. 
Name recognition would have you go with the top line for LA, but it's actually been the guys on the second line that have been producing.  Between Moore and Danault, they have 29 high danger chances over their last 5 games.  The two have combined for 14 points during that stretch too.  Moore is hot and I can't wait to see what he does tonight vs. this bad Seattle team. 
Other stacks (NYR 1 and 2, Col 1, Ari 1, Ana 2, Tor 1, TBL 1 and 2)
Top Defenseman
Cale Maker
Kris Letang
Darnell Nurse
Drew Doughty
Adam Fox
Victor Hedman
Cody Ceci
Ryan Lindgren
Riley Stillman
Moritz Seider
Summary
Tonight looks to be a fun slate.  We have some awful defensive teams going in the way of the Coyotes, Flyers, and Kraken and will be sure to attack them.  There are many spots to attack tonight and although I didn't write up the Rangers, they should feast against the Flyers tonight. 
Make sure to use our optimizer when setting your lineups.
Good luck and hope to see you in the green!
Make sure you follow me on Twitter at @rangerzfan79 and be sure to sign up for an ALL ACCESS GOLD ACCOUNT here at Win Daily Sports. Gain access to our Projection Models and jump into our Discord where we will have our experts talking plays across every sport and slate!
New to the DFS writing world but have been playing DFS since BVP was cool. Started play season long fantasy when sporting news was used to calculate weekly scores. Originally from Brooklyn, NY but now a Baltmore resident.