NHL DFS PIcks: The Saturday Slapshot – 03/05 – Win Daily Sports
Published
4 months ago
on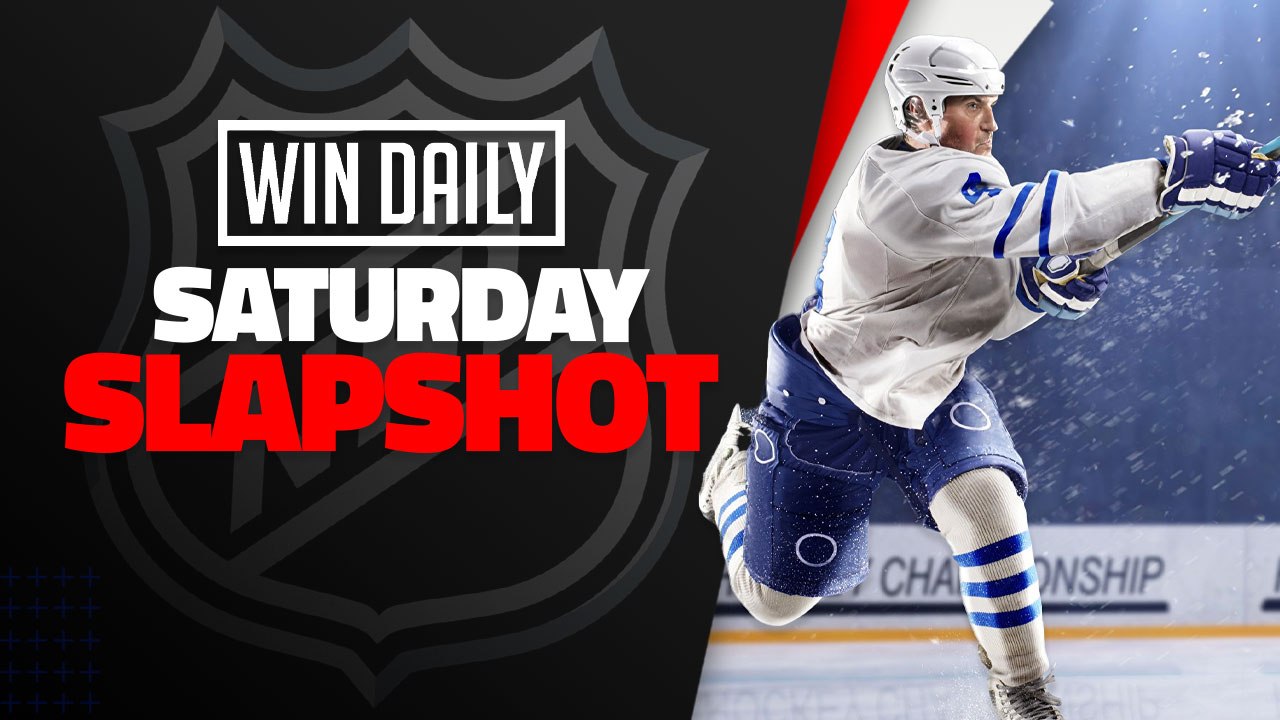 Over the last month or so we've started to see smaller Saturday night slates.  Tonight is no exception as we have ourselves a nice-sized 6 game slate of NHL DFS on DraftKings and FanDuel.  Tonight we should see some fresh legs as only the Columbus Blue Jackets are playing on the back end of back-to-backs. 
Let's dig in and see if we can make some money.
Goaltending
Juuse Saros ($7.9K DK/$8.1k FD) vs. San Jose Sharks – If you look at Saros' recent game logs, you'll see someone that has been extremely inconsistent.  Over the last couple of weeks, he's had as many as 21 DK points vs. the Stars and as little as 3.5 vs. the Hurricanes.  The matchup tonight should be on the "easier" side as the Sharks have been abysmal of late. 
Over the last month, they've been scoring just 2 goals per game.  Their offense has essentially vanished and has been one of the worst in the NHL.  The Predator's propensity to give up shots and the Sharks' inability to score goals of late has me loving this bounce-back match-up for Saros.  He's under that $8k threshold on DK tonight so we won't be paying a premium.  And we don't like having to pay premiums on goalies. 
Vitek Vanacek ($8.2k DK/$7.6k FD) vs. Seattle Kraken – Yes, the Kraken put a larger than normal number for them Wednesday night when they scored 4 goals vs. Saros and the Predators.  That's essentially their weeks' worth of goals so we should be good to use a goalie against them tonight.  Over the last month, the Kraken are averaging just 2.30 goals per game.  They have an extremely weak offense. 
Tonight, we're going to use Vanacek against them.  In a small sample size in the NHL this season, he's shown some serious upside.  He has multiple games over 30 DK points.  Should he get the start tonight, I'm all in on him.  Whoever starts for the Capitals tonight should be in your pool of goalies. 
Stacks
Washington 1 (Ovechkin, Kuznetsov, Wilson) + Carlson vs. Seattle
I haven't used Ovechkin in quite some time when playing NHL DFS.  He's been priced to a point where his production was leaving little value.  That said, he's as cheap as you'll ever see him.  For the first time since the start of the year, he's priced under $8k on DK at just $7.7k.  That's a steal.  I'm sure it will lead to him being more popular tonight, but at that price it's hard to fade with the upside that he presents us. 
While he has only 2 goals over his last 5, he's been showing some signs of life as he has 14 scoring chances over that period.  I plan on pairing him with Kuznetsov tonight, who's also reasonably priced at just $5.3k.  Kuz is right behind Ovie with 13 scoring chances over his last 5 games.  Seattle's giving up 4 goals per game over the last month.  This line should do well tonight. 
Boston 1 (Bergeron, Marchand, Debrusk) vs. Columbus
I highlighted above that Columbus is on the tail end of a back to back.  Even if they were rested, I would have attacked them.  With them likely having tired legs, it makes me want to attack them even more.  My priority with the Bruins tonight will be Debrusk at just $3.6k.  He's been one of the hottest players in the NHL over the last couple of weeks with 5 goals in his last 5 games. 
While he's quieted down a bit over his last 2 games, love the upside in him tonight against a team that is giving up almost 38 shots per game over the last month.  I normally stick with 2 man stacks and my lean right now is to pair him with Marchand over Bergeron.  Marchand has a slight edge in scoring chances and that's what we covet, scoring chances. 
Edmonton 2 (Draisaitl, Kane, Yamamoto) vs. Montreal
Montreal has been a much better team since Martin St. Louis took over the realms.  That said, it's still the same personnel that played poorly all throughout the first half of the NHL season.  I'm siding with Edm 2 tonight over Edm 1 because we get about a $1,500 savings going down to Draisaitl from McDavid.  Draisaitl has been showing some signs of life recently.  He has back-to-back games with multiple points and 3 goals and 8 points over his last 5.  At just $7.4k tonight we're getting him at a huge discount from where he was about a month ago. 
My plan is to pair him with Kane tonight.  The 2 have played fairly well together as they've combined for 12 points over their last 5 games.  The Oilers should face Montembeault tonight.  After a solid stretch of 6 games, he came back down to earth against the Jets on Tuesday giving up 7 goals.  While I don't' see him giving up 7 tonight, the Oilers should surpass the 4 goals Vegas currently has them at. 
I also love Toronto tonight, but the Matthews line has absolutely burned me the last 2 games. I'm a little gun shy going back to them tonight.
Other stacks (Van 1, Tor 1, CBJ 1, Bos 2, Mon 1 and 2, Edm 1)
Top Defenseman
Brandon Carlo – $2.9k on DK – Has 12 blocked shots and 13 shots over his last 5. Averaging 5 shots + blocks over that stretch. He presents us with a ton of value if his play continues.
Martin Fehervary – $2.6k on DK – Has 11 blocks over his last 5. Doesn't get the same shot volume, but he's dirt cheap and is in a great environment tonight.
Cale Makar – 8 assists and 20 shots over his 5. One of the top offensive defenseman in the league. Expensive though.
Devon Toews – 2 goals and 5 assists over his last 5. Colorado has done a great job getting offensive defenseman.
Tyler Myers – 13 blocks and 10 shots over his last 5. Just $3.7k on DK. Great Value.
Travis Hamonic – $4.4k on DK. Average over 4.5 shots + blocks over his last 5. Also a great value.
Vegas
Love the over on the Canucks 2.5 goals tonight.  While Toronto is a high-powered offense, they're also poor defensively.  They're giving up 3.75 goals per game over the last month.  Campbell has given up 14 goals in his last 3 games.  Canucks should put up at least 3 goals tonight.
Summary
Tonight's the type of night where we have some high upside guys really priced down in Ovechkin and Draisaitl.  In my early builds, I have them continue to be my core 2 and surrounding them with at least one of their teammates.  With Defenseman tonight, I'm going strictly value.  There are 2 guys under $3k tonight on DK that have been giving us shots and blocks on a consistent basis.  They'll give us a ton of salary savings. 
Make sure to use our optimizer when setting lineups.
Good luck and hope to see you in the green!
Make sure you follow me on Twitter at @rangerzfan79 and be sure to sign up for an ALL ACCESS GOLD ACCOUNT here at Win Daily Sports. Gain access to our Projection Models and jump into our Discord where we will have our experts talking plays across every sport and slate!
New to the DFS writing world but have been playing DFS since BVP was cool. Started play season long fantasy when sporting news was used to calculate weekly scores. Originally from Brooklyn, NY but now a Baltmore resident.